These Belarusians Fight Alongside Ukraine – in a Bid for Their Freedom, Too
Many of the fighters coming from Belarus to help resist Russia's invasion have spent time in prison in their homeland for protesting against the Putin-aligned Lukashenko dictatorship
A Belarusian fighter in Ukraine. One who lived in Israel says it's a lot tougher than fighting in the West Bank.
Credit: Courtesy of the Pursuit brigade
"The war here is very different. Here you realize that the tanks, the planes and the artillery aren't just on your side. Sometimes it seems like only the other side has all this," says Stanislav (not his real name), a volunteer in the Ukrainian army commanding a group of Belarusian and foreign fighters.
When he talks about his military experience, he mentions his four and a half years in the Israel Defense Forces' Kfir Brigade, which operates mainly in the West Bank.
Stanislav, who was born in Belarus, came to live in Israel when he was 8. He recently planned to start architecture studies in the Czech Republic, but when Russia invaded Ukraine in February, he knew he'd be helping out the Ukrainians with his military experience.
In 2020, the year of Belarus' latest presidential election, he attended protests in Israel supporting the Belarusian opposition, angry at the Belarusian police's violence against demonstrators protesting election fraud.
Stanislav says the situation in Ukraine doesn't at all resemble what he experienced in the West Bank. "I was in the territories, and it's work with the civilian population. Our challenge was to maintain our humanity," he says.
"I remember how much time and effort our commanders put in so the soldiers would remain human beings, so as a commander, it was my duty to do this. We had guns and equipment, but when rocks and Molotov cocktails were flying over us, we had to conduct ourselves with very great restraint."
According to Stanislav, "This is drastically different from what happened in Belarus, where people came out with their hands up and just stood in the street. There were no stones, firing or terror attacks, and they started to shoot them with grenades and rubber-tipped bullets; they beat them while they were being arrested and after their arrest. It infuriated me."
'We hold the rifle with confidence'
Stanislav is part of a brigade that calls itself Pursuit; it's not an organized unit and includes groups of Belarusian volunteers scattered among Ukrainian army units. Behind the brigade is a well-known blogger in Belarus, Vadim Prokopiev.
At the beginning of the war, Prokopiev visited Ukraine and called on Belarusians to volunteer for the Ukrainian army; he says a few hundred people answered his call but he declines to be more precise.
Ivan, 39, one of Stanislav's soldiers, is one such volunteer. "My wife and I decided to leave Belarus for a better place," says Ivan, who asked that only his first name be used because his wife is still in Belarus. We spoke via video chat at dusk in Ukraine; he was in an open area that he said was 8 kilometers (5 miles) from the front.
"In 2020, we realized we couldn't stay in Belarus. I went to Poland to work, to find an apartment, and my wife was supposed to join me. But when the war broke out, I left everything and my wife almost left me," he says. "Now everything is all right, we're together. We're far apart, but together."
Unlike Stanislav, most of the Belarusian volunteers had only their compulsory army service under their belt, in the best case, and no combat experience. Some went through a kind of intensive basic training in Poland and Ukraine before they were sent to the front.
"The preparation was good," a 30-year-old Belarusian volunteer who calls himself Ned says, flashing a smile. Speaking on a video call, he adds: "We hold the rifle with confidence."
Ivan says the first battle shocked him, "but we didn't lose our bearings."
Ned adds: "We met the challenge well, I think. ... The goal is to hold a certain area, a plateau, a village or strategic point. We take defensive positions in places where you can hide, and when there's a danger of a Russian breakthrough in the area, we gather quickly and head to the point where we expect the breakthrough."
These soldiers may lack battle experience, but no one lacks experience living under a dictatorship. Many of the Belarusians in the brigade had spent time in prison for protesting in their homeland.
"We took part in all the protests except for the last ones – I realized by then that there was no point. The attempt to change things peacefully was going to bring nothing but mass arrests," Ned says.
"I was arrested in mid-2021, and in prison I found myself among creative and intelligent people. The time passed quickly. We talked, we made plans. They say that even startups have been born in the prisons."
Long way to go
The Belarusian fighters all say they're in Ukraine for the sake of Belarus. First, they believe that only a Ukrainian victory over Russia will liberate their country. Second, they hope the war in Ukraine will produce a national liberation army for Belarus.
According to Prokopiev, the alternative Belarusian army "is only the start of a comprehensive strategy whose goal is to separate Belarus from Russia. The toppling of Belarusian President Alexander Lukashenko "is only one tactical goal within this broader strategy," he says.
But for now, the Belarusian national liberation army is just a dream. First, Ukraine doesn't want to create such a force on its territory. Commentators in Belarus say Kyiv doesn't want to goad Lukashenko, who hasn't opened an independent front against Ukraine – though he's letting the Russians move soldiers through his country and launch missiles from there. Second, the Belarusians fighting in Ukraine aren't united.
And so, for example, the Kastus Kalinouski Regiment, whose core is made up of Belarusians who fought alongside Ukrainians in the Donbas region in 2014, is in no hurry to unite with the new fighters. There are also other groups of fighters under independent commanders. Prokopiev says he's working on unifying the forces, but that seems a long way off.
Unity is a rare commodity among the Belarusian forces in exile, who are now marking two years since the presidential election and the protests that followed it. In the summer of 2020 it seemed like the Lukashenko regime might fall, but the demonstrations were suppressed within a few weeks, and Lukashenko has since opted for the iron fist.
The leader of the opposition, Svetlana Tsikhanouskaya, was forced to leave Belarus, while the leader of the protests, Maria Kolsenikova, refused to go into exile and is now serving an 11-year sentence in a labor camp.
Meanwhile, the independent media and civil society organizations have been wiped out, and journalists have been jailed or exiled. Lukashenko's opponents at home and abroad have sunk into despair and apathy, with cracks and conflicts emerging in the opposition.
Last week Tsikhanouskaya, whom the opposition considers the elected president and world leaders recognize as the representative of Belarus' democratic forces, declared the establishment of a government in exile. This cabinet consists of various representatives of the opposition, among them a former Belarusian culture minister, Pavel Latushko.
The much-admired paratroop officer Valery Sakhashchyk, who joined the protest in 2020, was appointed the representative for national security. Prokopiev and others believe that when there is a defense minister, there is the chance for a real army.
Till victory
Aleksandr Azarov, a former police official with anti-corruption experience, was appointed the representative for restoring the constitutional order – a kind of public security minister.
During the 2020 protests, Azarov joined the opposition and went into exile. He now heads an organization of former police and security officials called Bypol, which says its loyalty is to the people, not to Lukashenko. Azarov says his group now has about 1,000 people.
"Our main goal is to restore law and order in Belarus by throwing Lukashenko out of office," Azarov said in a video call a few days before the decision to form a government in exile came down.
In the spring of 2021, Azarov's organization declared its plan – quiet preparations on Telegram ahead of the day when all the Belarusian sides can unite and launch the revolution. When the Russians invaded Ukraine in February, some of the members of the group vandalized the country's rail system to hinder the movement of Russian troops and weapons.
These efforts have their roots in the heroism of the Belarusian partisans during World War II – and they sure angered Lukashenko. At the end of May, Belarusian law was changed; "attempted terror" now gets the death penalty.
While Belarusian volunteers are traveling to Ukraine, in Poland they're training to serve as a pool for Bypol. Azarov says they'll be ready to invade Belarus when the time comes. Prokopiev, who's more cautious, says: "Fighters with weapons and military experience can take on many roles, among them also a scenario of entering the homeland."
Meanwhile, Stanislav, Ivan and Ned don't plan to leave their units in Ukraine. "This is our only hope to bring down the regime in Belarus, and we'll fight until victory," Ned says.
"I love Belarus and want to go back there, but not to the Belarus of today. I'm needed here more than in Belarus. My friends who oppose the regime who remained in Belarus don't know what to do. They're afraid for themselves, for their relatives. Everybody has a mother."
ICYMI
Ken Burns' Brilliant 'The U.S. and the Holocaust' Has Only One Problem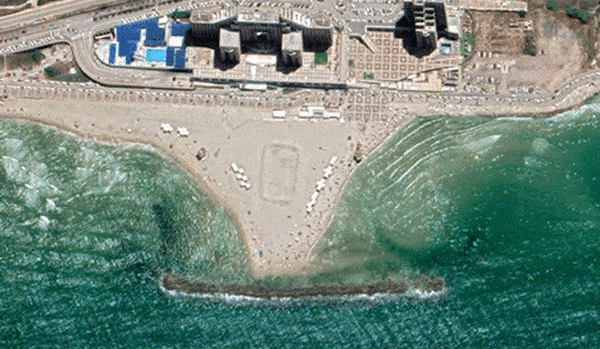 Facing Rapid Rise in Sea Levels, Israel Could Lose Large Parts of Its Coastline by 2050
As Israel Reins in Its Cyberarms Industry, an Ex-intel Officer Is Building a New Empire
How the Queen's Death Changes British Jewry's Most Distinctive Prayer
Chile Community Leaders 'Horrified' by Treatment of Israeli Envoy
Over 120 Countries, but Never Israel: Queen Elizabeth II's Unofficial Boycott