Analysis |
How Much Is Russia Willing to Pay for Ukraine?
As the international community mobilizes to punish Russia for its invasion of Ukraine, the West must ask itself if sanctions are a viable substitute for war
Queue for an ATM in Moscow, earlier this week.
Credit: SERGEY PONOMAREV/NYT
The show of international solidarity with Ukraine that took place at the UN General Assembly on Wednesday skipped one minor detail. Though nations across the globe joined to denounce the Russian invasion, they made no decision to impose sanctions.
That's because only the Security Council can impose sanctions. And Russia and China, as well as the United States, France and Britain, have veto power there.
Unlike the sanctions imposed by the UN on Iran, Russia can be and is being punished by individual countries or blocs. Here lies one of the key differences between the sanctions the United Nations imposed on Iran before the nuclear deal was signed in 2015, and the current international mobilization for Ukraine.
Consequently, it's interesting to see the list of 35 countries that abstained in Wednesday's vote, which included Iran, Iraq, China, India and Pakistan.
In Iran, there has been much public debate in the last two weeks over the country's support for Russia. Iranian pundits, including some who write for conservative media outlets that support the regime, reminded their readers that Russia and Britain occupied Iran in 1941 and that Russia "stole" Azerbaijan, Armenia and Georgia from Iran in the 19th century.
"What makes you so certain that what's being done now in Ukraine won't be directed at Iran next?" wrote analyst Hassan Beheshtipour on a website aligned with the Iranian Revolutionary Guards. Mustafa Najafi, writing for the website Tabnak, added, "Iran has to protect its own interests. It shouldn't be on the West's side or on Russia's side."
Iran evidently isn't adhering to the pro-Russian label the Western media have slapped on it. Granted, it signed a 25-year economic and military cooperation agreement with Russia, but Russia has also pushed Iran aside in Syria – indeed, Moscow is (still) letting Israel attack Iranian targets on Syrian soil.
If the negotiations on a new Iranian nuclear deal succeed, as even senior Iranian officials are optimistically predicting, Tehran will be indebted first and foremost to China, which has signed an agreement promising Iran hundreds of millions of dollars in investments over the next 20 years in exchange for discounted oil. Thus, rather than being a wink to the West in general and the U.S. in particular, Iran's abstention in the UN vote followed China's lead. China also abstained in the earlier Security Council vote.
India and Pakistan similarly have interests in both Russia and the U.S. that drove them to abstain despite the diplomatic pressure from Washington. Russia is India's biggest arms supplier. India even recently bought S-400 anti-aircraft systems from it, which might put New Delhi on a collision course with the United States, as it did Turkey.
For years, India also enjoyed diplomatic support from Russia, which backed it in Security Council votes on issues important to New Delhi, like the war in Kashmir. In addition, India fears that an anti-Russian stance might lead Russia to forge closer ties with its rival Pakistan, thereby increasing the security threat on its doorstep.
India, which was one of the first countries to recognize Russia's annexation of the Crimean Peninsula in 2014, is also one of the countries that might help it evade the new American and European sanctions. Over the last few days, the Indian government has discussed allowing imports from and exports to Russia be conducted in both countries' local currencies, the rupee and the ruble, thereby circumventing Russia's eviction from the SWIFT interbank transfer system. India did the same when sanctions were imposed on Russia for its occupation of Crimea.
But the biggest circumventer of sanctions is China, which has already set up a payments system in the Chinese currency, the yuan. More than 1,100 banks have already joined this system. Granted, most of them are Chinese, but thousands of other banks from around the world can easily be added.
Assessing the blow to Russia
At a time when Western economists and analysts are assessing the harm the new sanctions will cause Russia, it's worth recalling the damage Russia's economy suffered from the sanctions imposed on it when Russia occupied Crimea in 2014. Back then, Russia suffered direct losses of around $40 billion, plus another $100 billion due to the steep drop in oil prices that year. In 2016, the losses soared to more than $170 billion from sanctions plus another $400 billion due to falling oil and gas prices.
It's certainly possible to estimate the economic blow Russia will suffer from the current freeze on most of its foreign currency reserves – around $700 billion that is held in Western banks and other assets. Sanctions have already caused the ruble to lose around 50 percent of its value, forcing Russia to raise interest rates from 9 to 20 percent.
But in 2014 and 2016, the ruble also plummeted, the stock market fell by about 30 percent and interest rates soared from 6.5 percent to 17 percent. Nevertheless, the empire didn't collapse, and it's unlikely to do so now, either.
Admittedly, ordinary Russians will find it much harder to maintain a normal lifestyle. Most will have to give up traveling abroad, and the prices of computers and electronics will temporarily soar, until Chinese or Indian substitutes are found.
But oil and gas will keep flowing to whoever wants to continue buying them from Russia, since the new sanctions exempt basic consumer goods, agricultural products and fuel. That is due to what is known as the sanctions' paradox. The paradox holds that for sanctions to be effective, they need to cause serious pain to innocent civilians, people who have no connection with those in power and may even be actively in opposition to them. At the same time, the most painful sanctions boomerang back to the countries imposing them. Sanctions often arouse public criticism within the countries that impose them, sometimes even sharper than the criticism of the targeted country. Experience shows that the longer sanctions are in place, the more domestic media focuses on the suffering of ordinary people. Human rights organizations demand that they be eased or rescinded, that new ways be found and that parties return to the negotiating table, even if that had failed in the first place.
Those hard lessons have been learned by the West, the United States in particular, when they imposed onerous sanctions on Iraq after it invaded Kuwait that lasted more than a decade. The media reported widely and sympathetically on the sufferings of the Iraqis – fake news about half a million children dying from hunger and diseases caused by sanctions, stories of mothers who marry off or sell their daughters to support their families, or of fathers who commit suicide – turned public opinion against the sanctions and gradually undercut them. In any case, the sanctions failed to achieve their goal – Saddam Hussein was only toppled from power by war.
'Smart sanctions'
The United States and the European Union have since adopted a policy of "smart sanctions." These are sanctions designed to hit specific targets—to strike personally at the decision-makers, businesses that aid the government and the oligarchs who are close to those in power and finance them. In some cases, these targeted sanctions are accompanied by diplomatic sanctions: sweeping diplomatic and military embargoes. But even this combination doesn't always ensure a change in the policies or behavior of the targeted country. A good example of this is Iran, which was showered with sanctions of every kind over decades before it finally signed the 2015 nuclear agreement. But sanctions never succeeded in fomenting a regime change. Another example is the sanctions slapped on Russia in 2014 after it occupied the Crimean Peninsula.
Research done in the West and in Russia on the impact of various kinds of sanctions has revealed at least one frustrating conclusion: moderate sanctions against friends and allies works far better than draconian sanctions against enemy states. That was made clear by the cases of Turkey, Pakistan and Egypt, which are regarded as pro-Western countries and even friends of the United States. They each suffered partial sanctions that were harmful enough to bring about better behavior on their part.
The sanctions on Russia are a mishmash of various punishments. Some of them – like Russia's expulsion from international sports organizations and Eurovision, or Ikea closing its 17 Russian stores – are visceral reactions prompted by anger and disgust over the invasion. Some of them are finely tuned to target the oligarchs surrounding Putin, while others are designed to hit at banks, the ruble and the Russian economy as a whole.
Each measure has been initially greeted with enthusiasm by both the countries imposing sanctions and their targets—all ready to pay the price for democracy, peace, human rights or in the name of sovereignty or nationality. But this enthusiasm is bound to wane as the citizens of the countries imposing the sanctions gradually realize the price that they must pay. For example, they're going to be paying more for gasoline, bread and airfares.
For now, most countries and their citizens have agreed to be on "the right side of history." Before their patience runs out, two questions need to be asked: Do sanctions really serve as a substitute for war, or are they just a kind of warfare? And: do sanctions serve their purposes? The answer to the first question is critical and must be determined quickly, because if sanctions are just a substitute for war, Putin can breathe a sigh of relief. He can continue the onslaught and occupy Ukraine, confident that American and European leaders will not send in their troops. In other words, whether intended as a deterrent to invasion or a way of bringing about a ceasefire, sanctions, at this stage, aren't going to work.
The West hasn't categorically stated what the ultimate goals of its sanctions policy is. Everyone agrees the aim isn't to bring down the Russian government or to cause Putin's resignation or ouster. Sanctions might contribute to that, but – in contrast to the declarations of former U.S. President Donald Trump, who sought regime change in Iran through sanctions – the goals vis-à-vis Russia are much more modest. The main one right now is to force Russia to withdraw its forces from Ukraine and guarantee its peace, security and sovereignty over all its territory. But does "all its territory" include Crimea, which the West failed to liberate from Putin through its earlier sanctions? And what about the breakaway "republics" of Donetsk and Luhansk?
For the time being, it's better to relate to the sanctions not as a means of changing Russian policy, but as necessary and proper punishment for acting aggressively. Whatever can be achieved beyond that will be just a bonus.
ICYMI
Ken Burns' Brilliant 'The U.S. and the Holocaust' Has Only One Problem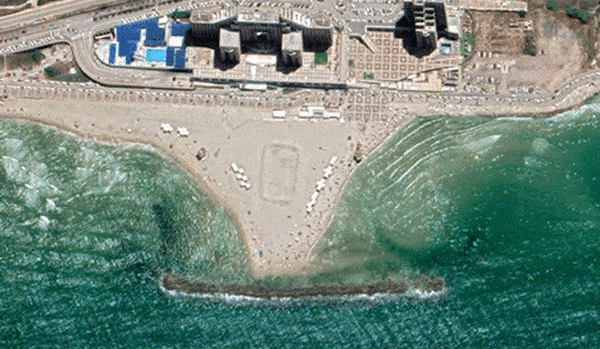 Facing Rapid Rise in Sea Levels, Israel Could Lose Large Parts of Its Coastline by 2050
As Israel Reins in Its Cyberarms Industry, an Ex-intel Officer Is Building a New Empire
How the Queen's Death Changes British Jewry's Most Distinctive Prayer
Chile Community Leaders 'Horrified' by Treatment of Israeli Envoy
Over 120 Countries, but Never Israel: Queen Elizabeth II's Unofficial Boycott