From Recognizing Palestine to Warming Ties With Israel: An Interview With Sweden's Outgoing Prime Minister
In an exclusive interview with Haaretz, Swedish prime minister Stefan Löfven explains his policies on Israel, and reaffirms his support for Holocaust commemoration, better U.S.-Europe relations and a revived Iran nuclear deal
Swedish Prime Minister Stefan Lofven visiting the synagogue in Malmo last month.
Credit: Jonas Ekstromer / TT News Agency / Reuters
GOTHENBURG, Sweden – Just weeks after Sweden hosted the Malmö International Forum on Holocaust Remembrance and Combating Antisemitism, Stefan Löfven, the country's prime minister and driving force behind the forum, is stepping down as head of the Social Democratic Party – and the government. While the 64-year-old premier, whose seven-plus-year tenure ends this week, has been praised abroad for confronting antisemitism, his policies on a host of issues, both foreign and domestic, have also attracted attention.
Among these are his country's unique tackling of the coronavirus pandemic and handling of a looming refugee crisis in Europe, relations with Iran and Sweden's recently improved ties with Israel. Speaking to Haaretz during a party congress in Gothenburg in the southwest, Löfven addressed these subjects and offered some insight into his political legacy. After 10 years as party leader, he says it's best if the party's candidate during next year's election campaign is someone who can lead the party and country for a long time.
It was recently announced that you've won the Aron Isaac Prize, which is awarded by Stockholm's Jewish community, for your "efforts to ensure that the victims of the Holocaust are not forgotten and to counter antisemitism and racism in today's society." When and why did you decide to make these issues part of your job as prime minister?
"This is a deep conviction that I've held all my life, ever since I can remember. When I became prime minister, it was obvious to me that I would take part in Holocaust commemoration, and naturally I met more and more people, I heard more stories and I promised the survivors that I'd do all I could both as prime minister and as a fellow human being.
"For example, when [Holocaust survivor] Max Safir called me a few years ago and asked me to help found a Holocaust museum in Sweden, that felt like something I could do, so we started a dialogue with survivors and organizations, and we're well on our way now. [The museum will open next year.] Then, when the 20-year anniversary of the Stockholm International Forum on the Holocaust took place, we thought that since these problems still exist, we have to do more."
Löfven is referring to the 2020 conference of an organization initiated by then-Prime Minister Göran Persson as an international partnership to fight antisemitism and promote Holocaust remembrance, education and research. Today, 21 years later, Löfven created the Malmö forum to keep the momentum going.
"I started with a deep personal conviction, and the prime ministerial role gave me the possibility to do a lot more," he says.
Despite the awards and ceremonies, Sweden's Jewish community still has many unresolved problems. With possible changes in the country's school system, will it still be possible to have a Jewish school in the country? Will circumcision for religious purposes stay legal? And for how long will hate crimes and the bullying of Jewish children and teachers continue in Swedish schools? Has enough been done in these areas? Is there more than just rhetoric?
"It's true, we do still have problems. That's why, in the short run, we're investing more in security. Yes, it will be possible to have Jewish schools in Sweden even if independent religious schools that receive public funding will be prohibited in the future. The Jewish minority is one of our national minorities, which means that its language, culture and schools are protected. [Five minorities are protected by law in Sweden: the Jews, the Roma, the Sami people – Sweden's indigenous inhabitants – Swedish Finns and the residents of the Torne Valley.]
"I don't see any danger for the right to conduct circumcisions since there's no majority against it. Sure, there are still problems and that's why the Malmö forum was all about commitments, not about speeches. It was about two kinds of commitments: first, never to forget, which is why different countries undertook to have various memorial events and memorial sites, and second, the fight against antisemitism, which is also about commitments.
"In our case, this means doing more in schools, investing more in research so that we have a better understanding of the forces behind antisemitism and so on. We want to spread this to other countries, organizations and companies. Everyone can make commitments. Individual schools can commit, more companies can make commitments, sport organizations can make commitments. That's the way to address these issues."
More than 40 countries and 20 international organizations, civil society groups and private sector giants such as Facebook and Google took part and pledged to combat antisemitism and promote Holocaust remembrance.
Löfven has served as prime minister since October 2014. Though born in Stockholm, he grew up in northern Sweden with a foster family because his biological father died before he was born and his biological mother was unable to raise him. His foster parents were working-class Swedes – the father a lumberjack and factory worker, the mother a homemaker. After high school and a couple of years in the Swedish Air Force, he became a welder.
As a metalworker, he became a trade unionist and worked his way up until 2005, when he became the head of IF Metall, one of Sweden's largest and most powerful blue-collar unions. In January 2012, Löfven, who had been active as a young man in the Social Democratic youth league, was elected party chief; the Social Democrats were in the opposition and had been mired in a leadership crisis.
Löfven became Sweden's prime minister after the 2014 general election and won a second term four years later, even though the Social Democrats suffered their worst showing in over 100 years in the 2018 vote. The country's four center-right parties wouldn't cooperate with the populist right-wing Sweden Democrats, so Löfven formed a coalition with the Green Party, bolstered by a left-wing party and a couple of small center-right outfits.
This coalition, still in power, still suffers from weak support in parliament, and the Social Democrats have had to make painful compromises to stay in power. Löfven has often been described as a political survivor and an extremely skillful negotiator who has kept his party afloat despite the tough political landscape.
Last week, during the party gathering in Gothenburg, Löfven's successor, Finance Minister Magdalena Andersson, was elected. If all goes according to Löfven's plan, parliament will choose Andersson to be prime minister until the 2022 election. She'll be the first woman to hold the job.
Her task now is to lead the Social Democrats to victory. In her first speech as party leader, she stressed the core values of her electorate, not the compromises of her predecessor. Löfven has suffered criticism from party members and voters because the Social Democrats have had to please right-wing coalition partners.
"In the age of global crises, it is obvious to more and more people that the wind is blowing for us Social Democrats, for strong society, for equality," she said, adding that after decades of privatization, market experiments, weakened workers' rights and growing social gaps in the interest of private profits, it's time for common solutions rather than market solutions.
In another speech, Andersson mentioned Löfven's efforts to combat antisemitism and promote Holocaust remembrance, and vowed that "Stefan, we will all continue that work." Löfven is confident that she will come through.
"This is part of our party's ideology," he says. "I'm convinced that my successor as party leader has no different understanding than I do [on these issues]."
Bilateral ties
When it comes to Sweden's relations with Israel, the start of Löfven's first term couldn't have been worse. One of his government's first steps was the recognition of a Palestinian state. The following year, 2015, in an interview on Swedish TV, then-Foreign Minister Margot Wallström linked that year's jihadist attacks in Paris to the Palestinians' plight under Israel's occupation.
That comment and similar ones were viewed in Jerusalem as pro-Palestinian and anti-Israeli, and led to the recall of ambassadors and the freezing of bilateral relations. For nearly three years no meetings were held between officials from the two countries, and Israel repeatedly rebuffed requests by Wallström and Löfven to improve ties. The situation improved slightly toward the end of 2017, but there were no one-on-one meetings between Löfven and Israel's then-prime minister, Benjamin Netanyahu, and no high-level contacts between the foreign ministries.
But all that changed last month when Swedish Foreign Minister Ann Linde visited Israel and met with her Israeli counterpart, Yair Lapid. A few days earlier, President Isaac Herzog made an online appearance at the Malmö forum.
Was recognizing a Palestinian state a mistake?
"No, it wasn't. Our recognition of Palestine was based on our desire to see Israel and Palestine living side by side. We think, in the long term, that this is a way to create conditions for an agreement to become a reality, because there must be two parties to achieve such an agreement. This wasn't anything against Israel. The opposite is true. This is part of Sweden's and our party's commitment – we want Israel and Palestine to live in peace side by side. I'm happy we are where we are now. I've spoken a few times with Israel's new president and it feels good. Our two countries shall have good relations."
Is Israel's new government the reason for the improved relations with Sweden, and is its left-wing/right-wing cooperation a good model for governments in other countries?
"I won't speculate about what made Israel's government change [regarding Sweden], but I'm very happy about the improvement of the relations. We have all the opportunities to have good cooperation on many issues."
Domestically, Löfven's challenges at the helm were unprecedented in the last few decades. In recent years the country has been plagued by a rise in organized-crime violence and antisemitic hate crimes, which many claim are linked to immigration and integration problems. In particular, there was the 2015 crisis when Sweden and Germany were the only European countries taking in asylum seekers in huge numbers. On mass immigration to Europe, Löfven and German Chancellor Angela Merkel have pursued similar policies, but now they're both leaving the scene.
When asked about the possibility of a new refugee crisis and the way Sweden and all Europe will handle such an event with Sweden and Germany's new leaders, Löfven sounds disappointed with European countries' solidarity on this issue. But he's confident that Sweden won't pay for that this time around.
"The reason Sweden took in so many asylum seekers in 2015, 163,000, and Germany took in over a million, is that European cooperation didn't work," he says. "Since then, we've changed our legislation. We had to do this because our policies were more generous than those of other countries, and naturally more refugees came to us. We thought that Europe should coordinate [the distribution of refugees], but this never happened, so we changed our immigration policies.
"We're trying to make changes and coordinate on the European level, but that's not easy. If a new wave of immigration arrives now, we in Sweden are now at the same level as other European countries, so we will be able to handle it in a better way."
One side effect of a large immigration wave to Europe is a large wave of right-wing populism around the Continent. Sweden's populist right-wing Sweden Democrats have gained popularity since they entered parliament in 2010. Founded in the late 1980s by far-right, nationalist and neo-Nazi activists, the party now defines itself as "nationalist and social-conservative." It is currently the third-largest party, and two of the country's mainstream right-wing outfits – the Moderate Party and the Christian Democrats – have agreed in principle to cooperate with the Sweden Democrats after many years of the party's complete isolation by the political establishment.
This development concerns Löfven, who during his two terms fought aggressively against cooperating with the Sweden Democrats.
"The leader of the [center-right] Moderates said three years ago that he will not cooperate with the Sweden Democrats. He even promised this to [Swedish writer and Holocaust survivor] Hédi Fried. Now he's doing it anyway," Löfven says, adding that smaller parties on the right are cooperating with that populist party or considering doing so, naively thinking that they can work together in certain areas while continuing to disagree on others.
"I'm worried about the normalization of these kinds of forces," he says. "We're seeing this in other European countries too. That's why it's so important that we stand up for democracy, for an open society and for solidarity."
Löfven isn't the only one thinking like this. "I noticed that Israel's new ambassador to Sweden said that Israel will not pursue a dialogue with the Sweden Democrats," he says, referring to last month's interview of the Israeli ambassador to Sweden, Ziv Nevo Kulman, with Swedish daily Dagens Nyheter. "I understand why he said that. Holocaust survivors have said that they [the Sweden Democrats] have the same kind of tendencies now as they had before."
Reviving the Iranian nuclear agreement
Although Sweden is a modest-sized country at about 10 million people, it has always played an important role in the European Union, at the United Nations and in the world of international humanitarian aid. It has also been home to many famous diplomats, negotiators and peacemakers, from Raoul Wallenberg and Folke Bernadotte during World War II, to Dag Hammarskjöld, Olof Palme, Carl Bildt and Hans Blix. These statesmen played key roles in the postwar era, respectively, at the United Nations and during the Iran-Iraq War, the Bosnian war and the Iraq-disarmament crisis.
Over the years, Sweden has also been criticized for its international efforts, whether because of its wartime neutrality or maintaining of ties with dictatorships and terror groups around the world such as the PLO at the time, Cuba and Iran. In many ways, Löfven has continued his party's traditional policies, seeking multinational cooperation via international bodies, diplomacy, trade and foreign aid for humanitarian causes.
Asked about the Biden administration as compared to the previous team, Löfven – who says he briefly met with President Joe Biden in Glasgow during the global climate conference last week – is optimistic.
"I see a clear difference between them, even though there's still much more to do," he says. "This administration has another attitude. President [Donald] Trump said, for example, that the EU was created only in order to make things difficult for the United States – that that was its purpose. Things are different now. We have European cooperation which is very important to us, it creates a good base for trans-Atlantic relations. And now 'America is back' too.
"But it's not like the changes came without problems. In trade issues there are still difficulties. We want the customs duties imposed by the previous U.S. administration to be removed. I think the Biden administration has a different view about this, but he says that before removing tariffs the United States has to get stronger in terms of education and infrastructure.
"So, this will take time and this is the traditional policy of the Democratic Party, which always supported the 'Buy American' slogan. But it's obvious this administration is different than the previous one – it wants good relations. We must have a discussion between Europe and the United States about new trans-Atlantic relations."
Asked if he is worried by American protectionist policies, Löfven says he realizes his American partners are concerned, for example, by China growing economically, technologically and militarily, and he respects this. But again he stresses that serious conversations must be held on both sides of the Atlantic so as not to lose the European-American connection.
Sweden's approach to Iran is another issue that interests Israelis. Like its neighbors, Sweden has continued to engage with Iran in recent years and criticized Washington's decision to leave the 2015 nuclear deal, known as the JCPOA.
"We think it's important to do everything in order to make sure that Iran doesn't have access to nuclear weapons, and to continue discussions and agree on how to revive the JCPOA. It won't be easy, but it was a big mistake to break the deal," Löfven says.
"We are clear with Iran when it comes to human rights, equality and freedom of expression. We are clear with all countries on these issues. We don't hesitate to say what we think, but we want Iran to develop in a democratic way, and that is done best with dialogue, with trade, with exchange. We have to balance these things, not only in Iran, but with other countries too."
Closer to home, and perhaps more timely, one of Löfven's final challenges is the interim report by a government-appointed commission that investigated the way the Swedish government and other authorities handled the coronavirus crisis. According to the document, Sweden's reaction was slow, measures taken to control the virus were insufficient and a number of preventive steps were inadequate. The report said some of the problems stemmed from government policies, while others resulted from failures on the municipal level. The remaining issues will only be addressed in the final report early next year.
How do you see your and your government's reaction to this global crisis?
"First, it's important to mention that sometimes Sweden is described as if we did nothing or didn't care. That is wrong. We had restrictions and recommendations that limited people's freedom of movement. One question that was widely discussed was whether schools should be closed. We didn't close our schools, and now many countries think perhaps they should have done the same.
"One difference between the autumn of 2020 and the situation now is that a year ago, we said this is a marathon, not a sprint – it's going to go on for a long time and we should evaluate our response when the pandemic is over. Now, we can see that our excess mortality rates don't stick out, in fact they're low in a European perspective."
Just over 15,000 COVID patients have died in Sweden, making the country No. 54 in deaths per population. But Löfven is aware of the problems. He admits that the country wasn't prepared in terms of caring for older people.
The commission's report also notes the pitfalls of large-scale testing and other aspects in a decentralized crisis-management system that is unclear about areas of responsibility. "We, the finance minister and myself, said to the municipalities early on – do what you need to do, we'll take care of the bill," Löfven says. He says the state bears responsibility for the overall handling of the pandemic, but other authorities including the municipalities and the Public Health Agency have played roles that will be examined from both legal and economic perspectives.
As of now, with over 80 percent of the adult population fully vaccinated and relatively few new daily cases, Sweden has lifted almost all its remaining coronavirus restrictions and is pretty much back to normal. Politically, however, the next few months will be anything but normal – the appointment of a new prime minister, the start of an election campaign and lots of domestic and international drama will dominate the news. But after seven years of being in the center of it all, Stefan Löfven will be watching from the sidelines.
Click the alert icon to follow topics:
ICYMI
Ken Burns' Brilliant 'The U.S. and the Holocaust' Has Only One Problem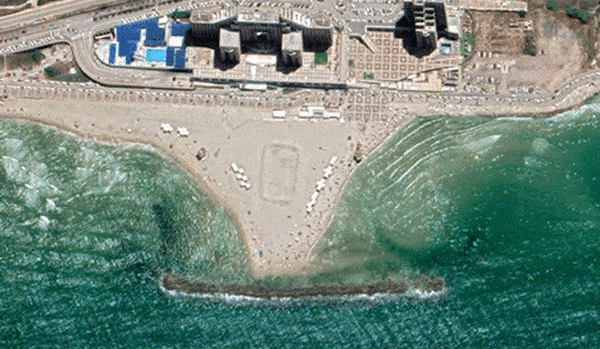 Facing Rapid Rise in Sea Levels, Israel Could Lose Large Parts of Its Coastline by 2050
Lapid to Haaretz: 'I Have Learned to Respect the Left'
The Mossad's Fateful 48 Hours Before the Yom Kippur War
As Israel Reins in Its Cyberarms Industry, an Ex-intel Officer Is Building a New Empire
How the Queen's Death Changes British Jewry's Most Distinctive Prayer