After N.Y.C. Outbreak, Fearful British ultra-Orthodox Fight to Stave Off Coronavirus
Although coronavirus has hit Britain's Jews disproportionately hard, few of those deaths have been ultra-Orthodox Jews. But with that community late to start social distancing, will Stamford Hill become the next Haredi hot spot?
A Jewish girl in a Union Flag dress running down the street during the annual Purim holiday in Stamford Hill, London, March 10, 2020. The area is now on lockdown.
Credit: SIMON DAWSON/REUTERS
LONDON – An anxious silence has settled over the redbrick houses of Stamford Hill. As the death toll mounts from the coronavirus pandemic, Britain's Haredi heartland is slowly coming to terms with a new way of life.
"It is a clear lockdown now," says Levi Schapiro, director of the Jewish Community Council in the northeast London suburb. "In fact, it is probably more than a lockdown – people are taking it really seriously. Families are staying indoors; shuls, schools, yeshivas are all strictly closed."
The coronavirus has hit Britain's Jewish community disproportionately hard, with most deaths concentrated among elderly members in London (where two-thirds of British Jews live).
Initial data suggest that some 2.4 percent of the deceased – 55 of the 2,352 reported deaths as of Tuesday afternoon – are Jewish, yet the community comprises just 0.4 percent of the United Kingdom's total population. The number of Jewish deaths is being compiled by the Board of Deputies of British Jews, although the actual number is doubtless higher.
Britain's ultra-Orthodox community has registered seven deaths, including five in Stamford Hill. Last Thursday, Rabbi Uri Ashkenazi, the 76-year-old leader of London's Stanislaver Hasidic dynasty, became the most well-known Haredi Jew to succumb to the disease.
Outside of London, the small ultra-Orthodox community in Leeds, home to some 7,000 Jews, lost its most senior rabbi two weeks ago: Rabbi Yehuda Yaakov Refson, 73, had headed the regional rabbinical court there for over four decades.
Collective shock
Anecdotal evidence suggests that many more Haredim in Stamford Hill are hospitalized, and the community ambulance Hatzolah service reported taking 33 patients to nearby Homerton Hospital on Saturday alone. There had been worries from outside the community that it was at risk of repeating the mass clusters seen in both New York and Israel, where ultra-Orthodox communities were criticized for flouting coronavirus restrictions.
Indeed, the U.K. ultra-Orthodox community was dealt a collective shock by the speed and severity of the COVID-19 outbreak among its sister communities in Israel and North America.
Britain's Haredim are tightly integrated with other communities in the Jewish world, and as information began surfacing of the hundreds of cases in the Haredi centers of Borough Park and Williamsburg, the potential severity of the outbreak gripped the community. And many saw the roots of Stamford Hill's eventual shutdown more driven by developments overseas than in Westminster, where the British parliament sits.
Like in its sister communities, Britain's large Haredi families often live in cramped conditions in densely populated areas, making it easier for the coronavirus to spread – especially if social distancing is not practiced.
On Wednesday, the latest figures released by Shomrim – a neighborhood watch association in Stamford Hill – revealed that in addition to the five deaths, 200 Haredim in the community have also tested positive for the coronavirus. Actual figures may be much higher than those reported, as the British government has been slow to roll out tests to those suspected of having COVID-19.
But while Stamford Hill is now eerily silent, that wasn't the case until very recently.
Last week, after days of bitter wrangling, the Union of Orthodox Hebrew Congregations (the umbrella body that represents Haredi synagogues in Britain) issued a rabbinical ruling ordering the closure of synagogues, schools and other institutions. That ruling superseded an earlier decision from March 20 that allowed synagogues to remain open for the forthcoming Shabbat.
The flip-flop came a day after British Prime Minister Boris Johnson's March 23 announcement that a full lockdown would be enforced across the entire country.
Critics accused the Union of prevaricating by not making the decision sooner and capitulating to a minority that had wanted to keep their institutions open. However, others saw it as a responsible decision not to pre-empt government measures.
Splits were laid bare by the decision: Criticism, both from within and outside the community, public and private, mounted.
A group of 20 Jewish doctors circulated a letter to Stamford Hill residents in mid-March, saying the Jewish neighborhood "was at a higher risk than most other communities," and pleaded with everyone to follow social distancing guidelines and stay at home. The letter was prefaced with a stark warning: "You are fully responsible for deaths that occur as a result of ignoring this advice."
Yet even while reports of coronavirus fatalities filtered through, viral videos circulated among the more religious elements of the community suggesting that COVID-19 could be prevented and cured with a mix of prayer and home-brewed remedies. Unscientific suggestions were also printed in the newssheets that carry community information to almost every ultra-Orthodox home in Britain.
Rabbi Avrohom Pinter cites the deaths in North America as the eventual turning point. "It was only really what happened when information started coming from New York, where so many people were dying, for people to realize that these weren't just recommendations. These were things that will save your life" he says.
"Sadly," adds Pinter, the principal of a large Haredi school in Stamford Hill, "it took people to die to bring down the enormity of this."
Breaking ranks
Yet even while Stamford Hill remained partially open last month, other ultra-Orthodox communities in Britain had already begun to break ranks.
Gateshead – a Haredi outpost in northeast England that is home to Europe's largest yeshiva – introduced strict social distancing guidelines and banned prayer gatherings on March 19. The following week, it had effectively sealed itself off from the rest of the Jewish world, requiring permission for guests to enter and asking that anybody leaving town not return until the end of Passover (April 16).
Prominent rabbis in Golders Green, which is home to London's second largest ultra-Orthodox community, were vocal in their disagreement with the Union's initial decision to keep synagogues open. In an email circulated online, one well-known rabbi, Yisroel Meir Greenberg, said that his name had been added to the March 20 ruling without his consent, stating that he had "not been part of the discussion" and saying he would "need to review my relationship with the Union altogether."
However, with the United Kingdom now in its second week of lockdown, Stamford Hill has finally got real and its organizations have been working to protect the community.
The National Health Service's medical advice and the government's lockdown directives were translated into Yiddish and Hebrew and distributed throughout the community; cars drove street to street, broadcasting advice through loudspeakers; and synagogues closed – sometimes even changing their door locks.
On Tuesday, one of Britain's most prominent ultra-Orthodox rabbis, Sholem Friedman, addressed the community in an automated telephone broadcast, calling on all Haredim to practice stringent social distancing and banning all gatherings.
Levi Schapiro's JCC is among the bodies spearheading the crisis response. Under his guidance, the council has set up an emergency coronavirus hotline for assistance and advice. It is "ringing all day and night," he says, "we have between 100 and 150 calls a day."
Schapiro also says he is organizing between 500 and 800 young volunteers to go door-to-door, delivering vital provisions to families in home quarantine or self-isolation.
Yet there are still concerns that some in the Haredi community are not taking the restrictions seriously enough and could be endangering themselves and wider society.
Over the weekend, a report of an outdoor minyan featuring dozens of men in close proximity drew criticism and a visit by London's Metropolitan Police, who said they "had become aware of a small number of religious meetings in Stamford Hill." And recent days have included reports of other illegal prayer gatherings and the use of mikvehs (ritual baths).
"There are pockets," confirms Rabbi Pinter, who adds that "there is a small minority who don't trust authority."
Pinter, a soft-spoken man, is clearly irritated when he reveals that a synagogue to which he is associated was forced to drain its mikveh when it learned that congregants had been breaking in to immerse themselves in it.
"It was the only way we could resolve this," he says. "We did try to talk to everybody, and there were some who couldn't or didn't want to understand."
In response, the Union has ordered that those not following the emergency guidelines be considered rodfim – one of the strongest rabbinical sanctions possible, referring to people intent on murder who must be stopped.
The Union has "used very strong language" and been "very clear," Pinter says. But "you'll always find some idiots," he sighs.
The influential and anonymous Stamford Hill Haredi blogger IfYouTickleUs tells Haaretz the community's response has improved of late. "The heavy toll that Haredi communities are paying is taking its toll and people are internalizing the message," he says.
However, he believes there is still more to be done. "The rabbis and leadership must get together to show they are being serious," he says. "They could publish letters authorizing people to report to the police 'pop-up' minyanim and open mikvehs," he suggests. They could also "spell out the dangers loud and clear, again and again, rather than put out a single message and rely on that to show that they've done their bit."
Ultimately, he says, "graphs and warnings in headline fonts are fine. But they are no replacement for basic information."
'The Last Redoubt'
It has been suggested that the prevarication within the Union to order a full closure of the synagogues and schools was due to opposition from groups with U.S.- and Israel-based leaderships, such as the Satmar Hasid and Belz dynasties. Having been forced to shutter at home, they were thought reluctant to close their London synagogues unless the government required them to.
According to the blogger IfYouTickleUs, "Israel and New York were flexing their muscles here as if it was the Last Redoubt."
While religious life in Stamford Hill may have slowed, behind closed doors life goes on.
"We are having new experiences that are positive," Pinter says. "At the moment, I am living with my daughter and my grandchildren. We've been running shuls, and the kids are loving it. The kids are even leading the services."
There is a scream in the background as a granddaughter interrupts her grandfather's thoughts with the instruction "Zayde! Come, come!" Pinter emits a grandfatherly chuckle. "It brings its challenges, but it also brings its rewards."
Click the alert icon to follow topics:
ICYMI
Ken Burns' Brilliant 'The U.S. and the Holocaust' Has Only One Problem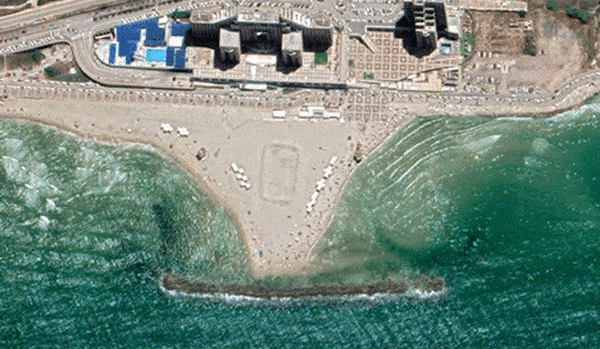 Facing Rapid Rise in Sea Levels, Israel Could Lose Large Parts of Its Coastline by 2050
Lapid to Haaretz: 'I Have Learned to Respect the Left'
The Mossad's Fateful 48 Hours Before the Yom Kippur War
As Israel Reins in Its Cyberarms Industry, an Ex-intel Officer Is Building a New Empire
How the Queen's Death Changes British Jewry's Most Distinctive Prayer