People Have a Right to Disappear, France Said. Then Came a Serial Killer
The arrest of an apparent serial killer is making the French realize they have a problem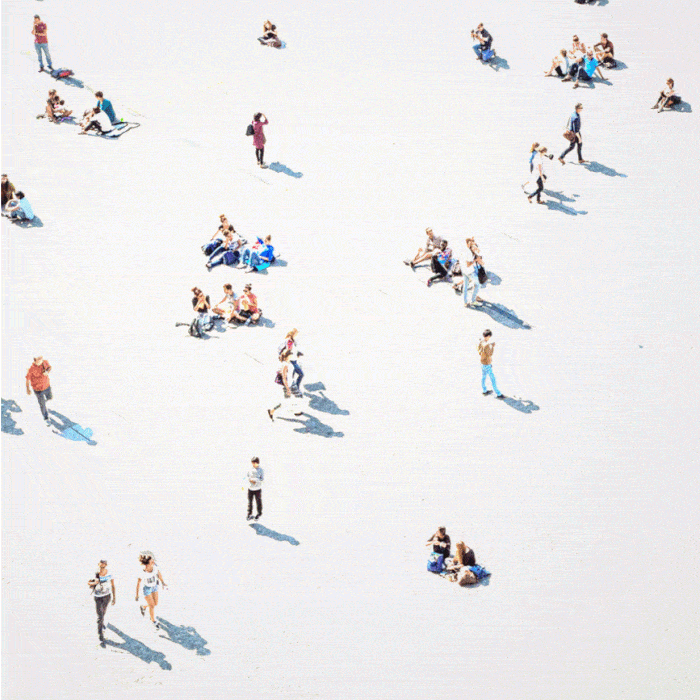 If he'd stuck with older victims, he might never have been caught. No one considered him a suspect after a soldier was murdered two months earlier, and no one thought of looking into why so many people had disappeared close to where he lived. People disappear, the authorities told the families. They run from debts, start a new life, commit suicide. There's nothing to be done.
But a year ago, on August 27, Nordahl Lelandais made a move that led to his capture. He bundled his latest victim, Maëlys de Araujo, not yet nine years old, into his car. The discovery of her body, half a year later, would open a Pandora's box and also touch off a larger public debate in France. Was it possible that a serial killer had been operating unhindered in the country for more than a decade? The French would find out very quickly that the answer might be yes – but also that he might not be the only one. A country that has a higher murder rate than its neighbors, where 1,000 unidentified bodies are found every year and where searches for missing people are not conducted for reasons of principle, might be said to have a problem.
Uninvited guest
Though he has yet to be convicted of even a single murder, "Nordahl Lelandais" is today a household name in France, the mere mention of which makes people shudder. By means of his photograph, the 35-year-old man has also become instantly recognizable. If the suspicions against him are proved, Lelandais will turn out to be the most notorious serial killer France has known over the past 20 years.
A year ago, Lelandais was still merely a failed, anonymous dog trainer. In the years that had passed since he completed his army service – from which he was discharged for mental unsuitability – he had worked in odd jobs and lived for the most part in his parents' home on the edges of the French Alps, not far from the Swiss border. He'd served jail time in the past, for robbing and setting fire to a restaurant. Some also knew him as an occasional drug dealer.
Unlike the de Araujo family, Lelandais wasn't invited to the wedding that was held on that evening last August in Le Pont-de-Beauvoisin, a town in southeastern France, but he showed up anyway – in shorts and a T-shirt. Maëlys' mother testified that he looked out of place from the start of the event. He befriended her young daughter and "celebrated a little too much." The party ended abruptly at 2:45 A.M., when the parents realized that their daughter was missing.
The search for her, which went on for days and received extensive media coverage, was futile, but the suspicions against Lelandais increased apace. To begin with, people noticed that he didn't participate in the effort. According to witnesses, he had left and returned to the wedding venue several times during the course of the party. Investigators who examined his cell phone were surprised to find that on at least two occasions that night, it was put into flight mode for extended periods, making it impossible to determine his geographical location.
On the day after the wedding, he was seen in the local gas station, cleaning and polishing his car for more than two hours. According to reports in the French media, he used a disinfectant so pungent that the sniffer dogs that were later brought in to check the car became ill afterward. A security camera video from that night showed Lelandais driving his car with a small silhouette on the seat beside him.
In short order, Lelandais became the chief suspect in the disappearance of Maëlys, even though no solid evidence was found. Three months went by without significant progress in the case until, in December 2017, his picture again appeared in the evening newscasts, this time in connection with a different investigation.
Is it possible that a serial killer had been operating unhindered in the country for more than a decade?
In April, about five months before the disappearance of Maëlys de Araujo, a 23-year-old soldier, Arthur Noyer, who was stationed near the city of Chambery, a 35-minute drive from Lelandais' parents' home, had vanished. Noyer had last been seen in the city around 3 A.M., after hanging out with friends in a bar. The next day, he didn't show up at his base. Video footage showed a car identical to the one owned by Lelandais, driving along the road where the soldier was hitchhiking. But because it was a popular model, the investigation hit a dead end.
Some months later, however, from the moment that Lelandais was questioned about Maëlys' disappearance, his possible involvement in Noyer's absence was also examined. At that point, the evidence began to accumulate. The tracking of the missing soldier's mobile on the night he disappeared placed its location next to another phone – the one belonging to Lelandais.
The two phones followed an identical route in a vehicle that night, until Lelandais' phone was placed in flight mode. As the suspicions grew, a court ordered a DNA sample to be taken from a skull found by a hiker in nearby hills in September. The DNA showed that the skull was that of Noyer; the rest of his remains were found nearby.
A police examination of Lelandais' computer revealed that he surfed sites of pornographic pedophilia. The police also discovered that two weeks after the soldier's disappearance, Lelandais searched for information on an unusual topic online: "Decaying process of human body."
The suspect maintained his silence until February 2018, when a microscopic sample of de Araujo's blood was found in his car. It was only then that he admitted to killing the girl – by accident, he claimed – and led the investigators to her body. A postmortem showed several skull fractures, but didn't provide an unequivocal answer concerning a possible sexual assault. A few weeks later, Lelandais also admitted to killing Noyer – again accidentally, he said.
One-thousand bodies
Maëlys de Araujo, the girl in the white dress, with her dark brown eyes and a braid – as she appears in photographs taken at the family wedding – was the last victim of Nordahl Lelandais. But how many were there before her?
A search for the answer to that question turns up appalling yet ambiguous statistical information about France. United Nations and European Union crime data show that more people are murdered in France than in the country's neighbors – Switzerland, Italy, Britain, Holland, Spain, Portugal and Germany. Between 2010 and 2014, an average of 801 people were murdered in France every year, as compared to 718 in Germany, whose population is larger by nearly 16 million (67 million versus 82.7 million). Of France's close neighbors, only Belgium has a higher murder rate.
On top of this, about 1,000 unidentified bodies are discovered in France every year and are buried by local authorities without documentation or a proper DNA examination. In Britain, which has a population of about the same size, 66 unidentified bodies and parts of bodies were discovered in 2016. That huge disparity, experts say, stems from the completely different procedures followed in the two countries. France, in contrast to other countries, including Israel, does not have a national database containing the details of unidentified bodies discovered there – where and when they were found, gender, estimated age, physical description, cause of death, DNA. The other side of the coin is that France also lacks a national database that holds information about missing persons, together with their or their relatives' DNA.
Two weeks after the soldier's disappearance, Lelandais searched for information on an unusual topic online: 'Decaying process of human body.'
At this point, we come to the number of missing persons. Every year, authorities in France receive between 40,000 and 67,000 missing-persons reports. The vast majority of these cases are solved quickly: The missing individual returns home or is found alive, or his or her body is discovered. Still, a certain unknown percentage of the files remain open: The missing persons are never found. It's difficult to estimate the scale of the phenomenon, because no official body in France or elsewhere provides precise information. (The French Interior Ministry refused to respond to any questions on the subject from Haaretz.)
In Israel, by contrast, the numbers are clear. The names of between 15 and 30 Israelis a year are added to a black list of missing persons who were never found (which currently totals about 500 names). If Israel had the same population as France, at that rate, the annual list of missing persons would be 237. But even the most conservative estimates in France talk about at least 1,000 people a year who seemingly vanish into thin air.
With the exception of the disappearance of minors, clear-cut cases of kidnapping and disappearances classified as "worrisome" (referring to people suffering from Alzheimer's disease, for example, or in which the circumstances lead the police to believe that the missing person's life is in danger), the French authorities do not investigate.
"Without any indication that the missing person is in danger, no official inquiry can be launched," according to a government site that explains to French citizens their rights. "You must find the person by yourselves. The social networks can also be used," the site suggests.
This policy became even more stringent in 2013, when the French Interior Ministry canceled the "search for the benefit of the family" procedure that had existed since the end of World War I, in regard to families in which adults had disappeared. Under the procedure, the police did not actively search for the missing individual but reported to the family if he appeared on the authorities' radar – for example, if he were arrested, turned up at a border crossing or opened a bank account.
"An adult person has the right to disappear and that's how it is in every country in the world," I was told by Alain Bauer, a leading French criminologist, who was an adviser to former President Nicolas Sarkozy, former Prime Minister Manuel Valls and several interior ministers. "If you decide tomorrow to move to Patagonia because you're angry at your family, you are permitted to do that and are under no obligation to tell anyone. I know this is surprising, but the problem is that we arrived at this policy in the wake of our experience. The police force wore itself out with unnecessary searches for people who hadn't really disappeared, and therefore it was decided to focus on kidnappings of minors."
Indeed, France is not the only country that abides by the principle that an adult has the right to disappear. Where it differs is in its interpretation. According to the French approach, if people are permitted to disappear, in many cases there's no need to search for them and in some cases the complaint about their absence need not even be recorded. In Israel, by contrast, the police investigate the absence of adults, too, even if there is no suspicion of foul play.
"The moment a complaint is submitted concerning a missing person, the police are obliged to launch activity to locate him; all missing persons are given identical treatment, irrespective of their age," a spokesperson for the Israel Police stated. "People don't just disappear for no reason," a source involved in investigating cases of missing persons in Israel told me. "The disappearance itself calls for an examination."
Britain and Canada also recognize a person's right to disappear, but that does not affect the investigation. "Clearly we investigate cases of missing adults," someone who works with the British organization Missing People told me. She added, "It's true that they have the right to disappear, but we try to find them, whether they want it or not."
In Germany, on the other hand, the approach resembles that of France. "Adults of sound mind and body have the right to freely choose their whereabouts without informing their relatives and friends thereof. Therefore, it is not the police's duty to investigate a person's whereabouts if the danger to life and limb does not exist," an official document of the German police states.
Beyond France's principled position, experts I spoke with explained that the problem is also a result of deficient resources and substandard training.
Alain Bauer admits that, "A difficulty has indeed arisen in regard to what's known as a 'search for the benefit of the family.'" In his view, "We found ourselves in a situation in which the police decided that it's less important and less urgent. It's not that no one is investigating, but the order of priorities changed in favor of children, and the search for adults fell to the bottom of the ladder. If there's no indication of a dangerous situation, such as a letter, an email, a threat or the like – the police don't get involved."
It's a simple matter to differentiate between a person who's missing and a person who's been kidnapped, Bauer adds: "In a kidnapping, there are generally signs of a struggle in the apartment; you see that the car keys are there. Sometimes there are witnesses, or prior threats."
What about people who got a lift with the wrong person or chanced to meet the wrong person? The French Interior Ministry did not respond to this reporter's question about how it's possible to know that someone who has disappeared hasn't fallen victim to a violent crime if no one investigates his disappearance.
Attorney Corinne Herrmann, who with her associate Didier Seban is waging an insistent campaign to get the French police to examine old, unsolved cases, doesn't understand the authorities' policy. "Before we can respect the choice to disappear, we need to check that the missing person disappeared of his own free will," Herrmann says. "I think the system is trying to get rid quickly of cases that it doesn't think are criminal. That's a mistake, of course."
1,000 unidentified bodies are discovered in France every year and are buried by authorities without documentation or DNA examination.
She's seconded by Bernard Valezy, who after a long career in the French police is currently vice president of Assistance et recherche de Personnes disparues, an NGO that assists the families of missing persons. "We have been dealing with missing persons cases since 2003," Valezy told me. "But it took the Lelandais episode to get people to listen to us when we say that there's a genuine problem in the handling of these cases."
According to Valezy, a preliminary investigation of every disappearance should be mandatory, no matter what the age of the missing individual is. He also points to the absence of national databases with information about missing people and unidentified bodies. As a result, many cases that might have been closed are still open, and many families that could have received news, even the worst, about their loved ones continue to live in uncertainty. "If such a database existed, we would have already seen a few years ago that there were an unusually large number of disappearances in these regions," Valezy notes, referring to districts where Lelandais is suspected of having operated. "Missing persons cases can turn up clues about serial killers."
Last shopping trip
Following Lelandais' confession to two killings, the police and the media began to take an interest in his past and his surroundings. There were some 10 suspicious cases concerning missing persons, mostly men, in proximity to his home during the preceding decade. If the search radius is extended, as many families are demanding, the number of missing persons who have not been found could jump to more than 20. Years too late, a special team of investigators is now trying to trace Lelandais' life in reverse: where he was on what day, what make of car he was driving, and where his cell phone could be tracked to, in order to find out if his routes intersected with those of people who disappeared in the area.
The police haven't yet publicized information about how their investigation is progressing, but according to the French media, there are several disappearances in which a possible connection will be examined. These include the cases of Eric Foray, 46, who left a supermarket in September 2016 and never got home with the groceries; Nicolas Suppo, 30, who went on a lunch break in September 2010 and was never seen again; Nelly Balmain, 29, last seen on her motor scooter in August 2011; and Hugo Raffi, 28, who wore flip-flops and wasn't carrying a wallet when he left his house in June 2012, never to return.
Some of the families have already established that there was some connection between Lelandais and their loved one. For example, Lucy Roux, who was 43 when she disappeared in 2012, suffered from social phobia and visited a psychiatric institution where Lelandais was also treated. The two even ate at the same table several times, as a sister of Roux told the Journal du Dimanche.
A glance at the map of the disappearances possibly related to Lelandais that are now being examined, and the fact that Noyer's murder was linked to him almost by chance, have intensified the feeling that something is amiss. How is it possible that in the present decade, with all the technology that is available, no one noticed that so many disappearances had occurred in one particular region?
"The major difficulty we are having to contend with is that France is failing in the investigation of missing persons cases," says Didier Seban, a lawyer and associate of Corinne Herrmann's. The two were involved in the procedure that ended with the conviction of France's worst serial killer in recent decades, Michel Fourniret, dubbed the "ogre of the Ardennes." With the aid of his wife, Monique Olivier, Fourniret kidnapped girls and young women, and raped and murdered them. To this day it's not clear how many women he victimized. Convicted on seven counts of murder, he was sentenced to life imprisonment. Since then he has confessed to several more cases, and additional disappearances are being attributed to him.
Some of the experts I spoke with took pride in the high rate of murders being solved in France – between 85 and 90 percent – but Seban sees things differently.
"The system works well when someone close to the victim is behind the murder – someone from the family, a partner, a colleague," Seban explains. "But very few cases in which the murderer is not so close – someone who chanced on the victim, or a serial killer – are solved, because the investigation isn't cross-matched with other missing persons or with other crimes perpetrated in the area."
A clear-cut example can be found in the files of Jean-Christophe Morin, who was 23 on the day he disappeared, in 2011, and Ahmed Hamadou, who disappeared in 2012, age 45. Year after year, the two attended an electronic-music festival held in a 19th-century fortress in the Savoie region, but they didn't come home from it in those two consecutive years. "Because the missing persons reports were made at different stations, a few kilometers from each other, two different stations investigated the cases and never cooperated," explains Seban, whose firm is representing both families.
This communications short circuit didn't stem from lack of awareness. Adeline Morin, the sister of Jean-Christophe, photographs of whom show a smiling young man with a goatee, told Haaretz that she herself went to the local police as early as 2012 and begged them to check a possible connection between the two cases. "I told the police that something strange was going on up there in the mountains, but they treated me like I was crazy. "
According to Morin, from the beginning, the police treated her brother's disappearance with equanimity. "I didn't even hear that Jean-Christophe was missing until a week after it happened," she says. "He hitchhiked to the music festival with a good friend, and the friend thought that Jean-Christophe had hitched back home alone. On Sunday, when he realized that Jean-Christophe hadn't returned, he went to the police and submitted a report on a worrisome missing persons case. The police filed it and that's all, they didn't update either of us." A family friend who heard about the case a few days later called her, and that's how she learned what had happened.
Years too late, a special team of investigators is now trying to trace Lelandais' life in reverse.
In retrospect, Jean-Christophe's friends related that they had lost track of him around midnight. According to one testimony, he was seen running from the fortress in a panic at 2 A.M. He told the last person who saw him that someone was trying to hurt him, and he ran toward the woods.
Adeline Morin: "The police didn't investigate anything and didn't search for him. It was not until after I was briefed and I called journalists and we started to get things moving that the police brought in a special unit for mountain searches, with dogs and a helicopter. By then three weeks had gone by."
After nothing was found except Morin's bag, the police informed Adeline of their conclusions: "They kept saying that he probably took too many drugs, fell asleep under a tree and died of hypothermia, and that only hunters and mushroom pickers could provide us with new information. They told us there were no leads." The searches for him stopped.
The police files on the two missing persons from successive years of the festival have now been reopened to examine a possible connection to Nordahl Lelandais, as they were last seen only an hour's drive from the home of the suspect's parents. Seven years after her brother disappeared, Morin is preparing for her first meeting with an investigating judge. "At long last," she sighs, "at long last, we'll be able to ask all our questions."
Like Adeline Morin in recent months – since the media began to take an interest – the families of other missing persons from the same area have been telling the stories of what they experienced after they filed a complaint. From their accounts, one pattern arises time and again: a slow response by the authorities, not to say absolute indifference.
"Until the Lelandais case, no one took an interest in the missing people," Dalila Boutvillain, from the Grenoble area, told France 2. Her brother, Malik Boutvillain, disappeared in 2012 when he went for a jog; only recently have police initiated a serious investigation into the case. "Now it's understood that people disappear, and that if the families don't search for them by themselves, nothing is done to find them."
Families have told the French media that when investigations began recently, years after their loved ones disappeared, it was too late. The cell phone had been passed on to someone else, the computer was donated to charity, items that could have advanced the investigation no longer exist.
'Chernobyl cloud'
"In general, France was spared the problem of serial killers, relative to other countries," Christophe Soullez, director of the French National Observatory on Crime and Criminal Justice, told the newspaper La Croix last year. "We see this type of crime profile crop up once every three or four years on average." Today, that comment will make many people wonder whether the low rate of serial killers in France reflects reality – or the authorities' capabilities.
"For a long time they said to me, 'You and your serial killers,' and they deliberately used the English term, as though I were talking about the Chernobyl cloud floating above France," says Stephane Bourgoin, who in 1976 discovered the body of his wife, Eileen, who had been murdered by a serial killer in the United States. Since then he has become an expert on serial killers and has interviewed more than 70 of them in prisons around the world, in an effort to understand the phenomenon. Bourgoin told me that since 1999, 154 murderers who struck more than once have been brought to trial.
"When you connect their crimes, they are responsible for more than 10 percent of the murders in the country," Bourgoin notes, adding that the way France deals with serial killings has improved significantly over the past 40 years: As in most countries, and certainly in Europe, the number of murders is steadily decreasing. "But in my opinion," he says, "the number of serial killers has increased. Possibly because the media talks about them, and possibly because we have better tools to solve these crimes."
Contrary to Bourgoin, attorney Herrmann believes that even if there was a rise in awareness of serial killers about 20 years ago, it has long since been forgotten. "There were no outstanding cases after the arrest of Michel Fourniret," she notes. "We actually returned to the starting point – France is shutting its eyes and finding it difficult to admit that it has serial killers."
In Herrmann's view, if the authorities were to seriously track cases of missing persons in France, patterns possibly attesting to the presence of serial killers would be found in additional regions. "But the opposite is happening," she says. "Instead of identifying the series [of murders], we wait for a suspect to be identified and then build a case around him and check to see what else he did."
To which Valezy, from the NGO that assists families of missing persons, adds, "We have no true numbers, no one keeps track of the missing persons cases in France."
Most of those involved agree about the means needed to solve the problem: creation of a national database about missing individuals, unidentified bodies and DNA taken from them; the establishment of an investigative team specializing in missing-persons cases and capable of discovering regional patterns; and, critically, a change of approach with regard to the very issue of missing adults.
Perhaps now, before having been convicted of even one murder, Nordahl Lelandais will become the catalyst for the change urged by many.
"I think the authorities can't go on as though it's nothing," says Adeline Morin, sister of the missing Jean-Christophe. "It's sad, but that's how France works. Someone has to feel shame before things move. I truly believe there will be a change – that now, when a family comes to a police station and says that their son or their brother has disappeared, they will be treated differently."
Click the alert icon to follow topics:
ICYMI
Gazans Are Tired of Pointless Wars and Destruction, and Hamas Listens to Them
Three Years Later, Israelis Find Out What Trump Really Thought of Netanyahu
The Rival Jewish Spies Who Almost Changed the Course of WWII
What Does a Jew Look Like? The Brits Don't Seem to Know
'I Have No Illusions About Ending the Occupation, but the Government Needs the Left'
Russia-Ukraine War Catapults Israeli Arms Industry to Global Stage