Analysis |
Can Meghan Save the Kingdom?
The Windsors could not have found a more perfect bride if they tried – and Britain sorely needs that magic right now
Britain's Prince Harry, Duke of Sussex and Meghan Markle, Duchess of Sussex, leave Windsor Castle in Windsor on May 19, 2018.
Credit: STEVE PARSONS/AFP
The marriage Meghan Markle, or as she is now styled "Meghan, Duchess of Sussex," entered on Saturday morning with Harry Windsor, in the town bearing his name, is a more exploitative contract than any dreamed up by the world of show business.
At the age of 36, Markle has given up her acting career, shut down her successful website and foresworn activism, all to marry her second husband. She has signed on to serve the British nation, as one of its most prominent and hard-working servants and diplomats, until the end of her life. Assuming the marriage to Harry lasts that long.
If Meghan and Harry make a success of it, this most unorthodox of royal brides could prove to be not only the salvation of the royal firm, but a unique asset for her adopted country in one of its weakest moments.
>> Royal wedding: Prince Harry, Meghan Markle declared husband and wife ■ Is Meghan Markle really Jewish? The internet seems to think so ■ Meghan, the feminist princess| Analysis
The British monarchy is facing its biggest crisis ever. One day, at some point over the next few years, the code words "London Bridge has fallen" will be whispered over secure communication lines in London. Queen Elizabeth is 92, with six and a half decades of royal service behind her, and while there is nothing to indicate ill-health, she has already cut back on public appearances and no longer travels overseas. Last year her husband Prince Phillip announced that at 96 he would no longer be taking part in public events.
The heir apparent, Prince Charles, who has been preparing all his life for replacing his mother, is already filling her place at functions. But Charles, the most well-prepared monarch in British history and by now five years older than any other king or queen at their coronation, will never come close to fulfilling Elizabeth's role.
Even the most avowed royalists find it hard to take Charles seriously. We simply know too much about him. How he speaks to the plants on his organic farm, his eccentric views on architecture, religion and environment; the servant who squeezes out his toothpaste every morning and how he dreamed of being his mistress', now wife, tampon. He's too weird and lacking in the magic of mystery that the crown demands.
By the time he becomes King Charles III, he will be a cranky pensioner, skilled perhaps at taking part in the hundreds of events each year where he must shake thousands of hands, smile, feign interest, say a few brief words, and wave with that circular motion perfected by his mother, that doesn't tire out the wrist.
To fulfill the absurd role of monarch in a democratic country, you have to be like Elizabeth. Charles is simply incapable of being both totally accessible and impossible to know, recognizable to all and mysterious. A boringly normal person and yet singularly unique. Resigned to having no political influence whatsoever while being the temporal source of all the government's power. Charles, with his secret letters haranguing ministers, his known beliefs and whims, just can't do it. And besides, he will never enjoy his mother's incredible popularity, built up in the days when the tabloids did not intrude on the royal family's life. And he continues to be shackled to the ghost of his ex-wife, the Princess of Hearts Diana, and tied to his current wife, Camilla, the third person in that doomed relationship.
And Britain needs that magic so badly now. Shorn of its empire for over half a century, with the army that once ruled the world now fielding less tanks and fighter jets than the Israeli military. After its citizens have chosen to cut themselves off from the European Union and a leader of the opposition, who may soon be prime minister, in favor of it relinquishing its permanent membership and veto power on the United Nations Security Council and leaving NATO. Britain has lost its crucial "special relationship" with the United States. On his last visit to Washington, Foreign Secretary Boris Johnson couldn't even get a meeting with the president to beseech him not to pull out of the Iran deal. Instead, he went on Fox and Friends in the hope that Donald Trump was watching.
The former power is no longer a player in the Middle East either. In his round of phone conversations with world leaders before Trump's announcement, Benjamin Netanyahu had time to call the leaders of Russia, Germany and France, but Britain's Theresa May got a call only after the announcement. The balance of influence between Jerusalem and London has so dramatically shifted that the British government has abandoned its policy of not allowing a royal visit to Israel to go ahead until a peace deal is signed with the Palestinians. This summer, Prince William will be making the first such visit. This may be the only way Britain can insert itself back in to the high table of global diplomacy.
The royal family was always in Britain's diplomatic toolbox but there used to be so many other tools there – now the princes are its only unique strength. Which is why the royal courtiers hope that his reign will be a relatively short affair, and the next generation, forged in the fires of media scrutiny, will come to the fore as soon as possible. Charles may be a lost cause, but he is sandwiched in between both a popular mother and popular sons.
As long as Charles doesn't drop the scepter, and if William becomes king before he loses all his hair and is transformed into a curmudgeonly middle-aged man like his dad, the royals may retain enough of their popularity to be of use to Britain. William is boring and predictable enough to be king. His wife Kate, who has given up any personal aspiration to become a queen-in-training, cranking out a new heir and spares every two years, is the perfect partner. Unlike William's parents, they have not provided the tabloids with any fodder for scandal. Don't expect William to say anything interesting when he's in Israel this summer. Every word will have been carefully measured and drafted in advance by the Foreign Office to ensure not a hint of a political message. It will be a bland performance fit for a king.
But the royal couple will need sidekicks. A king and queen can't do all the events that need some royal stardust in Britain and abroad – especially when they are in such demands as special ambassadors for diplomacy and trade. Harry is the only younger adult available, and now at 33, no longer the wild thing photographed at a costume party in Nazi uniform or drunk and naked in Vegas. But it takes a wife to confer ultimate respectability.
The intense international interest in the Markle-Windsor nuptials attests to the fascination that Britain's royal family still attracts. In constitutional terms, it has no real power, but it is the only one of the existing royal families across the world that can be considered a global brand. No one can really explain why Britain, one of the world's oldest and most stable democracies, even needs a royal family, but it's hard to argue with celebrity and success. Meghan may have married out of love but the Windsors could not have found a more perfect bride if they tried.
Like William and Harry, who have lived their entire lives in the glare of camera-lights, Meghan has already been forged in the fires of media gossip. Like Harry, she has a colorful past but has now achieved respectability, and as a biracial American she is the perfect figure to give the patina of openness it needs, without actually forcing it to open up. There will be nothing normal about her life from now on, but her life until she became a television star was normal enough to make the ridiculous concept of hereditary monarchy just understandable.
Twenty-five years ago, then-Foreign Secretary Douglas Hurd proclaimed that despite having lost its empire, Britain still "punched above its weight." It's getting harder to claim today that it's anything more than just another medium-sized and mediocre Western country - not a power or a heavyweight by any scale. That is, except for the royal magic that the United Kingdom can turn on, which is still worth something in terms of soft-power and national identity.
Britain needs its royal family like never before to safeguard its exceptional status, and the family needs Meghan to help survive through the barren years of King Charles that wait in store. She is now the most popular and recognizable global ambassador for life of its brand.
ICYMI
Ken Burns' Brilliant 'The U.S. and the Holocaust' Has Only One Problem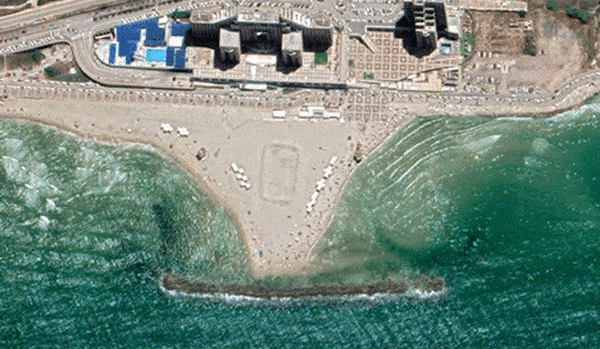 Facing Rapid Rise in Sea Levels, Israel Could Lose Large Parts of Its Coastline by 2050
As Israel Reins in Its Cyberarms Industry, an Ex-intel Officer Is Building a New Empire
How the Queen's Death Changes British Jewry's Most Distinctive Prayer
Chile Community Leaders 'Horrified' by Treatment of Israeli Envoy
Over 120 Countries, but Never Israel: Queen Elizabeth II's Unofficial Boycott