Analysis |
No One Gets to Say Who Are Good Jews. Not Even Jews
The so-called leaders of British Jewry just scored a massive own goal: By losing it over Jeremy Corbyn's invitation to a seder by the radical Jewdas group, they have tainted the campaign against anti-Semitism
Labour Party leader Jeremy Corbyn in Dundee, Scotland, March 9, 2018. His attendance at a Passover seder by the radical Jewish group Jewdas has made front-page news in Britain.
Credit: Jane Barlow/AP
It began circulating Tuesday morning on the Facebook and Twitter accounts of British Jews. Jeremy Corbyn, the Jewish community's bête noire and fellow traveler of anti-Semites, had been at the Jewdas seder.
Some, who know what Jewdas is about, were amused. Others were scandalized that the Labour Party leader – who has yet to meet with the established leadership of the Jewish community since last week's demonstration in London against anti-Semitism in his party – had found time to meet with a group that glorifies in defining itself as being outside the communal framework.
But it was an internal matter. That is, until Guido Fawkes picked up the story.
Guido Fawkes, aka Paul Staines, is a successful, right-wing, pro-Brexit political blogger with a very large following. His website offers a combination of muckraking, his own political agendas and bona fide journalism. For the last two and a half years, since his election as Labour Party leader, Corbyn has, naturally, been Guido's main target.
One of the richest sources of ammunition over which Guido has attacked Corbyn has been the ample online evidence of his friendship with all manner of radical activists who just happen to be anti-Semites and Holocaust deniers as well. This is interspersed with the even more abundant Judeophobic material – sometimes thinly veiled as anti-Zionism – that's posted on the social media accounts of some rank-and-file Corbyn supporters.
Regardless of Guido's political agenda, much of this is newsworthy.
What is worse is that Corbyn, who claims he has been fighting racism his whole adult life, has never been aware of all the racism surrounding him when it was directed at Jews.
Guido Fawkes is not alone. Large sections of the British media have been dealing with Corbyn and Labour's blind spot regarding anti-Semitism. It was the accumulation of these cases, and Corbyn's repeated failings at acknowledging the problem, that led to last week's protest in Parliament Square.
So apparently Corbyn joined the "third night" seder organized in his own Islington constituency by a "radical" group that "opposes capitalism" and is, horror, "viciously critical of mainstream Jewish groups."
They even read a prayer at one seder calling upon God to "smash the State of Israel" (though anyone with even a passing acquaintance with Jewish texts who actually took the time to read beyond the second sentence would have immediately understood it to be a parody both of the Haggadah and the more flamboyant radical proclamations of the far-left fringes of British politics).
How should the responsible leadership of a Jewish community respond to a troublemaking (non-Jewish) website taking to task a group of young Jews who chose to host a controversial politician at a radical and alternative "third seder"? No comment would probably be best, or some bland reference to the grand traditions of Jewish humor.
You'd think so, anyway. But instead, the entire Jewish leadership chose to go mad – in the process giving just about every politician and journalist in Britain carte blanche to opine on which Jews are kosher and which are tref.
The Jewish Leadership Council slated Corbyn for "attending a dinner with people who are so hostile." The Jewish Labour Movement accused him of spending an evening "with an organization that said 'F*** you' to Jews." The Holocaust Education Trust called his decision "mocking and disrespectful." Jonathan Arkush, president of the Board of Deputies of British Jews, went 10 steps further and branded Jewdas a "source of virulent anti-Semitism" and also appointed himself British chief rabbi in his ruling that they "are not all Jewish."
Why is Jewdas making these sensible and boring Jewish worthies froth at the mouth?
For want of a better description, Jewdas is a loose-knit group of young Jews in London, based around a website whose mouthpiece is the fictional blogger "Geoffrey Cohen" and a series of often hilarious, usually anarchical and sometimes serious events. It is about glorifying in being the opposite of everything the established community holds dear.
The community is prim and proper, so Jewdas is wild and raunchy. British Jews are – or at least aspire to be – comfortable members of the upper middle class, so Jewdas affects an air of working-class radicalism. And of course, because the community is pro-Israel, Jewdas exalts in the riches of the Diaspora and makes a big deal out of being anti-Zionist.
For some, the anti-Zionism is a lifelong belief. For others, it's a passing phase. And for many, it's just a cool way of poking fun at their elders. More than any real challenge to British Jewry's very real love and support for Israel, it's a way of setting themselves apart.
Jewdas sets itself apart as an alternative space for Jews who can't find their place within the community, as well as many people who continue being regular members of their synagogues and other Jewish organizations, going on holiday to Israel and taking part in "Zionist" activities, while still going to Jewdas events to let off steam occasionally.
Like so many other British institutions, it can be earnest and humorous at the same time. Just don't be like the establishment and take yourself too seriously. Anti-Semitism? Anti-Zionism? Anarchism? More like breaking all the taboos simply for the sake of it.
When Jewdas members call upon God to destroy Israel, few of them probably believe in a destroying God. And when its Twitter account described Israel as "a steaming pile of sewage which needs to properly disposed of," a few of them may have actually believed that. But most saw it for what it was: Another crude attempt to shock British-Jewish sensibilities from within.
Because British Jewry in its organized and established life, and all its religious streams, can sometimes be so stifling and hidebound that for many people, just the act of sitting in a British synagogue can be a slow death. Jewdas caters to some of these people – and there should be more groups like it.
Of course, there are a small number of Jews who happily volunteer to serve as fig leafs for anti-Semites. Like the tiny sect of ultra-Orthodox Neturei Karta, so filled with hate that it's shunned even by the overwhelming majority of the Haredi community. It joins every anti-Israel demonstration it can – even the Al Quds Day marches, organized by Iran, that openly call for Israel's destruction. (Corbyn used to go to these as well back in the day, though even the mainstream pro-Palestine organizations in Britain stay away.)
Jewdas is not of that ilk. And though it certainly doesn't need anyone's hechsher, it's enough to say it draws its own lines when defining what constitutes anti-Semitism on the left or the right.
Those lines are different from most of the Jewish community in Britain – certainly of its representative bodies – regarding the latest protest against anti-Semitism within Labour, which it calls a "bout of faux-outrage" and "cynical manipulations" by right-wingers. But Jewdas' lines, while controversial, are still well reasoned and relatively honest. And it has done plenty of campaigning against anti-Semitism on both the left and right.
The interesting question about Jewdas and other groups challenging current Jewish Diaspora orthodoxies – like IfNotNow in the United States, which shares similar characteristics but is just less funny – is not so much what they are saying and who they host at their events. It's whether they are more than protest groups, defined merely by what they are protesting against – the stuffy old leadership, and its slavish and unquestioning devotion to Israel. Or is this a new strand of Jewish identity, one that will have a life of its own once the need or urge to protest has passed?
If groups like Jewdas and IfNotNow succeed in articulating a sense of Jewishness that is not dictated by religious strictures and is not subcontracted to Israel, like so much of Jewish cultural life in the Diaspora is, that will be a huge achievement. Many of the members of these groups liken themselves to the Bund – the non-Zionist, Jewish, socialist, Eastern European party that had a rich, secular Yiddish culture and comprehensive social justice values.
Can the spirit of the Bund be recreated in English? Can such a movement hold together without the widespread poverty, the constant anti-Semitic physical threat and economic discrimination that made a Jewish workers' party a necessity in the early decades of the previous century? Who knows. But for now, these are fascinating experiments whose short-term successes can be measured in the pearl-clutching they cause among the Jewish establishment.
Jewdas' role at this point is to scandalize and offend British Jewry's self-appointed elders. And to have a good time doing so. Inviting Corbyn – who many of them support politically for his views on the British economy and society anyway – is just another way of doing so.
A spot of harrumphing was exactly what should have been expected from these grandees. Jewdas would have been disappointed with anything less. But instead, the machers exceeded the group's wildest expectations, transforming it into a national, even international, sensation.
Jewdas' members are now very pleased with themselves. Britain's main right-wing tabloid, The Daily Mail, has Jewdas on its front page on Wednesday under the headline "How Low Can You Go, Mr Corbyn?" Jewdas is described as a "militant Jewish group" that "mocks Judaism and made sickening attacks on [the] Queen."
If you've been reading until this point, you already understand that Jewdas is loving every minute of this. It's earned it. There could be no more complete way of pricking the Jewish community's pompous bubble.
But damage has been done by those who claim to represent the interests of Britain's Jews. They are the ones who have dragged the community into the political slime pit and allowed it to be used to serve partisan agendas.
Corbyn's diehard supporters have shamefully dismissed most of the claims of anti-Semitism, accusing the accusers of being right-wingers intent on "smearing" their leader for political purposes. By saying this, they were enabling and whitewashing anti-Semitism. But now Arkush and his cronies, by transforming a little communal kerfuffle into a national political issue and allowing partisans like Guido Fawkes to dictate the Jewish agenda, have given the deniers of anti-Semitism in the Labour Party ample ammunition for the future.
They have wasted a lot of what was achieved by last week's protest, which justifiably received a good deal of public attention and may have actually done something to move the debate forward in Labour and within the British left in general. Many who joined that protest – in body or in spirit – and felt a feeling of solidarity that transcended political arguments, may now feel it has been tainted.
Worst of all, it has played into the hands of those on the far left who have for decades played the spurious game "We're not anti-Semitic, we're just anti-Zionist" – in effect, dividing the community up into the good Jews and the bad Jews. Sorry, the Zionists. By branding one group of Jews as beyond the pale, the so-called leaders of British Jewry have aided those who want to impose those distinctions on Jews from the outside.
No one gets to choose who are good Jews. It always leads to a bad place. Even when Jews are doing it.
Click the alert icon to follow topics:
ICYMI
Ken Burns' Brilliant 'The U.S. and the Holocaust' Has Only One Problem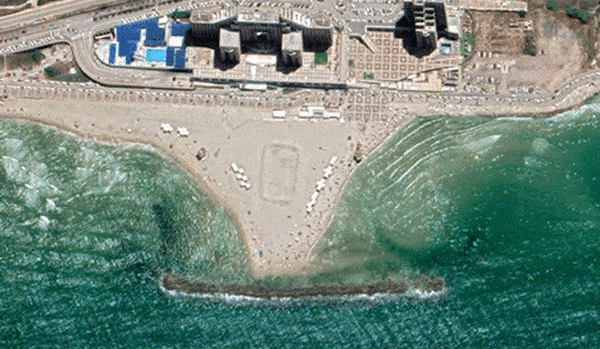 Facing Rapid Rise in Sea Levels, Israel Could Lose Large Parts of Its Coastline by 2050
As Israel Reins in Its Cyberarms Industry, an Ex-intel Officer Is Building a New Empire
How the Queen's Death Changes British Jewry's Most Distinctive Prayer
Chile Community Leaders 'Horrified' by Treatment of Israeli Envoy
Over 120 Countries, but Never Israel: Queen Elizabeth II's Unofficial Boycott