All Boats Lead to Rome - and Then the Refugees Stay There
Italy has absorbed some 800,000 African migrants over the past decade and now it wants other Western countries to share the burden. But with none willing to open their borders, a humanitarian crisis is inevitable
The Italian rescue ship Vos Prudence, run by NGO Doctors Without Borders, arriving in the port of Salerno carrying 935 migrants, July 14, 2017.
Credit: CARLO HERMANN/AFP
For years now, the scenes have repeated themselves on television nearly every evening: Ships laden with hundreds of people wrapped in gold-and-silver space blankets or orange life belts, arriving at some port in southern Italy. Most of them are Africans. Most of them are men. Most of them are young. They're fleeing wars, oppression, disease and poverty. A few hours earlier, they had been rescued from the water or from rickety rubber dinghies that set sail from Libya – the last stage in a difficult journey to Europe. The promised land.
The Italians are especially angered by the fact that most of the refugees are being brought to their shores on ships belonging to other European countries – including Switzerland, the Netherlands, Austria, Germany, the United Kingdom and Spain – that are not willing to accept them into their territory.
On the quay, they are met by medical and Coast Guard personnel, volunteers and curious locals. They help them disembark, direct them, lend a hand to pregnant women, children, carry a baby, say a kind word in Italian or broken English.
These images touch the Catholic hearts of Italians. Every refugee "is the flesh of Christ" and absorbing them is "a moral imperative," Pope Francis said earlier this year.
Italy is proud of its Christian compassion; proud of its accoglienza (hospitality).
Other European Union countries are also proud of Italy's accoglienza. They pat Italy on the back, call it heroic and give it money, but refuse to accept the tens of thousands of refugees who land on its shores.
The Hamburg and Dublin regulations on rescues at sea serve as an excellent alibi for evasion, for building walls, for threatening to station soldiers at the border with Italy in order to prevent refugees from spilling over into their territories. They'd had enough with the more than 1 million refugees who came to Europe in 2015 and 2016 via the Balkan route from Greece, which they hastened to halt in March 2016 via a 6 billion euro ($7 billion) agreement with the Turkish government (through the end of 2018).
Nevertheless, for years the system worked pretty well. Europe gave money and praise to Italy, and Italy absorbed the refugees who set sail from the coast of Libya, some 350 kilometers (nearly 220 miles) away. Aside from some right-wing protesters who warned of an "invasion," Italian public opinion was largely sympathetic to the African refugees.
"They're fleeing from wars, starvation, desertification; they have the right and the desire to live, just as we do," said popular author Andrea Camilleri, in an interview with public broadcaster RAI last October. "They don't come here to steal but to find asylum. Perhaps in the future we'll be the ones asking asylum of others," he added.
No passing crisis
But the winds of human solidarity that blew through Italian society for years have begun to change direction. Today, when the number of new arrivals no longer totals hundreds a day but thousands, when the absorption system is collapsing and when other EU countries continue to refuse to open their borders to the refugees, Italians are saying they've had enough. It's unacceptable that because of its geographical proximity to Libya, Italy should be forced to absorb some 800,000 refugees in less than a decade all by itself, they say. This isn't a passing crisis but an epic phenomenon of human migration that will continue for many years to come.
This sharp swing in Italian public opinion began about four months ago, when the chief prosecutor of the Sicilian city of Catania, Carmelo Zuccaro, hinted that some of the aid agencies sending their ships to search for and rescue refugees were working in league with the smuggler gangs.
Since October 2013, more than 630,000 refugees have come by sea to Italy – about 1 percent of the country's population – compared to a combined 94,000 in the previous four years.
He alleged that the smuggling networks relayed the coordinates of refugee-crammed boats sailing from Libya to aid organizations, which then met them with their own boats, transferred the refugees onboard and sailed to the nearest Italian port.
"We have evidence that some aid organizations are in direct contact with human-trafficking gangs," Zuccaro said in April. "There are phone calls from Libya to the aid organizations; flares are sent up from the boats to light the path of the rubber dinghies toward them; and the ship's identification transponder is suddenly turned off – these are all known facts.
"Humanitarian organizations like Doctors Without Borders and Save the Children operate appropriately, but the Maltese MOAS organization, and some of the German aid organizations – which make up the majority in the field – are another story," he claimed.
The Catania prosecutor's office is investigating who is funding these aid organizations and if some are actually acting as fronts for smuggling gangs, Italy's La Stampa newspaper reported in April.
Italy is now requesting that all aid organization ships be subject to Italian command; that they do not light the path to the refugee boats; do not silence their identification transponder; have no direct contact with the smuggling gangs; do not transfer the refugees they rescue to other ships; and, above all, do not venture into Libyan territorial waters.
Italy's demands, which the media says received a green light from Brussels, caused great dismay among the aid organizations, who say it will make rescues much more difficult and endanger refugees' lives.
The Italians are especially angered by the fact that most of the refugees are being brought to their shores on ships belonging to other European countries – including Iceland, Switzerland, the Netherlands, Austria, Germany, the United Kingdom, Spain, Malta and Poland – that are not willing to accept them into their territory. This is hypocrisy, they say.
British newspaper The Times reported last week that Italy is considering the "nuclear option" of issuing 200,000 temporary visas to refugees, which would enable them to legally move from Italy to other EU countries.
Landslide victories
The mounting bitterness and frustration in Italy – which has been mired in economic problems for at least a decade – was evident in the results of last month's local elections, in which right-wing and far-right anti-immigration parties enjoyed landslide victories over the ruling Democratic Party. The same scenario could very well play out in the next general election before the spring of 2018.
The stinging results and continuing rise in the number of refugees prompted Prime Minister Paolo Gentiloni's center-left government to protest to Brussels and threaten to close Italy's ports to all foreign refugee ships. "Rescue activity cannot be multinational while only one nationality is absorbing the refugees," Interior Minister Marco Minniti complained.
"Over 85 percent of the people landing on our shores are economic migrants," Gentiloni told the recent G20 Hamburg summit. "This is a challenge to all Europe, a worldwide challenge. The nations that are taking these people in cannot be left alone."
Former Italian Prime Minister Matteo Renzi was even blunter. "We have no moral obligation to take in everyone whose economic situation is worse than ours; we have a moral obligation to rescue them, to help them, but to help them in their own home," he wrote a couple of weeks ago on Facebook, in a post that, to many, sounded like a slogan of Italy's anti-immigration Northern League party: "We can't take them all."
Silvio Berlusconi, who is back on the political scene at 80 – despite having previously been forced to resign, been convicted of a crime and undergone heart surgery – has also spoken out on the issue.
"We certainly can't turn our backs on people who are about to drown," he said in an interview with Il Messaggero this week. "But their departure [from Africa] should be prevented before they get on the boats – there is no other solution."
In 2008, when he was in power, Berlusconi dramatically reduced the number of refugees coming to Italy from Libya through a controversial $5 billion deal with Libya's then-leader Muammar Gadhafi. The deal fell apart with the fall of Gadhafi in 2011 and the north African country descended into chaos.
After Gadhafi's fall
Greece, which experienced an even more severe immigration crisis in 2015 and 2016, criticized the European states.
"European solidarity isn't a sentimental or ethical question, it's a legal obligation," Greece's Immigration Minister Yannis Mouzalas told Patrizio Nissirio of the Italian news agency Ansa earlier this month. He also proposed setting up camps along the migrants' trail from Nigeria to Libya under the management of the United Nations High Commissioner for Refugees, in which the residents would be able to apply for asylum or migration to Europe.
This policy is supported by UNHCR Commissioner Filippo Grandi. "We must not only stop them from crossing the Mediterranean Sea, but also the desert," he told La Stampa last week.
The mass migration from war-torn Africa, most of whose 1.2 billion residents suffer from poverty, began in the early 2000s. For about a decade it was more or less under control. The numbers started rising after Gadhafi's fall in 2011, then soared dramatically after Italy and the EU launched an expansive search and rescue operation in the Mediterranean Sea following the deaths of 366 people off the Italian island of Lampedusa in 2013.
Since October 2013, more than 630,000 refugees have come by sea to Italy – about 1 percent of the country's population – compared to a combined 94,000 in the previous four years.
Alongside the sharp rise in the number of refugees, the number of people who drowned in the Mediterranean's waters also rose dramatically in that period: From October 2013 to May 2017, 14,785 people drowned, compared to 3,188 from 1990 to 2013.
A solution to the mass migration from Africa is not foreseeable in the near future. The despair on that continent will not disappear soon, the human traffickers won't give up on the money they make from the venture, which is estimated at $400 million a year, and international refugee ships will continue transporting migrants en masse to Rome.
The other European states made it very clear to Italy at the summits in Paris, Tallinn and Warsaw this month: We have no intention of opening our ports or borders to take them in. It's your problem.
Click the alert icon to follow topics:
ICYMI
Ken Burns' Brilliant 'The U.S. and the Holocaust' Has Only One Problem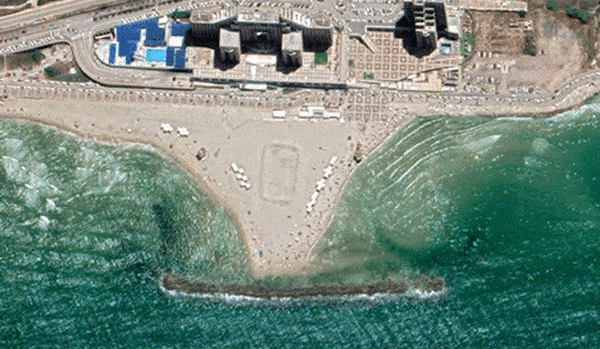 Facing Rapid Rise in Sea Levels, Israel Could Lose Large Parts of Its Coastline by 2050
Lapid to Haaretz: 'I Have Learned to Respect the Left'
The Mossad's Fateful 48 Hours Before the Yom Kippur War
As Israel Reins in Its Cyberarms Industry, an Ex-intel Officer Is Building a New Empire
How the Queen's Death Changes British Jewry's Most Distinctive Prayer