Analysis |
Anatomy of a Terror Cell: How French Islamist Bombers Recruited a Jew for Jihad
The Paris trial of a landmark terror cell, who bombed a kosher supermarket and was armed with a hitlist of French Jews, exposed the unlikely diversity and scope of those posing a violent threat to France
Sarcelles Mayor Francois Pupponi, left facing, and Rabbi Chalom Berros, right, in front of the kosher store where a bomb exploded in Sarcelles, north of Paris, Wednesday, Sept. 19, 2012.
Credit: Reuters
On September 19, 2012 two men hurled a hand grenade into a kosher supermarket in Sarcelles, north of Paris, while their accomplice waited in an escape car. It was the first terrorist attack by an organized group made up solely of French citizens in modern French terrorism. Investigators quickly discovered and dismantled a network of 20 people and uncovered plans to target Jewish institutions, a McDonald's restaurant and French security forces. Some of its members had already fought in Syria.
Known as the 'Cannes-Torcy jihadist cell' because its members met in those two cities, it's considered a key phase in the development of French terrorism, from which a line can be drawn that leads to the 2015 mass casualty attacks on Charlie Hebdo, the Hyper Cacher supermarket and the Bataclan concert hall, the the Nice truck attack in 2016. On June 22nd, sentences were handed down to the perpetrators, ranging from 14 to 28 years in prison. None have appealed the court decision (one plaintiff has appealed some of the items admitted as evidence, but this won't lead to a retrial).
Read more: Citing anti-Semitism, French Jews Eschew Public Education | His Brother Shot Up a Jewish School. Now He's Walking Across France to Preach Tolerance | We Need an Islam That's 'Made in France'
On many levels the Cannes-Torcy cell is a historic first: it's believed to be the first organized network in modern French terrorism and its 20 alleged members were tried through a brand new court procedure voted in by Parliament after the deadly 2015 Paris attacks, and where the jurors themselves are anti-terrorist judges.
Aside from the suspects, closely watched by a dozen well-armed security officers, what was striking in court is that it remained largely empty. Except for day one and day 54 - when the trial began and ended - less than a handful of journalists ever made it to court. Most days, only one reporter working for the French news agency AFP covered proceedings, and when she wasn't there, the press section remained empty.
Why? Not because the story lacks interest. The formation of a terror cell, and one with such diverse participants, offered a unique opportunity to study the growing terror phenomenon - and to offer informed suggestions about how these and other terrorists could have been neutralized earlier.
"Maybe people are fed up of terror cases, and maybe there's too much going on in the news?" the AFP reporter I asked offered as an explanation.
"Maybe the story is too complex, too long to explain. Media outlets want quick stories with clear facts. In this case, many uncertainties remain. There are still a lot of grey areas," said a reporter working for the monthly review magazine XXI.
The Cannes-Torcy network shows how varied terror cells can be and how unexpected profiles can slide inside them. Like Michael Amselem, the son of a Jewish father, whose own brother and sister live in West Bank settlements.
"I'm not an anti-Semite! How could I be?" said Amselem at the stand, who's accused of buying saltpeter to prepare bombs, although he says he thought it would be used for a barbecue. Amselem left the group when the gang leader asked him to start calling Jewish organizations to gather information about them.
The character witness of another suspect, Victor Guevara, was an Israeli peace activist, Ofer Bronstein.
"I've known him since he was a kid. His father is a great friend of mine. The boy is incapable of being violent," Bronstein told me. Guevara's father, who spent two years in a kibbutz in his youth, seemed both desperate and proud watching his son in court, where he was accused of lending his apartment to hide weapons. Guevara and Amselem are proof that terror attacks can happen anywhere and be perpetrated, or facilitated, by just about anyone, although they were secondary figures in the strategic planning of the attacks.
The network was set up by Jeremie Louis-Sidney, who was killed while resisting arrest, and Jeremy Bailly, his right hand man. They recruited various Muslim petty criminals Louis-Sydney had met in the impoverished Paris suburb of Torcy and in the French Riviera city of Cannes. He united both cells during a summer vacation in July 2012 in southern France.
A stay star prosecutor Philippe Courroye described it as "a journey meant to incubate radicalism" and defense lawyers described it as a "brotherly vacation."
Two months later the network struck its first target: Sarcelles' kosher supermarket.
Read more: Who in France Will Shout, 'I Am a Jew'? | Share the Gruesome Nice Attack Images. We Muslims Must Face Reality | Pro-Palestinian Protesters Raid Jewish Neighborhood Outside Paris
Back in September 2012, the time of the attack, the Sarcelles neighborhood known as 'Little Jerusalem', due to its large Jewish community, was already living in a state of high anxiety. Anti-Semitic assaults had become routine since the early 2000s, but this was the first time a group had staged a planned attack.
Two men threw a hand grenade inside the supermarket. Luckily, it rolled behind boxes and underneath a row of shopping carts, which largely limited the explosion.
In court police investigators commented that the CCTV footage showing two men, one opening the front door and the other throwing the grenade inside, but no journalist was there to report on that piece of evidence. (I was present but not on assignment.) Other videos showed a suspected accomplice reconnoitering the store ten minutes earlier.
"This man is acting in a suspicious way. See how he walks all around and then buys a mere bag of candy," said an investigator, testifying anonymously due to fears the suspects could retaliate.
"Yeah, well," commented the presiding judge Philippe Roux, unconvinced, while the prosecutor tried to determine whom the suspect might be.
The Sarcelles attack – the only one the group had time to carry out – is the one that led to its dismantling. Investigators identified gang leader Jeremie Louis-Sidney after finding his DNA on the grenade pin. Already flagged as a radical Islamist by the French security services (a fiché S, or serious threat to national security), he was put him under surveillance, and he led them to the discovery of a weapons cache in a storage room rented out under the name of his key accomplice, Jeremy Bailly.
Authorities say Louis-Sidney's "conversion" to militant Islamism was unusually rapid, taking only a few months. When police noticed he had shaved his beard on Friday, a day before the raid, they decided to act quickly. They later found a list of potential targets, which included a renowned Jewish lawyer, Gilles-William Goldnadel, Jewish organizations and French military bases.
During the two-month trial, most of the accused put the blame on the dead gang leader, saying he had tricked them into joining the network. Their lawyers insisted that prosecutors have found little evidence to support the accusation against their clients, and that most of the case relies on the accused's own testimonies.
"Yes my client has done bad things but he would have never hurt anyone," said Jeremy Bailly's lawyer Anne-Sophie Laguens. "He even saved an injured bird once. He's an altruistic person."
A suspect accused of buying weapons, a jihadist flag and watching jihadist videos?
"My client just wanted to know out of personal curiosity what these weapons looked like and he wanted to find out more about the jihadist phenomenon. That's not enough to convict him," said the lawyer of Nizar Jabri.
"My client had no idea Jeremie Louis-Sidney was using his studio to hide weapons. He barely ever stayed at that apartment," said Guevara's lawyer Jérémie Assous.
"Yes, my client Kevin Phan drove Jeremie Louis-Sidney and Jeremy Bailly to the Sarcelles supermarket but he had no idea they would attack it. They had not put an address on the GPS and just told him to take right or left. By the time he saw the weapons, it was too late," said lawyer Elise Arfi.
"Kevin Phan didn't have to wait in the car and help the attackers escape after the assault, now did he?" said accusation lawyer representing the Cacher Naouri supermarket chain.
Defense lawyers tried to get witnesses to say Louis-Sydney was charismatic enough to lure their clients into the cell.
"You have seen the group attending your mosque in Cannes. Did you not find Jeremie Louis-Sidney extremely charismatic?" defense lawyers asked Mustapha Dali Ahmed, the Rector of Cannes's Al Madina mosque, where the suspects used to pray together.
"Not at all," answered the rector.
"But surely he was charismatic for a group of impressionable young men?"
"No, he wasn't one bit charismatic. I know you'd like me to say he was but he wasn't," responded Mustapha Dali Ahmed. Rector Ahmed also did not fit some people's expectations. Managing the mosque where the attackers united during Ramadan 2012, he was no extremist voicing anti-Semitic views. He says he alerted police about the group's aggressive behavior, especially after he told the men he would invite local Jews and Christians to break the Ramadan fast.
"I told them that's a Muslim tradition [of hospitality] and that I will not back out of it. I don't think it was my place to do more against them. Police hadn't even told me that Jeremie Louis-Sidney was a known dangerous radical." Indeed, Rector Ahmed acted precisely according to the authorities' request: to notify them if he spotted potential radicals in his mosque.
French Jews are still among the prime targets for Islamist terror in France, but they're no longer alone, as subsequent attacks on the security forces, Catholic priests, tourist sites, entertainment venues and the media perpetrated by Islamic State sympathizers and others have shown.
Get Serious! Most French Jews Have Already Dropped Their Kippa | A Year After Charlie Hebdo: Western Liberals Have Folded, the Killers Have Won | Behind the anti-Semitic Riot in a Paris Suburb That Shocked the World
But understanding the narrative of the Cannes-Torcy cell, its unexpected complexion, its Frenchness, its modes of operation, how many of its members went to to fight for Islamic State in Syria, and its anti-Semitic motivation must surely be a subject of public interest and not just a matter for internal analysis by France's security services.
The outcome of the trial of the entire terror network (some collected weapons and prepared attacks in southern France, others in the Paris area or in eastern France, some took part in all of the planning and attacks) was as follows:
Jérémy Bailly was given the maximum sentence of 28 years' imprisonment (prosecutors had asked for a life sentence). Kevin Phan, his driver on the day of the Sarcelles supermarket attack, received an 18 year sentence. Ibrahim Boudina, who fought in Syria and was planning an attack in the Nice area, was sentenced to 20 years, as was Jamel Bouteraa, for planning an attack on French soldiers. Abdelkader Tliba was sentenced to 14 years for the same offenses. Yassin Chebil was sentenced in absentia for 20 years for joining and fighting alongside the Islamic state group in Syria and for preparing terror attacks and hiding weapons in France. Rached Riahi was sentenced (in absentia) for 20 years in prison for preparing terror attacks in France and joining Islamic State in Syria. Michael Amsalem received a five year suspended sentence and Victor Guevara a five year sentence, three suspended, for their part in the terror cell.
After the Cannes-Torcy trial, those of hundreds of other terror suspects are expected to be held in the same special courts, including the alleged accomplices of Mohamed Merah, who killed three children and a teacher in the Jewish Ozar Hatorah school in Toulouse and three soldiers.
The media is always welcome.
Click the alert icon to follow topics:
ICYMI
Ken Burns' Brilliant 'The U.S. and the Holocaust' Has Only One Problem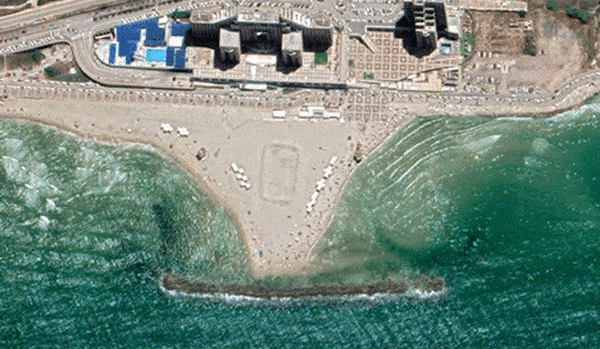 Facing Rapid Rise in Sea Levels, Israel Could Lose Large Parts of Its Coastline by 2050
As Israel Reins in Its Cyberarms Industry, an Ex-intel Officer Is Building a New Empire
How the Queen's Death Changes British Jewry's Most Distinctive Prayer
Chile Community Leaders 'Horrified' by Treatment of Israeli Envoy
Over 120 Countries, but Never Israel: Queen Elizabeth II's Unofficial Boycott