Trump, Brexit, ISIS and the Unmistakable Stench of the 1930s
Though Karl Marx may have nailed it when he said that history comes first as tragedy and then as farce.
A demonstrator draped in an EU flag sits on floor during a protest against the outcome of the UK's June 23 referendum on the European Union (EU), in central London on June 25, 2016
Credit: Justin Tallis / AFP
Benjamin Netanyahu is a compulsive comparer. Throughout his decades in public office, Netanyahu has been roundly ridiculed and comprehensively criticized for his obsession with Nazi-era parallels. For the prime minister, an enemy of Israel always winds up as Adolf Hitler's successor, the country's critics are forever Neville Chamberlain's heirs and any meeting between the two is another latter-day Munich. This isn't 1938, his detractors will sneer.
But perhaps Netanyahu deserves an apology, partial at least. His personal analogies may have been misplaced and his interpretation of events self-serving, but Netanyahu is definitely on to something. His pessimistic perception of the world we live in may have been more accurate than the condescending dismissal of his detractors, including this one. The world today increasingly seems no less 1930s than 21st century. That's why it's creating such a deep sense of foreboding.
Take the dread that quickly replaced the shock that most people in the West felt in reaction to Britain's decision to leave the European Union. The results undoubtedly came as a big surprise, but that can be ascribed to the complacency and detachment of British elites, opinion-makers and opinion-analyzers, a topic that has been thoroughly dissected in the short days that have passed since the shock outcome was announced. What is harder to shake, however, is a sinking sense that Brexit isn't just an isolated phenomenon but one in a series of unfortunate events that should prick our thumbs, as the second witch says to Macbeth's approach, to warn us that "something wicked this way comes."
Imagine the fear that may have gripped astute Americans or Europeans on any given day in the early 1930s, when nativism, xenophobia and racism were spreading like wildfire, when fascism became fashionable, when a loud-mouthed and uncouth demagogue became the toast of cultured Berlin and an egomaniacal despot was culling the best and the brightest in Moscow. They may not have had Facebook, Twitter or 24/7 news coverage, but anyone with eyes in his head could have surmised that this was not going to end well. Which is what went through many minds on Sunday night, as the results of the British referendum came in.
Think of 1932, as one example. The stock market is down, unemployment skyrockets, famine breaks out in the Soviet Union, Adolf Hitler is asked to form a government and Benito Mussolini promises to stay on as dictator for 30 years. Each event might have triggered anxiety in and of itself, but taken together they were like large blips on a radar screen that warned of "The Gathering Storm" as Churchill called it.
In 1932, the baby of hero pilot Charles Lindbergh was kidnapped and murdered. Fleeing the immense publicity that the tragedy elicited, Lindbergh went to live in England, visiting Germany frequently and becoming best mates with Luftwaffe chief Herman Goring. He came back to America in 1939 as a Nazi sympathizer and outspoken anti-Semite to headline the isolationist America First Committee. This is the slogan that Donald Trump clings to almost 80 years later, despite the negative connotations that it raises in so many quarters.
Recent events provide other mirrors, often unflattering to ourselves, that show us how people felt back then. When Syria collapsed unto itself in 2011 and the regime started massacring its own people and the casualties went from thousands to tens of thousands to hundreds of thousands, it was a 1930s-style atrocity, somewhere on the scale between Japanese atrocities in Manchuria, Communist starvation in the Ukraine and persecutions of the Jews in Germany, before annihilation began. The only difference is that this time, Western public opinion was well aware of what was going on. They may have been horrified, but they certainly didn't do much about it. Which sounds very familiar.
Two years ago, in another anniversary that occurs this week, Islamic State was declared and Abu Bakr al-Baghdadi was anointed as its caliph. The hitherto unknown terrorist group burst onto the world stage, filmed and broadcast its unprecedented barbarisms and turned unspeakable evil and depravity into morbid hits that drew millions to YouTube. They conducted a savage human hunt of the Yazidis, a people deemed so inferior as to merit a fate that ranged from enslavement to extinction. The Yazidis to Islamic State were like the Jews, the Romani and the untermenschen Slavs for the Nazis. It's terrible, the world said, but mostly looked on.
At about the same time, the Syrian refugee crisis was spilling over into Europe and the issue made its way across the Atlantic. Here were hundreds of thousands of desperate people facing either death or servitude and forced conversions, begging for relief, knocking on the gates. Some people lobbied to let them in, many more advocated keeping them out. Most reasonable people thought both sides made valid points.
The fact that there is no direct comparison to Europe in the 1930s and 1940s doesn't mean that the echoes don't come through loud and clear. Populist politicians exploited the opportunity, stoked fear and warned voters of the dire fate that awaits the nation if dark strangers are allowed to bring their strange customs and sinister ways. When Jews were fleeing Nazis in the 1930s and 40s and knocking on America's door, there were millions of people in Europe and the U.S. who genuinely believed that allowing them in by the thousands would be truly dangerous. They are alien, they are crooked, they bring diseases, they would be sleeper agents for a Bolshevik conspiracy and they would undermine our proud Anglo-Saxon heritage.
Decades of righteous preaching about the complacency of Europe and the fickle cold heart of an America that locked its gates to Jews suddenly seem far less clear-cut and far more hypocritical. The significant number of Jews who opposed asylum for Muslims made arguments that sounded awfully similar to the protests of the gentiles who denied sanctuary for their own grandparents who tried to flee anti-Semitic Europe in the 1930s.
And look at what has happened to those politicians and those countries that, contrary to the 1930s, opened their arms and their borders to the tormented refugees. Angela Merkel, hitherto Germany's wildly popular chancellor, is wilting. David Cameron, who failed to fathom the resentment fostered by immigration, is resigning. Moderate governments throughout Europe are endangered. And Britain is exiting right.
Which brings us to Trump, this year's grandmaster of making people mutter, "this can't be happening" to themselves. Contrary to the initial analytic bursts, Trump may actually be suffering because of Brexit. The less desirable the break seems to the British people themselves, the more it seems to plunge Europe and the world into a deep economic hole, the more it reflects negatively on Trump and his messaging. He may already be regretting his hasty identification with the British vote, but, after John, hasty is Trump's middle name.
Nonetheless it's too early to write Trump off just yet. The same forces that brought him this far, the same forces that brought down the British establishment, the same forces that are tugging at the post-World War II unity of Europe, could still overrun America as well. If there is any consolation in the historical precedent, it lies with Karl Marx's addendum to Friedrich Hegel's observation that "all great world-historic facts and personages appear, so to speak, twice." He forgot to add, Marx notes, "the first time as tragedy, the second time as farce." Sometimes when you listen to Donald Trump, you gotta hand it to Marx for nailing it.
Click the alert icon to follow topics:
ICYMI
Ken Burns' Brilliant 'The U.S. and the Holocaust' Has Only One Problem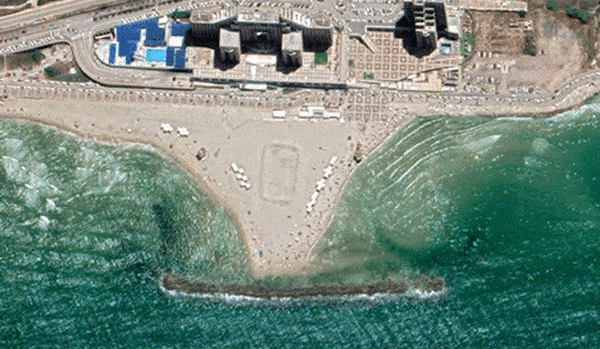 Facing Rapid Rise in Sea Levels, Israel Could Lose Large Parts of Its Coastline by 2050
As Israel Reins in Its Cyberarms Industry, an Ex-intel Officer Is Building a New Empire
How the Queen's Death Changes British Jewry's Most Distinctive Prayer
Chile Community Leaders 'Horrified' by Treatment of Israeli Envoy
Over 120 Countries, but Never Israel: Queen Elizabeth II's Unofficial Boycott