India's Jewish 'Microscopic Minority' Feels Safe From the Coronavirus — for Now
While some Jews battle Islamophobia online, others join Hindu nationalists in blaming Muslim groups for waging 'corona jihad'
Men and children wait to receive free food distributed during lockdown due to the spread of the new coronavirus in Mumbai, India, Saturday, April 18, 2020.
Credit: Rajanish Kakade,AP
NEW DELHI — India has been in lockdown since March 24. It came without any warning: Prime Minister Narendra Modi announced a 21-day complete shutdown one evening, giving the country four hour's notice to prepare. All services including transportation were suspended, with the exception of essential services like grocery stores and health care providers.
For India's minuscule Jewish community of a few thousand people — its members call themselves "a microscopic minority" — it meant scrambling to prepare for Passover.
In Mumbai, where some 4,000 Jews live, they arranged calls to check on the Jewish elderly living alone, and organized the distribution of food to the community. Three cars zipped across the city delivering wine and matza, which many hadn't stocked up on. On Whatsapp groups, they discussed substitutes for bitter herbs placed on Passover seder plates to symbolize the harshness of slavery Jews endured in ancient Egypt. Lettuce and celery, which they generally use, weren't available everywhere. Some settled on potatoes or onions while others decided to use karela, an Indian bitter gourd.
They were also concerned about the unavailability of lamb blood. Bene Israel, one of the at least four Jewish communities of India (and the largest one), handprint lamb blood on paper and attach it to their doors on Passover, like ancient Israelites who marked their doors with the blood of the lamb, signaling to the Angel of Death to pass them over while he went on to smite pagan Egyptians during the final plague for refusing to free Jews from slavery.
It took several days for a butcher of kosher fish and poultry to get permission for delivery. Kosher lamb wasn't available, so the families used chicken blood to mark their doors. This year, as the fear of the coronavirus looms in the air, "everybody is saying, make sure you put this on your doorstep," says Leya Elias, a 28-year-old in Mumbai.
More than 20,000 Indians have contracted the coronavirus, according to the country's health ministry, and some 645 people have died. India's Jewish communities, its members say, are so far healthy and safe. In the first few days, millions of migrant laborers walked hundreds of kilometers back home. The official death toll from starvation and exhaustion — more than 30 in the first few days — was higher than the deaths caused by the pandemic. The country's poorest still fear hunger much more than COVID-19.
In Manipur, an agrarian northeastern state bordering Myanmar, about 7,000 people practice Judaism and wait to make aliyah to Israel. They are known as Bnei Menashe and they believe they are descendants of the 2,700-year-old lost tribe of Manasseh. Over the last three decades, 3,000 Bnei Menashe have settled in Israel after undergoing a formal conversion to Judaism. Ohaliav Haokip, a 35-year-old teacher from Churachandpur, an impoverished district where most Bnei Menashe live, says the coronavirus lockdown has significantly impacted the community since most of its members are daily wage earners.
"People don't have savings, they just about make ends meet only," he says. The government-supplied 10 kilograms of rice is insufficient for most families, "So if hunger strikes, you have no choice, you have to bear it — unless your neighbors are charitable and lending a helping hand."
In Israel, members of Bnei Menashe have faced racist attacks. Last month, a 28-year-old was called "corona" and brutally assaulted in Tiberias. This is no different from the racists harassment and attacks that northeast Indians face in the rest of India. But Haokip says the Bnei Menashe, unlike other Manipuris, don't migrate to other Indian cities. "They just stay in Manipur. Most of them don't [even] seek government jobs. They just practice Judaism and wait for aliyah," he says.
'Corona jihad'
Rabbi Ezekiel Isaac Malekar, the head of Delhi's tiny Jewish community of about 30 people, closed the synagogue on March 6, almost three weeks before the country shut down. He made the decision to do so even though he says close to 10,000 Jews from around the world visit during this season. But across the country, most other religious gatherings continued. One of them took place in Delhi's Nizamuddin neighborhood, where members of the Tablighi Jamaat, a Muslim missionary organization, held its annual convention for thousands of its preachers from across India and Southeast Asia. Its missionaties and congregants continued to arrive even after several state governments, including Delhi, banned large gatherings.
These bans, however, were dismissed even by those who instituted them. For instance, a chief minister of the ruling party in the state of Karnataka in India's south attended a wedding with 2,000 guests two days after he banned such events.
The Indian government laid blame on the Tablighis for spreading the coronavirus. As the Health Ministry tracked down and tested those who had attended the convention, it estimated that more than a third of the country's cases were linked to the congregation — but testing overall remained low. Hindu nationalist leaders called the Muslim gathering an act of terrorism, and some even endorsed the killing of attendees, calling them "human bombs" who a far-right leader said "should be shot" for defying the lockdown.
Since Modi's election in 2014, the Hindu-Muslim divide has intensified in India, where Muslims are the largest minority and comprise about 200 million people — a fifth of the country's population. Hindu extremists, emboldened by the right-wing nationalist government, openly attack Muslims and other minority communities. A number of lynchings have occurred.
After his reelection last year, Modi and his government boldly pursued a Hindu nationalist agenda in a series of steps. The final affront was a new law that offered citizenship specifically to non-Muslim undocumented migrants in the country. Indians had been protesting against the law — it was seen as a way of disenfranchising the country's Muslims — since December. In February, horrific riots broke out in Delhi, the center of peaceful protests, and more than 50 people were killed — a majority of them Muslim — showing unprecdented levels anti-Muslim sentiment in the secular capital of the country.
This anti-Muslim sentiment is a part of India's right-wing social media machinery, micro-targeted political campaigns that are considered responsible for Modi's popularity in the country. India's social media army of Hindu nationalists and sections of the media, including pro-government news agencies and prime-time anchors on mainstream news channels, have been spreading rumors and publicizing hate-filled fake news.
Among them were widely circulated videos showing Muslims licking utensils and sneezing in unison. These turned out to be old videos of a Muslim community that practices this ritual so as not to waste a single morsel of food, and of a Sufi practice of bending forward and backward in remembrance. But the false claims that this was proof of Muslims intentionally spreading the coronavirus fueled the already rising levels of Islamophobia in the country to new dangerous heights. Indian Muslims have been brutally beaten up and socially boycotted — Muslim shops have been spurned, volunteers distributing rations have been called "corona terrorists," neighborhoods in several cities put up posters barring Muslims from entering, a hospital even declared a ban on Muslim patients.
Indians now widely scapegoat Muslims for the spread of the coronavirus and believe that Tablighi carelessness in holding the convention — which has resulted in the death of several of its Indian and foreign clerics — was in fact a conspiracy to spread the coronavirus. They call it "corona jihad."
Indian Jews are hesitant to discuss politics openly. They have always maintained that "India is our motherland, Israel is our fatherland." But in these times of extreme polarization, their views — which are also commonly held views of most Indians, based on fake news and propaganda — are overwhelmingly pro-government, especially because of Modi's closeness with Israeli Prime Minister Benjamin Netanyahu, members of the community say. The Tablighi Jamaat incident jolted the Jewish communities as well.
Jewish life in Ahmedabad, the largest city in Modi's home state of Gujarat, revolves around the synagogue, the city's 120 Jews are mostly nuclear families — most large families have moved to Israel. The lockdown has deeply impacted the community. Its members look forward to getting together for Shabbat, Hebrew classes on Sunday and festivals — Ahmedabadi Bene Israel Jews living abroad often visit during the holidays — so this Passover has been a lonely one. Aviv Divekar, secretary of Magen Abraham Synagogue in Ahmedabad, doesn't believe in marking his door with lamb blood because he doesn't want to make his vegetarian Hindu and Jain neighbors uncomfortable. He told others in the community to instead use vermillion, a red pigment many Indians use for religious and cultural markings.
The Tablighi Jamaat conference "doesn't seem like it's an innocent act," Divekar tells Haaretz. He thinks it's not just the Tablighis, that other Muslims have also "been influenced" by the event, which he thinks "seems like more of a jihad."
"Because of these people from Nizamuddin, see how much it has spread?" he adds. "They have acted very irresponsibly. And there are other people who have supported them, who have helped them stay unnoticed, who have helped them travel, who have helped them hide. So even if I was very liberal, as a logical thought, I'd think it was an act of terror, it was not innocent. My personal view is that it was not carelessness. It was jihad, nothing but jihad."
An uphill battle
In Mumbai, Leya Elias is battling Islamophobia on social media. "They have called me 'anti-national,' they have asked me to leave the country if I don't like the PM, which is kind of ridiculous," she says. (These labels — "anti-national," "sickular," a pun implying that secularism is a sickness, and "traitor" — are thrown at any critic of Modi or his government by his social media army and supporters.) "I can't take the back seat," she says, "that just because they support Israel, I should support them."
Elias, like other secular-minded Indians faced with Islamophobic posts, would point out that other religious gatherings that had continued across India well into March. Hindu temples had gatherings of tens of thousands of people, and thousands showed up at political rallies and funerals. The coronavirus spread at celebrity parties attended by politicians while bureaucrats refused to quarantine their children who had returned from abroad. These were all cited as responses to the scapegoating of Muslims as the coronavirus crisis accelerated. "I used to get hyper and get very angry," says Elias of the growing blind Islamophobia, "but then I stopped myself."
She read an article about an ultra-Orthodox community in Jerusalem blaming the coronavirus on women who wear revealing clothes. She realized the futility of making religious comparisons.
Those who try to counter Islamophobic posts about the Tablighi gathering generally present information about other religious gatherings: Hindu religious gatherings of thousands of people across the country, especially in Modi's Gujarat, days after the Tablighi event, or the gatherings on Ram Navami, a festival commemorating the birth of Hindu god Ram, when hundreds of people flouted the nationwide lockdown.
Elias is too embarrassed to engage in any conversations about how the virus has spread through religious meetings, particularly after learning that "people of my community are not cooperating with medical officials" in Israel. "If I'm saying it's not only Muslims, it's also Hindus, I should also say it's also my community spreading the coronavirus in Israel. So I just posted in a very blunt way, that they are wrong, and everybody is wrong at this time," she says.
Elias is one of 17 Jews from Kerala, India's communist-led state where there are eight synagogues for three Jewish communities: the Malabari Jews, like Elias, who trace their Jewry to migration from Iraq and Yemen 2,000 years ago; the more recent Pardesi ("foreign") Jews who came from Spain and Portugal in the 15th and 16th centuries; and the Black Jews who came as slaves of the Pardesis.
Leya's father Elias Josephai is worried about his daughter in Mumbai because he says no other state is handling the coronavirus as well as Kerala. He lists the meticulous measures of the state government, which managed to flatten the curve of the pandemic. The Jewish lineage of the state, he thinks, is one of the reasons why "Kerala is the top in the country of India," he says. "I'm not a scholar or an authority to give this statement, but I believe strongly there is a Jewish lineage in the gene factor. Our halakha [Jewish religious law] says, education is the tool of survival. And without education, you cannot understand the Torah, without Torah, no Jew can survive."
Click the alert icon to follow topics:
ICYMI
Ken Burns' Brilliant 'The U.S. and the Holocaust' Has Only One Problem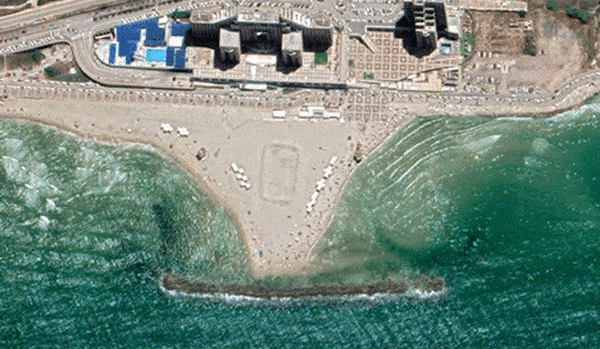 Facing Rapid Rise in Sea Levels, Israel Could Lose Large Parts of Its Coastline by 2050
As Israel Reins in Its Cyberarms Industry, an Ex-intel Officer Is Building a New Empire
How the Queen's Death Changes British Jewry's Most Distinctive Prayer
Chile Community Leaders 'Horrified' by Treatment of Israeli Envoy
Over 120 Countries, but Never Israel: Queen Elizabeth II's Unofficial Boycott