How Jewish Immigrants Adopted Argentine Soccer and Found a New Home
Raanan Rein's 2015 book 'Fútbol, Jews, and the Making of Argentina' tells a special story about how Jews carved out a new life. It's finally coming out in Hebrew
Atlético Atlanta players pose for a photo, 1969.
Esther Rozansky, a legendary Yiddish teacher who immigrated to Israel from Argentina, found a refreshing way to win sleepy students' attention at the beginning of a week. Instead of scolding them for their lack of interest when reading Shalom Aleichem, she let them talk about what really interested them – soccer. On one condition. They had to speak Yiddish.
In this way, in the 1950s at a Jewish school in Buenos Aires' Villa Crespo neighborhood, the students got to talk about free kicks, penalty kicks and goals.
"Her trick was successful. She used the opportunity to correct the students' Yiddish as well as teach them verb conjugations and vocabulary," says historian Raanan Rein, an expert on Argentine history. His 2015 book "Fútbol, Jews, and the Making of Argentina" is now coming out in Hebrew.
For years, Villa Crespo has been seen as a Jewish neighborhood, even though it's home to people of a raft of ethnic groups. In addition a hair salon called Haverim (Friends, in Hebrew) and a Kolbo supermarket just like in Israel, you can hear Yiddish words that have long entered the local slang like meshugeneh and tuches. Some call it Villa Kreplach, a play on the Yiddish word for dumplings.
Frightened off by pogroms, its Jewish residents came from central and eastern Europe in the decades after World War I. By the 1960s, Argentina's Jewish community numbered some 310,000 people in an overall population of about 20 million, becoming one of the largest Jewish communities in the world.
The neighborhood's pride – characteristic of Argentina – is the soccer team Club Atlético Atlanta, founded in 1904 and still an integral part of the local people's lives, whether Jewish or not. Thus, like the neighborhood itself, the club also came to be called Jewish, in part because there were Jews among its fans, coaches and officials.
The club's "Judaization" started in 1922 with the election of Osvaldo Simón Piackin as the first Jewish member of Atlanta's management. But the team's golden age came during León Kolbowski's term as club president from 1959 to 1968. That final year was the first time Jews became a majority at the management level.
Kolbowski was born in 1912 in Baranavichy, in what is now Belarus, and emigrated to Buenos Aires when he was 15. His family left Eastern Europe because of the poverty and anti-Semitism that was punctuated by pogroms.
His profession was portrait retouching. His father, a religious Jew, was the caretaker of the neighborhood synagogue. In the '30s, Kolbowski founded and managed foundations to help immigrants. As Rein writes, if you needed someone to paint your house, find a match for your son or daughter, solve a family or health problem or get assistance for your small business, you could ask for a loan from one of those small institutions.
Kolbowski gradually increased his power and influence until the mid-'50s, when the Communist Party, of which he was a member, brought him to the Atlanta sports club to strengthen its hold in the neighborhood. Photos show the Jewish immigrant from Poland well assimilated in his new country: tall, broad-shouldered, mustachioed and with an impressive physical, even threatening, presence, Rein writes.
Despite his integration into Argentine society, Kolbowski didn't abandon Judaism. He celebrated Passover and Rosh Hashanah with prayer and song, prayed in Hebrew and spoke Yiddish at home. Unlike others, he kept his last name and wasn't ashamed of his heavy Jewish-Polish accent in Spanish. During his presidency the team did well "and made history," Rein says.
Like Ajax and Tottenham
Another Jew made a big contribution, fitness trainer Adolfo Mogilevsky, a former wrestling champion, an expert in self-defense and physiotherapy, and the sole Jewish instructor at Argentina's naval school and military college. In 1963, Kolbowski organized the club's first trip outside the continent – to Israel. In fact, Atlanta was the first Argentine soccer club to play in the Jewish state.
Rein describes Kolbowski as an "almost mythic" manager who took over "a small club fighting for its life," with little money and the field in danger of being closed every time city inspectors came to visit. But he turned it into a club of "national importance."
Thanks to Kolbowski, Rein says, the "Jewish identity" became an inseparable part of the club culture, like Ajax in Amsterdam and Tottenham in London, which are mainstays of Jewish neighborhoods and are considered "Jewish" clubs. Atlanta has always been the main attraction hub for soccer-mad Jews in Buenos Aires and the only professional soccer club seen as "Jewish," Rein says.
Soccer, as historians of immigration and integration know, was an arena where various ethnic groups could fit in and bolster their identity in the country. For this reason, Rein chose to write what until recently was unheard of among Israeli historians – an entire study on soccer. The work examined how Argentine Jews forged their national and ethnic identity inside and outside the soccer stadium.
"In recent years, various historians have written about sports societies, recognizing that such clubs – with their culture and internal political activity, their relations with other community organizations and their histories and traditions – are certainly a social and political arena worth researching," Rein says.
He admits that about three decades ago, when he wrote his doctorate, no one would have let him choose soccer as a research subject. He wrote his doctorate on the Franco-Perón alliance and Spanish-Argentine relations after World War II. But today, he says, there's no need to be embarrassed; he has several history students researching soccer.
"By following Atlanta and its fans' history, we see the social integration of the Jewish immigrants and their descendants who were born in Argentina," Rein says. "The Jews and other minorities could erase their foreignness by adopting the national sport."
For the first generation of Jewish immigrants from Eastern Europe, belonging to the club was a way to become Argentine. "Basically, sports isn't just a sign of established social identity but a means of creating a new social identity," Rein says.
The generation born in Argentina was ready to integrate the Argentine identity in its cultural mosaic, in a bid for upward mobility. "Membership in the club was for them a way to preserve an ethnic Jewish component," Rein says, while for the next generation it was largely a family tradition.
But by studying the Atlanta club, Rein found that soccer wasn't only a way to connect Jews and non-Jews, it was a unique sphere for interaction among Jews of various groups – Zionists and non-Zionists, Ashkenazim and Sephardim, those who belonged to a community and those who didn't. His study's sources were also unusual; they included minutes of Atlanta management meetings, the club's annual reports, newspaper excerpts and data from a questionnaire answered by dozens of fans.
Rein didn't have to go far to find people to interview for his study. His wife's family was just what he was looking for: Jews who immigrated from Eastern Europe and assimilated in Argentina, in part thanks to soccer.
"Mario Frid and José Bichman, two of my wife's uncles, were Polish Jews who settled in Villa Crespo a few years after the club was founded and never managed to get rid of their Yiddish accents," Rein says.
"One way they found to fit in was to root for the local soccer team. Their children, grandchildren and great grandchildren, who were born in Argentina, continued the family loyalty to Atlanta even after moving to other parts of town."
Tough Jews
In view of the success of Rein's book in English and Spanish, it's hard not to wonder what the "people of the book," who emphasize spirit rather than matter, will find in soccer.
Zionism at the start cultivated the myth of the "new" Jew who unlike the Diaspora Jew was strong and healthy, "fit to withstand the physical and intellectual challenges of establishing a sovereign state in the Land of Israel," Rein says. The Jews who stayed behind suffered the stereotype of effete intellectuals.
Rein says this wasn't the case in Argentina. "Many of the new Jewish immigrants to Argentina weren't very educated, nor were they deeply attached to religious Orthodox Judaism. Sports played an important role in their lives, both in Buenos Aires' modern urban environment and in other places," he says.
"In Argentina, act like an Argentine, they told themselves, so most of the Jews passionately took the opportunities they found in their new homeland and did all they could to become Argentine. For many of them, this was part of love for sports in general and especially for soccer – the most popular sport in the country."
The Jews even used the "national experience," which they shared with veteran Argentines, "to dispel all kinds of stereotypes and beliefs that the Jews were aliens who could not or would not assimilate," Rein says.
His study shatters the stigma that "there's no Jewish Maradona," behind which lies the assumption that Jewish players didn't succeed in Argentine soccer, unlike Jewish athletes who made history, for example in the United States, like Hank Greenberg, Red Auerbach, Moe Berg and Mark Spitz.
"In Argentina there weren't many Jews who became champions, but it doesn't mean no Jewish athlete made a name for himself there," Rein says. His list includes Leopoldo Bard, Club Atlético River Plate's first captain and its founding president; Ezra Sued, a forward for Racing Club de Avellaneda and the national team; Aarón Wergifker, who played defense for River Plate and the national team (his teammates had difficulty pronouncing his name so they called him "Pérez"); Miguel Reznik and later Juan Pablo Sorín, who played left defense for River Plate and top European teams as recently as a decade ago.
The Atlanta club also had a number of Jewish stars, including José Lighterman, son of a family whose three sons became famous soccer players. Lighterman, who was born in Rosario, Argentina, in 1914, was a prolific goal scorer. He was dubbed Jaime, a nickname that stressed his Jewish origins. Rein says the Atlanta club also had Jewish fans and players of Sephardi origin, not only Ashkenazim. The goalkeeper Bension Moscona, who moved to Atlanta in 1940, was one of them.
But there are negative sides as well. As Rein notes, Atlanta's image as the "Jews' club" was to a large extent imposed by rival fans. Thus, among the anti-Semitic slogans shouted by hooligans in recent decades have been "Here comes Hitler down the street, coming to kill Jews to make soap" and during the 1991 Gulf War "Olé Olé, Saddam Hussein."
And even, in the mid-'90s after the terror attacks on the Israeli Embassy and the Jewish community center in Buenos Aires, fans of Club Atlético All Boys chanted "We bombed your embassy, we bombed your community center, we'll burn your field so you don't mess with anyone."
Click the alert icon to follow topics:
ICYMI
Ken Burns' Brilliant 'The U.S. and the Holocaust' Has Only One Problem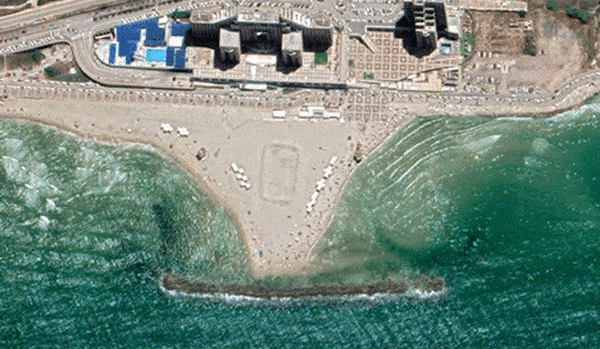 Facing Rapid Rise in Sea Levels, Israel Could Lose Large Parts of Its Coastline by 2050
As Israel Reins in Its Cyberarms Industry, an Ex-intel Officer Is Building a New Empire
How the Queen's Death Changes British Jewry's Most Distinctive Prayer
Chile Community Leaders 'Horrified' by Treatment of Israeli Envoy
Over 120 Countries, but Never Israel: Queen Elizabeth II's Unofficial Boycott