Opinion |
Superhumans, Scapegoats and the Far Right: Busting the Myth of Europe's 'Migrant Crisis'
Migration is not a crisis unless we are willing to call most of human history a crisis, from Abraham onwards. Casting migration in a hostile light is still one of the most effective propaganda instruments of extremists on the far right
A migrant stands behind a fence inside a refugee camp in Kokkinotrimithia, outside of Nicosia, Cyprus: a steady stream of migrants are arriving, crossing over from the Turkish-occupied north
Credit: Petros Karadjias /AP
Of all the privileges that exist, the nation-state privilege is probably the most important, yet it is by far the privilege we talk about least.
The answer to the question of where you were born, and where you are resident, is decisive for your access to medical care and consumer goods, life expectancy and mobility. It is still better to be a half-Muslim, half-Jewish, Black, non-heterosexual, disabled resident of Tilburg, wool capital of The Netherlands, than a member of the middle class in, say, Helmand province in Afghanistan.
The extent of your right to mobility depends mainly on which passport you happened to hold, most likely through birth. Have a Dutch passport? You can travel to almost 170 countries without a visa. Those who have to travel with a Pakistani passport can travel visa-free to less than ten countries, from Haiti to The Gambia.
In his recently published book the German sociologist Steffen Mau describes how borders, as we know them, have only existed for a few centuries. In our own time, he explains, borders are increasingly functioning as sorting machines, separating 'desirable' from 'undesirable' human beings.
Covid may have made traveling somewhat more difficult for those with nation-state privilege, but with airlines predicting a return to the 4.5 billion passengers of the peak year of 2019, even if it takes a few years, that obstruction will also be temporary.
The bottom line is that the world can be divided in two: those who hold passports for superhumans (say, a U.S., UK, Australian, Canadian, or EU passport) and those who hold passports for the damned – with the stateless condemned to even lower circles of torment.
Anyone who wants to understand anything of what has been called the 'migration crisis' should keep this in mind. Because it elucidates how the distinction between so-called 'real refugees', 'economic refugees' and those whom Dutch right-wing politicians have called 'fortune seekers,' is wafer thin. When it comes to the reasons why people leave home and hearth, existential poverty is hardly distinguishable from the threat of war and persecution.
No matter how far back we go in human history, there were always compelling reasons for leaving family and homeland behind, if only because God compelled it. For example, God seems to have told Abraham: "Go from your country, your people and your father's household to the land I will show you."
Migration is not a crisis unless we are willing to call most of human history a crisis. The fact that we in Europe have come to use the term "migration crisis" is partly because casting migration in a hostile light is still one of the most effective propaganda instruments of right-wing extremist parties.
Whether Merkel's Willkommenskultur (her "refugees welcome" stance) contributed materially to the rise of the far right Alternative for Germany, or AfD, is unclear, but what is certain is that Merkel realized that the refugees and migrant issue as used by far-right parties could contribute to the disintegration of the EU. Eastern European member states, in particular, hold on to the old story of a homogeneous people rooted in an almost mythical way to the land on which they live.
Merkel's biggest task during her years as Chancellor was to keep the EU together without shaking her power base in Germany itself. The fact that she had to conclude an agreement on behalf of the EU with a semi-dictator like Turkey's Erdogan was of secondary importance. Erdogan did the dirty work for the EU; he had to keep refugees (read: migrants) away from Europe's external borders in exchange for cold cash. Merkel was not exercised very much about the plight of refugees in general, those tucked far away in Greece, for instance, as described in Ralph Bollmann's excellent biography.
Alexander Lukashenko, dictator of Belarus, saw that there was good business to do with the EU when it comes to refugees. Unlike Turkey and Libya, he didn't so much want cash to rid Europe of an artificial problem as much as he wanted the lifting of personal and national sanctions imposed after he forced a Ryanair flight to land in Minsk in May of this year, in order to arrest a Belarusian dissident.
Whether Lukashenko acted on Putin's orders, and whether there is a connection between the refugees in Belarus and the threat that Russia will intensify the war in and against Ukraine, is hardly relevant to a better understanding of the 'migration crisis.'
Far more pertinent is the fact that the EU can be serially blackmailed by the threat of a refugee influx, because of the fear that the far right will gain more popularity as soon as refugees are back on the front pages of European newspapers again.
In order to increase the pressure on the EU, Lukashenko invited Iraqis, among others, to fly to Minsk for a fee of $3-4000 and stay in a hotel for a few days, with the implicit promise that they could then wander on down into the EU. The average income in Iraq is about $4000 a year. Within the domain of the damned, it is always the slightly privileged who make the crossing – they have the means and the mental and physical strength to do so. For those left behind, the hope of a better life is usually the hope of an afterlife.
The Polish-Belarusian border, where those refugees were stranded, is in a region historian Timothy Snyder has described as "bloodlands"; places where both Hitler and Stalin committed their greatest mass murders. They have seen it all before.
Ursula von der Leyen, the President of the European Commission, has stated that the EU will not finance barbed wire and walls to mark and fortify its external borders. But the Polish parliament has already allocated 350 million euros to build a wall — with or without money from the EU. A wall that, if it will even be built, will be visual noise, but with only symbolic effect. Whoever has the burning desire for a better life will always find holes in a wall.
Can people be asked to share their nation-state privileges with the less privileged? In theory, yes, of course, but in practice, I fear that the vast majority of people are not willing to make any sacrifices for more justice.
It is true that the sacrifice can be forced, but in democracies there is a danger that this enforcement will be punished in the next elections. Bertolt Brecht already wrote that it is a pity that the government can be dissolved, but the people cannot. Since we are still left with imperfect peoples, the idealist must choose: remain theoretically idealist, become a dictator, or try to convince the people — although past results aren't very encouraging.
Ironically, Lukashenko's actions seem to have strengthened the unity of the EU. Merkel, before she left office, already complimented Belarus' EU neighbors for their actions. The EU is, of course, a community of values and standards, but east of Berlin and south of Palermo those values and standards are gone, because values and standards, like the weather, are a relatively local matter.
As to whether the human sacrifice of the refugees in the Mediterranean and along the Polish-Belarusian border, as well as the flimsy deals with Turkey and Libya, were a reasonable price for preserving the EU, future historians will determine. It is certain that the abuses of, for example, Frontex, the EU border police (such as pushbacks and violations of international law), about which among other outlets Der Spiegel has reported, are nowhere to be found in debates on essential themes, anywhere.
Since there is no police force at the borders to enforce international law, international law does not exist out there, on the periphery of the EU's community of values and standards.
Stopping relatively small numbers of refugees and migrants is in fact the preventive expulsion of the scapegoat, before that scapegoat has been able to reach the center of the community. In his ever-inspiring study "The Scapegoat," French literary scholar and historian René Girard argues that the myth always conceals "collective violence" against "a real victim." The blame for the crisis is projected onto the victims of the persecution, and they must therefore be expelled before they can pollute the community.
Little has changed about that. Behind the myth of the migration crisis hides collective violence against real victims. The perpetrators of that violence, who in Germany attack refugees and asylum seekers on a regular basis, and the profiteers off the refugees' misery, try to cleanse themselves by means of that myth. But international humanism also has its mythical sides and is, in any case, powerless without a world police, which will not come into being, for now.
The community of values and standards called the EU, which wanted to outsource warfare to America, makes modest human sacrifices in order not to endanger its own survival too much. That is the truth of the 'migration crisis.' The rest is mythology.
Democracy, the rule of law and the international community are what should save us. But they are gods in which fewer and fewer people believe.
Arnon Grunberg is the author of the recent novels "Occupied Territories" and "Good Men." As a reporter he has been embedded with, among others, Dutch and German troops in Afghanistan and American troops Iraq, in a nursing home in Flanders, a circus in Amsterdam, a massage parlor in Romania and slaughter houses in Germany and the Netherlands. He was born in Amsterdam and lives and works in New York. Twitter: @arnonyy
ICYMI
Ken Burns' Brilliant 'The U.S. and the Holocaust' Has Only One Problem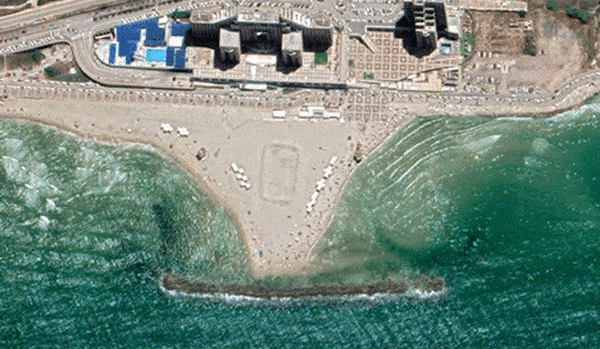 Facing Rapid Rise in Sea Levels, Israel Could Lose Large Parts of Its Coastline by 2050
As Israel Reins in Its Cyberarms Industry, an Ex-intel Officer Is Building a New Empire
How the Queen's Death Changes British Jewry's Most Distinctive Prayer
Chile Community Leaders 'Horrified' by Treatment of Israeli Envoy
Over 120 Countries, but Never Israel: Queen Elizabeth II's Unofficial Boycott