Opinion |
Prepping for Secession – or War: Who Will Stop Bosnia's Serb Separatists?
For years, Bosnian Serb leader, separatist, autocrat and genocide denier Milorad Dodik has worked hard to discredit the post-war Bosnian state and demonize Muslim Bosniaks. Now, as he gathers critical momentum, will Biden, NATO or others in the West step in, before it's too late?
Bosnian Serb Milorad Dodik, President of the Republika Srpska, is intensifying his all-out assault on the institutions guaranteeing the territorial integrity and sovereignty of post-war Bosnia
Credit: AP Photo/Amel Emric
Thirty years ago this fall, Bosnia was plunged into a months-long crisis that led to three and a half years of war and the worst humanitarian atrocities committed on European soil since WWII. Separatist Bosnian Serb officials established parallel power centers, undermined state institutions and operationalized a blueprint for secesssion and genocide.
As if to mark the anniversary in a particularly macabre way, Bosnia is now going through its worst political crisis since the signing of the Dayton Peace Accords that ended the war in 1995.
For three months now and counting state-level institutions have been essentially paralyzed by Bosnian Serb officials. They triggered their boycott back in July, when the High Representative – the international peace envoy charged with ensuring the civilian implementation of the peace agreement – passed amendments to the Criminal Code outlawing and penalizing the denial of the genocide committed by Serbs against Bosniak Muslims during the war.
But over the last several weeks, that boycott has evolved into a far more dangerous escalation. Milorad Dodik, the hardline, autocratic Bosnian Serb member of the country's tripartite presidency has launched a full frontal assault on Bosnia's state institutions that have guaranteed the country's territorial integrity since the post-war peace accords.
Dodik, a frequent genocide denier and avowed Serb separatist, has never missed an opportunity to belittle or demean Bosnia while serving in the country's presidency. It's hard to imagine another state on earth with a top-level official consciously doing so much to undermine the very state over which he formally presides.
His statements to the effect that Bosnia is an "impossible" or "artificial" state that needs to be "dissolved" have a purpose: by cumulatively demeaning Bosnia and undermining its institutions, Dodik is trying to prove that its state-level institutions are dysfunctional and unsustainable, while simultaneously presenting Serb entity Republika Srpska as the model of an authentic and functioning would-be state.
Dodik subscribes to the worldview which informed the wartime Serb leaders as well: to secede from the Bosnian state, having rid it of its Muslim population, and join with next-door Belgrade to form a 'Greater Serbia.' He has called the Srebrenica genocide a "fabricated myth." For Dodik, politics is the continuation of war by other means.
The unfolding crisis is morphing towards substantial steps towards secession. The Bosnian Serb leader announced in late September his intent to pass Republika Srpska assembly legislation to withdraw consent to the establishment of the Armed Forces of Bosnia and Herzegovina and to form a Republika Srpska Army.
He also announced that the assembly will pass laws prohibiting the work of state-level judicial bodies and intelligence and police agencies on the territory of Republika Srpska, challenging the sole authority of the Bosnian state over military force and security – effectively, dismembering its sovereignty.
Dodik's strategy in attempting to force the failure of the Bosnian state has been in the works for more than a decade but more recently he has fine tuned his tactics both rhetorical and substantial. This Dodik 2.0 is a much more studied disciple of political ambiguity.
Rather than publicly questioning the Dayton Peace Accords, Dodik frames his policies as a return to an "original Dayton." For the past two and a half decades, the Office of the High Representative has imposed numerous laws and helped establish new state-level institutions in a bid to make post-war Bosnia a more fully functioning state.
A return to "original Dayton" is a euphemism for undermining and dismantling all that has been achieved in institution-building since 1995. Whereas Dodik as recently as late 2016 threatened to hold a referendum on Republika Srpska's independence, the new terminology is Republika Srpska's "independence within Bosnia and Herzegovina."
Joining the Islamophobic bandwagon on the rise among the far-right in Europe, he now pointedly refers to Bosniaks as "Muslims" in an effort to paint the population as purely a religious community – and an inherently threatening one. He has also revived the Radovan Karadzic language of the 1990s that Bosniaks want a "Muslim state" – though no Bosniak official or leader has articulated any such plans, and there is no popular support for any such idea among the largely secular Bosniaks.
In laying the groundwork for concrete steps towards undermining Bosnia's institutions, Dodik has embraced another new tactic: Collective decision-making, most clearly by declaring his intention to pass laws in the Republika Srpska assembly that strip agencies of the Bosnian state of their jurisdiction to execute their work within the Bosnian Serb entity.
His party's Governing Board announced last week a plan to transfer and return state prerogatives away from Bosnia and Herzegovina the state to the entity-level, and stated that if the Republika Srpska approach is not accepted, they would pursue self-determination.
The purpose of this tactic is both to give the impression of consensus, by obtaining a 'proven' imprimatur of popular support, but also to reduce the likelihood of individual targeted sanctions for transgressing core clauses of the peace agreement. The U.S. and/or the EU would find it more difficult to impose sanctions on all members of the Republika Srpska assembly or on all members of the party's Governing Board rather than on Dodik himself.
Meanwhile, watching the current crisis unfold on the sidelines and remaining conspicuously quiet is the main Bosnian Croat party (HDZ) which has an unflinching alliance with Dodik. This essentially leaves the majority Bosniak-based parties as the sole bulwark against the dismantling of state institutions – and of the state itself.
But Bosniak politicians are caught in a trap. As Dodik takes concrete steps towards secession while speciously talking up peace, Bosniak politicians have been painted into a corner. If they do not respond to every new provocation, it's seen as weakness that appeases the separatists. When they respond, they are accused of crying wolf. When they promise to defend Bosnia's territorial integrity with all available means, they are labelled as warmongers.
An additional challenge is that there are several politicians fractiously clamoring for the role of the Bosniak leader while Dodik reigns supreme in Republika Srpska. Due to Bosnia's complex multiple levels of governance, all key majority Bosniak-based political parties are both in power and in opposition at some level of governance. This foggy picture of where the buck stops complicates a concerted response to the current crisis.
Dodik has been under U.S. sanctions since 2017 for obstructing the peace accords, but sanctions have had no notable deterrent effect.
By building up new facts on the ground, establishing closer links with Russia, and positioning himself as the supreme center of political gravity in Republika Srpska, Dodik continues to enjoy his status and influence, not least as an interlocutor for American and European officials.
He recently met with Secretary of State Anthony Blinken's special envoy for election reform Matthew Palmer and Angelina Eichhorst, a high-level EU official tasked among other regions with dealing with Western Europe and the Western Balkans.
For sanctions to pack deterrence, they would need to be imposed on a wider circle of politicians, their close aides and business associates found to be supporting efforts to obstruct the Dayton Accords. Combined American and EU sanctions, assuming the European Commission could agree on such a step, would constitute a far more effective penalty.
The Biden administration should lead NATO to send a new mission to Bosnia. NATO handed over its mission to the European Union Force Bosnia and Herzegovina (EUFOR) back in 2004 in a move that has since come to be seen as a major step backwards. With only several hundred troops on the ground in Bosnia, EUFOR is woefully inadequate to meet any serious security challenge.
Furthermore, the presence of EUFOR, symbolic as it is, could give false hope and a false sense of security to Bosnian citizens in much the same way that the UN did back in the 1990s. Only NATO and its redeployment to Bosnia could serve as a deterrent to ensure that the Dayton Peace Accords do not unravel, with all the grim consequences that are likely to follow.
The Biden administration and the West more broadly have an opportunity to push back against a shameless breach of international agreements and to prevent a chaotic, and potentially bloody, deterioration, rather than preparing their apologies and excuses for after it's too late.
Hamza Karcic is an associate professor at the faculty of Political Science at the University of Sarajevo. Twitter: @KarcicHamza
Click the alert icon to follow topics:
ICYMI
Ken Burns' Brilliant 'The U.S. and the Holocaust' Has Only One Problem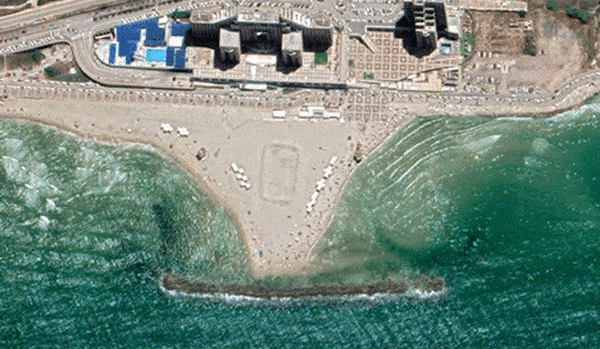 Facing Rapid Rise in Sea Levels, Israel Could Lose Large Parts of Its Coastline by 2050
Lapid to Haaretz: 'I Have Learned to Respect the Left'
The Mossad's Fateful 48 Hours Before the Yom Kippur War
As Israel Reins in Its Cyberarms Industry, an Ex-intel Officer Is Building a New Empire
How the Queen's Death Changes British Jewry's Most Distinctive Prayer