Opinion |
India Gained Nothing From Modi's Toxic Affair With Trump
Modi's relentless endorsement of Trump earned India few tangible benefits. And now he faces the mother of all political hangovers with a U.S. administration headed by the people his own media relentlessly trolled
U.S. President Donald Trump and Indian Prime Minister Narendra Modi embrace after giving a joint statement in New Delhi, India. February 25, 2020.
Credit: Manish Swarup,AP
The team managing the Indian Prime Minister Narendra Modi's social media accounts must have exercised great care in composing his congratulatory tweets to Joe Biden and Kamala Harris on winning the 2020 U.S. elections.
After all, Modi and Biden's predecessor, Donald Trump, had shared a bubbling bonhomie. To the outside world, at least, the two men seemed to have formed a mutual admiration society.
At "Howdy Modi," the 2019 mega-event organized in his honor in Texas, Modi extolled Trump, expressing admiration for his "sense of leadership, a passion for America, a concern for every American, a belief in American future and a strong resolve to make America great again."
Modi also claimed, with false optimism, that Trump had "already made the American economy strong again" and that "in these years [under each other's leadership], the two nations have taken the relationship to new heights." Throwing caution to the wind, Modi championed Trump's candidature by repurposing his own winning 2014 slogan: "Ab Ki Baar Trump Sarkar," "This time, a Trump government."
Observers across the world saw the event as a hideous political spectacle, an open endorsement for Trump's candidature and a blatant interference in the U.S. elections. Understandably, Modi's comments rubbed the Democrats the wrong way.
Notably, Senator Kamala Harris, now Vice-President, a critic of the Modi government's policies and its abysmal human rights record, boycotted the Howdy Modi event. Political observers pointed to the fact that Modi, while calling Indian Americans his "family," did not even mention Kamala Harris, the first Indian-origin American woman to be elected to the U.S. Senate.
Modi's supporters preferred Tulsi Gabbard, another Democratic presidential hopeful who has had a long enthusiastic relationship with Hindu fundamentalists in general and Modi in particular.
Indeed, Modi's supporters in the media spun elaborate conspiracy theories about Gabbard's failure, based on her faith. "If the Democrats had been truly inclusive and not merely looking for the token person of colour to run for top office, they could have chosen the most attractive candidate of them all – Tulsi Gabbard – but then who would want to elect a "Devil-worshipper" in evangelical Christian America? Especially one who congratulated Narendra Modi after his second election win in 2019?" asked the editor of a right-wing magazine in an article subtitled "Hinduphobia comes naturally to Abrahamics."
Indians should "shake off the delusion" that Harris has any fellow feeling for India, another pro-Modi commentator declared, before offering the reason why: She is "supported and funded by the likes of Soros and connected to the [Indian opposition] Congress party, which signs secret MOUs with China and conducts secret meetings with Pakistan generals and politicians, get together and act against India."
Such disinformation campaigns, flooding social media platforms with slurs and bigoted memes, characterized how the pro-Modi media boosted Trump and trolled his opponents.
The same dynamics were on show at another political spectacle – "Namaste Trump," the mass spectacle organized for Trump's tour of India in February 2020. During that event, the U.S. president celebrated the "great relationship between the Prime Minister [Modi] and myself."
Indeed, the two men shared a "great relationship." Modi and Trump are men cut from the same cloth. Their politics are undoubtedly and unapologetically driven by Islamophobia, and both galvanized the anti-Muslim tendencies of their base to win political power.
Both of them, notorious for banking on "alternate facts" and/or "headline management," have an indifferent and often tortuous relationship with the truth. If Trump's critics call him a liar (and commentators have counted 30,573 false or misleading claims he made as president) Modi's critics often refer to him with the popular sobriquet "Feku," Hindi slang for "fibber," or lying fantasist.
Furthermore, akin to tinpot dictators, they are afflicted with the strongman leader syndrome – an autocratic set with an authoritarian streak who, with no regard for human rights, sought to abandon democratic norms while inciting the mob.
Their perfectly curated and mutually reinforcing political spectacles were broadcast to millions of people across the world. Politically, these events had the desired effect: self-aggrandizement. They also offered an opportunity for political give-and-take, as a form of transactional diplomacy.
In exchange for Modi's full-throated support, Trump chose to look away on key domestic issues roiling India, notably the Citizenship Amendment Act, human rights and religious freedom – all of which discriminate against India's minorities, particularly Muslims.
Though Trump's visit coincided with the Delhi riots, in which 53 people were killed – the vast majority Muslim – he categorically stated he would "leave that [the CAA] to the people of India" hoping that "they will make the right decision."
However, the Modi-Trump bromance did not translate into significant, tangible diplomatic gains for India. In fact, Delhi lost the support of the liberal constituency and representatives of the U.S. polity. Moreover, despite the "great relationship" and "path-breaking" visits, the Trump administration's apparent warmth didn't translate into preferential treatment; instead, it pushed India into the corner on many issues, from energy to trade to defense.
For instance, as the Trump administration pulled out of the Iran nuclear deal, they imposed heavy sanctions on Iran, using the CAATSA (Countering America's Adversaries Through Sanctions Act), a U.S. domestic law which mandates that any country or company importing crude oil from Iran would invite heavy penalties from the U.S. This had immediate, damaging effects on India.
The Trump administration started forcefully pushing India, the world's third largest energy consumer, not to purchase oil from both Iran and Venezuela. Despite being "sympathetic" to India's energy needs, the Trump administration granted a waiver of only six months, until May 2, 2019.
Despite making tall claims about taking foreign policy decisions solely on "strategic and sovereign interests" the Modi government stopped purchasing oil from Iran and Venezuela, notwithstanding the adverse impact on the Indian economy. Modi's stance pushed Iran away from India, and closer to China, despite recent military clashes illustrating the potential fragility of that relationship and despite this being against U.S. strategic interests.
As Biden takes charge, India hopes to resume buying oil from Iran. However, understanding the fact that domestic priorities take precedence in the post-Trump America, New Delhi is taking a cautious approach.
Though Biden plans to re-negotiate the JCPOA, it is likely to take decisions based on a wide swathe of political considerations both domestic and regional, which, invariably, take a long time. Until then, sanctions on Iranian oil imports to India are likely to remain in place.
Similarly, despite the myriad fine words, the Modi-Trump bonhomie also did not actually close a trade deal between India and the U.S. With a bilateral trade in 2019-20 of $88.75 billion (according to Indian government data), the U.S. is India's top trading partner.
However, a much-vaunted "big" trade deal between the U.S. and India remained elusive. Even the "mini" trade deal" – which the Modi government insisted was "almost there," ready to be signed "tomorrow" if the U.S. wanted – did not materialize.
Furthermore, Trump also removed India from countries eligible for the Generalised System of Preferences, reinstating tariffs on certain Indian imports. That meant tangible damage to India's economy.
As Biden takes charge, his focus will be on rebuilding a U.S. economy badly hit by COVID-19. Necessarily taking domestic political sentiments into consideration, Biden's emphasis will be on reinvigorating American firms, not on empathizing with allies' economic troubles.
Biden's plan, "Made In All Of America," is a case in point. It proposes to "make a historic procurement investment in American products, services, supply chains and transportation of goods" and restrict purchase of steel, cement, concrete, building materials, and equipment from abroad.
At its core, Biden's "Made In All Of America" plan does not feel very different from Donald Trump's "America First" policy. In fact, it feels like a continuation of similar political principles, with a different name. Consequently, even as Biden takes charge, not much is likely to happen on the trade deal front.
Moreover, India's key ask, a restoration of the benefits of being a preferential trade partner and the removal of tariffs on steel and aluminium are now more unlikely to happen.
More ominously for Modi, as the new U.S trade representative takes charge, it is likely that issues like human rights and climate change are likely to be linked to trade, another nail in the coffin of the values-blind transactionalism of the Trump years.
In defense issues, India also found itself under pressure under Trump. During the president's visit, he sold the Indian government 24 M-60 Seahawk helicopters and Apache attack helicopters at a cost of $3.2 billion. The arms deal was framed, ostensibly, as a win for India: it would help India meet its defense needs.
But the same Trump administration pushed India to drop the $5.5 billion deal to acquire S-400 missile defense systems from Russia, which are just as important for India to counter a very real threat from China. Threatening India with sanctions, the Trump administration made it clear that New Delhi did not have any special waiver from the 2017 U.S. law aimed at deterring countries from buying Russian military hardware.
Washington's opposition to India buying Russian missiles is unlikely to change under the Biden administration, even with a Secretary of State in Anthony Blinken who may be sympathetic to India's defense needs vis-a-vis China. Modi's "true friend in the White House," Trump, refused to help, and now New Delhi will have to find innovative approaches to escape sanctions for buying the Russian missile systems.
The key points of divergence between New Delhi and Washington are likely to be on issues of Kashmir, human rights, minority rights and religious freedom. However, the Biden administration is unlikely to antagonize allies on all fronts at once when their overriding concern is surviving the pandemic and rehabilitating the post-COVID U.S. economy.
The American electorate declared at the ballot box: "Ab Ki Baar Biden-Harris Sarkar," "This time, a Biden-Harris government." Modi's unconstrained pivot towards Trump has misfired badly, and India is paying a heavy price for his reckless and partisan adulation.
India has to hope that the Democrats now in power will behave with far more grace and integrity than their own leader demonstrated over the last four years.
Shrenik Rao is the editor-in-chief of the Madras Courier, a 233-year-old title he revived in 2016, and founder & CEO of 7MB, a digital media company. An alumnus of the London School of Economics and the University of Oxford's Reuters Institute for the Study of Journalism, Rao writes about foreign policy issues. Twitter: @ShrenikRao
Click the alert icon to follow topics:
ICYMI
Ken Burns' Brilliant 'The U.S. and the Holocaust' Has Only One Problem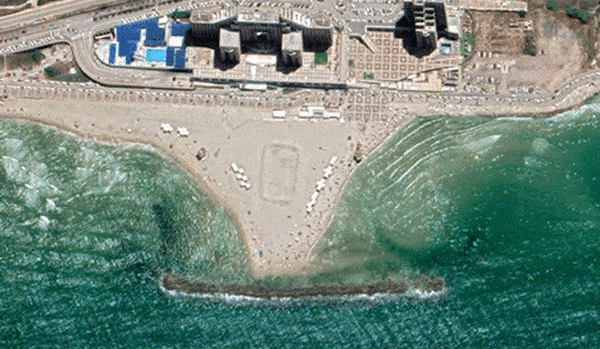 Facing Rapid Rise in Sea Levels, Israel Could Lose Large Parts of Its Coastline by 2050
As Israel Reins in Its Cyberarms Industry, an Ex-intel Officer Is Building a New Empire
How the Queen's Death Changes British Jewry's Most Distinctive Prayer
Chile Community Leaders 'Horrified' by Treatment of Israeli Envoy
Over 120 Countries, but Never Israel: Queen Elizabeth II's Unofficial Boycott