The Far-right Will Be One of Biden's Biggest Problems - Here's How He Can Fight Back
The ADL's Jonathan Greenblatt and AJC's Holly Huffnagle tell Haaretz how the new administration should combat hate crimes, which spiked during the Trump presidency and aren't disappearing when he vacates the White House
A protester who claims to be a member of the Proud Boys outside the U.S. Capitol last month.
Credit: ALEX EDELMAN - AFP
WASHINGTON – As the United States reels from an unprecedented day of insurrection and violence, the issue of domestic extremism is at the forefront of the conversation locally. The issue was already slated to top President-elect Joe Biden's domestic agenda, and Wednesday's events on Capitol Hill will only drive this home.
Two of the foremost thinkers on how to combat extremism, Anti-Defamation League CEO Jonathan Greenblatt and the American Jewish Committee's U.S. Director for Combating Antisemitism Holly Huffnagle, spoke with Haaretz about President Donald Trump's responsibility for the current situation, as well as the tangible actions the Biden administration can take to defeat it.
"The president has promoted sedition and incited violence," Greenblatt said in a statement on Wednesday. "People assaulting law enforcement officers or breaching government buildings must be arrested and held accountable. More than anything, what happened at the Capitol is a direct result of the fear and disinformation that has been spewed consistently from the Oval Office. Trump's campaign of disinformation is a clear and present danger to our democracy."
Greenblatt told Haaretz prior to Wednesday's events that while domestic extremism within the United States is not a new phenomenon, there has been an empirical and tonal rise in extremism since Trump took office in 2017.
"He amplified and normalized extremism in a way that hasn't been seen before, and in an alarming and escalating manner. It started during the [first] campaign, credentialing white supremacist media and retweeting memes that were born in far-right message boards or obscure subreddits and suddenly surfaced into the public conversation via the candidate," Greenblatt explains.
Huffnagle echoes this, saying there has been a rise and growth in white supremacist movements over the last four years. The year 2015 "marked a turning point in an increase in antisemitic incidents," she says. "We have Jewish perception data, FBI statistics and other surveys of incident data that shows this. It's harder to measure attitudes, but the incident data shows an increase in incidents, which have also become more violent and more open."
Greenblatt notes that white supremacists have been emboldened by Trump's rhetoric during his tenure as president. "We've seen this resurgence of right-wing extremism, which began during the campaign then marched into the open in Charlottesville [during the Unite the Right rally in August 2017]. From 2016 to 2019, white supremacists alone killed 116 people in the United States, and other right-wing extremists added about 21 more deaths during these three years," Greenblatt reports. "The FBI will tell you that the most clear and present danger, in terms of domestic terror, is right-wing extremism."
Huffnagle agrees that Trump empowered, or at least gave strength to, antisemites. "I think it's an important distinction that we're not calling our government leaders antisemites – but words lead to antisemitic effect, if not intent," she says. "Even if it wasn't the president's intention, there is a correlation with his words and white supremacist movements feeling emboldened. They hear the dog whistle. They heard what they wanted to hear."
'Leaders need to lead'
Greenblatt says Biden's first action must be to demonstrate the leadership that has been absent over the past four years. "Leaders need to lead. It shouldn't be lost on anyone that when [Biden] announced his candidacy, he tied it back to Charlottesville and that brazen display of antisemitism and racism.
"Leaders need to clearly, cogently and consistently call out white supremacy and hate – and it shouldn't be that hard. Not just in word, but in deed. They need to embody this idea that diversity is a strength in this country. I'm glad to see the [incoming] administration embracing that by the way he has constructed his cabinet, from the vice president on down," he says.
"No leader, whether you're the president of the PTA or the president of the United States, should denigrate people based on where they're from or how they look or how they pray. That's beyond the pale of what we as a people should expect of our leaders," he adds.
Huffnagle believes that having the right attitude is an important first step. "I hope there is outreach to those on the fence," she says, in an effort to bring them "into the big tent, so they don't feel ostracized and turn further to the right."
Greenblatt suggests the White House should create an inter-agency anti-hate task force that would coordinate this effort, and says this would be his primary policy recommendation to Biden.
"There isn't a silver bullet or a magic wand. It's going to require all the different arms of the federal government to work in concert if we really want to turn this around," he says. "This is not going to go away. We have our work cut out for us, and it's going to require creative thinking and this whole-of-government approach."
The ADL CEO imagines this task force engaging the different branches of government in a coordinated effort to fight the extremism. "You'd tackle it both globally and domestically, since it is a global terror threat," Greenblatt says. "I'd make sure it goes beyond this whole-of-government approach; I'd also look at state and local law enforcement. I'd also ensure our education system is not allowing the roots of radicalization to settle in," he says.
Huffnagle also hopes the White House establishes an inter-agency hate crimes initiative that improves coordination between federal agencies on tackling domestic extremism.
"This is two parts: reporting and prosecution," she says. "We hope the [Jabara-Heyer] No Hate Act passes and provides more resources to law enforcement agencies to report to the FBI. The prosecution piece has to be taken more seriously and work toward greater consistency."
Huffnagle's primary recommendation, however, would be to improve community protection.
"We really witnessed in the last three years that the Jewish community does not feel secure. Fifty-six percent of American-Jewish institutions have increased security in the last two years; one in three Jewish Americans have avoided certain places due to their safety concerns. So the Biden administration can really work toward providing additional resources for Jewish community protection. This isn't something they can or should necessarily do on their own," she says.
She also recommends establishing a high-level point person whose sole focus would be combating domestic extremism and who would liaise between all the different agencies. Huffnagle also hopes to see the next attorney general (reportedly Judge Merrick Garland) work on bridging gaps between the agencies, White House and Congress so things do not fall through the cracks.
'Amplifying our worst impulses'
Greenblatt and the ADL spearheaded last year's "Stop Hate for Profit" campaign, leading an ad boycott against social media companies – particularly Facebook – in a bid to hold them accountable for hosting hate on their platforms and valuing profits over prejudice. He says social media has been "the fundamental force" behind extremism's rapid mainstreaming and the broadening of societal divisiveness.
"From the president's Twitter account to the way that the platforms algorithmically amplify our worst impulses, it's quite alarming," Greenblatt says. "When the administration tries to understand how we fight hate, it needs to focus fully on how we reckon with the role of these products in pushing out and normalizing prejudice, and how we take steps to ensure that if we tackle this, we will use a whole-of-society approach to fight not just antisemitism or racism but all forms of extremism – and social media has a fundamental role to play in curbing some of the worst actors."
Huffnagle, meanwhile, believes that fighting domestic extremism is in many ways about combating "the digitization of the problem. One of the biggest reasons we know that white supremacist groups have been able to grow so significantly in the last five years is because of cross-pollination of algorithms, especially on Facebook, and their ability to grow online – which has offline consequences. Government can push these companies more than they have done that doesn't infringe on First Amendment rights."
She hopes Biden's decision to hire several former Facebook employees can help in this regard. "There might be that natural connection with this idea of how we can help Facebook move along the lines of better engagement for users, but where its algorithms work in a way to prevent hateful content from spreading and not connecting groups of conspiracy theorists and white supremacists."
Huffnagle, who notes that "extremism is a business," says other large platforms have done a better job removing episodic extremist content, such as YouTube or Reddit with QAnon, though she notes this could be due to Facebook's size.
"The numbers are almost up to 3 billion [users] per month now," she says. "If they catch 99.9 percent of all domestic extremist content, that's still thousands and thousands of [posts] that still exist – and that's why the focus goes toward the bigger groups."
Greenblatt and Huffnagle both highlight their respective organizations' communication with the transition team and their utmost confidence in the high-profile nominees tackling issues related to antisemitism, including Homeland Security pick Alejandro Mayorkas. Greenblatt also highlights Secretary of State-nominee Antony Blinken as an important figure in this fight.
"Before you can have a whole-of-society approach to fight hate and extremism, you need a whole-of-government approach, and the Department of Justice has to be at the center of that," Greenblatt says. "The data is quite damning. We talk about white supremacy being a global terror threat because we've seen murders perpetrated here in the U.S. that invoked European white supremacists. There clearly are links. The DOJ and the FBI will be central to combating this."
How to fight antisemites
Greenblatt believes Congress has a role to play and is optimistic there will be bipartisan support to take on extremism. "It wasn't just Democrats who spoke out after Charlottesville," he says. It was also "Republicans like Mitt Romney, who wasn't yet in office, and Paul Ryan, who was speaker of the house. There were many Republicans who stepped up and firmly condemned what happened," he adds, noting that the ADL is in regular contact with members of both parties in both chambers.
"This administration was an aberration in terms of the close coordination that nongovernmental organizations saw with the federal government to fight this thing. It's never been a partisan issue before and I'm optimistic that it won't be in the future," he says.
Huffnagle says she has worked in this field for the past 11 years, and points out "there was a stark contrast around 2017-2018, where the fight against antisemitism was politicized and weaponized. It devalues and harms the Jewish community when the priority isn't put on pushing back on antisemitism, but more on staying in power, and I'm nervous the term has been devalued due to this partisan divide. My hope is we can overcome this politicization and fight real antisemites."
It's going to be a process, she adds. "If laws are passed, they are only effective if [suspects] are prosecuted. We see this in Europe: There are lots of laws on the books against Holocaust denial and hate speech, but a lot of these laws aren't taken seriously or enacted. So you have a society that thinks extremists will be prosecuted, but when they aren't, people feel like they're free to do these things and it actually makes matters worse. Legal action is important, but we need to make sure these laws are enacted and taken seriously."
Greenblatt says he is optimistic that Trump's departure will act to stunt the growth of far-right organizations. "When they no longer have this amplification from the most powerful elected leader on the planet, it may help to a degree – but that doesn't mean we can take our eye off the ball," he cautions. "It's not going to dissipate on its own. It's going to require a sustained approach and this whole-of-government, whole-of-society approach."
Huffnagle concludes with her own warning about extremists. "I don't think they're going to go away. The absence of someone that they look up to might embolden them even further, they could go underground," she says. "This is an American problem – a societal issue that threatens to break democracy. We really need to focus on this vision of America going forward, and I think Biden can urge fellow Americans to care more about this issue, using his platform to speak out against domestic extremism."
Click the alert icon to follow topics:
ICYMI
Ken Burns' Brilliant 'The U.S. and the Holocaust' Has Only One Problem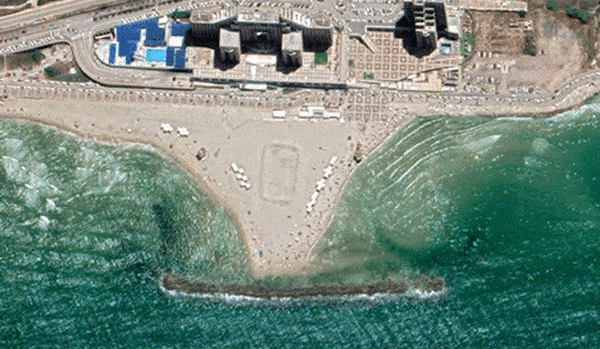 Facing Rapid Rise in Sea Levels, Israel Could Lose Large Parts of Its Coastline by 2050
As Israel Reins in Its Cyberarms Industry, an Ex-intel Officer Is Building a New Empire
How the Queen's Death Changes British Jewry's Most Distinctive Prayer
Chile Community Leaders 'Horrified' by Treatment of Israeli Envoy
Over 120 Countries, but Never Israel: Queen Elizabeth II's Unofficial Boycott