How Trump's War on Fox News Is Amplifying Conspiracy Theories and Antisemitism
The president's election defeat has boosted right-wing TV channels willing to amplify his accusations of voter fraud, while 'free speech' app Parler is drawing extremists in large numbers
Supporters of U.S. President Donald Trump participating in the Million MAGA March to protest the outcome of the 2020 presidential election, Washington, December 12, 2020.
Credit: OLIVIER DOULIERY - AFP
"Fox is fake news!" "Traitors!" "We Trusted You!" That was the reception Fox News correspondent Griff Jenkins received from fans of U.S. President Donald Trump during his rally in Valdosta, Georgia, on December 5.
Four years earlier, Fox News was credited with helping Trump's come-from-behind victory in the 2016 election. Now, the president's supporters were angrily blaming the cable network for contributing to his downfall in 2020.
Following Trump's loss to Joe Biden last month, and the rise of unfounded conspiracy theories about voter fraud as part of Trump's efforts to subvert the outcome, the right-wing media landscape in the United States is undergoing a massive shift. New outlets with few to no safeguards when it comes to fact-checking and accuracy are gaining traction, at the expense of right-leaning media platforms that still adhere to at least some rules of journalistic integrity.
At the same time, some right-wingers are leaving Facebook and Twitter for the relatively new app Parler, protesting the most established social media sites' attempts to limit hate speech and fake news.
Nicole Hemmer, author of "Messengers of the Right: Conservative Media and the Transformation of American Politics," says the attack on Fox News at Trump's Georgia rally shouldn't come as a surprise. "There has definitely been a strong anti-Fox backlash building since the election," she told Haaretz, noting that while "anti-Fox News rhetoric has been a part of the growing nationalist right for many years now, this backlash is far stronger than anything we've seen before – no doubt because it's being driven by the president."
Low guardrails
For Trump, Fox News' biggest "sin" came on Election Night when the network's Decision Desk accurately called the state of Arizona for Biden. This move reportedly irked the president, because it punctured his plan to use the early results out of Florida and other key states to announce a premature victory. Trump's revenge ever since has been the promotion of two other right-wing U.S. channels: One America News Network (OANN, or OAN) and Newsmax. Matt Gertz, a senior fellow at the liberal media watchdog Media Matters, says Trump has created "a race to the bottom of the fever swamp" with his endorsement of Fox's competitors.
According to Gertz, Fox is in a "tricky position" because the network, which has been operating since 1996, has a "two-track business model." It has "built up a huge audience" thanks to shows that offer "red meat" to the Republican base, Gertz notes. But Fox also has a news division, which Trump regularly attacks, that "looks enough like a normal broadcast to keep the advertisers in line."
OAN and Newsmax, however, are focused solely on building up a right-wing audience, including by spreading conspiracy theories that suit the ears of the Trump base. This leaves Fox in a bind: If it becomes more like its right-wing competitors, it will lose some center-right viewers and advertisers. But each time one of its news reporters refutes a Trump conspiracy theory, the network loses some viewers to OAN and Newsmax.
Newsmax, which was founded in 1998, averaged about 72,000 total viewers during the week preceding the election, according to Nielsen Media Research ratings data, but jumped 183 percent, to an average of some 204,000, a week later.
That increase appears to be continuing, with Newsmax topping a Fox News program for the first time on Monday last week in the crucial demographic of those aged 25-54. OAN doesn't subscribe to Nielsen tracking.
"Guardrails are certainly lower on OAN," Gertz told Haaretz, noting that "someone like [Trump campaign attorney] Joseph diGenova, who was banned from Fox News for claiming that George Soros controlled the State Department, is welcomed on OAN and Newsmax." DiGenova was roundly condemned earlier this month for stating that Christopher Krebs, the ex-cybersecurity chief fired by Trump for saying the election was secure, should be "taken out at dawn and shot." He made the comments while speaking on "The Howie Carr Show," a podcast shown on YouTube and Newsmax. While he later said he had been joking, Krebs is currently suing him for damages.
Both Newsmax and OAN, which have echoed Trump's allegations and discredit stories that reject election fraud, have yet to declare Biden the winner – unlike Fox, which did so on November 7, the same day all other major networks called the race for the former vice president.
A report in the Washington Post earlier this month found that only 11 percent of U.S. Senate and House GOP members have publicly acknowledged that Biden won the election, while two representatives even claim Trump won. Meanwhile, Trump has viciously attacked Republican officials in states certifying results for Biden, which in some cases have resulted in harassment and death threats.
Furthermore, a Reuters/Ipsos opinion poll in November found that 52 percent of Republican voters believe Trump won the election, compared to just 29 percent who believe Biden won, while some 68 percent remain concerned the ballot was somehow "rigged."
While much of the disinformation and conspiracy theories that have dominated conservative media since November 3 focus on the election, antisemitism has also featured.
Gertz notes that "when you delve deeper into conspiracy theories, someone inevitably brings up the Jews," adding that "the most insane segment of television" he has "ever seen on cable news – and I have been doing this for 14 years now – was on OAN."
He explains: "They ran a segment on the mounting evidence of a globalist conspiracy that involved George Soros, the Clintons, Bill Gates, Anthony Fauci and the Chinese government trying to establish population control, by opposing the antimalarial drug hydroxychloroquine as a cure for COVID-19."
Hemmer says that while Soros is the main antisemitic dog whistle coming out of OAN at the moment, it's worth remembering that "one of OAN's anchors is Jack Posobiec, who came up through the far right and in 2016 used the (((echo))) symbol when tweeting about Jewish journalists." Gertz, meanwhile, notes that OAN's decision to hire Posobiec was "an attempt to attract some of the alt-right audience."
While Fox News has pushed dog whistles as well, Hemmer has said the current moment in right-wing media is particularly fraught as it's a "victimization narrative fused with a 'stab in the back' mythology – and that makes it incredibly dangerous."
Parler gains
While OAN and Newsmax attempt to lure Trump supporters from Fox News, Parler is trying to do the same to Facebook and Twitter. Parler, which was launched in 2018 and dubs itself a "bastion of free speech," doubled its number of users in November to some 10 million. (Twitter, by comparison, currently has 330 million.)
Parler has also attracted an investment from billionaire Robert Mercer and his daughter Rebekah, who were also early backers of Breitbart News and far-right British politician Nigel Farage's Brexit campaign.
The Anti-Defamation League took a deep dive into Parler last month and found that while the "site itself is not extremist, extremists have joined Parler in large numbers."
Oren Segal, vice president of the ADL's Center on Extremism, told Haaretz that "in the lead-up to [November's] Million Maga March, we saw accounts that were popular from violent groups like Proud Boys, QAnon conspiracy theorists, white supremacists and Holocaust deniers all existing in the same space as conservative or right-wing news."
Segal adds that in mid-November, around the time of the first march (a second one followed last weekend), "you also had right-wing elected officials and pundits – from Sean Hannity to Ted Cruz and Laura Ingraham – promoting and celebrating this new platform that gives conservatives access to those extreme messages, which then feed off of each other."
Parler has become an "online manifestation of what we saw on the ground in D.C. – a mingling of extremists and non-extremists," Segal says. The danger here, as he sees it, is that "under a veneer of conservatism or right-wing ideology, there's actually an underbelly of extremism and conspiracy – and I'm not sure people are really able to tell the difference between the two anymore, because they're motivated by similar conspiracy theories."
Hemmer warns that Parler is "likely to act as a space of radicalization, detached from any sort of reality feedback loop." Unlike more mainstream social media platforms like Twitter or Facebook, Parler allows users to direct their followers to domains like Telegram, Gab and BitChute, which are rife with extremist content.
"You might think of Parler as a mix of talk radio and Facebook: It's an echo chamber, like talk radio, but without any sort of central moderator," she says, noting that "misinformation and conspiracies spread rapidly on it."
Segal concludes by warning that "anybody who thinks everything changes on January 20 is mistaken," adding that "we already know some of the narratives and conspiracies that will animate the near future" – and they are "fundamentally about undermining democracy."
Click the alert icon to follow topics:
ICYMI
Ken Burns' Brilliant 'The U.S. and the Holocaust' Has Only One Problem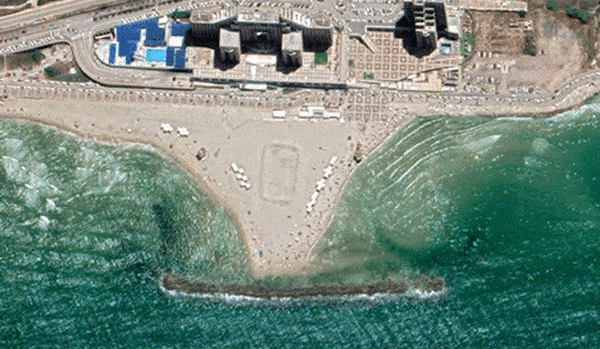 Facing Rapid Rise in Sea Levels, Israel Could Lose Large Parts of Its Coastline by 2050
Lapid to Haaretz: 'I Have Learned to Respect the Left'
The Mossad's Fateful 48 Hours Before the Yom Kippur War
As Israel Reins in Its Cyberarms Industry, an Ex-intel Officer Is Building a New Empire
How the Queen's Death Changes British Jewry's Most Distinctive Prayer