Disney Who? Nastya and Diana Have YouTube Empires at Age Six
Experts and parents may be appalled, but the creators of 'Like Nastya' and 'Kids Diana Show' cracked the code, and the little stars make millions of dollars
Anastasia, aka 'Nastya.' Last year her YouTube business made $18 million.
Credit: Anna Radzinskaya
Kids watch the darndest things. Over time, my children's taste switched from generic cartoons and internet clips of kids playing with slime to adolescent YouTubers inarticulately gossiping about their classmates and life. But it turns out that the leading stars on YouTube today are children playing to an even younger audience – preschoolers.
Yes, there are little kids broadcasting to every corner of the globe where an internet connection can be found. Many are Russian or Ukrainian. Anastasia, aka "Nastya" and Diana, both 6, have become the hottest young YouTubers in the world and they're close to capturing general viewing records too. Both were born in the post-Soviet space: Nastya in Krasnodar, Russia and Diana in Kiev, Ukraine. Now their families are living the dream in Florida.
Braving the synthetic sound track and the acid colors, I delved into their videos to elucidate why they fascinate children everywhere. What I found included toys, playground equipment - all changing at a dizzying pace, glittering dresses and a lot of makeup, spiced with animation and visual and audio effects, plus a script that can range from the rudimentary to downright catchy.
Take a 2019 clip in which Nastya gets married, to a store mannequin. Her distraught father weeps but provides his daughter with a chiffon wedding dress and a pink bridal bouquet. "A year later" she is a trapped housewife on the verge of nervous collapse. "I want daddy!" she announces – and then it turns out it was just a bad dream. "First school, after that college and only then marriage," her loving father soothes.
In a more recent video from October, Nastya and her father demonstrate the outcome of being good– such as brushing your teeth, making the bed, cleaning up your room or washing dishes – compared to being bad, i.e., not doing any of those things. Good Nastya receives a generous present in the form of an impressive toy puppy. Bad "Stacey" gets nothing.
Or watch Diana manipulate her brother Roma, a star of his own YouTube channels, into letting her get near the swimming pool at their house. Roma demands five dollars but Diana, moving throughout the clip in a black and pink toy jeep, makes a deal with him: She will give him a surprise gift in fluorescent wrapping – and in return he will let her through to the longed-for pool. Another Diana video is about feverish preparations for the cat's birthday. No twist in the tale here: the cat gets gifts, food, including a fancy cake, and confetti and balloons.
Yes, the cat here becomes a relentless consumer. According to Prof. Yair Amichai-Hamburger, director of the internet psychology research center at the Interdisciplinary Center in Herzliya, the young viewers are being turned into consumers from age zero. He is concerned about exposing young children incapable of critical thinking to videos of the type the YouTube stars are making.
It's one thing to identify with a Disney hero or heroine; there is merchandizing of that too, he says. But that's not the same as the make-believe childhood that YouTubers of this ilk are creating, the fake ideal "me". Instead of being children with a childhood who build their own personality and identity, the viewers are influenced by the commercial-industrial syntheticism and this damages their ability to create internal control, Amichai-Hamburger cautions.
The experts and parents may be appalled but the world keeps turning. According to Social Blade website rankings, the two girls' flagship channels, "Like Nastya" and "Kids Diana Show," are among the top 10 of the most watched YouTube channels with tens of billions of views each. Diana has 66.7 million followers and Nastya, 63.1 million. A rival channel, "Vlad and Niki," has 56.2 million followers and was the fourth-most watched channel on YouTube in October.
These astronomical numbers are part of entire media empires now being built up around these children. In addition to their main channels – Diana's in English and Nastya's in Russian with English subtitles – both have channels with the same videos dubbed into other languages: Portuguese, Spanish, Arabic, Indonesian and more.
With those additional channels, altogether Nastya has 175 million followers and is the No. 1 YouTuber in the world today, says her manager Eyal Baumel. Diana's achievements are somewhat more modest: 143 million followers, according to the website Tubefilter. Vlad and Nikita, who are breathing down the necks of the two girls, have an identical strategy with 120 million followers.
Baumel emphasizes Nastya's success on TikTok too: She may have only two and half million followers there for now, but the number of views for the videos she posts is among the highest on the platform.
Toy critic
Behind the numbers of followers and views are fat profits. According to Forbes, between June 2018 and June 2019 her YouTube business made Nastya, only 5 at the time, $18 million – making her the third-highest earner on Youtube in the world.
Last year the world leader was still an American kid, Ryan Kaji, who was 8 at the time. He began his career opening presents and became the most popular "toy critic" in the United States. Two years ago he launched his own line of toys in cooperation with companies. Since then he fell from the top spot on YouTube, in terms of followers and views, reports Social Blade – overtaken by Nastya, Diana, and Vlad and Nikita.
In January YouTube imposed new rules: ads in kiddie videos have to be based on the video content. But the kiddie stars don't have to make do with just from advertising. The young YouTubers promote products and brands in their videos: games, toys, entertainment complexes – and food, of course. Last year, Nastya promoted only two brands: Legoland and Danone, says Baumel.
Also, following Ryan Kaji, the pioneer of kiddie commerce on YouTube – the Russian stars aim to become successful brands off-screen too. in October Diana launched a line of dolls and doll clothes under the name of "Love, Diana" in collaboration with the studio Pocket Watch, which also works with Ryan. The toys are for sale exclusively at Walmart stores in America.
Now, in a video with the innocent-sounding name "Diana and Dad — Funny Story About Cleaning Room," the viewers receive a hefty portion of content hawking the new brand. While cleaning her room, Diana keeps encountering enticing boxes, each containing a different doll from the Love, Diana line. Vlad and Nikita, and Nastya, have also signed merchandising deals with big companies in recent months.
The (Israeli) adults in the room
Behind every successful young girl or boy on YouTube stand ambitious parents. This is the story of Nastya's parents, according to several media outlets, including Bloomberg: Nastya's father Yuri ran a construction business and Anna was an events planner and managed a bridal salon. When their daughter was born in 2014, the doctors suspected she might have cerebral palsy – a diagnosis that turned out to be wrong. Anna and Yuri spent their time taking care of Nastya and as part of their desire to aid her development and open up, they began filming her and uploading the videos to YouTube. They discovered that she was a natural on the screen and both parents closed their businesses and went to work promoting their daughter's YouTube channel.
This founding story begs questions, for example, what is the connection between cerebral palsy and opening presents – the original focus of the channel – and how do two adults make a decision to close their businesses and base their future on their infant. Yuri and Anna declined to be interviewed for this article.
But at least in some cases, behind the ambitious parents are large companies that serve as a sort of go-between between the families and YouTube. The professional services come from multi-channel networks (MCN), third-party affiliates that can boost viewer numbers in order to boost profitability, in exchange for a percentage of the money. As they increase the channels' exposure, they also may provide content and programming, rights management, marketing and promotion, among other things.
It turns out that behind Nastya and her parents is Yoola, an Israeli entertainment firm and MCN. In fact Yoola is deeply involved in the Russian YouTube market. Its main competitors are the Ukrainian company AIR and MediaCube from Belarus.
Yoola was founded in 2011 by four Israelis as a YouTube channel for beauty and cosmetic products. The founders are no longer active in the company but are still on the board of directors, says CEO Eyal Baumel. It has 90 employees working all over the world: In Moscow, Beijing, Los Angeles – and in Yokne'am in Israel. Last year the Russian edition of Forbes magazine called Yoola the eminence grise of YouTube.
Among the bloggers Yoola sponsors, i.e., those it promotes by means of YouTube's algorithms and provides with legal and business advice – are Yury Dud, an independent journalist, documentarian and today the No. 1 interviewer in Russia; and the popular Russian rapper Egor Kreed. In return for its services, Yoola takes a 15 percent share of the YouTubers' profits, on average.
Yoola represents not only 6-year-old Nastya but also helps sponsor some of the channels of her biggest rival, Diana.
Baumel notes proudly that because of Yoola, Nastya's parents began dubbing her clips into multiple languages. The child began to gather momentum and in 2019 exploded into the topmost tier, becoming the biggest YouTuber in the world in terms of views and followers in mid-2019, said Baumel.
"Nastya is the most famous girl in Brazil and maybe in Israel too. I constantly receive emails from Israelis sending birthday greetings to Nastya," he says. "She is No. 1 in every Arabic-speaking country. Her channel is the biggest children's programming channel in Arabic. She is number one in Mexico, Argentina and Indonesia." Asked about China, he added that they hope to launch her there next year.
Mystery box and a story
How do you reach the top of YouTube? Baumel insists it's all about making good content, though admitting that what constitutes good content is subjective; and understanding the algorithm: how to work with meta-data, using thumbnails [small icons to click on], the art of reaching collaboration agreements, and "end cards," – promotions of other videos that appear at the end of a clip. Some YouTubers do it themselves, but Yoola has experts who teach them, added Baumel.
The most important thing in YouTube's algorithms is how many viewers watched the video through to the end, he says. This is why two years ago the gift-opening videos were the hottest thing on the site: "You open the box, the children want to see what's inside. You take out the toy, the children want to see how you put it together and how you play with it – so they watch the video until the end," he explains.
In Nastya's case, her parents cracked the new format on YouTube, Baumel says. Before her, YouTube didn't have much "scripted" programming: "Her content may not look like Nickelodeon and Disney at the production level, because they don't have 300 on staff, but it has a story, it has something that happens and develops. They did it well. The interaction between Nastya and her father is something that even parents connect with, when they see it. It's not just children playing with toys, there's a story."
ICYMI
Ken Burns' Brilliant 'The U.S. and the Holocaust' Has Only One Problem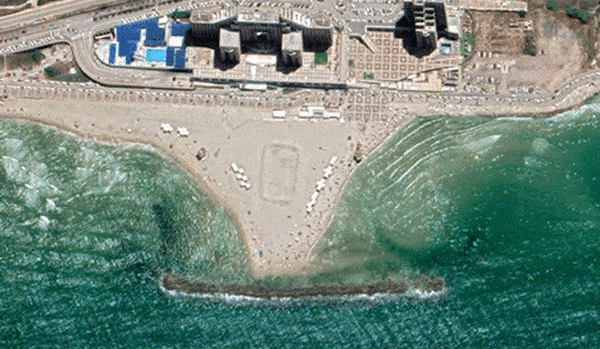 Facing Rapid Rise in Sea Levels, Israel Could Lose Large Parts of Its Coastline by 2050
As Israel Reins in Its Cyberarms Industry, an Ex-intel Officer Is Building a New Empire
How the Queen's Death Changes British Jewry's Most Distinctive Prayer
Chile Community Leaders 'Horrified' by Treatment of Israeli Envoy
Over 120 Countries, but Never Israel: Queen Elizabeth II's Unofficial Boycott