The Man Putin Fears Most: Deciphering the Navalny Enigma
The producer of a documentary on Putin's critic who was poisoned in August explains why he found Navalny as great a mystery as the Russian president himself - and how he dealt with the film's director being brutally murdered
Russian opposition leader Alexei Navalny stands during a break in the hearing on his appeal in a court in Moscow, Russia, 2018.
Credit: Pavel Golovkin,AP
In March 2017, tens of thousands of demonstrators attended rallies and went on marches in cities across Russia. They were protesting government corruption in the wake of a damning investigative report published a few weeks earlier by Alexei Navalny. The report exposed the vast wealth of the second most powerful man in Russia, then-Prime Minister Dmitry Medvedev, and the complex web of sources allegedly funding his estates, yachts and vineyards.
Thousands of protesters were arrested in what was considered the beginning of the country's largest wave of protests since 2011-2012. Young protesters, including many high school students, were dubbed "Navalny's children." This was when TV and film producer Yevgeny Gindilis decided that the renewed political awakening and its emblem, Navalny, needed to be documented.
In July 2018, the film's director was brutally murdered in the Central African Republic along with two associates
A few months earlier, Navalny had announced his plans to run for president in 2018. When Gindilis invited the well-respected documentarian Alexander Rastorguev to collaborate on the film, they envisioned using the familiar model of closely following a candidate all the way to the polling place. But then something went wrong. More accurately, everything did.
"Our reference was 'Behind the Scenes of a Victory,' a [2017] movie in which French filmmakers followed Emmanuel Macron closely for a whole year, documenting all the discussions and internal arguments, with the movie ending with a huge Macron victory," Gindilis says, in a video interview from his home in Moscow.
"But when we started to shoot, we realized that Navalny was actually inaccessible and that he wouldn't even reach the stage of registering as a candidate," Gindilis recounts, referring to the election committee that refused to register Navalny due to a criminal conviction in 2013. (Navalny subsequently appealed that conviction at the European Court of Human Rights, which exonerated him.) "Besides, for much of the time he was in detention, so we didn't have enough material," the producer adds. "For this reason, and as the movie was initially intended to be broadcast in Europe, we realized that we had to tell viewers the background story of how Navalny rose to where he was."
Making a documentary when its protagonist is inaccessible presents many challenges. Indeed, as far as is known, Gindilis and Rastorguev's 2018 film "Electing Russia" is the only one that chronicles Navalny's experiences to date. (There are some investigative reports and propaganda films produced by Navalny himself through his Anti-Corruption Foundation.) The filmmakers had also hoped to revisit their documentary for a local Russian audience, but their intentions were tragically cut short, as detailed below.
Admiration and revulsion
Navalny became known in the West on August 20, when he collapsed during a flight from Siberia to Moscow and was taken to a hospital in Omsk. The 44-year-old was later flown to a hospital in Berlin. A few days later, the German government said tests had shown the presence of the nerve agent Novichok in his body.
Navalny was released from hospital last week, but it's too early to assess the long-term impact of the poisoning – Navalny says he may need physiotherapy in order to regain his motor skills. The Kremlin, meanwhile, said the regime opponent was free to return to Russia, "like any other citizen."
After the poisoning incident, the German ZDF channel and French Arte channel, which had originally commissioned the documentary, allowed subscribers to watch the film for free. The Cinema for Peace organization, which arranged Navalny's transportation to Germany, also organized an "emergency screening" of the movie in Berlin.
"Navalny is cautious when it comes to the media," Gindilis says. "He prefers that the people he works with are ones he can completely trust, people he can control. From the moment he could produce a film himself, that's what he did."
Rastorguev said he saw no significant difference between Putin and Navalny in terms of their accessibility to documentary filmmakers. 'They concealed all their real activities under the rug and reveal only the results'
Almost 2 million people follow Navalny's YouTube channel and Instagram account. That doesn't match the most popular Russian channels on YouTube, but it's enough for any of his investigative reports to leave a mark. This is a media outlet that covers itself: Navalny prefers to speak in the first person.
"Yes, precisely, without any mediation. Besides, during the [2018] election campaign Navalny was arrested seven times, I think, so it was technically impossible to film him. That's why we decided to focus less on him and more on his campaign in remote regions – we recorded young people who support him. His headquarters gave us a list from which we could pick our protagonists. We filmed Navalny as he was reflected through them, when he arrived somewhere and we could see him through their eyes."
The people willing to sacrifice themselves for Navalny are shown to be very different from one another, socially and politically. One is a cabdriver in his 40s from the southern city of Astrakhan, who forces his passengers to endlessly view Navalny's investigative reports on a screen he installed in his vehicle. Another is Navalny's office coordinator in Murmansk, northern Russia – a young LGBT activist who recounts the violence she's routinely subjected to. It seems the only thing linking these people is their admiration for Navalny and revulsion for President Vladimir Putin.
Navalny is presented as an eloquent, charismatic orator, a sharp and skillful leader who in the space of a few months from 2011 managed to transform himself from political activist and blogger on the margins to a central voice in the anti-Putin protest movement. He famously dubbed Putin's ruling United Russia party "the party of scoundrels and thieves."
He stood as a candidate in Moscow's 2013 mayoral election, garnering 27 percent of the vote. This was a dress rehearsal for the presidential election campaign he launched in 2016, the film's producer says. A year after he announced his candidacy, Navalny had managed to establish a network of 80 offices across Russia, with some 200,000 volunteers. This was all financed by crowdfunding, which raised 240 million rubles (around $3 million) for the campaign.
"Navalny is a leader and a very skilled politician who knows how to set a target and attain it," Gindilis says. "It began with the slogan 'Scoundrels and thieves' in 2011, and continued with a campaign for the parliamentary election, which he formulated. After all, there used to be many arguments among opposition leaders – Boris Nemtsov [who was murdered in 2015] and Garry Kasparov [who moved to the United States in 2013]. But ultimately Navalny's slogan – vote anything but United Russia – brought results and exposed the extent of corruption, leading to a huge wave of protests. That was the key moment in Navalny's political career, propelling him to his position as one of the leaders of the opposition."
In the documentary, Navalny is shown in several situations: boldly confronting policemen during a demonstration; being taken to a police van screaming in pain when one of them twists his arm; sitting in a pub with fellow protesters during the wave of protests in 2012; trying to convince a group of skeptical voters with his face covered in green after a disinfectant was thrown at him by anonymous persons.
Despite these images, which show the human side of Navalny, the lasting impression is of a somewhat Teflon character, someone who doesn't miss an opportunity for a selfie with his supporters and admirers, but prefers to be preoccupied with his phone when they scream their pain and hopes at him.
'On the one hand, I believe in all [Navalny's] activities and support them. On the other hand, we see the ineffectiveness of this structure created around one central personality, who doesn't tolerate anything around him'
This impression probably comes from the fact that he didn't allow the film crew to breach the campaign's outer layer and see him in intimate settings – with his family, friends or in personal moments of reflection. The documentary leaves viewers wondering whether Navalny's communication problem reflects some deeper issue.
"Electing Russia" is interspersed with bits of commentary analyzing Navalny's actions, including a conversation with the exiled Mikhail Khodorkovsky – another prominent Putin critic – who argues that the institution of president in Russia is one that creates monsters and that without a thorough systematic review, deep change is impossible.
Complete with explanations and background, the documentary was clearly made with an international audience in mind, illuminating in the brightest way possible the flimsiness of the tower Navalny has constructed. For example, several high school students are seen in one of the film's early scenes talking about exams and grades, but then they yell with contorted faces: "We're the rulers here!" Across from them, very close by and right before the camera, stand what Russians call "cosmonauts": policemen in bulletproof vests and closed helmets. When the camera focuses on them, penetrating beyond the plastic shields on their faces, it turns out they're youths who are roughly the same age as the students, covered in beads of sweat and with fear in their eyes. At that moment, viewers don't know who's demonstrating against whom here – and, especially, for what cause.
Brutal murder
After "Electing Russia" was broadcast on European channels shortly before the March 2018 presidential election, Gindilis and Rastorguev wanted to film a more extensive and artistic version for a Russian audience, one with fewer generic explanations (Rastorguev's cinematic flourishes were sacrificed in the original to make way for exposition).
A few months later, though, the work on this came to an abrupt halt: In July 2018, Rastorguev was brutally murdered in the Central African Republic along with two associates. Opposition media outlets linked the murder, which has yet to be officially solved, to the Wagner Group – a private paramilitary organization belonging to a Putin associate, Yevgeny Prigozhin (aka "Putin's chef").
Rastorguev and the two journalists had come to the African country in order to investigate the activities of the Wagner Group, which is considered the long arm of the Kremlin overseas.
After the tragedy, Gindilis abandoned plans to revisit the documentary. He hasn't changed his mind despite Navalny's newfound status worldwide, when his Novichok poisoning turned him from Putin foe to international symbol of courage and steadfastness against the regime.
"I don't see the point in returning to it now – both because most of the material has already been seen [many parts of the documentary were broadcast on Radio Liberty in Russian], and because this movie could only have been done with Rastorguev," Gindilis explains. "He'd followed the political scene up close for many years and knew everyone really well. That could have been the unique aspect of the movie we wanted to make. The investigator and commentator Kirill Rogov, who worked with us on the film, said something wonderful about him: 'Rastorguev opens politicians like tin cans. In his frame we see their true faces – not only what they broadcast, but also their hypocrisy and artificiality.'"
Rastorguev himself was more critical of Navalny than Gindilis. Discussing "Electing Russia" on the Medusa website, he said he saw no significant difference between Putin and Navalny in terms of their accessibility to documentary filmmakers. "They all adopt the well-known Russian tactic that transformed the saying 'Money loves silence' to 'Politics loves silence.' They concealed all their real activities under the rug and reveal only the results. In this closed atmosphere, it's very hard to make normal documentary cinema, which assumes that the protagonist trusts not only you but the viewer as well. Our politicians don't trust the people. They prepare a special meal that the people are willing to consume, and distribute it at political rallies. I'm referring to the entire nation, regardless of their political opinions."
Deciphering the method
Important aspects of Navalny's profile that arouse questions among regime opponents in Russia were not explored in the film. Among other things, his past as an ultranationalist activist; the ultranationalist messages to which he adhered even during his mayoral campaign in Moscow (he promised to reduce the number of migrants in the city by 70 percent). Then there's his implied support for the annexation of the Crimean Peninsula ("Crimea is not a slice of bread with sausage that's passed from side to side," he once said).
When people talk about Navalny, you often hear "Good for him, but…" During your work on the film, did you discover what this "but" relates to?
"I can't say my attitude toward Navalny has changed. I continue to relate to him more or less as I did in 2011. It's simple: On the one hand, I believe in all his activities and support them – there's nobody else who's capable of doing what he does, as consistently and effectively. On the other hand, I can't say I support him unconditionally. We see the ineffectiveness of this structure created around one central personality, who doesn't tolerate anything around him. And how important it is to form alliances" with other political groups.
"Nobody has a complete plan as to what to do next," adds Gindilis, regarding what many perceive as the ideological emptiness at Navalny's rallies, which can be glimpsed in Rastorguev's shots. "The exposure of corruption is of course a good story, but it's impossible to deal with that for five years and not discuss the other things on the agenda. Clearly that's one of the central questions for Navalny and his stance."
So why is this man, who focuses solely on one issue – corruption – in a huge country mired in social, economic, political and diplomatic problems, considered a sufficiently great danger that the government would allegedly try to assassinate him?
"Without an organization, without a party, without being registered as a candidate and without legal options for participating in political activity, he has succeeded for many years in influencing the voting balance in elections," Gindilis explains. Whether it was the 2011 call to vote for any party except the ruling party, or the method he launched in late 2019 whereby his supporters were urged to give their vote to the candidate with the greatest chance of beating the Putin candidate in local elections, Navalny has deciphered the method and managed to influence the elections from outside, despite the revocation of his right to be elected, Gindilis believes.
"He's learned to bring about a situation where the government will have to work hard each time in order to achieve the results it desires – and in most instances, it's unable to achieve those results," Gindilis concludes. "That's the difference between him and all the rest: He really fights, as opposed to all the rest who only pretend to do so."
Click the alert icon to follow topics:
ICYMI
Ken Burns' Brilliant 'The U.S. and the Holocaust' Has Only One Problem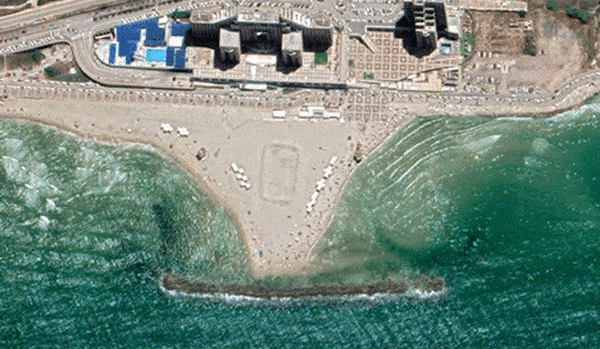 Facing Rapid Rise in Sea Levels, Israel Could Lose Large Parts of Its Coastline by 2050
Lapid to Haaretz: 'I Have Learned to Respect the Left'
The Mossad's Fateful 48 Hours Before the Yom Kippur War
As Israel Reins in Its Cyberarms Industry, an Ex-intel Officer Is Building a New Empire
How the Queen's Death Changes British Jewry's Most Distinctive Prayer