The Flute Player Who's Showing Belarusians How to Topple a Tyrant
Protest leader Maria Kolesnikova realizes the danger that lurks for those who oppose President Alexander Lukashenko, but she isn't backing down
Maria Kolesnikova. "When we show that we are not alone, we are many, it's no longer a matter of money. It's a matter of solidarity, the strongest tool."
Credit: Pasha Kritchko
>> UPDATE: Belarusian protest leader Maria Kolesnikova was just abducted by unidentified people. More details here
The coronavirus pandemic upended the life of Maria Kolesnikova. Until March, the young flutist was busy performing classical music and organizing and producing cultural projects in Germany, Belarus and across Europe. Her schedule of concerts and lectures was full, months in advance. But her plans for the summer underwent an abrupt change. Today this articulate, tall, chic woman with bleached hair and glaring-red lipstick – not a look you'll typically encounter in the streets of Minsk – is the face of the opposition in Belarus.
Of the three women who have been the public face of the challenge to the eternal president, Aleksandr Lukashenko, she's the only one who hasn't left the country.
Kolesnikova, 38, was born and raised in Minsk, the capital of Belarus, but because of her career had been living in Stuttgart for some years. Now, back in her birthplace, she travels between rallies and demonstrations, meeting with striking workers, giving interviews to international media outlets and posting video clips urging the Belarusian public to keep up their protest. She was arrested the day before the August 9 vote, but released shortly afterward, in light of what her colleagues called a case of "mistaken identity."
Lukashenko has remained in power for as long as he has thanks to a triad of measures: crushing of the opposition, exercise of absolute control of the country's television stations and the rigging of elections. Since his initial rise to power in 1994, there hasn't been an instance in which his rivals weren't arrested before or after a vote – in some cases being detained for many years. Every presidential election campaign in Belarus under Lukashenko has been sharply criticized by international observers – but this year such individuals were not invited to the country. The declared results of the election, which officially Lukashenko is supposed to have won with 80 percent of the vote, triggered a huge wave of protest in the country of 9.5 million.
Last week, members of the Belarus opposition established what they call the Coordination Council, to foster a peaceful transfer of power, centered around a new election. It's headed by four women, among them Kolesnikova and Nobel literature laureate Svetlana Alexievich, and three men, including former culture minister Pavel Latushkoy. The council approached the powers-that-be, including Lukashenko's bureau and the secret police (still called the KGB in Belarus), with an offer to enter into a dialogue. Kolesnikova even said that Lukashenko could run in the do-over election that would be held after he stepped down.
In response, the regime has launched a criminal investigation into the Coordination Council. Its members have been summoned by the authorities to give testimony, and two of them remained in detention as of this writing. After more than two weeks of demonstrations of a scale and intensity unprecedented in Belarus, and new heights of brutality and torture perpetrated by its security forces, the protesters and the opposition face a dilemma: Lukashenko has no intention of disappearing.
Your protest is very impressive and highly photogenic, and the whole world is watching. But more than two weeks have passed, and Lukashenko doesn't show signs of intending to step down. Do you have concrete methods to make him do that? Offers that he might be able to refuse but won't want to?
"Five palaces and eight limousines," Kolesnikova replies in Russian, laughing. (She spoke with Haaretz on August 21, in a Skype interview from Minsk.)
You know what I mean.
"Yes, I understand. The proposal of the Coordination Council is to start with a dialogue – with him or with his circle, it doesn't matter. Everyone understands that the longer this political crisis lasts, the worse the economic crisis will become, and the violence will continue. It could go on for a lot longer; that is the worst scenario of all. Our idea is that we are calling on him to understand and come to terms with the fact that the majority is not with him. His powers as president will lapse on November 5, at which point he will no longer officially be president. He can try to hold onto power by these bloody means, but the Belarusian people made their choice. We propose to begin this dialogue as soon as possible, in order to prepare the possibility to transfer power. That is the only legal way, and we use only legal means."
The question is whether it makes sense to say, "We are conducting negotiations, we want a dialogue," if Lukashenko clearly doesn't intend to participate in such a dialogue.
"I think it's the only possibility. Because from the outset we have adopted a tactic of nonviolence only, and of everything being done legally. Only that works. Because the moment we cross into the illegal realm, we will find ourselves on their side. Even if it's difficult, even if it's going to take time, even if we all suffer and things are bad for us, we will remain on the side of the law. It doesn't matter how much they try to frighten us or what they do to us. Once we start using their tools, we have lost."
Each woman for herself
During the 12 years she spent in Germany, Kolesnikova performed in concerts and developed a career as a cultural entrepreneur and impresario. She became active again professionally in Belarus four years ago, and within the last year she became artistic director of the country's only "cultural hub."
"In the past 10 years," she says, "a kind of creative middle class has emerged in Belarus, which has developed somewhat different needs. They don't just want to go out for a beer, but rather perhaps wish to attend a concert or a lecture beforehand. That is a very clear change, and because I always take an interest in new things and want to implement projects that originate in my head, I saw in this an opportunity to realize my abilities."
Kolesnikova's political career, however, began less than four months ago. In May she joined the campaign staff of banker Viktor Babariko, the most serious opposition figure who sought to run for president against Lukashenko. But at the end of June, Babariko was arrested on what was announced as suspicions of illegally moving money out of Belarus, in a move widely assumed to be aimed at preventing him from running. (He remains under detention, as does his son and campaign director, Eduard.) In mid-July, Kolesnikova and Veronika Tsepkalo, the wife of another presidential candidate who was not permitted to run, announced that they would unite behind Svetlana Tikhanovskaya, the wife of a third candidate for the presidency who too had been arrested.
Of the three women who have been the public face of the challenge to the eternal president, she's the only one who hasn't left the country.
This triumvirate of impressive women quickly became the symbol of a new kind of struggle against the dictator. But the threesome did not last long. Fearing for their safety, Tsepkalo and her partner Valery left for Moscow even before the election. On the day after the vote, following a three-hour session with senior law enforcement authorities, Tikhanovskaya also left the country, crossing the border into Lithuania. The next day, statements read out by her on two separate video clips were posted: one in which she read out a request to her fellow countrymen "not to oppose the regime and not to go into the town squares"; and a second, in which she implied that the Lukashenko regime had left her no option but to leave the country and disavow the protest movement.
That same day Kolesnikova convened a press conference in which she related how Tikhanovskaya had in fact come to the country's central election committee to file a complaint against possible election fraud, but had been separated from her lawyer and held in a room for three hours with two senior figures of the Belarus security services. Kolesnikova reaffirmed her support for Tikhanovskaya, calling her a heroine, and added that she herself did not intend to leave Belarus.
In the meantime, opposition figures in Belarus have become increasingly convinced that Valery and Veronika Tsepkalo are actually agents of Russian President Vladimir Putin – who supports Lukashenko – and that their trip to Moscow before the election was not a coincidence. Valery Tsepkalo has been interviewed widely in media associated with the regime in Russia. In that vein, about a week ago, the official news agency RIA quoted him as objecting to the Coordination Council's attempt to transfer power.
For her part, when Kolesnikova speaks about her former ally, she weighs her words carefully.
Svetlana Tikhanovskaya is in Lithuania, Veronika Tsepkalo was in Moscow, then in Kiev, and is now in Poland. Are you in touch with her?
"No, I am not in touch with Tsepkalo. We are following what is happening, I think that they are also keeping track of us, and I think that is quite proper, just as it was when we managed the election campaign in parallel: Each person does what he is able to, what he is good at. So if it works, that's good. There is no need for us necessarily to coordinate our moves. We are in very different situations. I am here, they are there. We have different goals."
Meaning what?
"At the moment, the Tsepkalos are attracting international attention. The goal that is far more important to me now – because I am here – is to support the Belarusian people and draw attention to the problems here."
Does "international attention" also include Russian attention?
"I think that yes, they are giving many interviews also to media in Russia and in Europe. They have time and resources for this, which I don't."
But how do you see this? It's being said now that Russian intervention is already taking place on the ground – that Russian experts are working with Lukashenko in the realm of the media and propaganda. Do you continue to support what the Tsepkalos are doing?
"I think they have the right to their viewpoint. I don't really understand what the connection is between what the Russian side is doing and Tsepkalo's activities, but I think that any means of exerting influence on the situation, while drawing the attention of other states, is a good thing. Every action that is aimed at our being heard and for people to understand that the election was unfair, is positive."
You're not in direct contact with Tikhanovskaya, correct?
"We are in contact through our staffs. The Coordination Council is in contact with her in order to coordinate our actions."
But why are the two of you not in direct contact?
"I don't know. When we were together, close, we spoke all the time, but now she has goals of her own and I have goals of my own. Where they overlap, we are coordinated between us and [we both] know who does what, but not in everything."
A changed country
Meanwhile, the protest in Belarus has continued to gain momentum. The demonstrators were initially dispersed brutally, arrested in sweeping operations, and beaten and tortured in detention facilities. But within a few days of the election, sporadic demonstrations morphed into a mass protest that seemed unstoppable. Thousands of detainees began to be released and the world saw the blood on their bodies and clothes, and heard their testimonies about the ordeals they had endured.
Solidarity chains of women dressed in white protested across the country; red-and-white flags, from the pre-Lukashenko era, symbolizing a different Belarus, were hoisted at demonstrations and hung on public buildings, hundreds of workers in key industries declared strikes and were joined by some staff of state television, members of the Belarusian State Philharmonic orchestra and by actors of the national theater. Lukashenko was captured on video two weeks ago, standing disconcerted in front of a large number of workers at a Minsk tractor factory saying "Thank you," as the workers heckled and shouted at him to "go home."
There were also demonstrations after the presidential elections of 2006, 2010 and 2015 following allegations of illegalities and falsified results. Those protests were suppressed within days and Lukashenko went on ruling high-handedly. What's changed this time?
It doesn't matter how much they try to frighten us or what they do to us. Once we start using their tools, we have lost.

Kolesnikova
"It's not what, but who: The Belarusians have changed. The majority understood that it is the majority. They are not an opposition, as had been the case. In all the previous elections Lukashenko won, one way or another."
In other words, in earlier elections, people voted for him, in the end. Why didn't they vote for him this time?
"First of all, they have been deeply offended by his approach. He made many mistakes during the pandemic. The Belarusians were simply astounded by the humiliation. For the first time, they understood his true attitude toward Belarus. Until now his hatred was aimed at concrete groups: business people, the opposition. And now that hatred was aimed at the Belarusian people, who found themselves in the most difficult situation of the past 26 years. The state turned its back on them. He said truly foul things about people who died from the coronavirus."
Among other things, Lukashenko refused to implement a national quarantine policy, and described the response of the world to the coronavirus as a "psychosis." He said that the virus attacks the weak, wondered why one of those who died from the virus, a man in his 80s, "had gone out into the street and worked," and of another victim commented, "How can anyone live when he weighs 135 kilograms [297 pounds]?"
"At the same time," Kolesnikova continues, "a mutual assistance movement called Bycovid was founded, which has collected a huge amount of money to assist physicians and the sick, ranging from provision of food in hospitals to ventilating machines. That's the moment at which Belarus' society began to be transformed into a civil one. The role of providing proper medical treatment, which is generally fulfilled by the state, was undertaken by the Belarusian people themselves. All these factors converged and left Lukashenko with no chance of winning a [legitimate] majority."
In other words, until this point, everything was all right from the viewpoint of the majority?
"From the viewpoint of most Belarusians, everything was okay. People were satisfied with the relative stability, with the promise of a monthly salary of $500 for everyone which he's been talking about for 10 years. Now he's promising $1,000, but no one believes it. The coronavirus didn't only strike Minsk, it also hit the small towns. There, people remained alone with their problems and didn't understand what was happening. They heard on television that nothing was being done and saw their relatives dying. And then the president goes and tells them that they themselves are to blame for the deaths – that was the trigger."
The country's strongman may have demonstratively made light of the coronavirus, but the country's economy has suffered in the global crisis wrought by the pandemic – on top of the ongoing difficulties caused by declining oil prices and problems in relations with Russia. Belarus has known worse economic setbacks than this one, and it's hard to say how much the national deficit is affecting the mood of the people.
However, according to Kolesnikova, the fall in the exchange rate of the Belarusian ruble and the appearance of new presidential candidates who had not previously been identified with the opposition, served to connect the dots for the masses and led them to believe that change was possible in their country. But what made her leave Europe as such – i.e., the world of culture and music – and plunge into the political morass in a country that has been ruled by a dictator for the past quarter-century?
Kolesnikova: "I had absolutely no intention of entering politics as it is understood in the post-Soviet states. But I was managing a cultural hub, and in Europe everyone who makes managerial decisions is already engaged in politics, influences the development of society. In the 21st century, art and politics are inseparable."
How did you decide to join Babariko's staff? How did that transition happen?
"It happened at the meeting where he announced his candidacy [in May]. As soon as he did that, I had no doubt that I would support him after our close, joint work in cultural projects. His human values speak to me very much, as does his approach to what is happening in Belarus and what can be changed. I asked him a few questions, he replied, and I signed on immediately and didn't regret it for a minute, even though it is a very tough road."
Did you understand that you were forgoing not only your tranquility but also your safety?
"Of course. For 26 years, I've been observing what is going on here. I have no illusions about what the regime is capable of."
What do you mean when you speak of Babariko's "human values"?
"Human love, self-respect, decency, the ability to hear different opinions. When we worked together, I was never afraid to express my opinion, and I always knew he would hear me. I have the opportunity to argue, to stand up for what I think. You have to understand that in Belarus that is totally exceptional, especially given the fact that I am a woman and Belarus is a patriarchal country."
'Contracts of slavery'
They heard on television that nothing was being done to fight the coronavirus and saw their relatives dying. And then the president goes and tells them that they themselves are to blame. That was the trigger.

Kolesnikova
Despite the optimism being voiced by Kolesnikova and other leaders of the protest movement, for the time being, it looks as though as long as their country's army, police and the special forces remain loyal to Lukashenko, huge demonstrations, the human chains of solidarity and factory strikes will not be sufficient to dislodge him. While images are being circulated of members of the security forces throwing their uniforms into the garbage to protest the abuse of demonstrators – such phenomena mostly appear in the realm of the internet and do not reflect a mass trend. Kolesnikova has been calling on members of the armed forces to side with the protesters, promising them safety and economic support if they do.
Do you feel that your call has produced results?
"I called on them to move to the side of the people. Because those who do not support the president are the majority – in other words, the president is actually the opposition to the people. The call was aimed also at those who have already taken the first step but are fearful of the consequences. They have a system of contracts of slavery, of mutual guarantees between people all of whom are ostensibly involved in some sort of crime. In practice that is not the case, and obviously it is possible to break free of this serfdom and not take part in crimes. Many people have approached me personally, and there are also various bodies that specifically support the members of law enforcement who have decided to lay down their arms, and they have already recorded more than 1,000 requests."
One of the main methods to delegitimize the protest is to claim that it's funded from abroad. How do you reply to the question of where the economic support comes from?
"I do not offer support personally. Belarusian society has developed tools by itself that are intended to support the members of the security forces, the strikers and the victims of police brutality. Our headquarters did not create those tools. We know they exist, we see that these are people who can be trusted. That is our strongest card.
"You know, the fulcrum of pressure of an authoritarian system is people's fear; they think that they are few and can always be punished. When we show that we are not alone, that we are together and that we are many, it's no longer a matter of money. It's a matter of solidarity, of the willingness of each person to help the other. That is the strongest tool, which no dictatorial regime can withstand."
During our conversation, Kolesnikova laughed a great deal and projected unfailing optimism. At the same time, the despot she wants to unseat can be seen in the media emerging from a helicopter at his residence armed with a rifle and surrounded by bodyguards – as though he's chafing at the bit to take on the tens of thousands of demonstrators whose only weapon is the red-and-white flag.
About two weeks ago, one of Kolesnikova's colleagues, a member of Babariko's team who was arrested in the first days of the protest and who remains in the hands of the KGB, posted a video clip on his Facebook page in which he is seen disavowing the protest movement and asking his friends to desist from their activity.
Can you see yourself in his place?
"The whole of Belarus can see itself in his place. We know very well how the KGB works. Its methods haven't changed."
Click the alert icon to follow topics:
ICYMI
Ken Burns' Brilliant 'The U.S. and the Holocaust' Has Only One Problem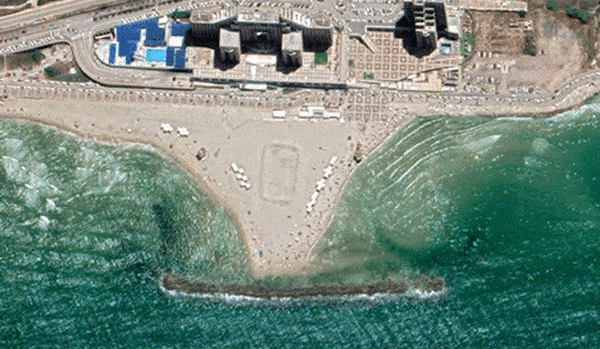 Facing Rapid Rise in Sea Levels, Israel Could Lose Large Parts of Its Coastline by 2050
Lapid to Haaretz: 'I Have Learned to Respect the Left'
The Mossad's Fateful 48 Hours Before the Yom Kippur War
As Israel Reins in Its Cyberarms Industry, an Ex-intel Officer Is Building a New Empire
How the Queen's Death Changes British Jewry's Most Distinctive Prayer