Opinion |
I'm a German Jew, and I'd Love to Be Normal
In Germany, Israel and the Jews are fought over with a crudely absolutist, hysterical intensity. Caricatured, exploited, courted and vilified by left and right, normality sounds to me like a distant promise
Protestors at a demonstration with the slogan "#unteilbar" (indivisible) against anti-Smitism, racism and nationalism in Berlin. October 13, 2019
Credit: HANNIBAL HANSCHKE / REUTERS
I know the cry for normality all too well.
Wouldn't it be great to be a German Jew and for that to be absolutely unremarkable? I was born and raised in Germany. I got beaten up a couple of times as a kid for being Jewish, and I've been caught, usually unwillingly, in hyper-aggressive debates about my identity and Israel throughout my life. Normality sounds to me like a distant promise.
And then I saw a headline in Haaretz that read: "Jews in Germany don't need special treatment anymore." For a short moment, I was overjoyed.
In this piece, political scientist David Ranan suggests that Germany, in its desire to atone for its past, succumbs to unconditional and borderline dangerous pro-Israeli and philosemitic policies.
And so he calls on the German Jews to resist becoming ritualized extras in this meta-historical drama, not to morbidly center anti-Semitism as their identity, to disengage from successive German governments' unconditional endorsement of every move by Israel, but instead to fight for, you guessed it, normality.
Oh, how I'd love to agree with this assessment, to join in this call for a new normal! But unfortunately, Mr. Ranan misses some crucial context, including the most obvious peculiarity of this German debate: its crude, unbreakable partisanship.
Here, Israel and the Jews are issues fought over with an almost hysterical intensity, and the fight is conducted between two entirely oppositional camps. Germans tend to either over-identify with Israel, fearing for its fate, or they are terrified of what they consider an inhumane nation. It's that simple, and that black and white.
Maybe it's not only Germany's murderous past, but also its obsession with football, that explains this mind-set: You pick your team and cheer for its shattering victory. What lousy sports fan would hope for a tie? As a good German, you consider yourself to be quite the expert on football tactics – as well as on the Israeli-Palestinian conflict.
I've never been much of a sports guy myself. At some point I developed a veritable aversion to football and Middle East policies alike. But being a Jew, I was relentlessly pushed to take a side in the national sport called "Israelkritik" – a toxic ritual of furiously criticizing Israel and in turn criticizing those who do. Woe betide anyone who disrupts this ceremonial combat.
I remember when a major German newspaper contributed to the ritual, publishing a tasteless, anti-Israeli caricature. A young PhD-student and activist felt compelled to convince me that the illustration was not anti-Semitic at all.
"Well, it's not really important if it's anti-Semitic," I argued, hoping to exit an unpleasant situation. "Perhaps we as a society just shouldn't be so emotional when it comes to Israel."
Big mistake! Visibly upset, the young scholar lectured me on the by-no-means-emotional German discourse on Israel. On the many German politicians boasting great expertise on the Middle East. On Germany's innumerable achievements in dealing with its past. And as his piece de resistance: If anyone was hysterical, he explained, it was me.
Many Germans are proud of their "Vergangenheitsbewältigung," the personal and national reappraisal of the past. They've visited a concentration camp, read Anne Frank's diary and have a strong opinion on the Middle East. Isn't that enough? They love the Jews!
"See, it's the philosemites!" I hear Mr. Ranan, jeering from his op-ed. "Their unhealthy, blinkered love for everything Jewish renders any critique of Israel impossible." Unfortunately, Mr. Ranan's definition of philosemitism as a compulsively positive spin on anything Jewish, a quasi-counterpart of anti-Semitism, is somewhat off.
Just like the anti-Semites need to justify their hatred with racist ideas and conspiracy theories, the philosemites need a narrative to rationalize their affection. Usually, German philosemitism is intertwined with biological racism.
In an average case of mild philosemitism, the patient will admire our exquisite dark humor, can name at least seven famous Jews and, most importantly, is overwhelmed by our stunning intellect: Jews are smart creatures. Although many of my personal interactions with other Jews disproved this general assumption, my non-Jewish countrymen insist.
Even my attempts to explain the sociohistorical reasons for their conviction – that many Diaspora Jews, mostly literate and multilingual and constantly under threat of expulsion, turned to intellect-based professions that were also mobile and not dependent on land-ownership – proved mostly futile. Germans know Einstein and Zuckerberg, they've got us figured out!
It's a direct and slippery slope to the darker kind of philosemitism, best illustrated by Berlin's former Finance Senator, Thilo Sarrazin. His racist bestseller "Germany Abolishes Itself" became a milestone in the resurgence of the German far right.
In it, he accused Germany's Turkish and Arab Muslim immigrants of sponging off the state, undermining German society and lowering the country's average intelligence. A day before the book was published, he offered a contrasting caricature – of Jews, praising Jewish migrants enthusiastically for their superior intelligence, with the immortal explanatory line: "All Jews share a particular gene" that "makes them different from other peoples."
The implication is obvious: While the Jews are very smart, other "races" are very dumb. The German racists rejoiced. Philosemitism is often used to stir up anti-Muslim hatred. But Sarrazin's praise of Jews was reductive, racially stereotypical and alienating as well. It's perhaps less surprising that a couple of years later, Sarrazin was describing Germany as the euro zone's hostage, forced to pay out vast sums just to atone for the Holocaust.
But philosemitism holds another, historically loaded implication: The inherently upright Germans are perhaps a bit credulous. Possibly a little too trusting. And here come the Jews, different, slick, cunning and so clever…Germans, better beware! The Nazis asserted nothing else.
But Mr. Ranan doesn't address this side of philosemitism. Instead, he proves his point by referring us to the "Anti-German" movement within the far left. Ranan describes them as a group of loudmouthed radicals, calling anyone they disagree with anti-Semitic. Sure, people like that exist. But while Anti-German ideas originated in radical splinter groups, today they are an integral part of Germany's left.
And thankfully so. "Anti-German" started out as a necessary counter-movement to the widespread and ingrained leftist hatred of Israel and the U.S. How could a German left strive for a socialist, anti-fascist state, if its own people were still driven by hatred for Jews and Yankees and a deep-seated exclusionary nationalism?
Still, I understand Mr. Ranan's unease. Some Anti-Germans grate on the nerves: German kids in crappy IDF-shirts, talking about their favourite hummus recipes, longing for the Holy Land, as if they had been wandering the German desert for 40 years. It's cringy. But provided they don't fall into repugnant Islamophobia, I still prefer them to the old-school leftists, mentally stuck in 1968, discussing my culpability in the slaughter of Palestinian babies.
In the early 2000s, filled with teenage rage, I myself tried to become a radical leftist. But there was no place for a little Jew in Germany's struggle for global solidarity: One half of the local left embraced me eagerly, hoping to become my personal saviors; the other half called me out for my entanglement in the Zionist genocide.
My ambitions ended abruptly, when the local black-metal neo-Nazi declared that Jews weren't welcome anymore to the suburban punk hangout. All those teenage non-conformists with their anti-Nazi-patches stitched on their denim jackets stood back, watching in suspense how this situation might play out. No one spoke up. I left.
In this respect, Germany's radical left mirrors the nation as a whole. Jews and Israel are pivotal issues amongst the German leftists, splitting them in two factions. And often enough the furious disputes become detached from their subjects, the real Jews.
Yes, Germany's relationship with Israel isn't healthy, its relationship with its Jews not sane. And certain aspects of its fight against anti-Semitism are overly zealous and potentially dangerous: for other marginalized groups, but also for the Jewish community, because actual threats against them can get drowned out by all the noise.
Nonetheless, the problem is not some lethal abundance of good intentions, nor is it the influence of pro-Israel lobbyists – or their opponents. The problem is the overheated discourse itself, held in brainless, binary absolutes. While I agree with many of Mr. Ranan's critiques, the solution cannot be to blame one of the two sides. That's what Germans are doing already.
I know the call for ambivalence is rarely attractive. But if we want to find a way out of this gruelling gridlock, we need to embrace this very abnormal complexity in our own way of thinking – as Germans and German Jews alike.
And don't look for deliverance by demanding German Jews to finally forget about the country's pesky past and find "a way to normality." Too many Germans do that already, too. Tirelessly, since 1945.
Tobias Ginsburg is an author, director and playwright. His artistic work, which revolves around political, historical and social issues, is mostly based on extensive and often investigative research. His book "Die Reise ins Reich" [Journey into the Reich], an undercover journey into the world of German far-right conspiracy theorists, was published in 2018. Twitter: @TobiasGinsburg
Click the alert icon to follow topics:
ICYMI
Ken Burns' Brilliant 'The U.S. and the Holocaust' Has Only One Problem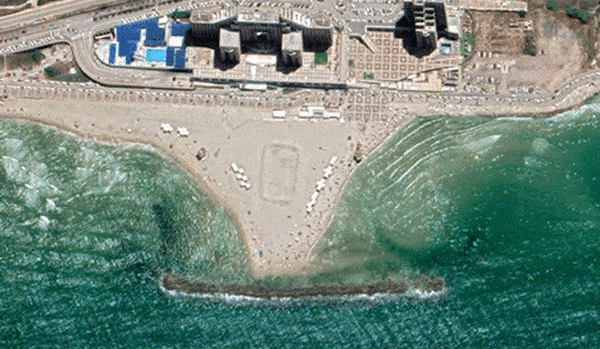 Facing Rapid Rise in Sea Levels, Israel Could Lose Large Parts of Its Coastline by 2050
As Israel Reins in Its Cyberarms Industry, an Ex-intel Officer Is Building a New Empire
How the Queen's Death Changes British Jewry's Most Distinctive Prayer
Chile Community Leaders 'Horrified' by Treatment of Israeli Envoy
Over 120 Countries, but Never Israel: Queen Elizabeth II's Unofficial Boycott