Israel Deported These Children to 'One of the Worst Countries in the World.' This Is Their Story
Children who grew up as Israeli but were sent back to South Sudan now need to adjust to a life without running water or electricity. A new documentary tells their stories, and that of the Israeli who wishes to change their lives through art
A scene from "8000 Paperclips." 'The deportation is a huge wound for these children, and it hasn't been processed at all.'
Credit: Nitsan Tal
After decades of a bloody civil war in which millions of people were killed and millions more were displaced, in 2011, hope came to South Sudan. The area declared independence from Sudan, and Sudan's president was forced to acquiesce due to American pressure.
But here in Israel, quite a few hearts were shattered. Hundreds of South Sudanese refugees and their children were quickly deported from the country. Some didn't even have time to say goodbye properly. And their children, who felt Israeli in every respect, found themselves thrown into a faraway country one fine day, far from their friends and from the culture, language and environment that had been their home for years.
What happened to these children of refugees after they were deported from Israel? What awaited them in South Sudan? The documentary film "8000 Paperclips," which was screened at the EPOS International Art Film Festival, follows some of these children.
One said he saw dozens of bodies, and also saw dogs chewing on them. Another said she saw her best friend gang-raped by rebels, one after the other, and when they were finished, they shot and killed her.
Others spoke of how much they missed their Israeli friends, of the painful separation from Israel and their adjustment to a life without running water or electricity in a malaria-stricken country. In Israel, one said, "life was fun, and then we returned to one of the worst countries in the world."
Armed with Bamba
One said he saw dozens of bodies. Another said she saw her best friend gang-raped by rebels, and when they were finished, they shot and killed her
The film, directed by Nitsan Tal, accompanies Israeli artist Raffael Lomas on the trip to meet these children. He tries to recruit them into an artistic project, to see if art has the power to change their lives the way it changed his own. Art saved Lomas from depression and madness.
He set out to meet these refugee children in 2014 with no definite plan of action, but armed with piles of Bamba snacks and Hebrew-language books. These tastes of Israel, he hoped, would delight the children and help fuel a creative encounter between him and them.
Lomas knew he was going to meet around 120 children and teens, ranging in age from 6 to 20, and feared that they wouldn't be excited about joining his artistic project. He boarded a plane to Uganda and met them at a boarding school in Kampala, where they are studying thanks to the Israeli project Come True, which extracted them from South Sudan to give them a better education.
"They surprised me with their wonderful Hebrew," Lomas said in an interview with Haaretz. "One came up to me and said, 'I don't know if you're religious or not, but if you need a Sabbath goy,'" – a non-Jew who does certain jobs that Jewish law bars Jews from doing on Shabbat – "'don't be embarrassed, you can ask me for whatever you need.' This killed me. It made it clear to me how much they are from here, from Israel, how integrated they were.
"We began working together, getting the ball rolling and getting to know each other, and within a few days, I realized that the deportation is a huge wound for these children, and it hasn't been processed at all. I thought this was an opportunity for us to make a sculpture together, and if they can't come back here themselves, then we'll bring the sculpture here. They threw themselves into it, worked with astounding energy. It was exciting to see it."
'They surprised me with their wonderful Hebrew. One came up to me and said, 'If you need a Sabbath goy, don't be embarrassed''
The film is exhausting at times. Nevertheless, it provides a fascinating glimpse into the current lives of these refugee children.
Lomas and the children decide together to build a sculpture of a house, whose walls will essentially be curtains formed of thousands of paperclips linked together. These will be very thin, fragile walls, he tells the children, who are fed up with moving, in the film. But nevertheless, it will be a house.
Their work on the sculpture takes about two weeks. "I asked them to design a house, but essentially, they made a hallway. It's more of a passageway than a house," Lomas said, showing off a picture of the sculpture. And indeed, one can see tall, wide openings yawning on two of the house's sides.
"You see, it has two entrances, but no doors, so essentially, this is an object one can pass through," he continued. "In their view, a house is a place that you're just passing through."
The sculpture was displayed at the Artists' House in Tel Aviv and also at the San Diego Museum of Art, but Lomas hopes it hasn't yet reached the end of its road. He dreams of finding someone who will dig into his pockets and buy the work, and he hopes that the project's cinematic exposure will help him realize this dream.
"I believe that beyond the social processes involved in this project, there's an artistic statement here and a project with artistic economic value," he said. "This is a sculpture that could be sold, and my dream is that this money will go back to the children. This would be my proof that art is something practical, that it can be a resource."
A soul at rock-bottom
The interview with Lomas took place at his home in Klil, a community in the Galilee. It's a home with only one door. It's not something to be passed through; it is definitely lived in. But to get to it, you have to wind your way up tortuous dirt roads, feel your car shaking and feast your eyes on the rain-nourished greenery and the flowers running rampant on every side.
Lomas, 57, has lived by himself here for the last eight years. In the center of the house is an intimidating iron fireplace; a wandering cat periodically drums its paws on the roof; and the front of the studio is open to nature.
Scattered around inside it are chairs broken into their component parts and then recombined in strange, crooked, provocative forms. This is part of a project he is working on together with his photographer son, Tai, who lives in Spain. It will soon be displayed in an exhibition at the Brussels Design Museum.
Lomas was born in 1962 and grew up in a religious family in Ramat Gan. His father was a scientist who worked for the Israel Meteorological Service; his mother was a homemaker and teacher. Lomas was the second of four children.
At age 17, he decided to abandon religion and stop wearing his kippa and ritual fringes. "I was young, life called to me, and I felt that the religious framework was circumscribed and limiting," he said.
His revolt continued when he decided not to be drafted into the army. He was eventually exempted from service on psychological grounds, to the distress of his parents.
At age 22, when he moved to Jerusalem to study philosophy, he fell in love with a new immigrant who was three years younger than he was. They got married, and their son was born soon afterward.
Lomas went through various jobs, and his marriage fell apart after four years. But his life finally began to stabilize when he opened a preschool in Jerusalem's Abu Tor neighborhood. The preschool was a success, and Lomas discovered he liked working with young children.
"A boy who cries in the sandbox because someone stole his dump truck is no less real and dramatic than someone who lost $2 billion yesterday because his stocks crashed," Lomas said. "The feelings in both cases are equivalent."
For several years, Lomas flourished. But at age 33, after a failed attempt at another relationship, depression set in.
"I started a little therapy, a little psychologist, a little psychiatrist, a few pills, but it was a snowball. All the powers and all the tools I tried to mobilize against it didn't work," he said. "My soul tried to hit rock-bottom."
It tried, and it succeeded. At age 34, Lomas decided to kill himself. But the combination of pills and gas that he used wasn't enough to finish him off. A friend found him the next day and rushed him to the hospital, and from there, he was referred for hospitalization in a psychiatric hospital. For a month, he didn't get out of bed.
"Even the cleaning lady looked like Superman to me," he said. "To lift the bucket, take the rag, wring it out – I couldn't understand where people got this vitality from.
"After about a month I said to myself, 'Raffael, everyone here was a wonderful kid once; nobody plans to arrive at a psychiatric hospital at age thirty-something. So deal with it. Maybe this is your home.'
"This thought got me to get out of bed for the first time, because if it's your home, maybe you ought to get to know the environment. So I went out into the courtyard a bit. People were sitting there and talking about how they were afraid of going crazy, and this was the first time in a year and a half that I laughed, because I was also terribly afraid of going crazy."
He agreed with a few other patients that the next morning, they would get up, go outside and go crazy. But when they met up, they realized that in fact, they had no idea how to do so. "I felt, for the first time in a year and a half, that I had some shred of hope of starting to touch depression instead of being afraid of it," he said.
He continued going out into the courtyard often, and after a few weeks, he found a pile of screws that someone had thrown there. "I bent down – which is a lot for someone who's depressed – and picked up one of them and looked at it. After all, I'm missing a screw, I told myself. So I'll conduct a ceremony of handing out screws to call the madness to come."
He painted the screws, prepared a list of invitees to his distribution ceremony, and suddenly decided that he also wanted to make a screw for himself. He contacted an acquaintance, a sculptor named Lanz Hunter, fought with the hospital until it agreed to let him go out to work with Hunter in his studio, and after half a year of work, he brought the institution his sculpture – a four-meter-high screw that weighed about 100 kilograms. The screw distribution ceremony took place in the shadow of the giant screw.
Lomas rejected the doctors' suggestion that they discharge him from the hospital. He remained there for another half a year, during which time he continued working in the studio he set up for himself in the courtyard.
After he was discharged, he took his screw on a seven-year journey through five different countries. He wanted to study the power of creativity on life itself. He traveled between continents with his huge statue, reaching New York a few days before the Twin Towers collapsed on September 11, 2001, and placed his private spiral in front of the Guggenheim Museum.
He later returned to the United States for another five years on an artist's visa, and when he came back to Israel, he held an exhibition of his works at the Open Museum in Tefen. He is one of just 490 people in the world who have been chosen to participate in the TED Fellows program to effect positive change around the world.
Encounter in Uganda
Lomas heard about the refugee children in Sudan almost by chance. "I was sniffing around for someplace to put my energy, and then I heard about this group, about children of refugees who were born here and then deported, and about the group of Israelis who sponsor Come True. This situation seemed inconceivable to me, wonderful and unique and complex: Israel deported them and Israelis are saving them, one hand hit them and the other gives to them. So I made contact, and I decided I'd go meet with the children in Uganda."
"8000 Paperclips" documents Lomas' trip to Africa, but also his return to Israel with the sculpture, his placement of it in Tel Aviv's central bus station, and the event at which the refugee children's Israeli friends and teachers were invited to view the work and hold a video conversation from it with the children longing for them in Africa. Lomas, who later exhibited the sculpture at the Artists' House in Tel Aviv and flew with it to the United States to show it at the San Diego Museum of Art, is aware of the moral complexity of a project of this sort.
"One day, I was sitting at the Artists' House, and I thought to myself that with the money it cost to produce the exhibition catalogue and finance my trips with the sculpture, it would have been possible to take two of those children and sponsor them from age 6 to 18," he said.
"Ten percent of Come True's donors are people exposed to this project," he added. "It would be amazing if more people heard about the project and decided to donate, but for me, it was important that the artistic event itself return to the children. Because here I am now, sitting here with you, and the article will be about Raffael and not about Tedo or Victoria," two of the Sudanese children featured in the film. "I'm the one at the center.
"It's true I was part of the project, but I really wasn't its center. With regard to the energy and emotional strength invested in the project, the children's share was greater than mine.
"Therefore, after the Artists' House, I decided to take another step and forge a connection between the children and the Abayudaya community, which I met through one of my students in the United States," he said, referring to the Jewish community in Uganda. "These are two communities near each other, just 60 kilometers apart. One feels Jewish but doesn't speak Hebrew; the other isn't Jewish but speaks fluent Hebrew and is familiar with Jewish culture. Why shouldn't each give to the other, and vice versa? Why shouldn't the Sudanese refugees, who were in a situation of only getting, suddenly be in a situation of giving?"
Having thought of this idea, he carried it out. The second part of the film follows Lomas on a second trip to Uganda, including the encounter between these two communities. This time, the director, Nitsan Tal, joined the trip.
"Amazing things happened there," Lomas said. "The refugees realized that the Abayudaya were really poor. They themselves, thanks to donations, live today in middle-class conditions; they live in a dormitory and they have food. When we got to the Abayudaya school, they were in shock at the Jewish community's poverty. There's no water to drink, no food to eat. So before we left, they left some of their clothing. They felt that they had something to give.
"And due to the fact that Nitsan filmed the place, money was raised, thanks to which there's now a well at the school. There's now a school in Uganda that has a well thanks to South Sudanese refugees."
Click the alert icon to follow topics:
ICYMI
Ken Burns' Brilliant 'The U.S. and the Holocaust' Has Only One Problem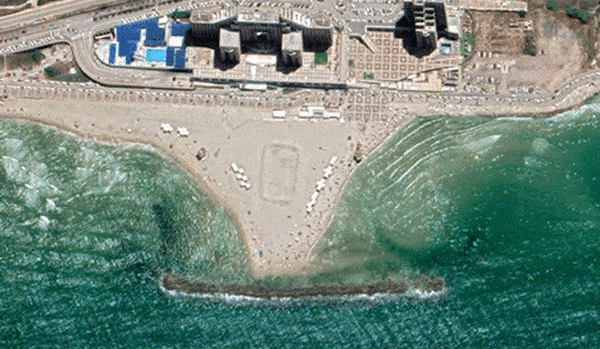 Facing Rapid Rise in Sea Levels, Israel Could Lose Large Parts of Its Coastline by 2050
As Israel Reins in Its Cyberarms Industry, an Ex-intel Officer Is Building a New Empire
How the Queen's Death Changes British Jewry's Most Distinctive Prayer
Chile Community Leaders 'Horrified' by Treatment of Israeli Envoy
Over 120 Countries, but Never Israel: Queen Elizabeth II's Unofficial Boycott