Pablo Escobar's Runaway Hippos Wreaking Ecosystem Havoc in Colombia
Toxic algal blooms are just one problem as the dramatically proliferating river giants transfer nutrients from land to water, scientists discover
A vet giving Orion the Escobarian hippo a dental treatment.
Credit: Albeiro Lopera / REUTERS
Hippopotamuses imported by drug lord and wild-animal aficionado Pablo Escobar were abandoned when his zoo was dismantled after his death in 1993 and have since gone wild – literally.
His other outsized African animals such as rhinos and giraffes were given new homes, but four hippos were left to their own devices.
Well, they didn't look back. Now there are more than 80 of the semi-aquatic, vegetarian but extremely violent mammals, report scientists from the University of California San Diego with colleagues in Colombia. And they are wreaking havoc on the local ecosystem.
Just how much damage the biggest invasive species in the world is causing to the local lakes over the last 25 years was assessed this week in Ecology. (There was no "safe or practical way to remove the animals," scientists have pointed out, in defense of Escobar's receivers.)
What is the problem with hippos? They do have impressively long incisors, which one might wonder about given their vegetarian lifestyle. But they're slow and amiable, right? No, they are not. Hippos are territorial and will not hesitate to attack, charging faster than you might believe, if you encroach on their space in the river or lake. If they're having a meal on land and you get between them and their water source, they panic – and a panicking hippo is a deadly hippo.
This is where their fangs and maw come into play. Some estimate that the herbivorous hippo kills some 3,000 people a year.
And now they are impacting their adopted home in South America the way they impact their natural habitat in Africa. Aside from startling local fisherfolk, they are changing the microbial balance of Colombia's water bodies, which could have a major impact on the local natural food chain.
When hippos go rogue
Escobar – aka The King of Cocaine – built for himself, his herbivores and other exotica a dream hacienda about four hours east of Medellin. He could afford to indulge his wild side, having accrued an estimate fortune of about $30 billion, chiefly by selling coke to Americans.
Even with his resources, one wonders how he brought the hippos to South America in the first place in the 1980s. Perhaps they were juvenile.
In any case, by the time his empire collapsed into powder after the Colombian police finally caught up with him, they were juvenile no more. And in the balmy climate of Colombia, they thrived.
One question is how many there are. That is pertinent to potential ecosystem damage, because ecologists classify hippos as eco-engineers. They move nutrients between the ecosystem of land and river. Meaning, they each eat, oh, about 50 to 100 kilograms (110 to 220 pounds) of vegetation such as grass on land during the day, and relieve themselves in the river or lake at night.
A hippo relieving itself can be amusing to watch. Their little tails whirl like sideways helicopter rotors with hair on the ends, scattering the dung (presumably as a territory marker). It also has the effect of changing the nutrient balances in the water.
So, one wonders how many hippos the four had become, and one might be surprised by how hard it is to tell. Male hippos average about 1,500 to 1,800 kilograms in weight (i.e., starting at 3,300 pounds). The females are no dwarfs at 1,300 to 1,500 kilos, and the kids are born at 25 to 50 kilos. You know people who weigh less than a newborn hippo.
Hippos do spend most of their day in the water, but they keep their nostrils and eye bumps above water most of the time. Also, as said, they clamber onto land to eat – so how hard could it be to spot and count the things?
Well, they are not in one pack. The descendants of Escobar's hippo quartet have fanned out in the lakes around the region, the scientists explain. When young males reach maturity, they leave the family and wander in hope of attracting a mate and forming their own clan – though some die in the battles for dominance. Even so, the scientists managed to estimate that their numbers have passed 80.
Technically, over two years the teams tested parameters of water quality – including oxygen levels and stable isotope signatures – comparing lakes with hippo populations to those without. They also compared the other life-forms in lakes with and without resident invasive hippos: insects, crustaceans and others.
The stable isotope readings show that hippo-infested lakes get more carbon from the land than hippo-less water bodies. And crucially: the phytoplankton are becoming more dominated by cyanobacteria (aka blue-green algae), the microorganism behind toxic algal blooms. They add that populations of bacteria and shells, and that sort of creature, seem unaffected so far.
So aside from anything else, hippos are conducive to the development of algal blooms, which – if the hippos proliferate any more – could start to become a threat. They can choke off smaller life-forms and can also harm humans who bathe in or otherwise use the water.
And yes, the researchers project that the invasive hippos of Colombia will continue to breed. In fact, they project that their population will grow dramatically in the years to come.
"If you plot out their population growth, we show that it tends to go exponentially skyward," stated lead author Jonathan Shurin of UC San Diego. "In the next couple of decades there could be thousands of them.
This study suggests that there is some urgency to deciding what to do about them. The question is: what should that be?"
Hippos tend to be extremely difficult to catch and can be very dangerous to confront, the team notes. They don't offer concrete ideas for handling a plague of invasive hippos. But they also point out that the problem will likely be easier to address when there are 80 hippos rather than thousands.
ICYMI
Ken Burns' Brilliant 'The U.S. and the Holocaust' Has Only One Problem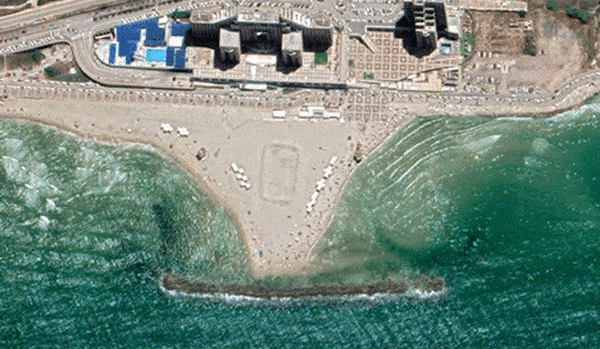 Facing Rapid Rise in Sea Levels, Israel Could Lose Large Parts of Its Coastline by 2050
As Israel Reins in Its Cyberarms Industry, an Ex-intel Officer Is Building a New Empire
How the Queen's Death Changes British Jewry's Most Distinctive Prayer
Chile Community Leaders 'Horrified' by Treatment of Israeli Envoy
Over 120 Countries, but Never Israel: Queen Elizabeth II's Unofficial Boycott