Was John Demjanjuk Really 'Ivan the Terrible'? Even the Makers of 'The Devil Next Door' Can't Agree
Basking in the success of their hit Netflix documentary, co-directors Daniel Sivan and Yossi Bloch tell Haaretz about the controversies surrounding their show and why they're happy for it to be labeled 'true crime'
From Netflix's "The Devil Next Door."
Credit: NETFLIX
Directors Daniel Sivan and Yossi Bloch were braced for some controversy when their documentary series "The Devil Next Door" debuted on Netflix earlier this month.
After all, the story of John Demjanjuk — the Cleveland immigrant autoworker accused of being the notorious Nazi death camp guard nicknamed "Ivan the Terrible" — has for decades evoked intense emotions: While some believe he was a ruthless killer who escaped justice in Israel, others are convinced he was the victim of mistaken identity.
But when the controversy hit, it came from a completely unexpected quarter: Polish Prime Minister Mateusz Morawiecki, who threatened to sue the series creators and Netflix for, of all things, a map of the concentration camps located in Nazi-occupied Poland.
Morawiecki bitterly complained that the map "falsely places several German Nazi concentration camps within modern-day Poland's borders" without "comment or any explanation whatsoever that these sites were German-operated." The image, he charged, "deceived viewers into believing that Poland was responsible for establishing and maintaining these camps, and for committing the crimes therein."
After weighing the matter for several days, Netflix ultimately agreed to add a disclaimer when the map appears, clarifying that death camps like Treblinka and Sobibor were located in Nazi-occupied Poland.
'The maps are 100 percent accurate. What we are doing now is trying to give more context for people who just look at the map and might rush to judgment, saying it was in Poland so the Polish must have directed the camps," says Sivan, who is best-known for his controversial films about Israel's conflicts. He finds it almost amusing that "when I finally do one film without any mention of the Israeli occupation of Palestine, the prime minister of Poland threatens to sue me."
But in an interview with Haaretz in Los Angeles, in the sleek editing facility where he spent more than a year assembling "The Devil Next Door," he adds that he always prefers a strong reaction to his work rather than a lukewarm endorsement.
"The biggest insult that anyone can give a documentary is to say that it is very interesting," he says. "I hate that word. I don't think documentaries should be interesting. I think documentaries should be a punch in the stomach — they should make you laugh or make you cry. That's the power of cinema, and it's the big difference between a good essay, article or book and a documentary. Documentaries should be visceral."
Sivan first drew international acclaim when his previous documentary series "The Oslo Diaries" was acquired by HBO after premiering at last year's Sundance Film Festival. In that five-part series, Sivan, together with his co-director and life partner Mor Loushy, brought viewers into the Israeli-Palestinian peace negotiations in the early 1990s. Using the diaries of one of the original negotiators, Ron Pundak, to give the story the "human dimension" he believes every good documentary needs, he showed the process through the eyes of "people who were taking such a big risk, meeting their enemy and trying to find common ground for a different future."
Before that, he and Loushy were best known for "Censored Voices" (she directed, he produced), which looked at 1967's Six-Day War through oral histories of some of the Israeli soldiers who participated. The film was named Israel's best documentary for 2015.
While films about the Israeli-Palestinian conflict tend to have two strongly conflicting points of view, "The Devil Next Door" was more complex. The varied perspectives include those of the Holocaust survivors who testified at Demjanjuk's trial in Jerusalem in the late '80s and were painfully certain he was the "Ivan the Terrible" who tortured Jews in their final moments at Treblinka; the prosecutors who believed them and were dedicated to bringing him to justice; Demjanjuk's crusading, showboating defense attorney Yoram Sheftel; the Demjanjuk family who felt that their patriarch and family was unfairly targeted; and the judges at his trial and appeal in the unenviable position of deciding his fate — those who first convicted and sentenced him to death, and those who overturned the ruling on the basis of new evidence.
After the Israeli chapter, the Demjanjuk saga continued when, 16 years after returning home to Ohio, he was stripped of his U.S. citizenship and deported to Germany, where he was convicted as an accessory to the mass murder of 27,900 Jews at Sobibor. He died at age 91 in 2012, waiting to appeal his conviction.
Self-made filmmakers
At first, Sivan says, he was highly skeptical as to whether the Demjanjuk story had the ingredients to deliver the gut punch he believes a good documentary requires. The driving force behind the project was his co-director and longtime collaborator Bloch.
Bloch, 50, is a second-generation Holocaust survivor — his mother lived in the Warsaw Ghetto — and clearly remembers the months Israelis were glued to the televised proceedings in the Demjanjuk trial and the day he attended the trial himself.
The pair of self-made filmmakers (neither attended film school) have been working together for a decade on a number of different projects. Bloch admits he was "obsessed" for years with bringing the Demjanjuk story to the screen — and made sure he let Sivan know, lobbying him while the pair worked together on the series "Silicon Wadi" (an entertaining look inside Israel's startup nation).
Sivan, 14 years his collaborator's junior, says most of generation knew "there was a mistake in identifying Demjanjuk as 'Ivan the Terrible,' and the debate over whether it was the wrong guy. It felt like a bureaucratic thing, not as heroic or dramatic as the Eichmann trial. I told Yossi: 'It's not going to work, it won't be like court dramas like "OJ: Made in America" — which was such a fantastic documentary because in America there are cameras permitted in courtrooms, and in Israel they aren't."
Sivan was stunned when his work partner informed him that the Demjanjuk trial had been televised and the whole of Israel had tuned in to watch in real-time. Sivan dared Bloch to "show me just one tape of the trial and I'll believe you. "
The challenge sent Bloch down a rabbit hole of research to find out where the video record of the trial was stored. It transpired that it had been the property of the now-defunct state channel Israeli Educational Television, but that the videotapes were stored at the Yad Vashem Holocaust museum and memorial in Jerusalem. They had never been digitized — and the original tapes were in bad shape. "As the years go by, they start getting glued together," says Sivan. "If we had waited another 10 years to do this documentary, it would have been impossible to restore them."
As soon as Sivan took a look at the tapes, he changed his mind about the project. Yes Studios signed on, along with Hollywood producers Josh, Ben and Dan Braun. After a year of shooting, Netflix viewed the footage and joined the project.
Bloch had been convinced the Demjanjuk story was worth telling even as a documentary that relied only on the footage of the trial and other archives. But what makes the series truly outstanding is the fact that he was ultimately able to convince nearly all of the players in the real-life drama to sit for probing interviews.
"To say this was hard to accomplish is an understatement," Bloch says. When he made his initial approaches, particularly to the Demjanjuk family members, the answer was a firm no. Many were asked repeatedly, over the course of months and even years, before they relented.
"I think the whole trick was really believing every one of them when I was listening to them, being on their side. I told them that while the movie won't say your grandfather did what he did in order to survive, I will let you say it. And then I will let the other side answer you."
It was only in the final months of editing that Mark O'Connor — Demjanjuk's original chief counsel, who was dramatically fired weeks before the first trial began — agreed to talk on camera. His perspective, having worked closely with Demjanjuk for five years, was key to the series' narrative.
Devil in the detail
Many reviews of "The Devil Next Door" describe it as taking a classic Netflix "true crime" approach to the Demjanjuk case. Sivan says he doesn't have a problem with that description.
"It's definitely a thriller, a whodunit, and for me the beauty of that means we've been able to really tap into the audience all over the world. … There are young people in the U.S. who would never willingly dive into a film about the Holocaust. But when it is packaged and presented as a thriller, they tune in. And through the story they get so much of the information and conflict.
"For us," he continues, "the show is not about whether John Demjanjuk was Ivan the Terrible. It is an examination of how war crimes fit in the legal system; the limitations of human memory in a courtroom; the morals of a person who was a collaborator but sees himself as a prisoner of war and as a victim."
A key pivot by Sivan and Bloch — deciding whether to use graphic images of corpses and death at the camps — was made mid-production. Originally, they thought they would let the detailed description of survivors' testimonies at Demjanjuk's trial stand alone, without using accompanying archival footage.
"We started the show saying we wanted absolutely no images," Sivan says. "We thought the words were so powerful, we didn't need any. But during the process, when we started getting feedback on what we had shot, we started to see that so many people really didn't understand the magnitude of this extermination, this annihilation."
Once the decision was made to use archival visuals, they knew they would have to show as much detail as possible. "I wasn't going to whitewash it into these aesthetic shots of these camps — illustrations showing smoke in the distance or trains going by. If we're going into what a genocide looks like, it is gory and repulsive, and almost too hard to watch. If we need images in order to illustrate the horror, they should be at least as horrific as the stories and testimonies of the survivors. It was an important move, and I stand behind it," he adds.
He also stands by the use of the maps the Polish government ultimately objected to. "People don't know where the camps were and they were on Polish soil, of course," Sivan explains. "It's good to give some kind of geographic reference point. They were there. Obviously, they were under occupation of the Nazis but they were in Poland: we can't just change the geography."
At the same time, he adds, "I can feel a lot of empathy for [the Poles'] pain. It wasn't a Polish initiative to wipe out the Jews. Poland was a country under occupation. It was intentional of the Germans not to have these camps in Germany."
The "true crime" format in which the show has been placed also leads to the need to satisfy those asking the key question: whodunit?
Bloch believes Demjanjuk was likely not Ivan the Terrible, as the Israeli Supreme Court also determined, but "he's not innocent. ... He was in [camps like] Sobibor and therefore is not a moral person and we have to condemn him."
Sivan's answer is less equivocal. "I'm not sure at all whether John Demjanjuk was Ivan the Terrible. For me, there's no question at all that John Demjanjuk was a mass murderer who committed crimes that are punishable by death, in Sobibor and in the other camps. He was a war criminal, there's no question about that."
His hesitation at ruling out the possibility that Demjanjuk was Ivan the Terrible stems from the courtroom testimonies of the now-deceased survivors.
"I feel a lot of empathy to what [Israeli State Prosecutor] Eli Gabay said in the series — that we have our survivors and we believe them. We are now also living in an era of giving much more credit to survivors, be it in sexual assault charges or any other crime. When you have survivors it is very hard not to listen to them. … That being said, I'm happy I'm not a judge and had the privilege as a filmmaker of showing both sides. I couldn't send him to the gallows if there was this doubt. And as a filmmaker I couldn't say, 'Yes, he did it' because I really want him to be the man who did it. I don't have this unequivocal golden proof."
'You were wrong'
Sivan sees the "most painful conclusion" of the show as being the fact that by overturning Demjanjuk's conviction, Israel's highest court "basically told all of the Holocaust survivors that either they were a bunch of liars or they were simply wrong — that they were manipulated for having a bad memory or for being senile. The survivors were told they were wrong, and that written testimonies by dead Nazi officers, killed by the Russians shortly after they told their stories, were believed over the testimony of living people who pointed at Demjanjuk in court."
He can't forget that only 70 people who experienced the horrors of Treblinka escaped with their lives from a camp where over 1 million people were murdered.
"Throughout their experience there, the Nazis told them: You can tell anyone you want about what happened to you — nobody is going to believe you. And after they escaped, Germans ultimately burned and bulldozed the camp. There are no documents, no DNA, no photos, audio or video of Treblinka. All we have is the stories of these survivors. And — at least in this case — they were told, 'You were wrong.'"
But he believes this ambiguity ultimately contributes to the series' impact. "For us as Jews — but it's also a very human need — we wanted to take this monster and slay the monster with this catharsis and bring the world back to its just cause — like you do in a Greek tragedy. But you can't do that with the Holocaust — because there was not just one monster, there were many monsters. And the monsters were not just pure sadistic evildoers. Many of them were just pure opportunist collaborators who did evil things, but they were not creatures from hell.
"So we really want to get an answer and we really want to find a solution — and we can't. There is no explanation: there is no relief and no catharsis. And lack of catharsis is the feeling we get when we look back at the Holocaust. We simply can't get the world back in order."
Both co-directors say they were thrilled with the series' critical and audience reception, particularly from those who have little connection to the Holocaust or Israel, realizing their hope that the story can be universal.
"It's been amazing to go on Twitter and watch someone from India debating with someone from Pakistan over who was right: Yoram Sheftel or the state prosecutors," says Bloch, who is back in Israel after putting in his time in the United States.
Sivan and Loushy are planning to join him in December after completing their next project. Despite their success on the international stage, returning to Tel Aviv after 18 months in Los Angeles with their two young children was a no-brainer for the couple. "It's home. We're Israelis," Sivan says.
He is currently busy at the LA editing facility producing and editing Loushy's next project. The couple is hush-hush about its subject, but all signs point to a return to their core passion: the moral and political questions surrounding the Israeli-Palestinian conflict. All a smiling Sivan will say is that, like Loushy's previous films, "It's sure to cause a blast. She's really into kicking the hornet's nest."
Will it too be picked up by a giant like HBO or Netflix? Sivan appears to have mixed feeling about filmmaking in the new "golden age." Not that long ago, the best Israeli documentarians could hope for was to have their films screened at prestigious film festivals and in art-house movie theaters. Now, though, the new interest of global cable outlets and streaming services brings their stories onto televisions, laptops and smartphones around the world.
On the one hand, "it's pretty humbling to feel that we made this documentary that gives information and insight into Holocaust studies, imparts knowledge about the Second World War and has reached half a billion people across the globe," Sivan says.
At the same time, he hopes there will "always be a place for strong political local documentaries," in Israel and globally, including projects "that are controversial — because I think documentaries should be controversial."
Click the alert icon to follow topics:
ICYMI
Ken Burns' Brilliant 'The U.S. and the Holocaust' Has Only One Problem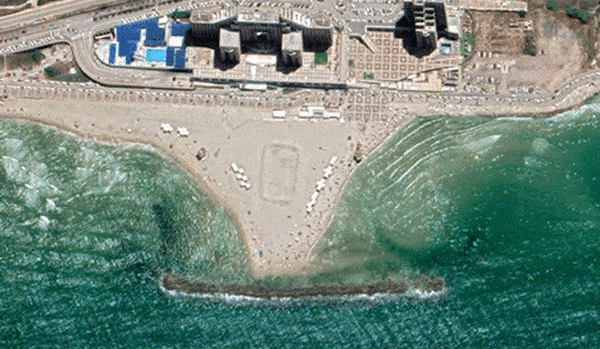 Facing Rapid Rise in Sea Levels, Israel Could Lose Large Parts of Its Coastline by 2050
As Israel Reins in Its Cyberarms Industry, an Ex-intel Officer Is Building a New Empire
How the Queen's Death Changes British Jewry's Most Distinctive Prayer
Chile Community Leaders 'Horrified' by Treatment of Israeli Envoy
Over 120 Countries, but Never Israel: Queen Elizabeth II's Unofficial Boycott