Climate Change Is Slamming the Mediterranean and Risks Are Being Underestimated, Scientists Warn
Groundbreaking study connects the interplay of dangers and warns that policies don't even see the problems, let alone offer solutions
At the Maria Cristina water reservoir during a severe drought near Castellon, Spain, September 14, 2018.
Credit: Heino Kalis, Reuters
Climate change is hitting the Mediterranean basin countries harder than most other regions and the risks are being underestimated, a groundbreaking new report in Nature Climate Change warns.
Accelerating glacial meltdown and the decimation of polar bears and penguins has transfixed the world. Meanwhile, climate change is also bounding beyond global trends in most parameters all around the Mediterranean basin. Risks are being underestimated because of the tendency to focus on one or a few parameters at a time, not considering how risks exacerbates one another, the report says. But to formulate useful policies – such as how to support growing tourism industries as the heat climbs and water runs out – leaders need more than isolated points of information.
Now the international team, headed by Wolfgang Cramer of Avignon University with scientists from Israel, Europe, Africa and Asia, has drawn the big picture of risks for the Mediterranean basin, estimating the interplay of key domains – including water scarcity, ecosystem damage, food security and health.
Roasting in Tel Aviv
The world average temperature has increased by "just" 1 degree Celsius on average since the preindustrial era. Around the Mediterranean, the increase is 1.4 degrees Celsius and the worst extremes are in the baking summers.
It won't get better. Future warming around the Mediterranean will exceed global rates by 25 percent, projects the team, which includes Prof. Shlomit Paz, head of Department of Geography and Environmental Studies at Israel's University of Haifa.
Even in the relatively tame scenario of the global average increasing by "only" 1.5 degrees Celsius from preindustrial levels, the daytime maximum around the Mediterranean is expected to rise by 2.2 degrees.
Days with extreme temperatures are expected to become more frequent and heat waves will become common.
Many Israelis tend to pooh-pooh climate change because of their faith in the almighty air conditioner. That is a false security, Paz explains to Haaretz.
"In Israel, there has been a significant increase in air temperature, in all aspects – minimum temperatures, average temperatures and maximum temperatures," she says. There has been an increase in the frequency of heat waves, in the summer and during the transition seasons as well. In recent years, some heat waves broke records.
The air conditioner fallacy
There are problems with assuming that air-conditioning means global warming doesn't matter. First: not everybody owns air conditioners. Some can't afford them and some minimize use because they're expensive to run. Air conditioners can jack up electricity bills by hundreds of dollars a month.
Second, like the rest of the West, Israel's population is aging and the elderly are particularly vulnerable, Paz says. During the 2003 heat wave in Europe, more than 14,800 people died in France alone – many of them isolated elderly people without air conditioners and further enfeebled by the heat.
Third, air conditioners are electricity hogs. When the whole nation except for the unequipped blasts them at max – with all that this implies for energy consumption and pollution – the entire energy economy is affected.
The Israel Electric Corporation says it has resolved the capacity issues that used to plague it in extreme weather, but increased electricity use means more pollution.
But capacity isn't the only issue at stake. A major risk to the air conditioner fallacy is Israel's effective isolation, with all due respect to treaties and the hints of rapprochement from Saudi Arabia and the Gulf states. "We are an island," Paz says. Unlike European countries, for instance, when a heat wave arrives, Israel can't tap the neighbors for electricity.
Around 20 percent of Israel's electricity production is powered by coal and the other 80 percent by natural gas, says the IEC. It dismisses the possibility of system collapse and adds that it cools at least some natural gas-fueled plants using groundwater, not seawater (the surface of the Mediterranean has been warming too, by 0.4 degrees in each of the recent decades).
But plants in Europe have already experienced situations in which plants, including coal-fueled ones, had to scale or shut down temporarily because of cooling problems – and using groundwater poses a whole other set of problems.
It's raining on the plain, somewhere
One challenge to groundwater is the increasingly frequent, intense droughts around the Mediterranean. Couple drought with local factors – population growth; the need to provide water and food to more people, requiring more irrigation; exacerbated evaporation from the fields and reservoirs as the heat rises; overexploitation of groundwater; and failure to protect aquifers from contamination – and you get more risk than is generally appreciated.
Problems can be ignored because they're simply too vast to grasp and really hard to solve. One example of policymakers willfully ignoring a towering problem is tourism.
Worldwide, tourism and travel generate over 10 percent of global GDP. The Mediterranean is the world's most popular holiday region, with France and Spain the top destinations. In Spain, tourism and travel were responsible for 5.4 percent of GDP in 2017, while in France it was 10 percent.
Tourists are water hogs. People paying through the nose for a hotel or Airbnb bed feel "owed" an unconstrained shower. But while Spain, for instance, has been experiencing increasingly intense droughts, it hasn't taken serious steps to ensure that the coastal tourism industry is sustainable. Overexploiting groundwater is no solution when regional rainfall is diminishing.
If the global temperature rises by "just" 2 degrees Celsius on average, rain in the south of France, parts of Spain and the Balkans is expected to diminish by 10 to 15 percent. Turkey and Portugal can expect precipitation to decrease by 30 percent, warns the Nature review.
In Israel, ecologists have noticed that trees have been dying off over the last 30 years because of the aquifer depletion and worsening aridity.
Meanwhile, throughout the region, as the sea levels rise and groundwater is extracted for industry, people and crops, aquifers are being ruined as seawater (and pollutants) rush into the voids.
"The groundwater is affected by precipitation and also human use. ... Are we maintaining the quality of the groundwater by not contaminating it?" Paz asks. (No, and certainly not in Gaza.) In Egypt, a third of irrigated farmlands are already being damaged by salt intrusion, pushing its already stressed populations into more and more concentrated areas.
Incongruous as it sounds, the Mediterranean basin countries are also in line for exacerbated flooding risk – when it rains, it will pour and storms are already moving more slowly as global wind patterns change.
Nobody's losing sleep over flooded uninhabited expanses, but in cities the sealing of the surface with concrete and tarmac is key. Urban growth means more sealed land, which means more rainwater in your basement.
The desalination dilemma
Noticing that Israel is mostly desert, and that in dry years a key water source – the freshwater lake known as Lake Kinneret (aka the Sea of Galilee) – gets dangerously depleted, policymakers did look ahead. Thus, the "miracle" of Israel's desalination industry.
Paz feels it's a point of light: Much of Israel's population drink desalinated water, though there are arguments over the adequacy of remineralization.
Desalination, however, is no panacea. It is energy-heavy – again meaning cost, pollution and potential disruptions. "It is a solution to water [shortage], but a solution with weaknesses," Paz sums up.
She also points out that given Israel's geostrategic situation, its desalination plants are a point of vulnerability. "The army is very busy protecting them, but they are strategically problematic," she says.
Also, desalination is also simply expensive. Nor can it diminish the mounting fire risk in an increasingly dry climate.
Costing your weight in … tomatoes
By the nature of things, says Paz, the Mediterranean basin countries are a socioeconomically vulnerable bunch – and they're already experiencing production stress, from farming to fisheries. Crop, fish and livestock yields are projected to decline, including because of new crop diseases. The crop yields of legumes on which Egypt depends are expected to plunge by 40 percent by 2050, for example. The hardy olive trees that survived centuries are not safe, either: Extreme heat kills their flowers and worsens fly and fungus infestation risks.
In Israel, fruit and vegetable staples – from cucumbers to tomatoes to citrus – rose sky-high in summer, and it wasn't the retailers' fault. Your average Israeli eats 20 kilograms (44 pounds) of tomatoes a year.
This summer, as the plants wilted and farmers sowed more gingerly because of viral alerts, tomato retail prices leaped 150 percent compared with mid-2017, to as much as 16 shekels ($4.30) per kilo.
Dairy production is also constrained by the heat, Paz notes – though the public may be oblivious because Jerusalem claps ceilings on prices of some basics, such as 3 percent milk, butter and cottage cheese. But the public may notice that, sometimes, fat-heavy products such as butter disappear from stores.
On the upside, agronomists and geneticists are working hard at developing (relatively) drought-resistant, high-yield crops, including tomatoes and apricots.
"Not everything is climate change's fault, but climate change can exacerbate existing, troublesome trends," Paz observes.
If there is one unarguable fact about climate change, it is that unsustainable practices in one country will affect all the others. Just as the worsening conditions exacerbate social stresses, the countries around the Mediterranean basin will need all the more to coordinate risk assessment and policies. That hasn't worked for the last 10,000 years. We wish ourselves good luck with that.
Click the alert icon to follow topics:
ICYMI
Ken Burns' Brilliant 'The U.S. and the Holocaust' Has Only One Problem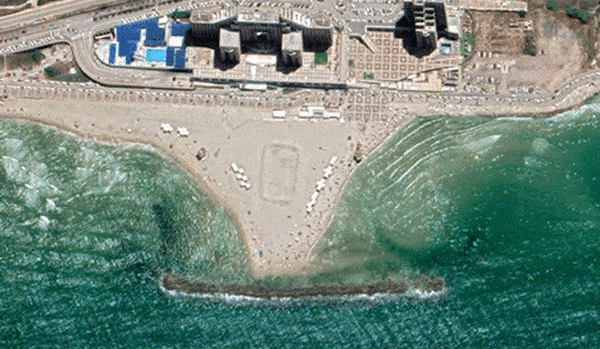 Facing Rapid Rise in Sea Levels, Israel Could Lose Large Parts of Its Coastline by 2050
As Israel Reins in Its Cyberarms Industry, an Ex-intel Officer Is Building a New Empire
How the Queen's Death Changes British Jewry's Most Distinctive Prayer
Chile Community Leaders 'Horrified' by Treatment of Israeli Envoy
Over 120 Countries, but Never Israel: Queen Elizabeth II's Unofficial Boycott