J Street Head Insists Progressive Jews Won't Be Silenced in Donald Trump's America
Jeremy Ben-Ami is certain that the 75 percent of American Jews who did not vote for the president-elect need political representation and voice that speaks for them.
J Street President Jeremy Ben-Ami with DNC chair contender Rep. Keith Ellison on a mission to Israel, June 2016.
Credit: Courtesy of J Street
Is J Street still relevant after the election of Donald Trump?
After all, the progressive Jewish Beltway lobby was born the same year Barack Obama was elected president. For the past eight years, it's been the administration's head cheerleader on Capitol Hill for policies related to Israel and the Middle East – from the Iran nuclear deal to Israeli-Palestinian negotiations. It's highly unlikely there will be much for a left-wing progressive Jewish lobby to cheer for coming out of a Trump White House. Given the situation, one can argue the organization – both an advocacy group and political action committee that actively funds candidates which promote its "pro-Israel, pro-peace" agenda – is due for a major identity crisis.
Jeremy Ben-Ami, J Street's founder and president, would strongly disagree. In a wide-ranging interview with Haaretz, Ben-Ami vehemently dismissed any such thinking. On the contrary: A Trump era, as he sees it, will be a time where J Street will truly emerge as the dominant voice of American Jewry, more necessary than ever before.
"The anger and frustration after this election means that there's a huge opportunity for J Street and the progressive Jewish community right now," said Ben-Ami, seated in a ninth-floor hotel lounge in Jerusalem, enjoying an expansive view of the Old City. Ben-Ami visited Israel on a leadership mission for J Street supporters that left the U.S. the day after the election, a trip he confesses was dominated by the "shock and horror" of Trump's surprise victory over Hillary Clinton.
"Seventy-five percent of Jewish Americans did not vote for Donald Trump," he said. "Groups like AIPAC and the Conference of Presidents that are now going to support and work closely with Donald Trump and Bibi Netanyahu will be limiting themselves to alignment with only 25 percent of the community. The other 75 percent needs a political home, a political representative and a political voice that speaks for them in Washington."
Functioning as a voice of dissent will essentially be a return to J Street as he originally conceived it, explained Ben Ami. While it is true that his organization came of age and flourished with a friendly Obama White House that rolled out the red carpet for progressive organizations, the idea of creating J Street as an alternative to AIPAC began in 2004.
"It was actually a reaction to the Bush era and the Iraq War and the stances of the official representatives of American Jews towards that administration and that war," he said, "out of frustration that the official voices of the Jewish community were out of line with the overwhelming majority of Jewish Americans and their views. Jewish Americans were opposed to the Iraq war. They were the most anti-war constituency outside of African Americans, and also one of the groups most negative towards George W Bush. Yet you had AIPAC and Conference of Presidents continually praising Bush and saying this was one of the most pro-Israel administrations ever."
And so, he says, J Street is ready to gear up to play defense. At the top of the list of battles that Ben-Ami anticipates is some form of an attempt to dismantle the Iran nuclear deal. "The biggest feather in our cap organizationally is that we helped ensure that the Iran accord survived congressional review. I think that was the most significant policy fight that we engaged in, and we won. The president-elect at one point said he'd rip up the deal. Mike Pence has certainly said he'll rip up the deal. Are they going to really going to try to kill it? We don't know. If they try to do it, that's a fight that we will take on."
Strategy regarding the Israeli-Palestinian conflict is harder to plan since Trump's position is currently unclear and his messages contradictory. "We don't know where he is going to be headed and we don't know what his policies are going to be," said Ben-Ami.
But J Street will be prepared to oppose possible action they feel will rattle the region, like cutting off aid to the Palestinians or U.S. approval – active or tacit – of a move by Israel to annex parts of the West Bank.
Ben-Ami also said the group would strongly fight against any Trump White House attempt to enact the pledge that helped win over much of the pro-Israel community – moving the U.S. embassy from Tel Aviv to Jerusalem – which Trump surrogates explicitly promised was more than just talk.
"If you want to put your finger on the trigger of an international religious conflict, you take provocative actions on Jerusalem Moving the embassy would be a provocative action that would absolutely raise the temperature here," said Ben-Ami. "It is something that every single administration for umpteen years in the entirety of Israel's existence has refrained from doing, Republicans and Democrats, and that every country around the world has refused to do. So yes, we will take a lead in explaining to people why it is not a good idea."
While foreign policy will likely only crystallize after inauguration day, and most American Jews now are focused on the immediate concerns of the troubling domestic climate when it comes to race, religion and ethnicity. J Street was one of the progressive Jewish organizations who signed a letter to Trump expressing concern after the controversial appointment of Stephen Bannon as chief strategist in his new administration. The move was met with silence from numerous mainstream American Jewish groups and open approval from a few. Notably, the Zionist Organization of America extended Bannon an invitation to their gala (which he did not, in the end, attend), accompanied by a statement in his defense.
"How can the Jewish community welcome and greet with open arms, applaud and give standing ovations to a president and an administration that is talking about registering Muslims, deporting immigrants, turning away refugees? These types of actions and policies, if they were to be followed by this administration, are completely contradictory to who the American Jewish community is and the values that we hold," said Ben-Ami.
"American Jews need to be unbelievably aware of who the leaders of our community are getting into bed with in the interest of advancing blind support of the government of Israel and its policies. The leadership of our community is giving a free pass to people who are willing to salute the flag of Bibi Netanyahu and the right wing government in Israel and that is wrong morally, it's wrong strategically, it is out of touch with the overwhelming majority of Jewish Americans who voted obviously against them and we as J Street will be stepping forward very loudly and very strongly to call that out."
While he is careful not to take sides in the brewing leadership battle within the Democratic party, Ben-Ami clearly is confident "that the J Street view of the U.S. relationship with Israel and the Israeli-Palestinian conflict is the ascendant and dominant view in the Democratic party. The approach that J Street has regarding what it is to be pro-Israel is going to be the dominant voice in the Democratic Party in the years to come and reflects the majority of Jewish Americans."
He believes the front-runner for the head of the Democratic National Committee shares that approach. Rep. Keith Ellison of Minnesota, the first Muslim congressman, has long been endorsed by J Street. "It is our view that Keith Ellison is a pro-Israel Democrat. He is pro-Israel in that he supports the right of the state of Israel to exist as a national home of the Jewish people, he supports the right of Israel to defend itself, he supports U.S. aid to Israel, has voted for it every single time and he is adamant that the security of Israel is advanced by a two-state resolution to the Israeli-Palestinian conflict that also gives Palestinians their national self-determination. That is our view of what it means to be pro-Israel and that is his view of what it means to be pro-Israel."
Like Ellison, J Street has been criticized for friendly ties to groups that support the boycott, sanctions and divestment movement. Critics, most prominently celebrity attorney Professor Alan Dershowitz, have drawn comparisons between Bannon's connection to the alt-right and progressive Jewish Democratic affiliation with groups like Black Lives Matter which he calls "anti-Semitic."
"That's a 100 percent false equivalency," responded Ben-Ami. "We make it very clear what we believe in what we agree with and what we condemn. Yes, we engage with people we disagree with and we tell them why we disagree with them. But we're not going to hire them to be our chief operating officer. If you actually want to distance yourself from the 'white nationalist' agenda that is promoted by Breitbart and the alt-right, you don't bring in the CEO of the alt-right to be the CEO of the White House."
On the Republican side, Ben-Ami sees little potential for common ground with the mix of neo-conservatives and isolationists shaping up to be Trump's core policy team. Congress, however, is a different story.
"There remains a camp – at the moment they are small and quiet – within the party that holds what I would call realist foreign policy views. It used to be the dominant camp in the Republican Party before there were the neoconservatives and evangelical right on the one hand and the more isolationists on the other hand," he said.
Condoleezza Rice, Colin Powell and George Shultz as examples of the realist old guard that believed a "balanced" Israel policy which actively pushed for a two-state solution was in America's national interest. "There used to be and there still are Republicans who share the core views of J Street on Israel and on this conflict. We had James Baker as the keynote speaker at our conference. The realist camp of the Republican party has been diminished but it's not non-existent," he said.
As he sat in Jerusalem before his flight back to Washington, Israeli television broadcast images of young American Jewish activists waving signs, chanting anti-Trump slogans and singing in Hebrew as they marched in the streets of New York.
Ben Ami said he doesn't fear that J Street is being outflanked by these new grassroots groups, some of whom are led by young Jews who feel they want a more outspoken form of activism against the Jewish establishment than J Street could provide.
"It's great that people have an outlet on the streets and in grassroots activism and the same values that are motivating them are the same values that are motivating us. But J Street is a political organization. We work in the halls of Congress. When we are allowed in, we work in the White House and the State Department. We work as a lobby, a political organization and also in the context of the leadership of the American Jewish community, fighting for the right to speak out on the behalf of the large number of American Jews who agree with us in the context of American Jewish communal fights."
Many J Street activists, he pointed out, had participated in the recent General Assembly of the Jewish Federations of North America, bringing their views to the table of the Jewish mainstream, working to influence the Jewish community from the inside.
"We view ourselves as part of and inside the Jewish community. We're not going to be the ones getting arrested in the lobby of the ADL or the Conference of Presidents. We want a seat at the Conference of Presidents," he added.
When J Street made an actual bid for that seat in 2014, it didn't end well. The umbrella group comprising 51 national Jewish organizations voted to reject them.
The member organization that lobbied most vigorously against their inclusion? The Zionist Organization of America, the same group that welcomed the appointment of former Breitbart News chairman Stephen Bannon as Trump's chief White House strategist, praising "Mr. Bannon's and Breitbart's friendship and fair-mindedness towards Israel and the Jewish people."
Click the alert icon to follow topics:
ICYMI
Ken Burns' Brilliant 'The U.S. and the Holocaust' Has Only One Problem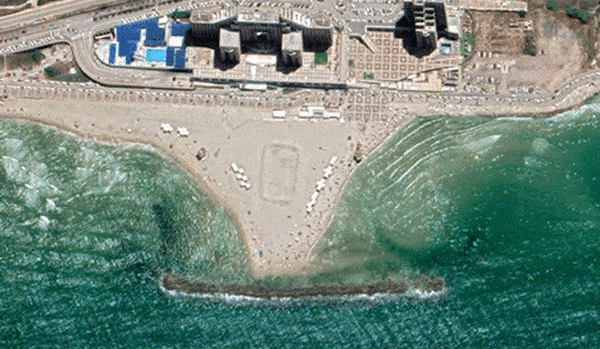 Facing Rapid Rise in Sea Levels, Israel Could Lose Large Parts of Its Coastline by 2050
As Israel Reins in Its Cyberarms Industry, an Ex-intel Officer Is Building a New Empire
How the Queen's Death Changes British Jewry's Most Distinctive Prayer
Chile Community Leaders 'Horrified' by Treatment of Israeli Envoy
Over 120 Countries, but Never Israel: Queen Elizabeth II's Unofficial Boycott