Anti-Semitic Mud Thrown at Rep. Keith Ellison to Counter Attacks on Steve Bannon
America's first Muslim congressman is the leading contender to head the Democratic Party, and a dream target for Trump supporters and the alt-right
Representative Keith Ellison, a Democrat from Minnesota, gestures while speaking during the Democratic National Convention (DNC) in Philadelphia, Pennsylvania, U.S., July 25, 2016.
Credit: David Paul Morris, Bloomberg
Rep. Keith Ellison is, in many ways, the perfect person to spearhead the Democratic Party as it prepares to lead the charge against President-elect Donald Trump's White House and a Republican-controlled Congress.
A popular, progressive five-term House member, Ellison has smashed barriers as the first Muslim congressman in the country and the first African-American to represent the state of Minnesota on Capitol Hill. Politically, the front-runner for the Democratic National Committee chair has been endorsed by newly-anointed Senate Minority Leader Charles Schumer, the face of the party establishment, as well as by senators Bernie Sanders and Elizabeth Warren of the ascendant progressive wing to which Ellison belongs.
But he is also proving to be a dream target for Trump supporters and the alt-right.
It's not hard figure out why a fierce and comprehensive media offensive has been launched to paint Ellison as a radical Islamist sympathizer and anti-Semitic extremist at this particular moment. The campaign is clearly designed to counter the widespread outrage against the appointment of Steve Bannon as senior counselor in the White House. Led by outlets like Breitbart and Fox News, reinforced by an army of right-wing blogs, Ellison is being slammed for his ties to controversial Islamic-American groups. Far-right critics like Frank Gaffney characterize him as "a very aggressive hard leftist" who "has been hanging with, embracing, supporting, and otherwise carrying on with the Muslim Brotherhood in America."
None other than Professor Alan Dershowitz explicitly made the analogy between Bannon and Ellison in an interview on MSNBC. After arguing there was "insufficient evidence" to label Bannon an anti-Semite and that his personal friendships with Jews and support for Israel proved otherwise, Dershowitz said that Bannon shouldn't be blamed for the anti-Semitism of those who "support and applaud" him. Just look at Ellison.
"If Keith Ellison, who is a decent and good person, would be named head of the DNC, Hamas would support it and cheer " argued Dershowitz. "You can't always judge a person by supporters. What we are seeing in this country is a very dangerous development on both sides. We are seeing the Republicans move alt right and we're seeing the Democrats move hard left. I have to tell you, the only thing the hard left and the hard right have in common, they hate Jews, they generally hate Israel, they generally hate America."
Ellison's constituents in the Minneapolis Jewish community were appalled by both Dershowitz's comparison and the avalanche of hate aimed at Ellison. "To try to create an equivalency between Keith Ellison and a vile miscreant like Steve Bannon is an act of immoral desperation. Keith Ellison represents the best of our constitutional democracy and the best of America. Steve Bannon represents its worst," said Rabbi Michael Latz, who knows the five-term congressman well. Latz said that Ellison had attended his Shabbat services and described him as "an exquisite mensch, brilliant, a terrific community organizer who represents his constituency with great integrity."
Rabbi Jason Kimelman-Block, Director of National Government Affairs for the Jewish social justice organization Bend the Arc, who has collaborated with Ellison on issues like voting rights and raising the minimum wage, concurred. "He has been in Congress for a decade and we know who he is. We work very very closely with Keith Ellison – he is an extraordinary leader. Anyone who would associate him with any kind of hatred hasn't met him and certainly hasn't worked with him."
Between the extreme language on the far right and the genuine affection for Ellison from the liberal Jews who know him, there is some genuine hesitation about Ellison in the U.S. Jewish community.
While no prominent Jewish Democrat has spoken out publicly against Ellison, there is plenty of private worry. Unnamed "Jewish leaders" in New York, a local television outlet reported, have been critical of Schumer for supporting such a "fiery critic of Israel" to fill the important mission-defining post of DNC chair.
Ron Halber, executive director of Jewish Community Relations Council of Greater Washington, said he has concerns about seeing Ellison at the DNC helm. "I like Keith Ellison and would want him to succeed. But his mixed voting record on Israel is a concern for me and for many others in the Jewish community." Halber said.
Steve Rabinowitz, a long-time Jewish Democratic activist, co-founder of the pro-Hillary Jewish super PAC and a fixture in the mainstream Jewish community, says that while he fully expects Ellison will be "highly controversial" he also thinks that the stamp of approval from Schumer, with his new leadership position and his record of having opposed the Iran nuclear deal will be something of a "validator" for Ellison among Jewish leaders.
There is no denying Ellison's record when it comes to Palestinian rights, or his support for the Iran deal, which he hailed as "a triumph of diplomacy over war" that "throws a wrench in the war machine." In 2014, he was one of a small handful of congressmen who voted against granting $225 million in supplementary military aid for Israel to repair the Iron Dome missile defense system in a lopsided 395-8 vote.
Rabinowitz predicts that if Ellison gets the DNC post, his positions may shift. "His voting record on Israel is hardly perfect and as a Bernie Sanders appointee to the Democratic Party platform committee, he "fell in with a bad crowd," as my mother used to say. But the platform is not changing and I bet his Israel rhetoric and voting record both quickly do,"
Ellison was one of the five members appointed by Sanders to the 15-person platform drafting committee at the Democratic convention and part of the ultimately unsuccessful effort to push for language that was more explicit in its criticism of Israeli policy and in its call for greater recognition of Palestinian rights. The "bad crowd," referred to by Rabinowitz included James Zogby, president of the Arab American Institute, and controversial scholar and activist Cornel West.
Efforts by the Sanders' appointees to amend the platform failed.Their proposed amendments, aimed at criticizing the Israeli occupation of the West Bank, demanding "an end to illegal settlements" and supporting the re-building of the Gaza Strip, were stymied by the Clinton representatives.
But the case against Ellison from critics on the right goes back decades. When the Minnesota politician first ran for his congressional seat in 2006, his past was a source of controversy, particularly his active support of Louis Farrakhan's Nation of Islam and his role in organizing a local delegation to the 1995 Million Man March.
"I would like to state for the record that I categorically and unequivocally reject anti-Semitism in any form and from whatever source," he wrote in a letter to the local Jewish Community Relations Council during the 2006 campaign. He admitted that he "did not adequately scrutinize the positions and statements" of the Nation of Islam and its leaders. "They were and are anti-Semitic, and I should have come to that conclusion earlier than I did. I regret that I didn't. But at no time did I ever share their hateful views or repeat or approve of their hateful statements directed at Jews, gays, or any other group."
JCRC head Stephen Silberfarb said at the time that reaction to the letter was mixed: "There were some people who accepted it, some people for whom it was a relationship that was unforgivable, and some who just didn't buy it," Silberfarb said.
Another firestorm erupted in 2007, after Ellison had entered Congress, when he publicly compared the 9/11 terrorist attacks to the pre-World War II Reichstag fire – appearing to make an analogy between the strengthened political position of President George W. Bush and the rise of Hitler. The Anti-Defamation League condemned the remark as showing "a profound lack of understanding about the horrors that Hitler and his Nazi regime perpetrated."
Ellison's aides subsequently complained that they had been "shocked" and "blindsided" by the ADL statement. It had already been agreed with Ellision that he would release a statement and speak to the press expressing regret over the comparison, they said. The ADL said it had spoken out because Ellison's reaction "took too long" and "didn't go far enough." falling short of an outright apology.
Ellison has visited the Hamas-ruled Gaza Strip three times since entering Congress. As one of the first US congressmen to travel there, following the 2009 conflict with Israel, he made headlines by calling conditions there "shocking.' and said they left him "shaking" The following day, he surveyed the damage in the Israeli city of Sderot.
Three years later, when hostilities between Israel and Hamas broke out again, he called for "restraint." In the summer of 2014, in just one of many public statements in support of the Palestinian cause, he wrote an opinion piece in the Washington Post headlined "End the Gaza Blockade to Achieve Peace," as war raged.
Ellison again drew attention last June, when, while touring the West Bank and Israel with a J Street delegation, he tweeted a photograph of a sign in a barred window reading, "Caution, this was taken by Israel. You are entering Apartheid."
"I saw this as I walked down a street in Hebron," he tweeted. "While window opens to street, no Palestinian can walk/drive on it."
Seth Mandel, a conservative journalist who is not a supporter of Trump, wrote in the New York Post that the choice of Ellison would bode ill for the Democratic Party's direction on Israel and demonstrated that Hillary Clinton's loss had "accelerated the Democrats' turn against Israel."
The era of dependable bipartisan support for Israel may be ending, he warned. The recent election "could be the last ... that Israelis don't have to watch with existential dread."
A solid base of support for Ellison in the Jewish community is the J Street lobby. The Minnesota representative is one of the organization's "endorsed candidates" backed by J Street's Political Action Committee.
The group's criteria for endorsement is that a candidate "support a strong bilateral relationship between the US and Israel, prioritize diplomacy toward a two-state outcome between Israel and the Palestinians, support a diplomacy-first approach to promoting Israeli and American security, support continued aid to Israel and the Palestinian Authority and [oppose] the Boycott, Divestment and Sanctions Movement."
A J Street statement released on Wednesday defended Ellison against the recent "hateful attacks" on him. The group said it was "deeply disturbed" that Ellison's critics "have spent the last few days digging through tired claims about his past to sow tension between him and the American Jewish community. These attacks are false and unacceptable."
J Street added that "comparisons between Representative Ellison and the Trump administration are particularly odious" noting that Trump "appointed Stephen Bannon, who promotes white supremacist, anti-Semitic views, as his right-hand-man in the White House.:
"The racism that Trump has enabled against Muslims, immigrants and other vulnerable groups is a direct attack on American Jewish values. We applaud the Members of Congress – like Representative Ellison – who oppose these troubling trends."
J Street CEO Jeremy Ben-Ami told Haaretz that on his trips to Israel with Ellison they'd discussed matters "deeply and personally" and that he'd found him to be "genuinely open-minded" with an appreciation of Jewish history.
He claimed the current "efforts to smear Ellison and de-legitimize him personally, is so typical of what's happening on the right - both in the U.S. and in Israel, when it comes to political discourse."
"The fact that it has become impossible to have an actual disagreement about opinion and fact without turning to smears and delegitimization is undercutting democracy in both countries. It is unhealthy and will not lead to a good place."
Click the alert icon to follow topics:
ICYMI
Ken Burns' Brilliant 'The U.S. and the Holocaust' Has Only One Problem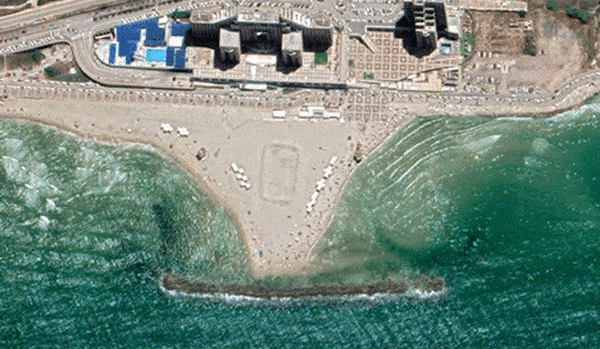 Facing Rapid Rise in Sea Levels, Israel Could Lose Large Parts of Its Coastline by 2050
As Israel Reins in Its Cyberarms Industry, an Ex-intel Officer Is Building a New Empire
How the Queen's Death Changes British Jewry's Most Distinctive Prayer
Chile Community Leaders 'Horrified' by Treatment of Israeli Envoy
Over 120 Countries, but Never Israel: Queen Elizabeth II's Unofficial Boycott