Trump's Election Triggers Old Nightmares for Holocaust Survivors in America
The dramatic increase in anti-Semitism and hate crimes since Election Day is a horrifying flashback for veteran Jewish Americans. As one says, 'I lived through one Hitler, I don't want to live through another.'
A Holocaust survivor shows her number tattoo.
Credit: Getty Images / JTA Photo Archive
NEW YORK – Residents at the New School's Kerrey Hall usually scrawl uplifting messages on their doors to cheer each other on. But last Saturday, residents on the 15th floor awoke not to smiley faces but swastikas, etched on the doors of Jewish, minority and LGBT women. It was just one of 400 instances of hate registered through the Southern Poverty Law Center in the week following the upset win of U.S. President-elect Donald Trump.
"I grew up knowing my grandmother survived the Nazis as a small child in France," said Kerrey resident Claire Cohen, 20. She is a sophomore at the private New York university, which was once a refuge for Jewish professors purged from German academia during Hitler's rise to power. "Though I've never experienced the type of hate my grandmother did," Cohen added, "I never thought I would see something like this happen at a liberal school known for being a safe haven."
Though stunned at first, the journalism major quickly sprang into action and broke the story on the New School Free Press website. It went viral shortly after. Then she deliberated whether to share it with her "yaya," or grandmother, Lea Goldstain, 82, who grew up in Enghien-les-Bains, a small town north of Paris. Lea was 9 when the Gestapo stormed through her front door, arrested her parents and left her and her siblings to fend for themselves.
"The last thing her mother said to her was 'Run!'" recalled Claire's mother, Ellen Cohen, 52, a real estate broker in New York. "Her life changed overnight."
Lea went into hiding at a convent near Lyons, where she was given a new name and passport to conceal her Jewish identity. She and her siblings returned home when World War II ended, but found it pillaged. They also discovered that their parents had been murdered in Auschwitz, gripping Lea with a sense of grief and panic that was always simmering under the surface, even after she immigrated to America in 1962, married, started a family and pursued her passion in art history. But the reappearance of swastikas and other hateful epitaphs this past week has left her unhinged.
"She's been a basket case," said Ellen. "When she saw the people Trump was surrounding himself with and the Trump slogans since the beginning, she asked, 'What is going on? Why are people allowing him to say this?' At the beginning I told her, 'Relax, no one takes him seriously, he's not a possibility.' Then as we got further and further into it, I had doubts myself. Then he wins and it becomes a much more complicated conversation. You try to appease her and tell her it's going to be OK. But then, as you see the hate erupt, you don't know yourself."
Ellen Cohen considers herself a textbook second-generationer, a little on edge and perhaps overly cautious – the unwitting recipient of anxiety and trauma from her mother, who insisted on an early curfew, that her daughter tell her where she was at all times and that she never be overt about her Jewishness. Though the rise of anti-Semitic threats in the wake of Trump's victory has alarmed her and is something she never imagined could erupt in major U.S. cities, she says she must be a rock for her mother's sake.
"I'm concerned she won't recover from this," she said. "This is the worst I've ever seen her. She's been crying since last Wednesday when swastikas first appeared in Philadelphia, not far from where we had once lived and eerily coinciding with the anniversary of Kristallnacht," she added, referring to the wave of violent anti-Jewish pogroms that took place in Nazi-occupied lands on November 9-10, 1938.
"She's trying her best to perform her daily tasks, but it's very hard for her," Ellen added. "She's always had a fear of what's coming next and the unknown – because the unknown is known to her, she's been through it. She's always told me that my daughters and I are living in a bubble here in New York, unaware that life can change in an instant. At this point, I'm having trouble saying, 'You're wrong.'"
And she's not alone.
"It's shocking and disturbing for kids and grandkids of survivors that Trump has repeated so much [of] what our parents heard Hitler spout," said Faye Sedal of Minneapolis, daughter of Holocaust survivor Esther Begam, 90. "It was supposed to be 'Never again,' and now we have people targeting Jews and blacks and minorities, and it really reminds them of the old days."
For Polish-born Esther, who survived the war in the Gabersdorf forced labor camp for women, the site of anti-Semitic slurs and symbols is frightening. "I never thought I'd ever see images like this again – not here," she said. "In Poland after the war, when we went back looking for our families and our homes, there were pogroms. We didn't feel safe there. So we left. But this man is making it dangerous for us here."
Begam met her husband after the war in Europe, married and gave birth to Faye in a displaced persons camp in Germany and arrived in Boston in 1949. She has lived in the United States longer than any other country, and yet her 14-year-old great-granddaughter, alarmed by the rise in anti-immigrant talk throughout Trump's campaign, became scared she'd be deported.
"It's a very traumatic time for survivors and their families," said Eva Fogelman, PhD, a New York-based, licensed psychologist and a pioneer in the field of Holocaust survivor post-traumatic stress disorder.
"There's been a definite spike in anxiety among survivors in the past week," Fogelman added. "They witness hate speech and anti-Semitic symbols from their childhood follow them here, and it triggers a relapse in their trauma. One of my patients said, 'I lived through one Hitler, I don't want to live through another.'"
Though sleeplessness and nightmares about their wartime experiences are the most common symptoms, intense fear of leaving and losing one's home is another.
"Survivors who felt so grateful after the war for having America, a place to live, a land of opportunity and freedom to live as Jews without fear of persecution, are deeply afraid of what's going to happen next," said Fogelman. "This whole election has been devastating for them, watching these Trump rallies where angry mobs scapegoat immigrants, like they once were. They're afraid to go out and gather, even with heightened security in synagogues and Jewish centers."
'Back in the ghetto'
That's certainly been the case for Inka Lautman, 82, a self-described "shut-in" who fled her native Krakow after the Nazi invasion of Poland and hid with her mother in the Vienna ghetto under false papers.
"I'm afraid to leave the house," Lautman said. "The swastikas on the walls again, all the hate, anti-Semitism and anti-immigrant talk – it brings it all back. I remember too much, it all haunts me. The other night, I had a nightmare I was back in the ghetto and we were being marched through. I woke up nauseous. I remember more from then than from yesterday. It's very difficult to live with."
Retired New York pediatrician Celia Ores, 88, a native of Dubienka, Poland, who survived the war in a Siberian gulag and labor camp, concurred. Though she fills her days with classes at Columbia University, yoga and is typically unflappable, witnessing the reemergence of such overt bigotry has been trying.
"When I saw Trump on the front page of the Ku Klux Klan magazine, I thought, 'Well there's a twist,'" Ores said. "But I gave people more credit than that. I thought this would never rear its ugly head again. Not here. I went to vote early with my grandson and really felt confident. When I saw that Trump won, I became physically sick – in bed. I couldn't sleep. So at five in the morning I did three loads of laundry, which I never do."
But last week wasn't her first bout of post-Trump stress disorder. Watching the then-presidential candidate mock a disabled reporter reminded her of Hitler's gassing of disabled children in Germany to prove that the Aryans were the master race.
"When I see the KKK or David Duke, or when they shout 'New-S-A' or 'Jew-U-S-A' at his rallies, that gives me stomach aches like you wouldn't believe," Ores said. "That initial discomfort turned so bad, I couldn't function at all. I was paralyzed and physically sick. And then the next day I decided to go back to school, take my classes and not start worrying until I see what direction this country's going in."
But Trump's appointment of Steve Bannon – executive chairman of the alt-right, white supremacist-leaning Breitbart News website – as his chief strategist isn't exactly bringing Ores much comfort. "I can tell Trump's going to give me a ton of sleepless nights," she said, "but I'm not leaving."
Lautman echoed that sentiment. "I have a daughter who lives in Israel and a son-in-law in Canada – should I move there?" she asked. "No! I'm a survivor. I'm a fighter. I believe that democracy will prevail. Despite it all, I'm optimistic. I will not let him get away with this and ruin the country."
Claire Cohen eventually decided to show her grandmother her article about the swastikas in her dorm. "[Lea] was so impressed that she became outspoken and active, and eventually rallied," said Ellen Cohen. "At first, she worried about Claire's safety with her name out there, but ultimately it made her so proud. She said, 'I'm not going to teach my children to live in fear. If we're all scared, it will happen again.'"
Click the alert icon to follow topics:
ICYMI
Ken Burns' Brilliant 'The U.S. and the Holocaust' Has Only One Problem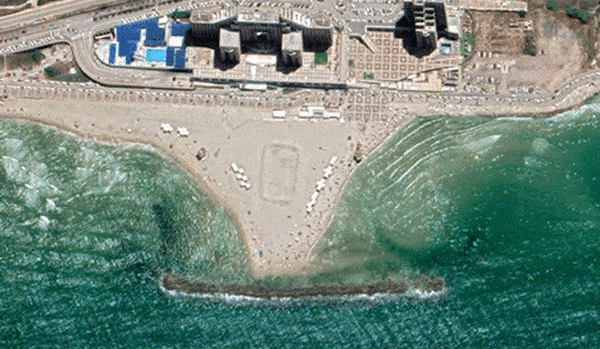 Facing Rapid Rise in Sea Levels, Israel Could Lose Large Parts of Its Coastline by 2050
As Israel Reins in Its Cyberarms Industry, an Ex-intel Officer Is Building a New Empire
How the Queen's Death Changes British Jewry's Most Distinctive Prayer
Chile Community Leaders 'Horrified' by Treatment of Israeli Envoy
Over 120 Countries, but Never Israel: Queen Elizabeth II's Unofficial Boycott