Analysis |
If Liberal Jews Are the Targets of Trump-inspired anti-Semitism, Is It Really anti-Semitism?
Perhaps Netanyahu views accounts of anti-Jewish hatred in America as leftist propaganda, like he sees the Israeli media's reports about him.
Anti-Donald Trump protests in New York.
Credit: Yana Paskova, AFP
On Sunday night, the Zionist Organization of America will hold it annual gala dinner in New York. Miriam and Sheldon Adelson are slated to present awards to Home Depot founder Bernie Marcus, to the head of the House Foreign Relations Committee Ed Royce and to Israel's Ambassador to the United Nations, Danny Danon. ZOA National Director Mort Klein announced in mid-week that a surprise guest would also attend: Steve Bannon, the controversial campaign manager for Donald Trump, whose appointment to the White House has inflamed many Americans, in general, and American Jews, in particular.
The ZOA has been furiously defending Bannon from charges of anti-Semitism ever since his appointment as the White House's Chief Strategist was announced a week ago. It has brought in Professor Alan Dershowitz and Rabbi Shmuley Boteach as expert witnesses. And it has produced lengthy briefs dispelling concerns that Bannon hates Jews mainly by citing how much he adores right-wing positions held by the current Israeli government. During his time as its CEO, the right-wing news site breitbart.com "exposed" Palestinian lies, "bravely" savaged the Iran nuclear deal, and "sympathetically" supported the fight against BDS. Like confession in the Catholic Church, support for Israel apparently absolves all sins.
On Thursday afternoon, Israeli envoy Ron Dermer preempted the ZOA bash by giving Bannon and unexpected and unqualified endorsement. Israel, he said, looked forward to working with the Trump administration, including, he specifically said, Steven Bannon. Thus, the ZOA gala will be more of a confirmation party, with Danon and Israeli Education Minister Naftali Bennett personally there to give their blessing. The event will mark the zenith of the ZOA's ascendancy and will undoubtedly make many Jewish stomachs turn.
The problem isn't with Bannon, of course, but with what his appointment portends for Trump's future attitudes. The ZOA gala is a one-time event, but its extraordinary koshering of Bannon could come to symbolize the potential schism inside the Jewish community and the exacerbation of its already tense relationship with Israel. If the Jewish right and the government of Israel stand by a Trump administration that will continue to promote hostility towards women, foreigners and minorities, including Jews, and will change the liberal character of America, these fissures could become irreversible.
The internal tensions are already rising to the surface. The organized Jewish community is splitting into three distinct groups: those that endorsed Bannon, such as the ZOA and the Republican Jewish Coalition; those that are refraining from comment but their silence speaks volumes, such as AIPAC and the American Jewish Committee; and those that have called on Trump to rescind the appointment, such as J Street and the Anti-Defamation League (though the latter has since clarified that it knows of no anti-Semitic statement directly made by Bannon). America's most influential Jewish groups, Peter Beinart wrote of AIPAC and the AJC, have prioritized Netanyahu over U.S. Jews' safety.
The Israeli public is only vaguely aware of the tensions that have flared in the American Jewish community in the wake of Trump's election and the outbursts of anti-Semitic statements and incidents that preceded it and continued since then unabated - and the perception that Bannon's appointment means that nothing much will change. They are even less interested in American Jews' apprehensions about the changes that could be made by a GOP dominated Congress and a conservative Supreme Court to some of their cherished liberal achievements in recent years including gay marriage, abortion, immigration or the wall that separates church and state. More importantly, the government of Israel, which is usually quick to castigate any minute manifestation of anti-Semitism around the globe, has turned a blind eye towards Trump's anti-Semitic characterizations during the campaign, to some of his supporters' more blatant outbursts of hatred for Jews or to the spate of anti-Semitic attacks against Jewish schools and journalists. Perhaps it regards the reports of these phenomena as leftist propaganda, as Netanyahu seems to view Israeli exposes of his policies.
In recent years, the Israeli government and the bulk of the American Jewish establishment have invested in redefining support for BDS as tantamount to anti-Semitism. In Israel, resistance to government policies, including leftist opposition to settlements and criticism of IDF actions in the territories, have increasingly been equated with anti-Semitism. But bad old racist anti-Semitism from the right, of the kind that brought about the Jewish people's worst catastrophes, and which continues to permeate the radical nationalists in both Europe and America, was swept under the rug and basically forgotten.
There isn't that much difference, after all, between the core of Trump's campaign message and his alt-right supporters and France's Marine Le Pen and other hard right, anti-immigration parties in Europe. The same sentiment that brought right wing Jews in Israel and America to celebrate Trump's victory will bring them joy if Le Pen and other "anti-Muslim" politicians are voted into office as well. In fact, putting aside the issue of special Jewish circumstances and experience for a moment, there's not that big a difference between some of the thrusts of Israel's ruling coalition and the European right, which Bannon is said to champion.
Never mind that the same kind of Jews that American right-wingers despise are also reviled by their Israeli counterparts. You know, the knee jerk liberals, supporters of gay rights, champions of minorities, immigrants, women, LGBTQ and what have you, human and civil rights groups, do-gooders and anti-nationalist lefties such as the ACLU, the Southern Poverty Law Center, Breaking the Silence, the New Israel Fund and J-Street, which was declared beyond the pale and refused entry into the hallowed halls of the Conference of Presidents of Major Jewish Organization because they refuse to toe the messianic settler line which has taken over the Jewish and Israeli discourse. Wasn't it Netanyahu who once said that leftists have forgotten what it means to be Jews?
Just as Arye Dery this week celebrated the "blow" sustained by Reform Jews, the "destroyers of Judaism," which he described, like any run of the mill anti-Semite, as "having a hold on the administration" and which he could gladly live without, as he put it, right-wingers everywhere, from the Prime Minister's Office on down, shared the joy of getting rid of all those leftist Jews that surrounded President Obama that Netanyahu fought so hard to contain. Small wonder that many American Jews felt like orphans this week, alienated from an incoming administration and Congress and abandoned by their fellow Americans, Jewish right wing groups and the government of the State of the Jewish people.
A small sliver of light in this darkness, it should be said, is, ironically, the former settler leader and current Israeli Consul General in New York Dani Dayan. Unlike his diplomatic colleagues Danon and Washington envoy Ron Dermer, who has boycotted J Street but welcomed an award from one of America's fiercest Islamophobes, Dayan is not enthused about radical, anti-Islamic groups and makes a point of engaging with critics of his government, including the Reform Movement, J Street and, informally at least, the New Israel Fund. It's a matter of personality and world view, he says, though it might conceivably be linked with the trauma that his birthplace Argentina underwent a few years after he made aliyah to Israel over 40 years ago.
Israel kept very close ties with the generals' regime that came to power after the 1976 coup d'etat, despite the anti-Semitic and pro-Nazi sentiments that permeated its ranks. When the U.S. and Europe imposed an arms embargo, Israeli military industries stepped in, supplying the regime with hundreds of millions of dollars' worth of hardware, some of which was instrumental in maintaining its murderous oppression. And while the Israeli Embassy made efforts to help Jews detained by the regime, Jerusalem preferred to maintain a low profile, even when it was clear that leftist Jews were disappearing at rates that exceeded their proportion in the population ten times over.
Israel claimed then and has maintained ever since that a public protest would have done more harm than good, but it's clear that maintaining its lucrative military and diplomatic ties with Argentina at a time of international isolation was its top priority. Many survivors of the regime's reign of terror and relatives of the 2,000-3,000 Jewish "disappeared" are convinced that their fate was sealed because they were seen as Marxists and socialists that the Israeli government did not feel compelled to save or to bring to Israel. Nothing in Trump's America resembles those days, but it's a cautionary memory nonetheless.
Click the alert icon to follow topics:
ICYMI
Ken Burns' Brilliant 'The U.S. and the Holocaust' Has Only One Problem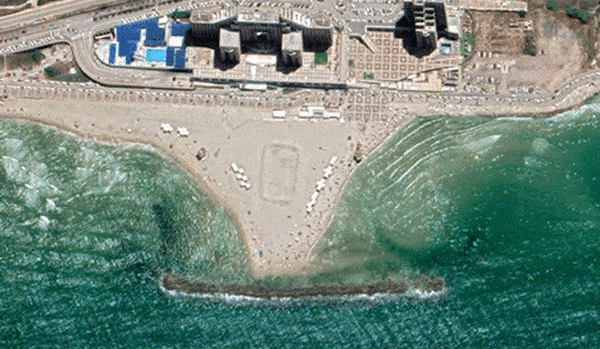 Facing Rapid Rise in Sea Levels, Israel Could Lose Large Parts of Its Coastline by 2050
As Israel Reins in Its Cyberarms Industry, an Ex-intel Officer Is Building a New Empire
How the Queen's Death Changes British Jewry's Most Distinctive Prayer
Chile Community Leaders 'Horrified' by Treatment of Israeli Envoy
Over 120 Countries, but Never Israel: Queen Elizabeth II's Unofficial Boycott