Analysis |
Not Much Time Left for Trump to Dispel Con Man Image
Mike Pence should be careful not to do too well in Tuesday night's vice presidential debate lest people wonder why Trump doesn't sound more like him.
A file photo from July 20, 2016, shows Republican presidential candidate Donald Trump with his vice presidential candidate Indiana Gov. Mike Pence in Cleveland.
Credit: Mary Altaffer, AP
Mr. Thomas MacDonald of 276 Madison Street in New York was strolling down the street on May 12, 1849 when William Thompson approached him. Thompson asked MacDonald whether he trusted him enough to give him his watch for 24 hours. The surprising question somehow convinced Macdonald that he must know Thompson from somewhere, so he duly handed over his expensive gold watch. A few days later, the now watch-less MacDonald ran into Thompson by chance again, so he called a cop and Thompson was arrested. The sensationalist New York Herald described Thompson as "Confidence Man," and thus gave birth to one of the most enduring American synonyms for a rip-off artist, the con man.
Charles Ponzi of the infamous Ponzi scheme was a classic con man, bested by his pupil, Bernie Madoff. Victor Lustig, who operated in the first half of the last century and was known for having "sold" the Eiffel Tower not once but twice, is often listed as the greatest con man in history. Donald Trump isn't being accused of anything approaching such grandiose swindles, but if he doesn't shed the image of his dealings that has emerged in recent days following revelations about his tax returns and charitable foundation, he could soon find himself on that list as well, if only because the loot that he is seeking, the presidency of the United States, is undoubtedly the greatest of all.
It's been a week from hell for Trump ever since he lost last Monday's debate, which he claims to have won. The ultra-macho, I'm-better-at-everything-under-the-sun candidate was not only outmaneuvered by Hillary Clinton, he was humiliated, who could imagine, by a woman. His indignation then induced him to send out offensive tweets against a Hispanic Miss Universe in the middle of the night, a suicidal political move under any circumstances. And this was before the two big newspapers, Washington Post and the New York Times, who have morphed in recent weeks into journalistic Dobermans, sank their teeth into Trump's candidacy and portrayed him as a scoundrel.
By now, Trump's ascent in the wake of Hillary Clinton's stumble at the September 11 memorial ceremony was completely reversed. His path to victories in enough battleground states to secure the presidency, which had started to become clearer, evaporated into thin air once again. The vice-presidential debate that is to take place on Tuesday evening between Mike Pence and Tim Kaine in Virginia won't change much, even if one assumes that Pence will win in a knockout. In fact, if Pence does spectacularly well, it could boomerang against Trump: Voters might conclude that this is the way a Republican candidate is supposed to look and sound, not like Trump.
Trump's best opportunity to change course will likely come on Sunday at the second presidential debate at Washington University in St. Louis. The town hall format of the debate could work in Trump's favor, given his populist appeal and the fact that questions will be coming from the audience. But it could be one of Trump's last opportunities and it too will be squandered if he doesn't get the media to lay off the close scrutiny of his financial dealings.
Of the two channels being pursued in parallel by the Post and the Times, it is the latter's revelation of Trump's 1995 tax returns and the assumption that it allowed him to refrain from paying taxes for two decades that seems to be inflicting the most PR damage. And while Trump has attacked the Times and his advisers are threatening to sue the newspaper, he hasn't actually denied the newspaper's allegations.
The assault on the Times is likely to be enough for many if not most of Trump's voters, who don't believe a word the mainstream media says anyway. His second line of defense, that since he knows how to game the system, he is best equipped to fix it from within might fall flatter, especially among undecided voters. Most of them work hard for a living, earn far less than they'd like and pay much more income tax than they think they should. They will find it harder to reconcile Trump's boasts that he's worth $10 billion dollars with his newfound pride in paying no taxes whatsoever. They might also wonder, as Clinton has pressed them to do, how such a self-professed whiz at business managed to lose a billion dollars from owning a casino.
The other troubleshoot for Trump, centering on the Trump Foundation, may be less accessible for most people but, contrary to the tax issues, is rife with possible illegalities. As chronicled by the Post's David Fahrenthold, the star reporter of the 2016 campaign, Trump has not only refrained from giving a penny to his own fund since 2008 but has used its money to pay off business debts, commission a portrait of himself and even, according to a Tuesday Real Clear Politics story, finance his own 2016 campaign.
On Monday it emerged that New York Attorney General Eric Schneiderman, who has tangled with Trump in the past, has secured a court order suspending the foundation's fundraising activities in the wake Fahrenthold's report that it had not submitted the proper paper work to do so. Trump's campaign said it would cooperate in the investigation but lambasted Schneiderman, who supports Clinton, as a political hack. Some of Trump's fans couldn't resist going a bit further, alluding to Schneiderman's name and his Jewish origins as the source of his animus towards their candidate.
Republicans are looking at the developments with the eyes of a deer gazing at approaching headlights. In some quarters of the GOP, hysteria is setting in. Many people had pinned their hopes on Julian Assange supplying evidence of Clinton wrongdoing that would offset the charges against Trump and change the media's agenda, but the press conference he convened in Germany on Tuesday morning failed to deliver the goods. It's true that Trump has shown resilience in the past and has extricated himself from similar predicaments but contrary to the Rolling Stones song played repeatedly at his Pennsylvania rally on Saturday night, time is not on his side. If he doesn't reverse his fortunes soon, the negative reports could reach critical mass and transform his decline in the polls to a free fall that will end in a nasty crash on the ground of reality.
Click the alert icon to follow topics:
ICYMI
Ken Burns' Brilliant 'The U.S. and the Holocaust' Has Only One Problem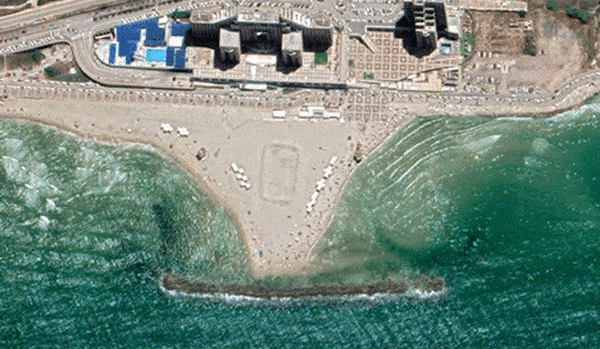 Facing Rapid Rise in Sea Levels, Israel Could Lose Large Parts of Its Coastline by 2050
Lapid to Haaretz: 'I Have Learned to Respect the Left'
The Mossad's Fateful 48 Hours Before the Yom Kippur War
As Israel Reins in Its Cyberarms Industry, an Ex-intel Officer Is Building a New Empire
How the Queen's Death Changes British Jewry's Most Distinctive Prayer