DNC Day Three: Highlights From Obama, Biden and VP Nominee Tim Kaine
Read the latest from the third day of the Democratic National Convention in Philadelphia, set for speeches from Obama, Biden.
U.S. President Barack Obama waves while arriving on stage during the Democratic National Convention (DNC) in Philadelphia, Pennsylvania, U.S., on Wednesday, July 27, 2016.
Credit: Bloomberg
Click here for a full recap of the Democratic National Convention's third day.
The Democratic National Convention continued into its third day on Wednesday, with booming speeches by President Barack Obama, Vice President Joe Biden and vice presidential nominee Tim Kaine.
Latest updates:
5:55 A.M. IDT/10:55 P.M. EDT President Obama [READ FULL TRANSCRIPT HERE] takes the stage to standing ovation, and tells crows that twelve years after his first addressing the convention: "I am even more optimistic about the future of America than ever before... We're not done perfecting our union."
"What we heard in Cleveland last week wasn't particularly Republican or conservative," Obama said about the Republic National Convention, adding that "The America I know is full of courage, and optimism, and ingenuity."
In a jab at Trump, Obama said "does anyone really think that a guy who's spent his 70 years on earth showing no regard for working people is suddenly their champion?" Laughing at the GOP nominee, Obama said "the Donald is not big on plans... or on facts."
In what seems to be the key point of his address, Obama says it's not about any single person, but what Americans can do together: "America isn't about yes he will, it's about yes we can."
5:10 A.M. IDT/10:10 P.M. EDT Tim Kaine formally accepts Democratic nomination for vice presidency, saying "I humbly accept my party's nomination to be vice president of the United States." Click here for his full comments
4:50 A.M. IDT/9:50 P.M. EDT: Spotted: Clinton seen wearing a pin saying "Hillary" in Hebrew:
4:05 A.M. IDT/9:05 P.M. EDT Watch U.S. Vice President Biden full speech at the Democratic National Convention
Vice President Joe Biden made the argument in favor of Hillary Clinton, saying "I know Hillary, Hillary understands." "Everybody knows she's smart, everybody knows she's tough, but I know what she's passionate about. I know Hillary."
"That's not Donald Trump's story," Biden says to applause. "His cynicism is unbound, his lack of empathy and compassion can be summed up in the phrase: 'You're fired.' Think about that: How can there be pleasure in saying 'you're fired'? That's a bunch of malarkey," Biden says to Trump's claims he understands the middle-class.
Pivoting to foreign policy, Biden struck a serious tone and said America "cannot elect a man who exploits our fears about ISIS and terrorism."
"Let me say something that has nothing to do with politics. He has no clue what makes America great. Actually he has no clue period."
"This is a complicated and uncertain world we live in, the threats are too great, the times are too uncertain to elect Trump," Biden said to chants of U.S., adding that "no major nominee has ever known less, or has been less prepared to deal with our national security."
He blasted Trump as "a man who embraces the tactics of our enemies," like torture, and "betrays our values, alienating those we need in the fight against ISIS.
"Donald Trump, with his rhetoric, literally makes us less safe. A man who seeks to sow division in America for his own gain. A man who confuses bluster with strength. We simply cannot let that happen as Americans, period."
4:00 A.M. IDT/9:00 P.M. EDT Former CIA Director and Defense Secretary Leon Panetta said Donald Trump is taking Russia's side, and that means Trump can't become commander in chief.
Panetta is making the case for Hillary Clinton in a speech Wednesday night at the Democratic convention in Philadelphia.
He's citied Trump's earlier comments that encouraged Russia to find and make public emails deleted by Clinton from the private account and servers she used as secretary of state.
Panetta criticized Trump for - as he puts it - "asking one of our adversaries to engage in hacking or intelligence efforts against the United States to affect our election."
To Panetta, "it's inconceivable to me that any presidential candidate would be this irresponsible."
Chants of "No more war!" broke out during Panetta's speech. Later in Panetta's speech, chants of "USA!" filled the arena.
3:50 A.M. IDT/8:50 P.M. EDT Former Rear Admiral John Hutson praised Hillary Clinton as "smart and steady," and the only candidate "who has a specific plan to defeat ISIS," while labeling Trump as "a walking, talking recruitment poster for terrorism."
Praising Clinton, Hutson said "[Clinton] has the experience, temperament, and spine to be a superb Commander-in-Chief," Hutson said. Blasting Trump's foreign policy, the general said "Trump would abandon our allies and let more countries get nuclear weapons.
"Donald Trump is a walking, talking recruiting poster for terrorists. That's not hyperbole. ISIS literally used Trump in a commercial," he said, adding that Clinton has "brokered a cease-fire in Gaza, rallied the world to sanction Iran, advised President Obama to take out bin Laden, and restored our reputation in the world."
He said that America's strength comes from the country's "humanity," and implied that Trump's suggestion to bring back torture "makes us more like them," referring to radical groups like ISIS. "If we lose our humanity, we lose the battle and the war.
ISIS and other radical Islamic groups have no humanity. That is their weakness."
The former rear admiral criticized Trump's comments about John McCain's experience in Vietnam, saying "Donald, you're not fit to polish John McCain's boots!"
3:30 A.M. IDT/8:30 P.M. EDT Democrats are paying tribute to the victims of the June attack on a gay nightclub in Orlando, Florida, and the 2012 shootings at Sandy Hook Elementary School in Connecticut.
Christine Leinonen tells the crowd at the Democratic convention that her son - Christopher "Drew" Leinonen - always brought people together and started a gay-straight alliance in school.
He was one of the 49 patrons killed at the Pulse nightclub in Orlando. She says her son's grandparents met in a Japanese internment camp "so it was in his DNA that love always trumps hate."
Connecticut Sen. Chris Murphy says he's "furious" about the lack of progress on gun control in the years since 20 first-graders and six adults were killed at the Connecticut school.
Murphy says Republicans in Congress have done "absolutely nothing to prevent the next massacre."
3:30 A.M. IDT/8:30 P.M. EDT WikiLeaks released files on Wednesday of what it said were audio recordings pulled from the emails of the Democratic National Committee that were obtained by hacking its servers.
3:00 A.M. IDT/8:00 P.M. EDT Some Hillary Clinton supporters at the Democratic convention are becoming noticeably agitated by the continued protests of Bernie Sanders' most vocal supporters.
Danielle Adams is a Clinton delegate from North Carolina. She says, "I'm so exhausted by it."
Some in the Colorado delegation at the Wells Fargo Center have scratched out letters in signs that say "Stronger Together" - and those signs now say "stop her."
Delegates from Louisiana and Delaware are standing in front of them holding their own signs and attempting to block the view.
2:39 A.M. IDT/7:39 P.M. EDT Maryland Governor and former Democratic nomination contender Martin O'Malley called Donald Trump a "bully racist" in his speech at the Democratic National Convention.
Quoting Trump as saying that wages were too high, O'Malley said that "Donald Trump's opinion of himself: That's way too high."
Blasting Trump's rhetoric, O'Malley bellowed: "To hell with Trump's American nightmare. We believe in the American dream."
Praising Clinton, whom he called one of the "toughest women" he knew, O'Malley said Clinton "will stand up to ISIS. She will stand up to the Russians."
2:30 A.M. IDT/7:35 P.M. EDT Nevada Senator Harry Reid, speaking at his final Democratic National Convention as a senator and the Senate's Democratic leader, praised his fellow Democrats and called Senate's Republican leader, Kentucky's Mitch McConnell, a "craven" during his speech at the convention Wednesday.
Reid says McConnell and the GOP have slandered the country's first black president, whipped up fear of Muslims and sown hatred of Latinos. The senator denounced Donald Trump's controversial views on Muslims and other minorities, which he said Trump learned from the GOP. He further blasted Trump's recent suggestion that Russian hackers should release Hillary Clinton's 30,000 missing emails.
Reid highlighted the contrasting policy positions of the two parties, saying "affordable health care is a right not a privilege," and that the American people "shouldn't get the bill for Wall Street's bad bets."
Reid said the Democrats want an "economy that works for everybody" and said the Republican nominee wants to "put insurance companies back in charge of your health."
1:45 A.M. IDT/6:45 P.M. EDT The Rev. Jesse Jackson says Hillary Clinton can be trusted to fight for issues such as a fair Supreme Court, gun control and progressive policies.
The former presidential candidate says Clinton understands the impact of the Black Lives Matter movement and the shooting deaths of Trayvon Martin, Michael Brown and Alton Sterling.
Jackson also is congratulating Bernie Sanders for energizing the campaign with "ideas and hope." In Jackson's words: "The Bern must never grow cold." Still, he says, "It's healing time. It's hope time. It's Hillary time."
24:53 P.M. IDT/5:53 P.M. EDT President Barack Obama has a message for fellow Democrats, and all those watching the Democratic convention at home: There's never been a man or a woman more qualified than Hillary Clinton to serve as president.
The White House says Obama's convention speech will focus on Clinton and her tenure as secretary of state to try to make the case she's qualified to be commander in chief.
According to the White House, Obama plans to say "nothing truly prepares you for the demands of the Oval Office," and that the America he knows is "full of courage and optimism and ingenuity."
White House officials say Obama doesn't plan to mention Donald Trump's name more than a few times.
Obama also plans to praise Clinton's chief Democratic rival, Bernie Sanders, and his supporters - paying tribute to the fervor they ignited in the primary season.
The White House officials who provided reporters with details about Wednesday night's speech spoke on condition of anonymity because they aren't authorized to discuss the address publicly before Obama gives it.
24:50 P.M. IDT/5:50 P.M. EDT New York City mayor Bill de Blasio took the stage at the Democratic National Convention on Wednesday to praise Hillary Clinton's progressive agenda and criticize Donald Trump's past scandals.
De Blasio criticized the New York real estate mogul as the "least generous billionaires the country has ever seen," calling him a "great pretender" and a "little man."
In a nod to Bernie Sanders' supporters, many of whom are frustrated at what is perceived as Clinton's moderate line, de Blasio said Clinton will present "the most progressive agenda in modern times, one that rewards work instead of wealth," or what he called the 1 percent.
De Blasio said the Democratic nominee is "a force for real progressive change in this nation.
"Standing up for those without much money and without much money has been her life's calling."
24:00 P.M. IDT/5:00 P.M. EDT The Democrats are back in session in Philadelphia, and they quickly dispatch with the day's first order of business: nominating Tim Kaine for vice president.
The Virginia senator's name was the only one offered, and a half-full convention hall at the Wells Fargo Center decided by a voice vote to suspend the rules and nominate Kaine by acclamation.
Some supporters of Vermont Sen. Bernie Sanders had talked about challenging Kaine's nomination. They were upset that nominee Hillary Clinton didn't pick a more liberal running mate.
Some delegates from Washington state chanted "roll call." Some from California made some noise during the voice vote. But most in the arena cheered as Kaine was nominated.
11:35 P.M. IDT/4:35 P.M. EDT Hillary Clinton has made it to Philadelphia , where she'll address Democrats on Thursday night at their summer convention, as delegates voted for an oral confirmation of her choice for vice president Tim Kaine.
A spokesman says Clinton arrived in the city Wednesday afternoon. Her husband, former President Bill Clinton, and daughter Chelsea Clinton were both at the convention Tuesday.
That's when Hillary Clinton officially became the first woman to be a presidential nominee for a major party.
11:00 P.M. IDT/4:00 P.M. EDT Former New York City mayor Michael Bloomberg will offer a forceful denunciation of fellow New York billionaire Donald Trump Wednesday at the Democratic convention.
The speech is notable in part because Bloomberg was elected mayor as a Republican but is now a political independent. He considered making a third-party run for president this year before opting against a campaign. He said he worried he would siphon away votes from Democratic nominee Hillary Clinton and inadvertently help elect Trump.
Members of the former mayor's staff said Bloomberg, one of the nation's richest individuals, will lay out why a Trump administration would be disastrous for the nation's economy. (AP)
10:45 P.M. IDT/3:45 P.M. EDT Vice President Joe Biden plans to use his speech to the Democratic National Convention to argue that the world is too complicated to elect Donald Trump.
The White House said Biden will say in his speech that given the seriousness of the times, the U.S. can't afford a leader with Trump's lack of preparedness to handle national security. Biden's speech comes after Trump's recent suggestions that Russia should release Hillary Clinton emails and that the U.S. might not defend NATO allies.
Biden also plans to make an economic argument. The White House said he'll tell the convention that Clinton and running mate Tim Kaine understand the plight of the middle class and will fight to improve their lives. (AP)
9:40 P.M. IDT/2:40 P.M. EDT A Bernie Sanders delegate called on fellow delegates to protest President Barack Obama when he addresses the Democratic National Convention on Wednesday night.
In a Facebook posting, New Mexico delegate Kathleen Burke said Obama is "highly complicit in the silencing" of liberals because he supported Hillary Clinton over Bernie Sanders for the presidential nomination.
Burke promised a specific protest action by delegates over Obama's support for a Trans-Atlantic Partnership trade agreement and that delegates should hold up a newspaper and ignore him throughout his speech. (AP)
9:35 P.M. IDT/2:35 P.M. EDT Wikileaks founder Julian Assange compares choosing between Donald Trump and Hillary Clinton to opting for "cholera or gonorrhea."
"Personally, I would prefer neither," Assange tells "Democracy Now," in an interview quoted by Politico. (Haaretz)
9:25 P.M. IDT/2:25 P.M. EDT Hillary Clinton personally asked an adviser, Wendy Sherman, to make sure the Democratic Party platform remained pro-Israel, Sherman said.
"I had very direct instructions from Secretary Clinton that there would be clarity about this issue and there would be no space," Sherman, a member of the committee drafting the platform, said Tuesday at an event hosted by the American Jewish Committee at the Democratic National Convention in Philadelphia. (JTA)
9:05 P.M. IDT/2:05 P.M. EDT Donald Trump said, if elected, he'll look into whether Russia was justified in seizing control of the Ukranian region of Crimea.
When asked at a press conference Wednesday whether he would recognize Crimea as Russian territory and if he would consider lifting sanctions against Moscow, Trump said: "We'll be looking at that. Yeah, we'll be looking." (AP)
8:50 P.M. IDT/1:50 P.M. EDT Donald Trump brushed off the idea of making a trip to Israel before Election Day.
The Republican presidential candidate insisted at a Wednesday press conference that he would not follow in the footsteps of other White House hopefuls who have journeyed to Israel, saying at a press conference: "I'm not traditional." (The Forward)
8:24 P.M. IDT/1:24 P.M. EDT Billionaire investor George Soros has stepped up his contributions to the Democrats, donating more than $25 million on Hillary Clinton's behalf and to other candidates and causes, Politico reports.
Soros had cut down on donations after spending $27 million on an abortive effort to unseat George W. Bush in 2004, an effort which he has called an "exception." (Haaretz)
8:15 P.M. IDT/1:15 P.M. EDT He's being roundly panned for suggesting Russia find Hillary Clinton's missing emails, but Donald Trump is doubling down on that call.
The Republican presidential nominee tweeted: "If Russia or any other country or person has Hillary Clinton's 33,000 illegally deleted emails, perhaps they should share them with the FBI!"
Former House Speaker Newt Gingrich tweeted: "The media seems more upset by Trump's joke about Russian hacking than by the fact that Hillary's personal server was vulnerable to Russia." (AP)
7:50 P.M. IDT/12:50 P.M. EDT Hillary Clinton's campaign denounced Donald Trump's call for Russia or any other foreign power to attempt to recover the Democratic presidential nominee's missing emails.
"This has to be the first time that a major presidential candidate has actively encouraged a foreign power to conduct espionage against his political opponent," said Jake Sullivan, a senior policy advisor to the Clinton campaign. "That's not hyperbole, those are just the facts. This has gone from being a matter of curiosity, and a matter of politics, to being a national security issue." (AP)
7:40 P.M. IDT/12:40 P.M. EDT A spokesman for House Speaker Paul Ryan said Russian President Vladimir Putin should stay out of the U.S. presidential election.
Ryan is backing Trump's candidacy though he has been tepid in his endorsement, calling out the nominee on immigration and other issues. (AP)
6:20 P.M. IDT/11:20 A.M. EDT Donald Trump said his campaign will soon publish a list of countries from which immigrants will need to undergo "extreme vetting" before entering the United States.
Trump, speaking Wednesday at a press conference in Florida, said, "We have people coming in this country with very evil intentions." He added that, "we cannot let those people come in." (AP)
6:10 P.M. IDT/11:10 A.M. EDT Donald Trump has a message for Russia: Find Hillary Clinton's emails.
In a press conference Wednesday, Trump said that the 30,000 missing emails from Clinton's private email server would reveal "some beauties." (AP)
6:00 P.M. IDT/11:00 A.M. EDT Donald Trump said he knows "nothing about" the hack of Democratic National Committee emails that security experts believe may have originated in Russia. (AP)
5:40 P.M. IDT/10:40 A.M. EDT Democratic National Committee staff members questioned Chairwoman Debbie Wasserman Schultz's request for the group to put out a statement in honor of Holocaust Remembrance Day, leaked emails show.
In an email chain from May released as part of the batch of DNC emails leaked by Wikileaks this week, a staffer wrote that a statement marking the day was unnecessary. The chain was first reported by the Daily Caller.
"We aren't going to do statements for every Jewish holiday unless she wants to do them for every religious holiday and trust me, this Catholic can give you a list of them," wrote staffer Kate Houghton. "Also when she does an official statement it makes very little sense to have two statements out there in her voice." (JTA)
5:20 P.M. IDT/10:20 A.M. EDT Former New York City Mayor Rudolf Giuliani believes Israel would prefer to see Donald Trump elected as president, The Washington Post reported on Wednesday.
"I've talked to the members of the Israeli government at the highest levels. I know who they want elected here. It's not Hillary Clinton. It's not Obama 3," Giuliani told The Post's Josh Rogin in an interview at the Republican National Convention earlier this month. (Haaretz)
Click the alert icon to follow topics:
ICYMI
Ken Burns' Brilliant 'The U.S. and the Holocaust' Has Only One Problem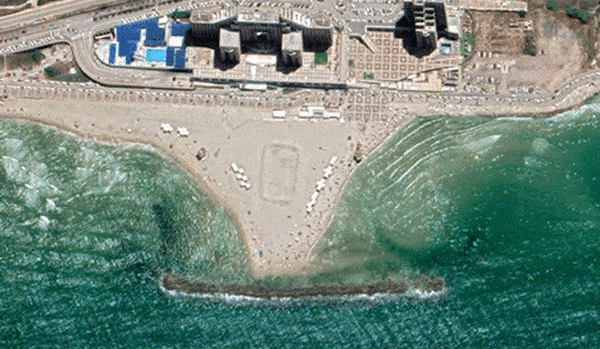 Facing Rapid Rise in Sea Levels, Israel Could Lose Large Parts of Its Coastline by 2050
As Israel Reins in Its Cyberarms Industry, an Ex-intel Officer Is Building a New Empire
How the Queen's Death Changes British Jewry's Most Distinctive Prayer
Chile Community Leaders 'Horrified' by Treatment of Israeli Envoy
Over 120 Countries, but Never Israel: Queen Elizabeth II's Unofficial Boycott