Trump, Sanders and Echoes of 1930s Populism
Former Louisiana Governor Huey Long was like a Bernie Sanders-Donald Trump hybrid: a hero of the working man but also a vindictive, populist demagogue.
Bernie Sanders and Donald Trump.
Credit: AFP, Bloomberg
Who does this remind you of? "So, we have in America today, my friends, a condition by which about 10 men dominate the means of activity in at least 85 percent of the activities that you own. They own the banks, they own the steel mills, they own the railroads, they own the bonds, they own the mortgages, they own the stores, and they have chained the country from one end to the other."
Bernie Sanders, right? Try this: "When one man decides he must have more goods to wear for himself and family than any other ninety-nine people, then the condition results that instead of one hundred people sharing the things that are on earth for one hundred people, that one man, through his gluttonous greed, takes over ninety-nine parts for himself and leaves one part for the ninety-nine."
But that isn't Senator Sanders of Vermont in the second decade of the 21st century, but Senator Huey Long of Louisiana 80 years earlier. Wealth inequality was at its highest then, when one percent of the people owned over 50 percent of the wealth, but America has been steadily climbing back to that peak, with one per cent owning close to 45% now. It's another one in a long line of historical parallels unleashed by the 2016 election campaign. If this were a Seinfeld episode, George Costanza would sneer and say: "Hey, America, the 20th century store called. They want their 1930s back."
In the past few days alone, disturbances at the scheduled Trump event in the streets of Chicago were associated with those of 1968, but also with the street wars between Nazis and Communists in Berlin that helped destabilize the Weimar Republic. The skirmishes were stained, after all, by Nazi salutes and calls for Trump opponents to "go back to Auschwitz" as well as by Trump suddenly affixing the adjective "communist" to Sanders name.
Or take the emergence of free trade as public enemy number one, at least according to both Sanders and Trump, who have been bashing NAFTA as well as the Trans Pacific Partnership in order to curry favor with frustrated blue-collar workers in Rust Belt states. Suddenly, from the dusty history books of students of the Great Depression era, Senator Ted Cruz revived two of his Republican predecessors, Senator Reed Smoot of Utah and Willis Hawley of Oregon, at Thursday's GOP debate. The Smoot-Hawley Tariff Act that the two protectionist lawmakers initiated in 1930 was meant to help American farmers by unilaterally slapping tariffs on 20,000 competing imports, but sparked an international trade war as well as a drastic drop in exports and imports instead. According to some economists, the Smoot-Hawley gambit actually made the Great Depression greater than it might otherwise have been. Donald Trump's proposed moves against China, Mexico, Japan and other countries are likely to have a similar effect.
And this in a campaign that has already seen 1930s analogies drawn from economic anxieties, resentful whites, racial incitement, fear of strangers, chauvinistic slogans, a sense of national humiliation, wanting to make the country great again, and the manipulative politician(s) who harness these negative energies to their advantage.
From that point of view, Huey Long is like a Bernie Sanders-Donald Trump hybrid. He bucked the system, represented the working-man against big money and Wall Street and had an ambitious plan for a "Spread the Wealth" revolution that would make "Every Man a King." But he was also a populist and a demagogue, a man who Franklin Roosevelt once described as one of two most dangerous in America (the other was General Douglas MacArthur). As Governor of Louisiana before he became Senator, Long is credited with sweeping social reforms and immense improvements in the state's economy and infrastructure, but he ruled with an iron fist and a vindictive spirit. Known as "The Terror of the Bayou," Long crushed opponents, silenced critics, neutralized state institutions and demolished any vestiges of checks and balances.
He was also a master of that new mass medium, the radio. As the U.S. Senate's website recalls: "Long's rhetoric was a distinctive blend of humor and invective, scripture and profanity, brutal fact and absurd analogy, couched in a populist vernacular that made the impoverished citizens of rural Louisiana feel that he was one of them." "Better than any other politician I've known," one newsman recalled, "Huey knew what his audiences wanted to hear.'" Which certainly sounds familiar in 2016.
Like Sanders, Long had an ambitious blueprint to solve America's woes. His National Union for Social Justice and Share the Wealth clubs spread across the nation, picking up seven million members, promoting his egalitarian message. Long initially proposed limiting personal wealth to $50 million a family (about a billion dollars today), though he later reduced the figure, as well as capping income to a million dollars a year and inheritances to about five million. He wanted to guarantee a minimum income of $2,000 a year to each American family. He also wanted a four-week annual vacation for workers at a time when none was guaranteed, a 30 hour work week, old age pension, veterans benefits and yes, universal health care as well as, you guessed it, free college education and vocational training.
Long is credited with being one of the instruments that moved America's political agenda away from the "culture wars" that dominated the 1920s — spurred by loosening morals, women's emancipation, African American migration to the north and even the introduction of jazz, among other things — to the economic focus that dominated the 1930s. Historians claim that Long's 1935 Share the Wealth program along with his rumored intention to run for President spurred at least some of Roosevelt "turn to the left" and his "Second New Deal", which included the Social Security Act, the National Labor Relations Act, the break up of large utilities and more.
Long's opponents described him as a buffoon, a communist, a socialist and a fascist dictator, terms that in those days could live side by side with each other, given the corporatist employer-employee syndicates of Mussolini's Italy and the National Socialism of Hitler's Germany. But Long dismissed his detractors as "the thieves of Wall Street and their newspapers and radio liars" who doubted his claim to represent poor Americans but "immediately say that I had a scheme to get money" instead.
Long's career was brought to an abrupt end in 1935, at the age of 42, when he was allegedly assassinated by a disgruntled son in law of one of his political victims or shot by mistake by his own bodyguards, depending on which version of history you prefer. His assassin's name was Carl Weiss, a fact that has allowed generations of anti-Semites to describe the killing as a Jewish plot, even though Weiss was born and raised a Catholic. Perhaps the accusation stems from the fact that two of Long's closest associates, Father Charles Coughlin and Gerald K. Smith, went on to become the biggest American anti-Semites of the 20th century after his death. In the 1930's they had a massive audience that shared their hatred for the Jews and blamed them for trying to drag the U.S. into a pointless war with Nazi Germany.
Things are dramatically different in 2016, we hope, though William Butler Yeats haunting 1919 poem, which many believe foresaw the hellish 1930s and 40s is also making a comeback:
Things fall apart; the center cannot hold;
Mere anarchy is loosed upon the world,
The blood-dimmed tide is loosed, and everywhere
The ceremony of innocence is drowned;
The best lack all conviction, while the worst
Are full of passionate intensity.
Click the alert icon to follow topics:
ICYMI
Ken Burns' Brilliant 'The U.S. and the Holocaust' Has Only One Problem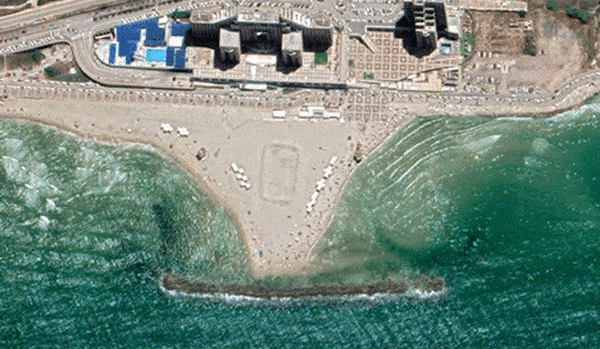 Facing Rapid Rise in Sea Levels, Israel Could Lose Large Parts of Its Coastline by 2050
As Israel Reins in Its Cyberarms Industry, an Ex-intel Officer Is Building a New Empire
How the Queen's Death Changes British Jewry's Most Distinctive Prayer
Chile Community Leaders 'Horrified' by Treatment of Israeli Envoy
Over 120 Countries, but Never Israel: Queen Elizabeth II's Unofficial Boycott