Analysis |
Biden Is Right: Too Much of What's Happening in America Today Isn't Normal
The president's main message in his historic speech Thursday was that democracy can never be taken for granted. In going on the verbal offensive against Trump and his supporters, he buoys democracy around the world
U.S. President Joe Biden delivering his "soul of the nation" speech in Philadelphia on Thursday.
Credit: Alex Wong/Getty Images/AFP
American democracy is imperiled, under a constant domestic assault against its institutions, traditions and mores. Joe Biden knows this and made fixing the problem the rationale for his bid for the presidency. Now Biden has been convinced by historians that the danger is more imminent than even the January 2021 insurrection attempt suggested.
These historians told him, with all the imperfections of historical analogies, that America is now perhaps at a point not unlike 1860, when Abraham Lincoln warned that "a house divided against itself cannot stand." Or maybe it's like the eve of the 1940 election, when Franklin Delano Roosevelt faced pro-fascist sentiments in America and resistance to the United States joining World War II.
For 18 months, Biden spoke about unity, normalcy and civility, remaining ever faithful to an old but very ailing acquaintance of his, bipartisanship. Until he stopped.
He stopped not for a lack of belief or hope, but because of the adverse political and cultural realities engulfing America. Contemporary American politics offers neither unity nor civility.
The bipartisan spirit and mechanism that Biden knows from the '70s, '80s and into the '90s is a relic of the past. The Republican Party, starting with Newt Gingrich in the mid-'90s, then the Tea Party during Barack Obama's two terms and especially heading into the patently undemocratic Trump years, has slowly but steadily turned American politics into a toxic, dysfunctional, hyper-partisan and divisive affair.
Biden has had enough and so, on Thursday night, in front of Independence Hall in Philadelphia, the birthplace of the American experiment and American exceptionalism, he expressed his anger, frustration and anxieties about the direction America is taking unless it sharply changes course. It was a speech that with minor idiosyncratic adjustments should be delivered in Israel, Hungary, Brazil, Italy and wherever liberal democracy is threatened severely from within.
Democracy is perpetually in crisis mode, sometimes even existentially, because democracy allows its enemies to prosper and contains the seeds of its own debilitating weaknesses. Authoritarian politicians take advantage of authoritarian strains and pose a constant danger. The peril to American democracy is basically the same as the perils these weaknesses present to other democracies like Israel's. Circumstances and political culture may differ, but the dangers are eerily similar.
Modern political campaigns are based on two fundamental principles: framing the opposition and delineating the agenda. Once that has been established, a campaign must decide: Are we on the offensive and initiating or are we on the defensive and reacting?
On Thursday, Biden made his choice abundantly clear. Against the backdrop of the House's January 6th Committee, the Supreme Court's overturning of the abortion rights enshrined in Roe v. Wade, and Donald Trump's classified-documents fiasco and alleged crimes, Biden went on the offensive.
Rather than the customary referendum on the presidency, Biden wants to make the midterm elections a central part of the "battle for the soul of the nation." It's a choice between a normal America and the "extremism that threatens the very foundations of our republic," as he put it in the speech.
Framing it this way requires two things; the first is to clearly describe the ominous dangers to democracy, basically being an alarmist with a cause. According to a Quinnipiac University poll, 67 percent of Americans think that U.S. democracy is in danger of collapse. It isn't all about gas prices.
Second, Biden must forgo his inclination to ignore Trump and Trumpism and pinpoint their culpability and politically lethal accuracy.
He therefore portrayed the "MAGA" Republican Party as alien to the GOP he knew all his political life, a party driven by negativity, grievances, vengefulness and the vast phalanx of lies that is Donald Trump. It's a party increasingly hostile to democracy with a political DNA contrary to the evolution of America.
The struggle between democracy and autocracy isn't uniquely American. Its impact in America may dangerously reverberate around the world. It's the defining political challenge of this era, and Biden delivered a powerful speech on it. In an earlier speech this week, also in Pennsylvania, he had already described Trumpian ideology as "semi-fascist."
Does that make the GOP a semi-fascist party? Not necessarily, but its political characteristics emit a stench of authoritarianism. By most definitions, an antidemocratic party whose strongman leads disgruntled, angry followers who identify enemies, espouse blatant racism, worship gun culture and are nostalgic for a baselessly imagined glorious past reeks of fascism.
When an entire party perpetuates lies by a former president whose disdain for facts, truth, civility and reason are his trademarks, you may choose to be cautious before calling it the political F-word. But you certainly can't call it a functioning open democracy.
"MAGA forces are determined to take this country backwards," Biden said. "Backwards to an America where there is no right to choose, no right to privacy, no right to contraception, no right to marry who you love. … For a long time, we've reassured ourselves that American democracy is guaranteed. But it is not. We have to defend it. Protect it. Stand up for it. Each and every one of us."
He briefly listed the accomplishments of his first year and a half in office: the heftiest economic package since FDR's New Deal, the largest infrastructure package since Dwight D. Eisenhower, the inadequate but nonetheless most meaningful gun safety laws, and the broadest climate initiative in history. But he quickly returned to the main theme: American democracy is under attack from within.
Biden tacitly but effectively acknowledged that Trump still looms over American politics. And he directly attacked his predecessor, differentiating between "the MAGA Republicans" cult-loyal to the 45th president and what Biden called "reasonable Republicans who still stand by the American democratic experiment."
With Republicans nominating dozens of candidates who have enthusiastically adopted the baseless conspiracy theory that Biden stole the 2020 election, Biden's frequent declaration that "too much of what is happening in our country today is not normal" hit home. As the president put it, "Trump and MAGA Republicans represent an extremism that threatens our very republic. MAGA Republicans do not respect the Constitution."
Biden declared this on the same day Trump said that if he runs again and is reelected, he will consider full pardons and a government apology to the rioters who stormed the U.S. Capitol on January 6, 2021, the people who violently attacked police officers to stop the democratic transfer of power.
Demographically, politically and legally the GOP is fighting a dishonorable rearguard battle, trying to counter a changing America by reversing progress and offsetting diversity with a bigoted and frightened notion of "a real America," a euphemism for white America. The Republicans use America's structural political distortions against democracy itself.
This isn't a legitimate clash of ideas, values and policies but a nasty, brutish and ugly attempt to abuse the system and weaken checks and balances. This isn't limited to rank-and-file Trumpists in America's hinterland, it's actively instigated by certain Republicans in Congress.
The GOP shares the name and branding of the traditional Republican Party but has become an authoritarian, nationalist, populist and grievance-motivated antidemocratic outfit. Biden's main argument was simple: Don't take democracy for granted, ever. It's constantly under assault.
He was talking about the United States, but his speech applies to democracies everywhere.
Click the alert icon to follow topics:
ICYMI
Ken Burns' Brilliant 'The U.S. and the Holocaust' Has Only One Problem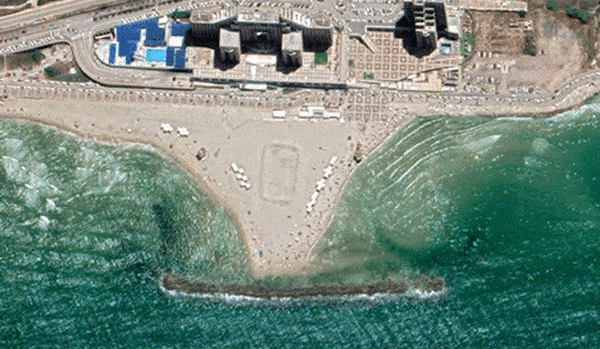 Facing Rapid Rise in Sea Levels, Israel Could Lose Large Parts of Its Coastline by 2050
As Israel Reins in Its Cyberarms Industry, an Ex-intel Officer Is Building a New Empire
How the Queen's Death Changes British Jewry's Most Distinctive Prayer
Chile Community Leaders 'Horrified' by Treatment of Israeli Envoy
Over 120 Countries, but Never Israel: Queen Elizabeth II's Unofficial Boycott