The Thing These Young Americans Fear Most When Visiting Israel
Nearly 11 percent of Americans are affected by food allergies, compared to just 0.67 percent of Israelis. That can make a trip to an Israeli eatery potentially life-threatening
A toddler eating a Bamba snack. Common sight in Israel.
Credit: Hadas Parush
Americans visiting Israel typically expect a few major concerns: Hamas rockets, Israeli driving habits, and in the last two years, COVID-19.
But for U.S. college student Isaac Keiser, a larger danger awaits every time he visits – something that has nothing to do with wars or pandemics.
The name of that danger? Bamba, Israel's famous peanut-puff snack.
Keiser suffers from several food allergies that under certain circumstances could turn life-or-death. He finds Israel a challenging country to visit due to a lack of awareness on just what it means for someone to have an allergic reaction to certain food items.
Only 0.67 percent of Israeli adults have food allergies, according to a 2019 study conducted by the Journal of Allergy and Clinical Immunology. In 2020, the same journal discovered that 2.8 percent of Israeli children have food allergies. By contrast, food allergies affect 10.8 percent of American adults, according to a 2019 JAMA report, and 8 percent of American children, according to the Centers for Disease and Control Prevention.
How to communicate
As a baby, Keiser received allergy tests and was told that eating peanuts, tree nuts, eggs or dairy could set off hives, throat closure and even anaphylaxis – a life-threatening state of shock. Suffice to say, Keiser steered clear of these allergens for most of his childhood.
By fourth grade, he entered an experimental research study with oral immunotherapy to decrease the severity of his allergies. Through increasing his egg intake by minuscule increments every two weeks, Keiser became a unicorn – reportedly the first person in the world to successfully eradicate his own egg allergy.
"I eat eggs all the time now and have no restrictions in that regard, which is very cool," says Keiser, a 20-year-old from Philadelphia, PA. "It's very helpful."
Keiser is working toward eliminating his peanut allergy through the same oral immunotherapy strategy, but must still avoid peanuts. He also developed a fish allergy in middle school, most severely to salmon.
"I've talked to a lot of Israelis who are just like, 'Oh, you know, if you ate Bamba as a kid you wouldn't be having this problem,'" Keiser says. "I just don't think that's exactly true. There's very much a genetic component to" allergies.
This summer, Keiser is participating in Birthright Excel – a 10-week fellowship built for American college students studying business to live and work in Tel Aviv. He points to cross contamination (the indirect presence of an allergen in a food, such as through using the same knife for peanut butter and cream cheese) as a major allergy awareness issue largely unfamiliar to Israelis.
"I've definitely asked: 'Is there peanuts in this?' before, and [the waiters] just laugh at me because it's something that obviously doesn't have peanuts in it," Keiser recounts. "But I mean more in the sense of like, 'Would it be touching peanuts?'"
When eating in Israel, Keiser says he has adopted alternative precautions aside from telling restaurants his allergies. Often, he asks friends to try his food before him to ensure it's safe, or takes a bite and waits to see if a reaction starts before continuing to eat.
"After having some of those experiences with Israelis laughing at me about allergies, I'm a little bit less inclined to speak up," he says. "I'm more on edge when I'm here. I do trust the health care system, but I'm very unfamiliar with it. I'd really rather not go to a hospital."
Ongoing issue
Noa Mishell is a 20-year-old Chicago native. (Full disclosure: She is one of your correspondent's closest friends since childhood.) She has anaphylactic allergies to peanuts, tree nuts and sesame.
"The second I ingest an allergen, my throat begins to itch," Mishell says. It's then a race against the clock before her throat closes and she can no longer breathe.
Out of the seven times she's been to Israel, only one trip, in 2012, did not include an allergic reaction. She's also traveled to London and says the marked menus and overall allergy awareness there prevented any allergic reactions.
The prevalence of sesame in Israeli cuisine, as opposed to the diets in other popular tourist destinations such as Greece or Italy, also makes living and dining in Israel particularly difficult for her.
"The greatest challenge [in Israel] is that people do not understand the severity of an allergy," Mishell says.
I witnessed this firsthand when we went to a Jerusalem scoop shop and she ordered ice cream with hot fudge. She recited her allergies and the employees nodded in apparent comprehension. However, after one bite her throat started to itch, and we concluded they'd mistakenly given her Nutella – a chocolate-hazelnut spread. We rushed back to our room and she stabbed herself with an epinephrine auto-injector, or EpiPen.
That wasn't the first or last time she's needed an EpiPen in a restaurant in Israel through no fault of her own.
Comparing protocols
In his hometown of Deerfield, IL, 20-year-old Jack Glazer can walk into a restaurant, order a meal, bring up his severe peanut allergy and milder tree nut allergies, and watch a protocol spring into action.
"I don't even have to explain what I want them to do," says Glazer, who will break out in hives, experience throat closure and potentially undergo anaphylactic shock if he eats an allergen. "They wash the ice cream scooper. They have separate cones in a different area that are not from a manufacturing plant with shared machinery. As soon as I tell them [my allergies], they'll put it into the computer system, the person will clean the pan and cook my food on a separate stove."
Before traveling to Israel for the first time this summer for a Birthright-Taglit heritage trip, Glazer says he was aware that Israel is known as a very difficult country for people with food allergies. To make matters worse, he does not speak Hebrew and knew he would have trouble communicating what he can't eat.
"Someone I met on Taglit had this little card that in Hebrew explained 'I can't eat this; I can't eat this,'" Glazer recounts. "'I was like, 'Oh, can I take a picture? That's perfect for me.' Because she had all the same allergies as me."
Without the card, Glazer says he does not think restaurants would understand his allergies.
"Maybe this is pessimistic, but I don't really expect Israeli restaurants to start having allergy protocols," he says. "I don't think it would be necessarily worth it for a lot of these restaurants, especially the smaller ones, to accommodate people with allergies because there's so few people with allergies. So while there are a lot of things restaurants could do, I don't really think they will do them."
Roni Cohen, a hostess at the Florentina restaurant in Tel Aviv, remembers showing a pregnant Israeli woman to a table. The woman sat, ordered pasta with vegetables and finished her meal. Suddenly, she started scratching her arm hysterically, exclaiming she had a pepper allergy and blaming the waiter for forgetting. The waiter, a co-worker Cohen trusts, was totally perplexed. The restaurant manager immediately footed her bill and Cohen called an ambulance.
"It was so dangerous," Cohen recalls. "We didn't know what to do. It was panic for all the restaurant."
But when the woman refused to ride to the hospital, ambulance personnel worked out what had happened: she lied about her allergy to score a free meal.
"Maybe if we had known what to do, if we had known what she had, then we could have known if it was a real [allergy] or not," Cohen says. "This is the point."
The science behind 'Just eat Bamba'
So, where did food allergies originate? We actually don't know, according to Dr. Kobi Sade, an allergy, asthma and immunology specialist at Tel Aviv Medical Center. But he has some well-researched guesses.
"There's an epidemic of food allergies in the world – probably due to the more industrial food we eat, the stressful life we live and too much hygiene," Sade says.
As for the trope of Bamba being the peanut allergy's great nemesis? Sade deems it fuzzy, at best.
"Peanut has become one of the main causes of life-threatening allergic reactions in Israel, together with more local food such as sesame," he explains. "Exposing our kids early in life to food might protect them if it's done on a daily basis, but we're still not sure how beneficial it is."
For Americans with food allergies traveling to Israel, Sade offers his three top pieces of advice: Ask your doctor to prescribe extra EpiPens before your trip due to Israel's "chronic shortage"; research local allergy specialists in case of a reaction; and learn the Hebrew words for your allergies.
"Start planning early," Sade sums up. "Be careful."
Click the alert icon to follow topics:
ICYMI
Ken Burns' Brilliant 'The U.S. and the Holocaust' Has Only One Problem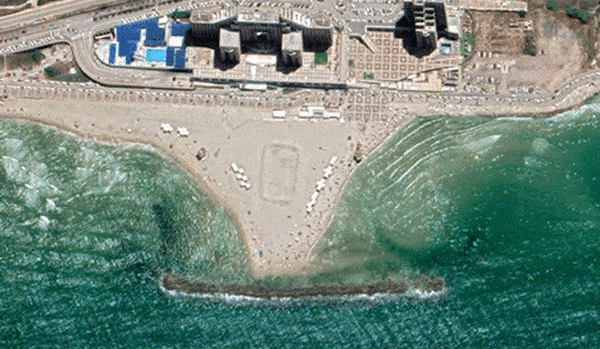 Facing Rapid Rise in Sea Levels, Israel Could Lose Large Parts of Its Coastline by 2050
Lapid to Haaretz: 'I Have Learned to Respect the Left'
The Mossad's Fateful 48 Hours Before the Yom Kippur War
As Israel Reins in Its Cyberarms Industry, an Ex-intel Officer Is Building a New Empire
How the Queen's Death Changes British Jewry's Most Distinctive Prayer