'Iran's Islamic Republic Is No Different From ISIS or the Taliban'
From a safe house in Brooklyn, exiled human rights activist and documentarist Masih Alinejad is a leading figure in the fight for women's rights in her homeland. This has made her a marked woman, even in America
Masih Alinejad. 'If you don't support your sisters in the Middle East – believe me, you won't be free either.'
Credit: Presley Ann/Getty Images,/AFP
Exiled Iranian journalist Masih Alinejad is speaking to Haaretz via Zoom from a safe house. Late last month, she was forced to flee her Brooklyn home after police apprehended a man acting suspiciously near her residence. After arresting him, the police found a loaded AK-47-style rifle in his car.
Why the U.S. Supreme Court is bad for the Jews: LISTEN to Dahlia Lithwick
Subscribe
"I have goose bumps when I think about it," Alinejad says a few weeks afterward when I ask how she's doing. "I left my homeland so that I could live in safety and exercise my rights to speak for those who have no voice. Now my life has been turned upside down," she adds, certain that the man, Khalid Mehdiyev, was planning to assassinate her on behalf of the Islamic Republic.
Alinejad, 45, is a journalist, documentarian, writer and human rights activist. With her husband, journalist Kambiz Foroohar, she is leading one of the largest civil protests in Iran, centered around opposition to being forced to wear the hijab. She uses her relative freedom in the West to intensify the sound of protest in her homeland.
She has a strong presence on social media and, aside from her writing and films, moderates a TV show called "Tablet" on Voice of America's Persian channel. Millions of Iranians watch it.
The documentary "Be My Voice," by Iranian-Swedish documentarian Nahid Persson, which just premiered locally at Jerusalem's Docu.Text Festival, tells Alinejad's story, but also highlights the power and scale of the popular and feminist protest in Iran. Iranian women are removing their hijab and recording the act in clips posted to Instagram. They speak against the regime in Tehran, disguise themselves as men in order to enter soccer stadiums, distribute flowers on the subway – and are punished with long periods of arrest and torture.
Alinejad distributes footage of these women, reports on their arrests, and teaches men and women to document themselves and any instances of government oppression they witness.
Energetic, theatrical and passionate, she moves between emotional extremes in "Be My Voice": some of the time she is full of joy, smiles and laughs, breaking into song on a New York subway. She alternately gathers and scatters her mane of curls, to which a flower is invariably attached. Even now, as we're talking, there's a flower in her hair.
She goes outside in the rain, dances and laughs; speaks eloquently, and skips and smiles like a young girl when she is excited. But when the horrifying things that happen in her country every day break her, she cries, she rages, she stamps her feet, she lies on the grass in her lovely garden and feels deep sorrow.
"Turn off the camera," she asks the director during one of those moments. "I need a hug."
The recent assassination attempt is just one of a series of apparent acts of aggression against her by the Iranian regime. About a year ago, U.S. prosecutors revealed a plot to kidnap her by Iranian agents. Her brother was arrested and imprisoned for two years because he refused to publicly condemn her. Her 70-year-old mother was questioned for two hours and almost coerced into persuading her daughter to attend a meeting in Turkey, from where the authorities planned to kidnap her.
She says her brother Ali disclosed the plot to her and in doing so saved her life. Her sister publicly condemned her on Iranian television, as did other women who were close to her who had taken part in the struggle. "They were my heroines," she says, "but the regime broke them."
She worked as a parliamentary reporter in Iran, but the regime blocked her progress after she was too vocal with her criticism. At 19, she served a short prison sentence while pregnant by the man who would become her first husband. The marriage didn't last long, and after a few years she left with her toddler son to study in England. Today, her son is already an adult and studies there independently.
Alinejad hasn't been in Iran for over a decade. Her parents live in Ghomikola (aka Qomi Kola), a small village in the north, cut off from the internet and social media, and are afraid to speak to their daughter because they are under surveillance. In the film, she is seen desolate and crying after her mother repeatedly hangs up on her.
"Sometimes I forget my mother's face," she tells Haaretz. "I want to touch her face. I want to embrace her. I planted a tree in my garden in my mother's name and a tree in my brother's name," she says. "Do you see how tall my mother is?" she asks in the film, laughing, pointing to a date tree. "That's my way of coping with the separation from them," she explains now.
What do you miss the most?
"Simply drinking tea with my mother, looking into her eyes, hugging her and for her to hug me. I don't know when I'll see her again. My separation from my family is a crime against humanity."
Masih is short for Masoumeh – "innocent, something like that," she explains. Both names suit her well. When asked whether she isn't afraid, in light of all the attempts by the Iranian regime to harm her and her family, she replies: "I have only one opportunity to live, and my life is no different from that of Sepideh Rashno," she says, referring to the 28-year-old artist currently in jail after being beaten and forced to condemn herself on television after she challenged the compulsory wearing of the hijab.
"My life is no different from that of the 1,500 demonstrators who were killed in the protests of November 2019," Alinejad adds. "For me, those people are not numbers or statistics. They're my heroes, and that's why I don't fear for my life. I'll stop only when the dictatorial regime in Iran comes to an end."
Confronting the darkness
In "Be My Voice," Alinejad recounts her childhood growing up in Ghomikola. She was 2 when the Islamic Revolution erupted in 1979, and as a girl she had no right to do the things her brother was allowed to do: ride a bike, swim in the river, play ball. "It made me want to fight," she says in the film.
She and her mother worked hard in the fields, and were also solely responsible for cooking and washing dishes. The kitchen was planned in such a way that it would suit the height of the women, she says, "But I brought in a plastic chair, sat my brother down and told him to wash dishes."
As children, they were both afraid of the dark. In their village home, the toilets were situated in the yard and every time they went there at night, they were forced to confront the darkness. Her mother taught her how to overcome her fear: The darkness is like a monster, she said, and the more afraid of it you are, the more it will threaten you.
Instead of hiding from the dark, her mother ordered her to open her eyes wide and to stare at the darkness.
One day, Alinejad says in the film, she suggested to her brother – who wasn't instructed by his mother – that she would accompany him to the toilet every night on condition that he take her to activities from which she was banned. "I started my revolution from the kitchen," she says.
It seems to me that even today you're using that same method your mother taught you: to stare at the darkness.
"I love you for understanding this," she smiles. "That's the tactic I use right now. The FBI told me I had to leave my house. They said that twice I was targeted for a terrorist act, so we cannot know what would happen the third time. They moved me to a safe house, but then I was invited to speak on CNN and the FBI agents told me it was too risky and I should do it via Zoom. I refused and told them: 'My people are facing guns and bullets, they are facing torture, and you want me to stay behind the curtain in America? That's not me.'
"I wanted to go right into the darkness, as my mother taught me. If I get scared in my own house on U.S. soil, then I would have to live in fear and paranoia all my life. So I did the CNN interview and I'm happy about it, because when you speak up you empower others who are also afraid.
"I have experienced a lot of darkness in my life. I stand firm in it and gaze straight at it," she adds. "I only weigh 45 kilograms [99 pounds]. I have no weapons and not many means at my disposal. The Iranian regime has rifles, bullets and prison cells. They have money, power and the media. The fact that they are after me proves they fear the voices of Iranian women which echo through me and through social media. This is why I'm not afraid. I'm only scared by the fact that the Iranian regime dares to kidnap and kill innocent people in front of the gaze of the free world.
Conflicting emotions
When the U.S. national security adviser, Jake Sullivan, called her on behalf of President Joe Biden, and she understood from his words that the U.S. government knew who was responsible for the attempt on her life, she felt many conflicting emotions.
"On the one hand, I felt empowered by the fact that they're keeping me safe. But on the other hand, the fact that they know who is responsible and yet they do not take more drastic measures toward the Islamic Republic amazed and disappointed me."
In the same interview with CNN, she called on Biden to respond strongly to the act of aggression that took place on U.S. soil.
What would you like them to do?
"The Islamic Republic is no different from ISIS or the Taliban. Murder, torture and kidnapping are part of its DNA. It cannot be fixed. This regime does not understand the language of negotiation. Kidnapping and taking prisoners have become diplomacy in Iran. Citizens from all over the world are the Islamic Republic's bargaining chips. So my message is loud and clear: Instead of bowing to the diplomacy of kidnappings and captivity, democratic countries should remain strong and united, and demand that the regime release all political prisoners as a basic condition for any negotiations. Reduce all diplomatic relations with Iran to the minimum until they release all the innocent people imprisoned there. The Americans stand to grant a visa to [Iranian President] Ebrahim Raisi," she fumes. "Don't grant a visa to the butcher of the Iranian people.
"My neighbors don't care about my political opinions," she continues. "It's important to them that I be safe. They prepared a joint rota for watering my garden. This should be the policy of any U.S. administration, regardless of who is in power. It should be a supra-partisan policy for all democratic countries: to condemn terrorism and to reduce diplomatic activity until the Iranian regime starts respecting human rights."
You're one of the world's most prominent opponents of the obligation to wear the hijab. Could you describe to the readers what it means to be a girl or woman in today's Iran?
"Look at yourself, with your beautiful, straight hair. Now look at me with my curly hair. We are both considered criminals in the eyes of the Islamic Republic. Why? Because we choose to show our hair. Because we want to enjoy the wind going through it. This is our crime. In the eyes of the regime, if you exercise your right to sing, ride a bicycle, enter a stadium, dance – and many other human rights – you're a criminal and will be punished. You will be beaten, tortured and put in prison. You'll be deported from anywhere, from the age of 7 and up, if you don't practice their laws. But Iranian women dare to break these laws every day. We deserve a normal life. There's no reason why a 7-year-old girl should have to cover her hair and body. In Iran, if she doesn't, she won't receive an education."
The feminist struggle in democratic countries does not always consider the complex situation of women living under oppressive regimes. Do you have any complaints about Western feminism?
"In the West, people pay money to watch a TV show about a bunch of white women who are treated like second-class citizens," she says, referring to the Hulu series "The Handmaid's Tale." "They're forced to have sex and get married. They're forced to cover themselves and dress a certain way. This is a work of fiction, but this fiction is our reality in Iran and Afghanistan. Your entertainment is our daily life. I must live in hiding just to exercise my rights, and all the feminists are silent. Not a single woman in the U.S. Congress condemned the attempt on my life. If they continue to remain silent, the authorities will persecute more and more women in Iran."
'I felt betrayed'
In the controversy surrounding last year's ban on the burkini in French public pools, Alinejad expressed the firm view that women should not be forced to remove it just as they should not be forced to cover up. In this matter, too, she was disappointed by Western feminists. "If you're a true feminist, you shouldn't care who is in power or which government wants to ban or impose a head covering. I joined the march for women's rights in America [as part of the protest against the overturning of Roe vs. Wade]. I marched with them and shouted 'My body, my choice!' But then I realized that this slogan is used by American feminists only about America.
"Those same feminists wear the hijab when they visit Iran, claiming it's part of our culture," she says. "They don't say 'My body, my choice' in front of the Taliban, or in front of the officials of the Islamic Republic. It's hypocrisy. How is it possible that a discriminatory law that coerces 7-year-old girls is part of our culture? It's an insult to our nation. Before the revolution, Iranian women could choose what to wear. We had women judges and women serving in the government. The Islamic Revolution turned into a revolution against our dignity, against women, against minorities and against Jews. And when we fight to regain our freedom, we're told that it's part of our culture? That's racism.
"I felt betrayed by my feminist sisters – but maybe I shouldn't say that; maybe they will still join me," she says. "I haven't lost hope yet. We deserve the same freedom you have. If you don't support your sisters in the Middle East – believe me, you won't be free either. There won't be true democracy in the West if you ignore other women's struggles against terrorism and gender apartheid."
Alinejad's feminism is also clearly evident in the film when it comes to her personal life. Her relationship with her husband Foroohar looks like a model of an egalitarian and supportive relationship. He appears as a quiet and stable presence standing in the background, always willing to help his wife and take care of her.
At one point he serves her and the director a meal he prepared; at another, he provides technical support. "Masih's energies are inexhaustible," he tells the director. "When she has an idea, she can work around the clock. I'm only worried about her when she's sitting still."
In one of the documentary's most moving moments, Foroohar accompanies his wife to a live interview on British television, where she is set to confront a journalist who works for the Iranian regime. En route, in a taxi, he implores her to remain calm and restrained, not to shout or say "f***," so as not to serve the interests of the regime, which is just waiting for the opportunity to present Alinejad as hysterical and irrational.
While she is being interviewed, Foroohar kneels on the floor in front of her. "Why are you sitting over there?" the director asks, and he explains that he is there for Masih. During the interview, she expresses herself bluntly and the regime reporter shows contempt and disgust towards her, wearing a disdainful smirk on his face as she speaks.
As soon as the camera is turned off, Alinejad bursts into tears. She is afraid that the things she said will cause her imprisoned brother to be executed. The couple hugs and she says: "I didn't cry in front of the camera. I was good. I was strong." Her delighted husband responds, "You were phenomenal, my dear."
"My work changed my husband's world," she says in response to my comment about their relationship, her eyes filling with tears. "He can't go back to his home, and he can't see his children [from a previous marriage]. Every time my life is threatened, I'm afraid of losing him; he's everything to me. He is like a brother, like a sister, like a mother. I have no one else but him. He is my country, my home.
"But it's not only my husband but also my brother" Ali, she continues. "My brother was in prison for two years only because he refused to condemn me. He exposed the regime's plot to kidnap me. He saved my life. The fact that my husband, my brother, and other Iranian men support the women's struggle is important. These are the real men of Iran, not the men who have been brainwashed by the regime and beat women in the street when they remove their hijab. They do not represent my beautiful country. They represent a tyranny."
What is the source of the misogyny that characterizes the Islamic Republic?
"I believe that misogyny and taking the female body captive was part of the Islamic State's DNA. Their first move when they came to power was to cover all the women. They wrote their ideology on our bodies. It was the same in Afghanistan when the Taliban came to power. The identity of the women was taken from them. Why? Because this is the way they control society – through the women. This is why this compulsion of wearing the hijab does not only concern the status of a piece of cloth. It is a pillar of gender apartheid. If you go to these places, how will you know that they have an Islamic regime? Look at the women. The men look the same. We are the ones who carry the symbol of ISIS, the Taliban and the Islamic Republic. Many Muslims who believe in the hijab are also against the strict necessity to wear it, because they know it's the first step to dictatorship. We want Islam to be a part of people's private lives, separate from politics. That's all."
Recently, some of the world's leading film festivals strongly condemned Iran after the arrest of the filmmakers Mohammad Rasoulof, Mostafa al-Ahmad and Jafar Panahi. The three were part of a group of Iranian artists who called on the armed forces that harshly suppressed the demonstrations last May to put their weapons down and return to the side of their own people.
"Also, Nahid Persson, the director of 'Be My Voice,' is a victim of the Islamic Republic," Alinejad says when I mention the plight of Iranian directors. "Her brother was executed by the regime when he was only 17 years old. For her, making films that tell the truth about the Iranian regime is a way to avenge his death. The dream of Jafar Panahi, who is now arrested, is to liberate Iran," she continues. "For years, the regime has been telling the Iranian people that Israel and America are their enemies. But the people of Iran – filmmakers, journalists, nurses and doctors, ordinary people – know that the real enemies are not Israel and America, but the Islamic Republic. If we don't unite to end the dictatorship, the dictatorship will end us."
What are your dreams and hopes for your country and for yourself?
"My dream for my country is to get rid of the dictators. I don't want to just sit and wait for this dream to come true. I want to act, and I dedicate my life to its realization. For such a simple dream, millions of Iranians have been killed and imprisoned or forced to leave their country. If I gave you a list of the things that happened to me for the sake of this dream, you wouldn't believe it. At first, the authorities said on TV that I was raped by three men. It was a complete lie, but they probably think that's what I deserve so they spread this fake news. Then, I watched for 17 minutes on television how my sister condemns me.
"For this dream of mine, they interrogated my mother and tried to make her lure me to come to Turkey so they could kidnap me. For this dream, they put my brother in prison and made 11 women condemn me on television, claiming I was the one who made them oppose the hijab. For this dream, they even established a new law: anyone who sends me videos will go to prison for 10 years. For this dream, they sent people across the sea to kidnap and kill me.
"It's such a huge price to pay for such a simple dream. But I will not give in. This dream will come true, I know it, and history will judge those who could have helped the Iranian people and instead sat idly by."
Click the alert icon to follow topics:
ICYMI
Ken Burns' Brilliant 'The U.S. and the Holocaust' Has Only One Problem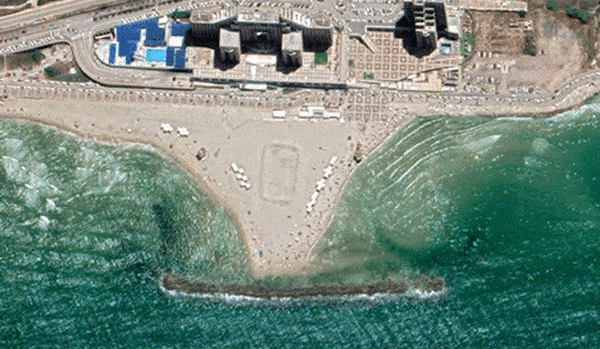 Facing Rapid Rise in Sea Levels, Israel Could Lose Large Parts of Its Coastline by 2050
Lapid to Haaretz: 'I Have Learned to Respect the Left'
The Mossad's Fateful 48 Hours Before the Yom Kippur War
As Israel Reins in Its Cyberarms Industry, an Ex-intel Officer Is Building a New Empire
How the Queen's Death Changes British Jewry's Most Distinctive Prayer