Analysis |
As China Issues Threats, a Brewing 'Taiwan Crisis' Is Here to Stay
Nancy Pelosi was criticized for her visit to Taiwan, but China bears responsibility for this escalating crisis by openly threatening the use of force against Taipei's government
Chinese naval soldiers stand guard on China's aircraft carrier Liaoning. China is vindicating the prevailing thinking in Washington about its intentions.
Credit: Reuters
"The Eastern Theater Command of the Chinese People's Liberation Army (PLA) has accomplished all tasks in the series of joint military operations carried out recently in the waters and airspace around the Island of Taiwan."
This was China's statement announcing the end of its menacing military exercises near Taiwan. But it was accompanied by a more substantive policy declaration: "We will work with the greatest sincerity and exert our utmost efforts to achieve peaceful reunification. But we will not renounce the use of force, and we reserve the option of taking all necessary measures. This is to guard against external interference and all separatist activities."
In other words, China is openly threatening the use of force against Taiwan, vindicating the thinking in Washington about its intentions. The end of China's military exercises is by no means the end of the crisis, it's just a hiatus. Taiwan has been a brewing crisis since the 1950s and certainly since the United States accepted the "one China, two systems" principle in 1979. In medical-political terms, Taiwan is a chronic crisis.
Let's start with the bottom line: The current Taiwan Strait crisis is 100 percent China's doing. Blaming U.S. House Speaker Nancy Pelosi's visit to the island earlier this month is conveniently lazy.
There is valid criticism that the trip's timing distracted efforts and political capital from the most pressing crisis: Vladimir Putin. Fair enough. The visit may have triggered a crisis by riling the Chinese, but this wasn't the root cause. The United States considers China a rival with the potential for relations to deteriorate into full enmity and confrontations.
In March 2021, the retiring commander of the U.S. Indo-Pacific Command, Admiral Phil Davidson, told the Senate Armed Services Committee: "I think the threat is manifest during this decade, in fact, in the next six years." Furthermore, the United States listened carefully when Chinese President Xi Jinping reiterated that reunification is a "historic mission" that "cannot be passed down from generation to generation."
As far as America perceives its grand strategy, the Ukraine war has a dangerous potential for spillover, but it's a regional war. Taiwan, on the other hand, may be critical in defining the balance of power in the coming decades. It remains to be seen whether a confrontation is an inevitable trajectory or one that prudent policy can avert. But blaming Pelosi for shortening the distance between the stages of the relationship, from challenge to war, is disingenuous.
In the days before Pelosi's visit, there were questions from China experts, the media, the U.S. administration and some foreign governments about the wisdom of such a gesture, citing a lack of objectives and the timing. Some arguments were legitimate while others were unnecessary alarmism masquerading as "realism."
But the backlash to the the 15-hour visit is even more spectacular, ranging from the mild "reckless" to doomsday scenarios on how Pelosi has single-handedly precipitated World War III for no apparent reason or political deliverables. It's pointless to rehash the visit but useful to listen to the critics.
As the title of David Rothkopf's Daily Beast piece compellingly argued, "Pelosi's Taiwan Trip Isn't Helpful to Anyone But China." As he put it, "To put the risk in perspective, the last major straits crisis, in 1996, brought the U.S. and China to the brink of war."
In 1996, President Bill Clinton sent aircraft carriers to the Taiwan area. Rothkopf doesn't mention the ominously obvious elephant: The China of 2022 is exponentially stronger and bolder than the China of 1996.
Aaron David Miller tweeted that Pelosi's visit "played into China's hands … and makes us look weak not strong and just might trigger a gratuitous escalatory cycle. Reckless."
Harvard's Graham Allison didn't mince words in an interview with Deep State Radio and a follow-up tweet, calling Pelosi's adventure an ego trip.
"As we observe China's military exercises [last Thursday], we should reflect on whether Pelosi's visit was wise. If I was required to assess her visit in one word: reckless. In 2 words: reckless and irresponsible."
These are three wise men of American foreign policy. If all three, and they're not the only ones, use almost identical language to express their criticism of Pelosi's trip, surely there's prescience in their position.
China's dangerous response validated this criticism. The broader issue is the trajectory of U.S.-China relations. Avoiding the quasi-crisis supposedly precipitated by Pelosi's visit would have only postponed a crisis by a few months while placating China. As crises go, U.S.-China hostility over Taiwan is one of the most predictable ones.
The Chinese deliberately blew the visit out of proportion. Even if they pretend not to fully understand the three branches of government and separation of powers in a democracy and a president's limited power vis-à-vis a parliamentary speaker, surely they know that the visit had no geopolitical impact and didn't represent an inflection point in U.S. policy.
They knew it, yet they chose to launch naval and air exercises, blatantly violating Taiwan's waters and airspace. They launched missiles, some of which fell very near Japan.
The most alarmingly superficial thing is the binary choice that's presented: Either you're tough on China – Inside the Beltway Washington's flavor of the decade – or you're a feeble China appeaser, succumbing to Beijing's bullying in the name of an elusive foreign-policy realism. Both assertiveness and cautious prudence have redeeming qualities for managing the monumental strategic relationship between the United States and China.
Pelosi's trip revealed two things: It was a principled demonstration of assertiveness, but the controversy surrounding the visit and the heated backlash point to a lack of a coherent and agile U.S. policy on China. Washington's "strategic ambiguity" regarding its commitment to Taiwan's defense was tailored for a full amphibious invasion by China. This is what Joe Biden meant when three times in the past year he reiterated America's commitment to Taiwan's defense despite the absence of an official defense pact.
China has chosen an incremental squeezing of Taiwan, not a full-scale operation. This portends a far larger crisis in the future, not just an angry Chinese reaction to a House speaker's visit.
Pelosi's trip should be kept in perspective. It was consistent with both the 1979 Taiwan Relations Act under Jimmy Carter and the 1982 "six assurances" that the United States under Ronald Reagan gave the island while drafting an agreement on arms sales. For context, it's worth reiterating those assurances. The United States would not:
1. Set a date for ending arms sales to Taiwan.
2. Alter the terms of the 1979 Taiwan Relations Act.
3. Consult with China before making decisions on U.S. arms sales to Taiwan.
4. Mediate between Taiwan and China.
5. Alter its position on Taiwan's sovereignty; the question was to be decided peacefully by the Chinese themselves. Washington would not pressure Taiwan to launch negotiations with China.
6. The United States also would not formally recognize Chinese sovereignty over Taiwan.
Maybe Pelosi should have planned the trip differently, and maybe she shouldn't have gone. But to claim that she unleashed a crisis and elicited a Chinese reaction is truly a weak argument. What's the point of declaring China a superpower rival if the speaker of the House can't visit democratic Taiwan, a contentious issue in that rivalry?
In 1979 Deng Xiaoping offered Taiwan a solution: "one country, two systems." Taiwan rejected this principle, but China concentrated on its own growth and didn't interfere until the 1996 incident. Xi Jinping reversed Deng's policy by shuttering China in certain respects while making reunification a prime foreign policy goal.
That set the stage for a confrontation with the United States and diminished whatever support existed in Taiwan for any form of unification. Xi' s brutal clampdown on Hong Kong's democracy movement proved to the Taiwanese that his artificially sweetened talk of "peaceful unification" was code for forceful annexation.
In this respect, the United States and Taiwan are on the same page in interpreting China's intentions. Nancy Pelosi's trip didn't cause this, China's policies did.
Click the alert icon to follow topics:
ICYMI
Ken Burns' Brilliant 'The U.S. and the Holocaust' Has Only One Problem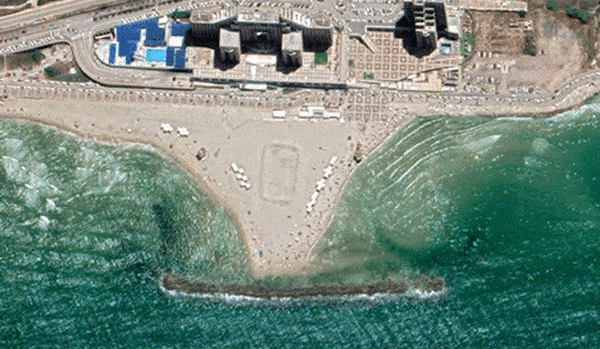 Facing Rapid Rise in Sea Levels, Israel Could Lose Large Parts of Its Coastline by 2050
As Israel Reins in Its Cyberarms Industry, an Ex-intel Officer Is Building a New Empire
How the Queen's Death Changes British Jewry's Most Distinctive Prayer
Chile Community Leaders 'Horrified' by Treatment of Israeli Envoy
Over 120 Countries, but Never Israel: Queen Elizabeth II's Unofficial Boycott