Analysis |
Biden's First Year in the Middle East Was Predictable and Underwhelming – and That's Good
A political scientist's term 'ruthless pragmatism' best encapsulates the new administration's first year in office. The United States has provided flexibility, agility and responsiveness as it pivots away from the Middle East
U.S. President Joe Biden talking about infrastructure during an event in Kansas City last month.
Credit: Charlie Riedel /AP
Is there any point or predictive value in assessing U.S. President Joe Biden's Middle East policy in his first year in office? No. Am I going to do it anyway? Yes. Why? Because newspapers and readers (wrongly) think that a one-year anniversary calls for a general summary looking forward.
Report cards on a president's first year in office are usually an exercise in futility; we get "the first 100 days," "the first six months" and then the ceremonious "first year." These overviews serve no tangible purpose other than the media's needs and humanity's love of round-number anniversaries.
They have no utility but to compare a candidate's pledges with real-life governance. In this regard, they're no different from the president's approval ratings, which are obsessively monitored daily and weekly. Essentially, these accounts are an inconsequential endeavor where commentators and politicians grind their axes and criticize a president based on their views and perspectives.
This is true for domestic policies, but it seems even more meaningless regarding foreign policy, where accomplishments take time to materialize, major policy changes are slow to manifest themselves and unforeseen crises cast a shadow on all aspects of preplanned foreign policy. Usually declared with righteous indignation, these one-year recaps invariably include the following elements – and since Biden is a man, I'll use "he" below.
"Expectations were high, but nothing really has changed."
This is always a silly statement given that the first year is by definition about acclimatizing and calibration, not concrete achievements. It's particularly silly in a first year marked by a raging pandemic.
"He made terrible political mistakes."
Of course he did. They all do.That's the nature of governance and the inevitable reality of political systems, where other factors and other politicians' actions make it look as if the president miscalculated.
"He urgently needs to make changes in his inner circle."
This usually denotes a tragic situation where a secretary or adviser either doesn't heed the commentator's sage advice or refused to divulge information. It's often accompanied by a nostalgic reference such as "This would never have happened with James Baker" or "During the Clinton years things were different."
"He has to develop a strategy. There's no strategy."
Actually, there most likely is, it's just not the one the esteemed critic and his or her cohorts advocated, or the one the president's opponents want. This, too, is always attached to a recollection of the lucid strategies of previous administrations, even though the one-year overviews of those presidents show identical criticism.
"He was warned."
In other words, if you had done exactly what we told you and what I strongly recommended you to do, you wouldn't be in this predicament. He believed the Republicans? He trusted Sen. Joe Manchin? He thought introducing Build Back Better before voting rights legislation was smart politics? He didn't realize that Vladimir Putin would invade Ukraine? He thought the Iranian nuclear deal would be smooth sailing? We warned him.
No vital interests
All this applies to Biden's Middle East policy. Experts, Middle East commentators, former diplomats and countries in the region may have expected a new American "grand strategy," a departure from the chaos of Donald Trump's policy.
Well, Biden's America has no grand strategy for one simple reason: there is no grand strategy to be had. The United States doesn't need a grand strategy in the Middle East derived from its interests and priorities. The United States needs flexibility, agility and responsiveness. The Biden administration has provided exactly that.
The rationale for the lack of a grand strategy is that the United States is gradually disengaging from the Middle East. There is no Soviet Union to contain, America has reached potential energy independence, and the public and political appetite for self-injurious military adventures in the Middle East – Afghanistan, Iraq, Syria – has waned.
The region is no longer a foreign policy priority for Washington; it serves no vital interests, so the emphasis has dramatically and justifiably shifted to China and the Indo-Pacific – a challenge for America requiring tremendous resources for many years to come. Political scientist Steven Cook, writing in Foreign Policy earlier this month, smartly called this "ruthless pragmatism."
Ruthless pragmatism is a form of political realism that puts more weight on being responsive to on-the-ground realities than crafting a comprehensive policy. This is evident, as Cook aptly describes, in Biden's Syria and Yemen policies, where Washington came to the subtle realization that President Bashar Assad is there to stay, while energy-supplier Saudi Arabia shouldn't be further alienated from the United States because of its role in Yemen and the Gulf.
Ruthless pragmatism is also a valid analytical term regarding U.S. policy on Iran, particularly the negotiations on reentering the nuclear deal, and the evergreen issue of the Israeli-Palestinian conflict.
Still pivoting to Asia
Before entering the White House, Biden's team thoroughly reviewed Middle East policy. Lingering and potential conflicts were dissected and compared with Biden's agenda. Also considered was how much weight should be allotted to familiar issues compared with unexpected crises.
Based on Biden's first-year policy, the conclusion was clear: Disengagement should continue, while existing policies that benefit U.S. interests – like the Trump administration's Abraham Accords – should also continue and, when and where possible, be expanded.
On the Palestinian issue, there have been some irksome disagreements with Israel: settlement expansion, home evictions and Israel's adamant reluctance to agree to the reopening of the U.S. Consulate in Jerusalem. When the issue threatened to distract Biden during the fighting with Gaza in May, he put his presidential thumb on the scales to achieve a cease-fire.
But all people who expected a major U.S. peace initiative on the Israeli-Palestinian issue were deluding themselves. Yes, the Biden administration used a new terminology: "Israelis and Palestinians deserve equal measures of freedom, dignity, security and prosperity." But no, this shouldn't have been construed as a signal of a new proactive policy.
As for Iran, a new nuclear deal should be actively pursued, but not at any cost. Iran's insidious and destabilizing regional policies should be addressed forcefully, but by countries in the region. No one except maybe Israel and Saudi Arabia seriously thinks that the first thing Biden says in the briefing each morning is "Tell me what's going on in the Vienna talks."
The main Middle East policy directive remains clear: Be alert and cautious where China is involved or seems a potential penetration point. The rest is of lesser significance.
In U.S. presidential history, year one rarely portends year two, as adjustments are made and the midterm elections always loom. But in terms of the Middle East, excluding an unforeseen crisis such as a major Israeli-Iranian confrontation that ropes in the United Arab Emirates and the Saudis, it's safe to assume that for U.S. policy, year two will very much resemble year one.
Click the alert icon to follow topics:
ICYMI
Ken Burns' Brilliant 'The U.S. and the Holocaust' Has Only One Problem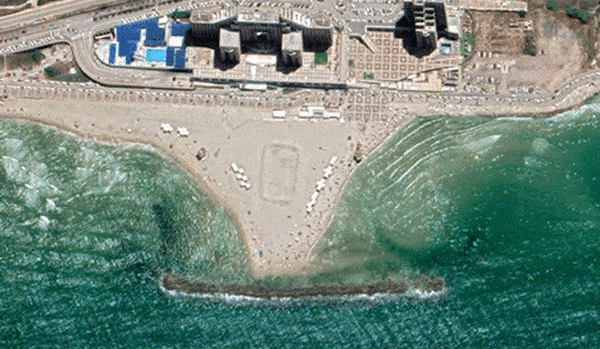 Facing Rapid Rise in Sea Levels, Israel Could Lose Large Parts of Its Coastline by 2050
As Israel Reins in Its Cyberarms Industry, an Ex-intel Officer Is Building a New Empire
How the Queen's Death Changes British Jewry's Most Distinctive Prayer
Chile Community Leaders 'Horrified' by Treatment of Israeli Envoy
Over 120 Countries, but Never Israel: Queen Elizabeth II's Unofficial Boycott