The Problem With 'Palestinian Stories' on Netflix
The collection of films Netflix is proudly flaunting is no cause for celebration: All of them focus on victimization and the occupation, rather than daring to confront internal Palestinian issues
The posters of 'Ave Maria,' left, and 'The Crossing,' both included on Netflix's Palestinian Stories.
Credit: Netflix
This article contains neither viewing recommendations nor pity. Netflix recently launched a collection of Palestinian films called "Palestinian Stories." There is no justification, either artistic or political, for the Arab-Palestinian media frenzy that accompanied its release.
On the political level, the launch does not necessarily signal a change in the popular streaming service's attitude toward Arabs and Muslims, whose representations on Netflix are still frighteningly stereotypical. The step is also neither courageous nor "bold," as Ameen Nayfeh, a Palestinian filmmaker living and working in Ramallah, claimed in an interview with CNN.
As a capitalist endeavor, Netflix seemingly reached the understanding – in particular after the recent events in the East Jerusalem neighborhood of Sheikh Jarrah and in mixed cities in Israel – that the Palestinian narrative is gaining broad international favor and becoming "sexy." Accordingly, it translated that into a brilliant business move. In terms of filmmaking, there's nothing new under the sun here, neither in the way Palestinian cinema tells the national narrative and nor in terms of content.
Before we go any further, it's important to know what type of films were selected, which Palestinian filmmakers were honored by inclusion, and when each movie had its theatrical release – because these questions are critical to the discussion.
Among the current offerings are "Condom Lead" (2013, directed by Tarzan and Arab Nasser); "Divine Intervention" (2002, Elia Suleiman); "The Present" (2020, Farah Nabulsi); "Children of Shatila" (1998, Mai Masri); "Maradona's Legs" (2019, Firas Khoury); "When I Saw You" (2012, Annemarie Jacir); "Ave Maria" (2015, Basil Khalil); "Bonboné" (2017, Rakan Mayasi); and Nayfeh's "The Crossing," from 2017.
What's in these movies and short films? Everything. The occupation, arrests, imprisonment, torture, checkpoints, humiliation, airstrikes on the Gaza Strip, refugeeism, and much, much more.
Each of the eight films or shorts I watched is built on the same narrative of victimhood, with identical pacing, tone and cinematic language, as if they were all cloned.
Yet it can still be said, to the credit of some of the directors who attempted to present the Palestinian narrative briefly, concisely and effectively – without challenging it, of course – that they recognized that reaching a wide international audience entails diluting the Palestinian pathos and compressing the occupation into a single, precise scene.
Netflix, for its part, promised that the films would be made accessible to all viewers in their own language, and even went as far as to declare that the collection constitutes an acknowledgement and appreciation of Palestinian cinema and filmmakers.
Nuha Eltayeb, director of context acquisitions for Middle East and North Africa at Netflix, declared: "We believe that great stories travel beyond their place of origin, are told in different languages and enjoyed by people from all walks of life and, with the 'Palestinian Stories' collection, we hope to amplify these beautiful stories to a global audience."
Although Eltayeb had essentially admitted that Netflix is interested in exploiting the Palestinian story, some of the Palestinian directors persisted in toadying up to the streaming giant.
Nayfeh was joined by fellow Palestinian filmmakers Mahdi Fleifel and May Odeh, who showered compliments and gratitude on the Netflix team. Thanks to them, they said, the Palestinian narrative would now be able to bypass the news and Israeli propaganda machine, and present the Palestinians' position through their cinematic output.
Hassan Abu Maalaa, a well-regarded Palestinian art critic who lectures at the Arab American University, was among the few to find fault with Netflix. He argued that it is sufficient to watch "Fauda," the commercially successful show it airs about an Israeli counterterrorism unit, to understand that the streaming site is pro-Israel. Period.
Narrative tussle
Aside from differences in the quality of scripts, filmmaking and directorial choices, development of characters and cinematography, the occupier and their actions were the focal point in all of the films I watched. They all left the consequences of the occupation and the actions of the occupier that worked their way into the Palestinian psyche outside of the cinematic and political discourse. This cinema does not engage in a "Palestinianism" that was forged because of the occupation; it engages in a narrative tussle with the Israeli narrative.
This is the case, for example, with the films "Bonboné," "The Present" and "Ave Maria." They are short, precise films that are tightly packaged in terms of direction and production. But unlike "Bonboné" and "The Present," "Ave Maria" is clever, funny and well crafted, thanks largely to the outstanding screenplay that rescues the film from the trap of narrative banality.
But still, all three films are, in my opinion, a total failure in terms of content, depth and discourse. They are blindly faithful to the national narrative and, accordingly, offer up the clichéd, superficial content that places the Israeli occupier not only at the heart of the Palestinian narrative, but also exclusively at the heart of the Palestinian cinematic oeuvre.
"3000 Nights" falls into the same trap. It focuses on the story of Layal, a security prisoner accused of aiding a Palestinian who carried out a terror attack. The film's plot is superficial, clichéd and focused almost entirely on what is clear: the prison routine of torture and violent humiliation. It completely skips over potential nuances and internal Palestinian issues – for instance, collaborators in prison and the forging of Palestinian femininity, sexuality and maternalism under such conditions. These are internal Palestinian issues, in particular femininity, which have been politicized and defamiliarized by the occupation and Palestinian cinema has appropriated.
Jacir is the only director who dares, with great sensitivity, to train an internal spotlight on the national narrative in her film "When I Saw You." Through the eyes of Tarek, a Palestinian boy forced to leave home with his mother and live in a Jordanian refugee camp in 1967, she attempts to pose interesting intergenerational questions related to homecoming, childhood and femininity in exile, as well as to armed struggle.
In one of the film's strongest scenes, Tarek, who is starting to undergo training in a fedayeen camp for Arab fighters, lets slip in a hushed voice, "All of you are afraid."
His intention is to address the avoidance of fighting and returning to Palestine by armed struggle. But of course, the one who is most afraid is Palestinian cinema, which refuses to deal with tough questions such as: Does it want to continue telling the Palestinian story as it is told today, in the same way and using the same language? Why does it continue to sacrifice criticism on the altar of nationalism? Who is represented by this story?
The most important question of all, however, is: Who and what are being excised from this particular cinematic scene? Palestinian directors have apparently not yet noted the absence of the Palestinian LGBTQ community, women, Bedouin and other social groups excluded from these Palestinian stories.
Above all, they have not noticed that the new generation and its stories are totally missing from these cinematic offerings. They do not grasp that it is not the function of Palestinian cinema today to inform the world about what is happening in Gaza and the West Bank. After all, Muna and Mohammed El-Kurd, the activist twins from Sheikh Jarrah, and other members of their generation are doing that quite well already.
The function of Palestinian cinema today is to be critical, complex and brave, daring to criticize and unpack Palestinian identity under the occupation in the same way it dares to attack and criticize the occupation.
Its job is to create a safe space in which Palestinian identity in all its forms and hues exists without selection and disqualification. A fearless Palestinian cinema that rebels against pathos and does not succumb to victimhood.
ICYMI
Ken Burns' Brilliant 'The U.S. and the Holocaust' Has Only One Problem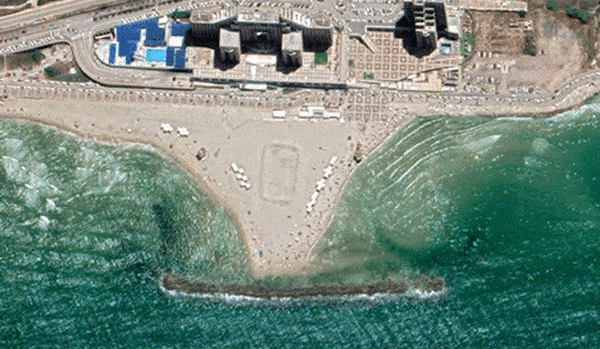 Facing Rapid Rise in Sea Levels, Israel Could Lose Large Parts of Its Coastline by 2050
As Israel Reins in Its Cyberarms Industry, an Ex-intel Officer Is Building a New Empire
How the Queen's Death Changes British Jewry's Most Distinctive Prayer
Chile Community Leaders 'Horrified' by Treatment of Israeli Envoy
Over 120 Countries, but Never Israel: Queen Elizabeth II's Unofficial Boycott