Congress Gave Biden New Tool to Advance Mideast Peace. Now He Could Actually Use It
The Nita Lowey Middle East Partnership for Peace Act provides $250 million over five years to expand Israeli-Palestinian grassroots programs. The recent fighting shows the importance of rolling it out , lawmakers and experts say
Palestinians going through a barbed-wire fence into Israel as they attempt to reach their workplaces close to the Israeli checkpoint near Hebron in the West Bank, in March.
Credit: HAZEM BADER / AFP
WASHINGTON – Following the most recent round of Israeli-Palestinian violence – both between Israel and Hamas and also within Israel's Jewish-Arab communities – the Biden administration has dedicated much of its rhetoric to strengthening civil society and fostering better relationships in the region. Now, U.S. lawmakers and experts are urging the White House to take advantage of a widely supported bipartisan tool that is already authorized, appropriated and ready to roll out.
Passed into law last December, the Nita M. Lowey Middle East Partnership for Peace Act (MEPPA) will provide $250 million over five years to expand "people-to-people" Israeli and Palestinian grassroots programs, as well as joint economic ventures that could help shore up the Palestinian economy.
When it was enacted, many were hopeful that MEPPA would provide the U.S. administration with an unprecedented tool to invest in peacebuilding efforts on the ground.
However, nearly six months on, the White House has yet to implement MEPPA, despite its bipartisan and bicameral support, and its endorsement by virtually every major player in Washington with a stake in the Israeli-Palestinian conflict.
Nearly all of the sources Haaretz spoke with for this story acknowledge that the administration is occupied by an endless variety of concerns and is still in the process of establishing itself. They hope, though, that it understands the urgency to implement MEPPA given the latest outbreak of violence throughout Israel and the Palestinian territories, which killed at least 122 Palestinian and 12 Israeli civilians.
"The Middle East Partnership for Peace Act represents a strong bipartisan drive to promote economic and people-to-people peacebuilding programs among Israelis and Palestinians," Sen. Tim Kaine told Haaretz.
"When I travel to the region, I often hear the same stalemated blame of the other side from political leaders, while the younger generation is often eager for equality and opportunity," the Virginia senator said. He added that "after recent events, it's now more important than ever that the administration begins to implement this law, which I was proud to help get passed, to build grassroots trust and relationships across conflict lines."
'Lucky in many ways'
"The Biden administration was lucky in many ways to come into office with this powerful bipartisan tool ready to go from day one," says John Lyndon, executive director of the Alliance for Middle East Peace (an umbrella organization of groups working in Israel and the Palestinian territories). "This is on the peg and ready to be activated with goodwill across Congress," he adds.
A Senate Democratic aide concurs that MEPPA is particularly important at this moment in time, for potentially rebuilding both U.S.-Palestinian relations as well as trust between Israeli and Palestinian communities. The aide also highlights how MEPPA's focus on joint economic work provides a great vehicle to explore new ways to bolster the Palestinian economy and create jobs and channels to share expertise.
The administration has taken time to fully implement the fund, with the general understanding being that it's in the hope of ensuring that, first and foremost, MEPPA is utilized as a policy tool.
"We don't want to see this as being simply a line in a budget. This is a tool that can be at the core of U.S. policy," Lyndon says. "That was true before the war in Gaza, but it's even more true afterward."
An expert familiar with the process believes the important breakthrough with MEPPA is that "it's seen not just as a program. The argument has been won with the people implementing this." The expert highlights an exchange between the bill's co-sponsor, Sen. Chris Coons, with U.S. Agency for International Development Administrator Samantha Power at a recent subcommittee hearing.
When Coons, chairman of the State, Foreign Operations, and Related Programs Subcommitee, asked Power about the status of MEPPA's implementation, she acknowledged that the recent round of violence was the latest reminder that the more the United States can do to foster reconciliation, the better.
Power added that while she is only a few weeks into her new job, she is investigating the administrative steps that need to be taken, and how to spend the money the committee has already appropriated.
One of MEPPA's Republican co-sponsors, Rep. Jeff Fortenberry, pointed out at a House hearing how Nita M. Lowey's act goes beyond people-to-people exchange programs. It is also a new instrument using the Development Finance Corporation, which utilizes public monies to create the conditions for equity investments by persons on both sides and the long-term continuity of economic well-being.
Power told Fortenberry that once administrative matters are handled, the White House needs to "move out to ramp up our programming, especially in light of recent events." She noted how she saw firsthand during a visit to Israel as U.S. ambassador to the UN how indispensable these programs are to combat separation among these communities.
"Power understands the issue in depth and the power of these sort of programs to be a foundation for conflict resolution – that's critical," Lyndon says.
It remains unclear, however, to what level USAID, the State Department and the Development Finance Corporation are currently working in concert to expedite MEPPA's implementation.
To fully take advantage of MEPPA as a policy tool, "You need to make sure you fully think how to set it up. With everything that's happened, USAID is doing its homework to make sure it can hit a ceiling rather than a floor," an expert familiar with the process says.
New and innovative
The first order of business is to establish a 13-person congressional advisory board, consisting of appointments from six congressional leaders of each party as well as someone appointed by Power. The Senate Democratic aide is hopeful that the ball is about to start rolling, particularly after Power's recent commitment in front of the subcommittee.
The Senate Democratic aide says the recent violence has highlighted MEPPA's value, as well as why it is so important to quickly implement the bill. The aide says it would be a missed opportunity to not lean into this tool, while acknowledging that the onus is not exclusively on Power but also on Democratic and Republican congressional leaders to appoint advisory board members.
U.S. Secretary of State Antony Blinken specifically met with Palestinian civil society leaders during his recent visit to the Middle East, when he highlighted how disconcerting the Biden administration found the Arab-Jewish intercommunal violence that erupted during the flare-up.
Lyndon notes how MEPPA's attention to shared society as well as cross-border aspects is completely new and innovative.
"It almost predicted the connection during the escalation between events in the skies over Israel and Gaza, and their relationship to mixed cities inside Israel," he says, adding that "to have a tool that can deal with both of those in tandem – it can really form the core of a new approach for U.S. policy."
The expert, meanwhile, finds it curious that MEPPA wasn't raised at any point during the secretary of state's visit to Israel and the West Bank.
"Given Blinken's focus on intercommunal violence, it's interesting that there wasn't any discussion of this new implementable tool already approved by Congress," the expert says. "I would hope that we see more highlighting of this as a policy tool by the administration as they map out their approach to the conflict."
The expert notes Blinken did not mention the new fund in his statement announcing $10 million in reconciliation funds to the Palestinian people. "It's a missed opportunity that could have been a good indication to Congress and civil society that this has the administration's attention."
The Senate Democratic aide points to the rare bipartisan support MEPPA enjoys in both houses of Congress, saying it could help rebuild the spirit of bipartisanship around work relating to the Israeli-Palestinian conflict, particularly as both parties shift toward opposite ends of the spectrum.
The aide notes how MEPPA completely complies with the Taylor Force Act, which prohibits payments to the Palestinian Authority while it funds Palestinians convicted of terror acts (or their families), and should not be dragged into the partisanship debate raging on the Hill regarding the Biden administration's funding to the Palestinians and commitments to the UN Relief and Works Agency.
For Lyndon, MEPPA speaks to the way in which Biden has consistently said he would approach these issues, in that it has the support of U.S. allies and contains important multilateral components (the concept was previously endorsed by the United Kingdom).
"The administration can hopefully take advantage of forthcoming multilateral opportunities and bring U.S. allies to bear, as well as to contribute toward this and increase in scale," he says.
"There's a lot of interest from the international community eager to help and contribute," the expert echoes, noting "opportunities" for the administration to take a plan to places such as the Norwegian-run Ad Hoc Liaison Committee, the G-7 or the UN General Assembly in September.
ALLMEP publicly called on the Biden administration to lobby for the establishment of an international fund for Israeli-Palestinian peace at next week's G7 summit next week. Sixty-five members of the U.K parliament also urged Foreign Secretary Dominic Raab to push for the fund — which would mirror the International Fund for Ireland that was vital to brokering peace during The Troubles — at the summit.
Too often after these violent Mideast escalations, Lyndon says, the focus is on trying to rebuild what was there before, whereas MEPPA looks to the future.
"It's a way for the Biden administration to set something up that could be legacy-defining on this issue: To put in place programs at a scale that transform relations between Israelis and Palestinians at a critical mass we've never seen before," he says.
"There are 13 million people between the [Jordan] river and the [Mediterranean] sea. Ninety percent of the Palestinians do not trust Israeli Jews; 79 percent of Israeli Jews do not trust Palestinians," Lyndon concludes. "We need a lot of resources over the medium- to long-term to disrupt that, to transform it, and then to change the politics that flow from it."
Click the alert icon to follow topics:
ICYMI
Ken Burns' Brilliant 'The U.S. and the Holocaust' Has Only One Problem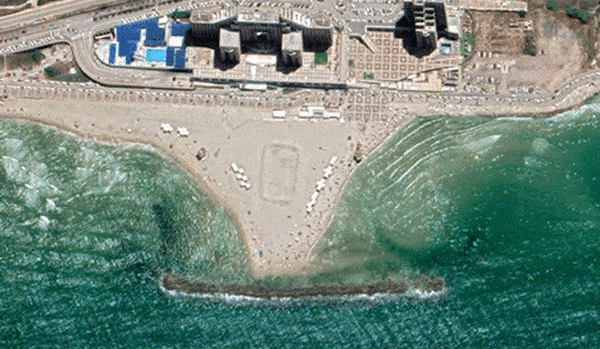 Facing Rapid Rise in Sea Levels, Israel Could Lose Large Parts of Its Coastline by 2050
As Israel Reins in Its Cyberarms Industry, an Ex-intel Officer Is Building a New Empire
How the Queen's Death Changes British Jewry's Most Distinctive Prayer
Chile Community Leaders 'Horrified' by Treatment of Israeli Envoy
Over 120 Countries, but Never Israel: Queen Elizabeth II's Unofficial Boycott