New Initiative Connects American Mizrahim With Israel's Mizrahi Left
A new project exposes Mizrahim in North America to their community's role in Israel's left and to a discourse they can often relate to about Palestinians and Arabs
Left-wing demonstrators protest against Israeli Prime Minister Netanyahu in Jerusalem, last month.
Credit: Emil Salman
Similar to the Palestinians' brain drain in academia and research, industry and trade, culture and art – many Mizrahim feel compelled to look beyond Israel's borders for the chance to have a better future for themselves and their families. A new initiative showcasing Mizrahim (Jews of Middle Eastern or North African origins) active in many fields, the 'Mizrahi Left Project' features lectures, film screenings and discussions on what it means to be Mizrahi and on the history of the Mizrahi left in Israel.
The nine-part series, held on Zoom and conducted in English, is aimed at second-generation Mizrahi Israelis who are living in the United States. Participants in the project, the first of its kind, include Mizrahi artists, scholars and intellectuals from Israel as well as North America, including Dr. Yali Hashash, a queer feminist scholar; Dr. Ofir Abu, whose field is Israel studies; Prof. Hillel Cohen, an expert in Islamic and Middle Eastern studies; poet Yonit Naaman; and filmmaker David Deri.
Particularly in today's volatile racial and ethnic climate in Israel, say people involved in the project, it's important to hear voices from the Mizrahi left, who posit an alternative ideology regarding how Palestinians and Jews can live together, stressing the connection between Mizrahim and Palestinians in Israel and the need for civic equality and social justice.
"In the United States, there is a large concentration of second-generation Mizrahim," says Natalie Baruch, a doctoral student at Ben-Gurion University in the Negev, and former director of the Keshet Hamizrahi Sephardi Democratic Rainbow (an advocacy group for Sephardim and Mizrahim), who conceived the project. "In the last decade, many of them had sought to be in contact with Mizrahi activists [in Israel], to learn about Mizrahi identity, about Mizrahi feminism. They also choose to call themselves 'Mizrahim' and this attests to their distinct sense of identity and their natural connection to Arabs."
Adds Baruch: "The fact that this sort of dialogue is being led by Mizrahi men and women is not an obvious thing. Mizrahi audiences in America and in Europe are accustomed to thinking that only Ashkenazi Jews are active in [Israeli] left-wing organizations, while they are excluded from the discussion, even though they have more in common with Palestinians and Arabs in the United States."
Sociologist Meir Amor, who has lived in Montreal for years and teaches at the city's Concordia University, estimates that there are one million Israelis living in North America.
"I don't know how many out of this million are Mizrahim, but it's a substantial number," says the 66-year-old professor, who is participating in the new project. "No one is studying this empirically so I can only talk about it anecdotally." However, he admits that it is tricky to talk about a definition of "Mizrahi identity" in places like North America and Europe.
"The very distinct economic and political identities – Mizrahi identity, Ashkenazi identity and Palestinian identity – are identities that arose in Israel," he says. "When Mizrahi Jews move to America [from Israel], their children will go to school with North American Jews and become American Jews. The distinctions don't exist in these places."
"American culture," Baruch explains, "is based on Ashkenazi Jewish figures, whether its in the movie industry, business or academia, while Mizrahi men and women feel excluded from the general Jewish community. They often have a different complexion, and different customs."
A different narrative
The Mizrahi Left Project discussion series centers around "a narrative that differs from that of American Ashkenazi Jews, and is also an alternative to the Israeli Ashkenazi-Jewish narrative," she adds.
"The objective is to make historical knowledge about the Israeli Mizrahi left more accessible: to break down hegemonic Ashkenazi-Jewish discourse and to forge another connection to Israeli history – one that includes Mizrahi women and men and the peace movements they have led. To me, this is another way to get to know Israel and Israelis, not through the hegemonic figures and symbols; a way to gain a deeper understanding of the relations between the Mizrahim and the state institutions, between the Mizrahim and the left, and the complex ethnic and class contexts that exist in Israel."
For his part, Amor notes that, like him, many Mizrahim have had to leave Israel in order to succeed in their fields.
"Intellectuals at universities in the United States and Europe, like [anthropologist] Smadar Lavie, [Middle East scholars] Moshe Behar and Zvi Ben-Dor Benite, and many others, left Israel and did very well abroad," he says. "And many people who are not academics have left Israel and done well, too. There are people who live here [in North America] who are electricians and mechanics and they make a very good living and enjoy a much higher standard of living than they ever did in Israel. This is a fact. They have become middle class."
Such a situation is not possible in Israel. Why? The reasons are very complex, says the professor, offering an explanation by means of an interesting metaphor: "because you can't drain the ocean with a teaspoon."
The socioeconomic-political structure upon which Israel rests is comprised of an elite that is unwilling to give up its place in the centers of power, and it excludes large swaths of Israeli society, including Mizrahim, Ethiopians and Palestinians. The impact of such a hierarchical structure in society, politics, culture and economics spans generations, continues to be felt to this day and will continue to impact the prospects for advancement and success among Mizrahim and all the other weaker and excluded communities in Israel.
Amor cites two significant processes involving the Ashkenazi middle class that have left Mizrahim outside the ruling elite in every field in Israel. The first is the upwardly mobile trajectory enjoyed by Eastern European Jews via the kibbutzim and moshavim.
"Such places consist of an Ashkenazi hegemony that was able to obtain control of vital national resources like land and water," he explains. "These locales were founded with public resources, and in addition, the government supported the people who received homes there with interest-free loans, and today they can make millions. So here you've created a social class in Israel from public resources in the fullest sense of the word."
The second upward mobile track Amor cites is the Ashkenazi-religious-national one: "That community advanced through its control and autonomy in religious education and by dint of the major boost it got [following the war] in 1967 in the occupied territories."
Ashkenazi 'bulldozer'
In a capitalist world propelled by economics and money, the "haves" are the ones who make the rules, and class distinctions are clear in the country.
"Most of the Mizrahim in Israel today were born in the country or have spent most of their lives there," Amor says. "And we see that the bulldozer of Ashkenazi ideology, as part of which we are considered inferior people, has worked. Yes, some people have managed to alter their class status, but the facts are that a majority of the working class in Israel and a majority of the lower middle class there is Mizrahi. Yes, some have become doctors and professors, but their numbers are few. At the universities there are very few Mizrahi professors, especially female Mizrahi professors."
Moreover, the sociologist continues, there is deep denial of this inequality, which is so ingrained in Israeli society: "In Israel, people don't want to look at sociological phenomena. Even now, people will say, if you want to, you can succeed in Israel – while ignoring the fact that socially, the Ashkenazi takeover of Israel has been a success. There is a very clear Ashkenazi hegemony there and the Ashkenazim are the strongest and highest-ranking class."
This denial is indeed a key part of the problem and until it disappears, some predict, Mizrahim will never have an equal opportunity. Perhaps in the coming decades they will just vanish into the Israeli melting pot and ultimately implement the master plan outlined at the state's founding. But in the meantime, Mizrahim, as well as other communities in Israel, are still excluded from the centers of power and from positions of high socioeconomic status in every area of life.
Amor: "Higher education for Palestinians and Mizrahim is very important to create class mobility and to make life in Israel more egalitarian. But for there to be enough room in higher education, it has to be expanded. Instead of seven universities, there should be 20, that teach in both Hebrew and Arabic."
In terms of culture, he continues, "class and cultural reality in Israel has created a middle class that consumes high culture and a lower class that consumes mass culture, which is perceived as being of inferior value. Second- or third-generation Mizrahi artists in Israel cannot create culture that reflects their reality because their cultural expression has no real standing in the country."
What is referred to as "Mizrahi culture" is still relegated to the margins and not perceived as "Israeli culture" per se.
"The only ones who can advance are those who say yes to a hegemonic Ashkenazi system," the professor says. "As soon as Mizrahim request equality in decision making, in the centers of power, proportionate to their numbers – they are immediately pushed out."
Amor has a realistic (some may call it pessimistic) view of the social reality Mizrahim experience both in Israel and abroad. While life for Mizrahim overseas is generally better, many still look to Israel as a utopia to which they can always return. It is therefore hard to explain the Mizrahi left to Mizrahim who no longer live in the country – even harder than explaining it to those remaining in Israel.
Nostalgia and start-ups
"How can we explain it to Jews who emigrated from Israel and have guilt feelings about that combined with nostalgia for Israel?" he asks. "Are you going to say to them: 'Be a leftist and support civic equality'? There's little chance of that succeeding. In Israel we are the losing side and people don't like to join the losing side. People want to join the success stories, like 'Start-Up Nation.'"
Nevertheless, an initiative like the Mizrahi Left Project that seeks to forge a bond between Mizrahim in North America and their community in Israel is of great social significance. The same people who feel they were pushed out by the state are now finding a place in which to express themselves, give voice to their struggles and the oppression they have experienced. And from within this space they can develop pride in their culture and identity – and maybe eventually bring this pride to Israel and foment significant political change within the Israeli left too.
Click the alert icon to follow topics:
ICYMI
Ken Burns' Brilliant 'The U.S. and the Holocaust' Has Only One Problem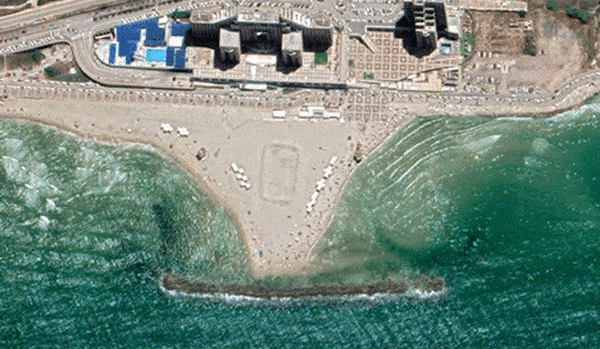 Facing Rapid Rise in Sea Levels, Israel Could Lose Large Parts of Its Coastline by 2050
As Israel Reins in Its Cyberarms Industry, an Ex-intel Officer Is Building a New Empire
How the Queen's Death Changes British Jewry's Most Distinctive Prayer
Chile Community Leaders 'Horrified' by Treatment of Israeli Envoy
Over 120 Countries, but Never Israel: Queen Elizabeth II's Unofficial Boycott