Opinion |
Trump Lost. Biden Won. Now Stop Persecuting the Pollsters
As soon as East Coast voting ended, pollster-hunting season began: Trump's fantastical yarn of electoral theft, based on 'suppression polls' and Democratic depression about the lost 'blue wave.' Confusing the powerful, but complex, tool of polling with prophesy is bad news for democracy
Democratic 2020 presidential nominee Joe Biden, vice presidential nominee Kamala Harris and their families celebrate after the news media announced Biden had won. Wilmington, Delaware, Nov 7, 2020
Credit: JIM BOURG/ REUTERS
Joe Biden has won, and Donald Trump has lost, but during the long days and nights of counting and suspense, nearly everyone blamed the polls.
The Trump campaign drummed up a conspiracy that the pre-election polling had deliberately intended to throw the vote to the Democrats. Liberal hopefuls felt stunned, or even betrayed, by poll-inspired visions of a Biden blowout.
In his press conference last Thursday full of false victory, Trump slammed polls and pollsters. He declared that "phony" campaign polling had deliberately inflated Democrat leads to dissuade GOP voters from going to the polls: "The pollsters going it knowingly wrong….it was [voter] suppression polling, everyone knows that."
Die-hard Trump-supporting duo Diamond and Silk tweeted a characteristically bombastic accusation: "These Pollsters need to be arrested for Election Interference and Voter Suppression!"
Even if they didn't share the presidential camp's tales of conspiracy, plenty of people since November 3rd have joined the pile-on. Indeed, as soon as the first voting stations closed on the East Coast of the U.S. at 7pm last Tuesday, and the Biden lead suggested by the polls didn't immediately appear, pollster-hunting season began.
As a pollster, I felt the effects immediately. Messages piled up (ironically, faster than the results) via WhatsApp, email and phone, communicating anguish about or casting aspersions on the pre-election polls and the polling industry more generally.
My own mother WhatsApped me: "Why does anyone ever believe polls?" A colleague wrote, "What exactly are pollsters getting paid for?"
Friends, I'm not offended. I know that what you really meant wasn't polling itself, but "predictions." In recent years, it seems like the normal fascination with polls for predicting the results of an election has intensified in America so much that it has crowded out the wider and deeper knowledge polls can provide. It's natural for tensions to rise when the stakes are so high, but the all-out blame game is unfortunate – and maybe dangerous.
Polls are not just about the choice on election day, just as politics itself is much more than that. Polls test everything – from consumer preferences to attitudes towards abortion or other major policy issue. Elaborate questions about candidates, parties, the country, social and personal values, paint the full, complex picture of the political atmosphere. Producers and consumers of news are naturally riveted to the most narrow parameters of the horserace, but that's just one small element of polling.
Predictions are not where polling shines. A singular obsession with predictions is bad for the profession of public opinion research, and risks diminishing the immense contributions this window on society can provide. Worse, misuse of this powerful but complex tool may be bad for democracy.
Predictive polling, because its "failures" are so public, can make the whole field look bad; polls do sometimes get it wrong. But often mistakes are due to the built-in margin of error – like Pennsylvania and Michigan in 2016.
Everyone knows this rationally; but the lasting impression is that Clinton's loss exposed a catastrophic failure of polls. Yet the popular vote projections were fairly precise, and at the time, Wisconsin was the only decisive state where polls showed her leading beyond the margin of error - barely, but still got it wrong.
Further, voters are, well, people – they dither and deliberate, and sometimes change their minds. In the American battleground states, this makes all the difference.
A bigger problem is the tendency of consumers – even savvy political junkies – to conflate polls with analysis. Data itself is raw material; analysis turns it into conclusions, knowledge and sometimes a course of action. Forecast models go much further.
For the people who create those models, from the Nates to the Economist, polls are just a starting point.
Researchers already make numerous imperfect choices when they set up and execute polls, such as sampling, weighting, question wording and more. Forecasters then pile on their own choices about how to rank, weight and aggregate polls; they add new factors such as economic data and historic voting patterns and throw them all into a researcher-built data blender to provide what is often sensationalized news.
And if the crowds and commentators had the polls more carefully in the week ahead of the 2020 elections, they would have seen that the polls themselves gave a better picture than the probability-based forecast predictions. Nate Silver gave an 89 percent chance to Biden in 2020, Nate Cohn's needle gave Clinton an 85 percent chance in 2016, while the Economist gave a supremely confident 97 percent for Biden in 2020.
That sense of confidence that resulted led many Democrats to feel dejected in the immediate aftermath of the election, when the "blue wave" failed to materialize. One close friend said he felt like "slapping Nate Silver." And in Trump's telling, those same Biden-positive polls also constructed a narrative for Republicans that the race was already lost. But the plain truth was that not enough votes had yet been counted.
But a clear-eyed look at poll averages alone would have clarified how close the race really was. With far lower stakes for me than for the celebrity prediction gurus, my own approach is very low-tech: towards the end, to understand likely outcomes as a political analyst and media commentator, I used simple RealClearPolitics poll averages and trendlines over the last few weeks.
This worked pretty well: by looking at the size of Biden's lead in the battleground states I saw that in many of them, the number declined steadily throughout late October. Where states were close, I recalled that U.S. polling has tended to miss support for Trump, and presumed they would tilt red. By election day, I was well prepared for the tight outcome.
The most thorough critique of forecasting is summarized perfectly by Zeynep Tufekci. The bottom line is that forecast models – who will win and by how much? - are what people get worked up about, yet people blame the polls. Even pollsters blame the polls.
And public opinion research is so much more than predictions.
From the moment I began working for my great polling mentor Stanley Greenberg 21 years ago, knowing nothing about the field, I understood polling as a deep quest to understand both social dynamics, and dynamic societies.
We scoured electorates for groups and subgroups and overlapping groups; target voters could be defined by demography or by any other quality we found, in a read-everything approach to data. The towering value was listening; preconceptions were the enemy.
Horserace questions were important mainly to locate supporters or opponents of different candidates, then peer, almost voyeuristically, into their minds. Frank Luntz once said of Greenberg, "He doesn't just have a finger on the people's pulse; he's got an IV injected into it."
With the help of focus groups, I began to feel the voices of voters embedded in my mind – whether in America, Israel, Serbia, Cyprus or Zanzibar – until I could hear their arguments about their politics, and argue back with myself.
To be sure, those media polls and models the public loves serve a different purpose – people enjoy the bloodsport of prediction, and newspapers need traffic. They naturally sacrifice nuance for the big headline. But prediction is becoming an addiction, or even a fetish, disconnected from its own origins, driven by personalities and their aura of authority. Most of my conversations in recent weeks were analyzing the analysts, rather than the voters.
As the vast Trump vote rolled in from Tuesday (ultimately about 48 percent of American voters) I wondered as so many times before about how they think, and just who they really are – especially when they don't fit preconceived stereotypes.
I thought back 20 years, about evenings spent observing 4-5 hours of focus groups in Macomb County, Michigan, or in Milwaukee, New Orleans, Seattle, in the autumn of 2000 on the campaign for Al Gore, when I still worked for Greenberg. I would then stay up for hours searching my notes and my heart to report on these voters. If the memos we analysts produced by 2 or 3am were not sufficiently penetrating, we got an earful.
Which route, forecast sports or deep-dive research, connects us better with voters of either side? That should be an important goal in a democracy.
The ill-effects of misusing polls on a democracy may be far more immediate. I sense that predictive thinking, in the end, legitimately drove ad targets and "get out the vote" efforts, but also fed suppression efforts. But not at all in the way that Trump and his surrogates have railed against.
The president himself would have heard time and again about the overblown forecast models favoring Biden, and he reacted like a despot facing defeat. It looks like he plotted his course accordingly, obstructing early counts of mail-in ballots, followed by post-election scorched-earth but incompetent and groundless legal challenges, apparently hoping the presumed blue-leaning mail ballots "wouldn't be counted at all."
Finally, last Thursday, Trump cited the pre-election polls – I'm guessing he didn't parse the methodologies of polling versus forecasting – as part of his fantastical yarn of electoral theft, by accusing Democrats of using favorable polls to suppress the vote, all this on the same day he tweeted out to stop counting votes, and his campaign was busy trying to decertify various results.
Trumpist pundit Mollie Hemingway summarized the full conspiracy charge against pollsters: "While it could be that media pollsters are simply incompetent and never held accountable, also could just be that they did what they were supposed to do! Set powerful false political narratives of crazy value in favor of Democrats, and raise tens of millions of dollars for them."
History might never tell us if America's closest encounter with electoral theft by a presidential candidate in full view of the world was somehow influenced by misleading, prediction-obsessed poll analysis.
But anyone who cares about real people, and democracy, should check the fascination with prophesy, and ask what the numbers tell us about our society in a deep and genuine way.
Such research will be an essential light guiding the difficult road to effective government based on principles, negotiation and compromise, or as Biden put it in his victory speech Saturday night, the need to "see each other again, listen to each other again, and to make progress."
Dahlia Scheindlin is a political scientist and public opinion expert. Twitter: @dahliasc
Click the alert icon to follow topics:
ICYMI
Ken Burns' Brilliant 'The U.S. and the Holocaust' Has Only One Problem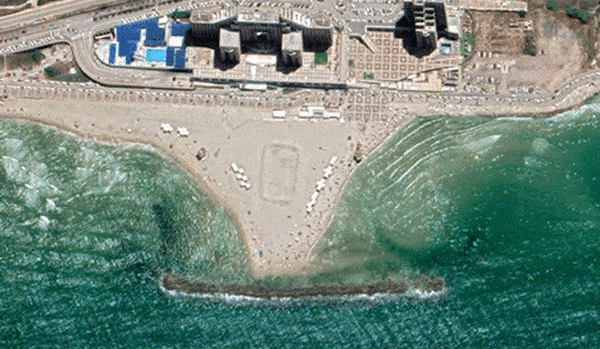 Facing Rapid Rise in Sea Levels, Israel Could Lose Large Parts of Its Coastline by 2050
As Israel Reins in Its Cyberarms Industry, an Ex-intel Officer Is Building a New Empire
How the Queen's Death Changes British Jewry's Most Distinctive Prayer
Chile Community Leaders 'Horrified' by Treatment of Israeli Envoy
Over 120 Countries, but Never Israel: Queen Elizabeth II's Unofficial Boycott