Female Empowerment and Pickled Herring: How Ruth Bader Ginsburg Became the Notorious RBG
Filmmaker Julie Cohen on how she managed to gain access to the notoriously private Supreme Court Justice Ruth Bader Ginsburg's life, and why every American woman is standing on this diminutive Jewish woman's shoulders
Julie Cohen, right, attending the premiere of "RBG" with co-director Betsy West and Supreme Court Justice Ruth Bader Ginsburg, during the 2018 Sundance Film Festival in Park City, Utah, January 21, 20
Credit: Michael Loccisano / Getty Images
This story was originally published in February 2019, and is being re-upped following the death of Justice Ruth Bader Ginsburg on Friday
*
The first time filmmaker Julie Cohen entered the U.S. Supreme Court to interview Justice Ruth Bader Ginsburg, she was carrying a large container filled with bagels, cream cheese and an assortment of pickled and smoked fish.
Herring and salmon were the unlikely first steps on a journey that has led Cohen to the Academy Awards on February 24. Together with her co-producer and co-director Betsy West, Cohen is nominated for an Oscar for "RBG" – the acclaimed documentary telling the story of Ginsburg's life and accomplishments, and offering a behind-the scenes look at the diminutive 85-year-old Jewish justice who became an unlikely pop culture icon.
That first interview with Ginsburg back in 2013 was for a very different documentary: "The Sturgeon Queens," recounting the family history of Russ & Daughters, the legendary appetizing store on Manhattan's Lower East Side. While doing her research, Cohen learned that Ginsburg was the store's most famous lifelong customer – she had shopped there since she was a child and continued to visit the store into her 80s.
Knowing it was a long shot, Cohen asked if she could interview Ginsburg about the store with an array of favorites in front of her, as she had other customers, and was surprised and delighted when she received a handwritten letter in the mail – "Justice Ginsburg is old-fashioned that way," says Cohen – in which she agreed to share her "fond memories."
The scheduled day of the interview fell in July 2013, at the end of a period in which the Supreme Court was making front-page news after making key decisions involving voting and LGBT rights. "I felt almost embarrassed to come into the court at a time like that to talk about pickled herring," Cohen remembers. But Ginsburg kept the appointment and gave the topic her full attention.
Cohen learned something about her interviewee that would serve her well in the two years she and West spent researching and making "RBG": "Once Justice Ginsburg commits to something, she's a woman of her word: She's never going to back out of something that had been planned if she has any choice," says Cohen.
The glimpse "Sturgeon Queens" offered of Ginsburg foreshadowed some of the themes of "RBG": Female empowerment and the American-Jewish immigrant experience.
Ginsburg became familiar with the Lower East Side delicatessen because her parents schlepped her there from their comfortable home in Brooklyn to show her where they had lived as new immigrants, "and they always wanted to remind her where she came from." She didn't love the tours, but she looked forward to the treats at Russ & Daughters.
Cohen says the name of the store caught Ginsburg's attention early on, because it was the only place where it was acknowledged that the next generation to run the family business was female. "She had certainly never heard the word 'feminist' before, but it was there that she got the idea as a little girl that a store could be named after daughters – and that was a big part of what she loved about it," Cohen explains.
Not fading away
The way in which Ginsburg was affected by gender discrimination, and how she became the woman who would quietly but fiercely lead a revolution that changed the legal status of future generations of American women, is the focus of "RBG." The documentary combines her personal biography with her legal legacy, with extensive interviews among those who have worked with her and plaintiffs she represented, together with an entertaining look at how she has become so iconic.
The project was conceived in 2014 after Ginsburg had begun her transformation into a feminist icon online, a phenomenon confirmed a year later with the publication of the tongue-in-cheek biography "Notorious RBG: The Life and Times of Ruth Bader Ginsburg."
Cohen says it's important to remember that when she and West began planning the film in January 2015, it "wasn't something we did in response to the rise of Donald Trump." The filmmakers even wondered initially whether Ginsburg would still be a relevant and important figure when their film was finished.
"What has happened has turned out to be the opposite of our concerns," Cohen tells Haaretz by phone. "She only seemed to grow, and still grows more important and more relevant by the day. With the emergence of the #MeToo and Time's Up movements – which happened as the film was being completed – her story of speaking out and speaking forcefully for justice, particularly in regard to justice for women, just seemed more and more relevant and powerful."
Though the film's focus is on Ginsburg's groundbreaking work for women, her Jewish identity – especially the Jewish immigrant experiences of her parents – was an important influence on her.
Cohen says the justice's commitment to fighting discrimination began when she became conscious of what her parents had been through. In her Senate confirmation hearings, for example, she told of how her father's family came to America partly because Jews were not allowed to attend high school in the part of Russia he came from.
"The idea that she could have advanced so quickly and dramatically, in just a generation, to go from her father's generation to one in which she could go to college and law school and become a federal judge and then a Supreme Court judge – she was very aware of what her father was limited from achieving because he was Jewish, and her mother from doing because she was Jewish and a woman. I think she feels like she was someone who was able to realize the dreams of previous generations," says Cohen.
At one point, Cohen observes, it seemed that Ginsburg felt she had to make a choice between her observance and her growing feminist awareness. Like many other Jewish women of her generation who were raised in religiously traditional homes, Ginsburg could not make peace with the deep gender inequalities built into her parents' Orthodox practice.
Ginsburg was particularly alienated by the idea that women didn't count in a Jewish prayer quorum.
"It made her feel like women really didn't count," explains Cohen. "The idea that if you were trying to make something official in the Jewish world, it would be more possible to go out and find men on the street that you didn't know, whereas women in your own family did not count in a minyan, felt supremely unjust and made it hard to feel deeply part of the religion. … I think Jewish women of that generation, as part of their move into thinking of their place in society very differently than their parents had, just couldn't accept that."
At the same time, Cohen adds, Ginsburg sees herself as being part of "an incredibly important" tradition of jurisprudence. "Justice Ginsburg fits very neatly into the context of a long line of Jewish lawyers with a deep interest in social justice and fairness. Certainly, she thinks of Justice [Louis] Brandeis as having been a major influence in terms of his jurisprudence on the path that she took."
The other Leonard Cohen
Like Ginsburg, Cohen's parents were both Brooklynites who also graduated from Cornell University. Unlike Ginsburg, though, they left New York and moved to Falls Church, Virginia, where Cohen was born and grew up. She stayed in touch with her New York roots and caught the journalism bug due to a close relationship with her grandfather, Leonard Cohen – a well-known reporter, sports editor and columnist for the New York Post. Sitting beside him in the press box at New York Knicks games, he "made journalism look super-glamorous, while at the same time he was a very hard-working, working class guy," recounts Cohen.
After Colgate University, she moved back to New York in the late 1980s to attend Columbia Journalism School, where she gravitated to legal journalism – unwittingly preparing herself for her future deep dive into Ginsburg's life. She was part of the team that launched Court TV in 1991, producing a weekly show called "Supreme Court Watch." After a master's degree program at Yale for journalists specializing in law, she spent nine years working at "Dateline" for NBC. In 2007, she founded her documentary company, BetterThanFiction, which has produced films that have been screened at festivals around the world.
Her "RBG" co-director West spent a lot of time interviewing Ginsburg for a 2011 digital archive project about the modern women's movement – the same project where she met Cohen. Together, they decided that Ginsburg's young millennial admirers were not sufficiently aware of the full story of how RBG had pioneered the litigation that cemented gender equality in U.S. law, so decided to tell her story.
"There was so much to relate to in her story, as a professional woman and as a professional Jewish woman," says Cohen. "Any working woman in America owes Justice Ginsburg a huge debt of gratitude. We feel like we are standing on RBG's shoulders, and we've been motivated by wanting young girls in particular to understand how we got to where we are from her high-charged, smart work. Spending time doing that seemed like a really worthwhile thing to do."
The inner sanctum
Cohen believes the fact they were two women (Cohen and West eventually assembled an all-female production team) and the fact she had worked with them before, helped convince Ginsburg to cooperate. Even so, it took over 18 months to get her on board, and it took even longer to gain the kind of trust that allowed them to capture the film's most intimate scenes – like the crowd-pleasing one that shows her working out in the gym.
"We really worked hard for the access that we got over a long period of time by building trust and showing how committed we were – we were patient and strategic, we didn't just dive into her office," explains Cohen. "We started by interviewing the plaintiffs in the cases that she brought before the Supreme Court in the 1970s; we talked to her colleagues over the decades. Then she gave us access to film her public events."
It was only after two years of shooting that West and Cohen were ultimately allowed into Ginsburg's inner sanctum, interviewing her in private spaces like her office, her home and gym, and talking to her closest friends and family.
She saw "that we were taking it very seriously, that we had done a lot of research, and it was not a 'drive-through' project," says Cohen. "We really wanted to show her and her story in all its context and in all its glory."
Despite the close proximity of working together through the years, a formal distance and awareness of Ginsburg's position has remained. "People often ask us, 'Oh, are you friends? Do you call her Ruth?' And the answer to that is 'Absolutely not! We call her Justice Ginsburg!' She's a reserved person. Quite a serious person. But as we learned over time while filming, she has a warmth and sparkle – and a great sense of humor. So feeling like we were ultimately able to be in a position to get a sense of her as a person and put that on film just felt like the coolest and biggest privilege ever," says Cohen.
Ginsburg is also very much a Jewish grandmother. "Hearing her brag about her granddaughter who was graduating from Harvard Law School when we were at the end of the project was like listening to one of my family members," Cohen recounts, adding that even with a Supreme Court justice, "There's something about the essence of Eastern European American Jews that makes them all remind you of your relatives."
The Oscars highlight
Naturally, both Cohen and West are thrilled with the film's critical and commercial reception (it was a surprise U.S. summer hit last year) and the Academy Award nomination, which they captured on Facebook Live.
Another thrilling moment for Cohen, but one that wasn't captured on camera, was calling Ginsburg and telling her about the Oscar nomination.
They had not spoken since the news broke in December that Ginsburg had undergone cancer surgery to remove malignant nodules, discovered when she broke three ribs in a fall the previous month.
"We'd been in touch with family members and kept tabs on her recovery, but hadn't spoken to her. So it was a great joy and privilege when ['RBG'] was nominated for an Oscar and to tell her about that," says Cohen.
Somehow, Cohen adds, their happiness about the nomination "was quickly eclipsed by hearing how energetic and strong she sounded. Her voice sounded great, she was in a good mood and she was eager to talk about getting back to work. Strangely, on a day that was exciting already, that was probably the highlight of the day – hearing that she sounded so great." It also didn't hurt that Ginsburg told Cohen and West their nomination was "well-deserved."
While she admits that winning a Oscar would be wonderful, Cohen says the most important thing has been getting the nomination, which she and West knew would draw a new wave of attention to the film. "We were deeply hoping to be nominated, and we were surprised and delighted by our nomination. Since then, I feel like there has been more of a chance to breathe and relax," she says.
There has been one unlikely benefit of Cohen doing so much traveling to film festivals in recent months: Seeing how many people are watching "RBG" as an in-flight movie. She even admits to standing at the back of the plane to check out how many people are viewing it. "And I actually had an experience a week ago when the guy sitting next to me was watching it," Cohen says. "I couldn't resist. I tapped him on the shoulder and said, 'That's my movie.'"
Click the alert icon to follow topics:
ICYMI
Ken Burns' Brilliant 'The U.S. and the Holocaust' Has Only One Problem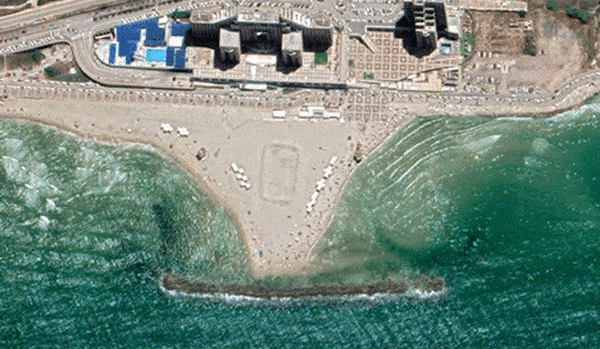 Facing Rapid Rise in Sea Levels, Israel Could Lose Large Parts of Its Coastline by 2050
As Israel Reins in Its Cyberarms Industry, an Ex-intel Officer Is Building a New Empire
How the Queen's Death Changes British Jewry's Most Distinctive Prayer
Chile Community Leaders 'Horrified' by Treatment of Israeli Envoy
Over 120 Countries, but Never Israel: Queen Elizabeth II's Unofficial Boycott