Outgoing Israeli Consul in N.Y.C.: 'Nothing Is Bipartisan in America Anymore, Nothing'
Ex-settler leader Dani Dayan was seen as a controversial choice when he was named Israel's consul general to New York. As he prepares to fly home, he reflects on a time that included the Tree of Life massacre and the rise of a new type of Democrat
Consul General of Israel in New York Dani Dayan arriving at the house of Rabbi Chaim Rottenberg in Monsey, New York, on December 29, 2019, following an attack there during a Hanukkah celebration.
Credit: Stephanie Keith / AFP
NEW YORK – One sunny Sunday morning in February 2019, Dani Dayan was on his way to Queens. "I make it a point not to be stuck in Manhattan," he told Haaretz in the car.
Believe it or not, it's not that common for an Israeli diplomat to venture to the outer boroughs of the city. In fact, one of Dayan's predecessors as Israeli consul general – who Dayan refuses to name because he's "not in the business of shaming" – even once joked with him that he had "heard a rumor" about bridges and tunnels around Manhattan but had never seen them himself.
Dayan, 64, crossed those bridges quite frequently in his four years on the job, but it seems he managed to build a few as well.
When he first arrived in New York, many feared that his background as a settler leader would clash with the city's largely liberal Jewish community. Yet as his term ends, Dayan has managed to win over some skeptics: A number of progressive Jewish leaders have rolled back their initial reservations and expressed their appreciation for the consul general.
A new generation
Dayan took office in August 2016 and was working during a time of great division in the United States, though the consul general himself won't discuss the man widely seen as being most responsible for that: President Donald Trump. But what he will say is still revealing about his time in America.
"Nothing is bipartisan in America anymore, nothing," he told Haaretz earlier this month, during an exit interview conducted on Zoom days before his term ended.
"When I came here, I knew that abortion is partisan, gun control is partisan, tax cuts are partisan and health insurance is partisan," he said. "But since I came here, the weather became partisan: there is a party that believes in global warming; there is a party that doesn't believe in global warming.
"And lately, this became partisan," he added, waving his protective face mask to the computer camera. "So, to maintain Israel as bipartisan is challenging – but we are not free to neglect it."
For Dayan, the proximity between the Israeli government and the current Republican administration made it essential to maintain and improve relations with Democrats. "Israel's relationship with the half that lost the election in 2016 is, to a large extent, going to determine the future of the Israel-U.S. relationship," he said.
That Sunday almost 18 months ago, members of Queens' Jewish community had invited Dayan to attend a send-off brunch in honor of former Congressman Joe Crowley – who had lost his seat to Alexandria Ocasio-Cortez in a shock primary result in June 2018.
"I think it's important to thank those who supported Israel for many years, even when there's no interest," Dayan said, explaining his visit to bid adieu to Crowley, who had served in Congress since 1999.
Dayan's arrival in the event hall was immediately noticed. Local politicians walked over to greet him and Queens' then-borough president, Melinda Katz – who has since been elected the borough's district attorney – interrupted her own speech to formally welcome him.
As more officials entered the room, almost all of them started their round of handshakes with Dayan. Afterward, some even joked that if the consul general were to run for local office, he would probably win.
Forging strong relationships with local politicians, however senior or significant for Israel, is what Dayan saw as "the essence" of his job. He has members of Congress on speed dial, a line of communication that has been a key tool for Israeli interests in the legislature.
"One of the most important parts of politics, even international politics, is relationship-building, and you're great at building relationships," Democratic Congressman Tom Suozzi (from New York's 3rd Congressional District) said during a virtual farewell event in July, arranged for Dayan by the Conference of Presidents of Major American Jewish Organizations. "Your country and our country are both so fortunate to have been beneficiaries of your service."
For Dayan, though, the challenge is also "to recognize who in the younger generation will grow, and strengthen the relationship with them already today, provide knowledge on Israel and create a good relationship with Israel."
The 2018 midterm elections were a turning point for the Democratic Party as it took control of the House. But beyond the shift in Congress, the election of several political newcomers to the party – including Ocasio-Cortez, Ilhan Omar and Rashida Tlaib – signaled the arrival of a new wave of progressives, more critical of Israel.
Dayan noted that "we have to differentiate between the very small group for whom hostility to Israel is a central element and you can't convince them, and the vast majority we can engage with.
"We have to be very careful not to bundle everyone together because of race, age or sexual orientation, or whatever," he added.
One job he will be passing on to his successor is trying to land a meeting with Ocasio-Cortez, who Dayan believes "is one of those you can talk to." He never managed it, though AOC never actually refused to meet him and at one point "the schedulers were even working on a date," he said.
"The chance to get someone's cell number before they become a member of Congress is much greater than it is after they are elected," he laughed.
Dayan had more luck with Ritchie Torres, who previously served on New York City Council and likely won the primary for the traditionally Democratic 15th Congressional District in June. The two have had a close relationship over the years and Dayan considers Torres "a staunch friend of Israel."
Indeed, during the virtual farewell event, Torres assured Dayan: "You can count on me to be a friend. I look forward to visiting you in Israel, hopefully as a member of Congress," he added.
On the way to Queens in February 2019, though, Dayan had stressed how there was "definitely a line of how much we can be involved in local politics. We will never endorse a candidate. Even when we really want them to win, we are very careful not to give direct or indirect endorsement," he said.
After the 2020 Democratic primaries, with more political newcomers such as Jamaal Bowman (who ousted Rep. Eliot Engel) and Mondaire Jones. Dayan believes the next generation is one Israel will have to continue to learn to navigate in the future.
Hitting the tough spots
Although he was appointed to represent Israel to the de facto capital of the Jewish Diaspora, Dayan has consistently described himself as "just as much an ambassador of Israel to the American-Jewish community as an ambassador of the American-Jewish community to Israel."
The growing divide between Israel and U.S. Jews was his main focus in New York, and the local community often turned to Dayan for explanation when it came to Israeli policies they considered alienating such as annexation, the embrace of Trump and the Orthodox hegemony in the Jewish state.
Consulate spokesperson Almog Elijis said the subject often comes up in interviews and media briefings, because Dayan generally "talks about the elephant in the room.
"I know the attitude here at the Consulate was to talk about Israel beyond the conflict, and personally I don't think it's the right way to get to millennials, to Democrats – especially when we have this growing gap," she said. "He comes into a room, he will talk about politics, he will talk about the conflict, about American Jewry and Israel relations. He hits the tough spots."
But being American Jews' ambassador to Israel was not exactly part of the job description and Dayan, who was appointed by Prime Minister Benjamin Netanyahu, admitted having multiple clashes with Jerusalem on the subject.
When the Israeli government decided, in 2017, to freeze plans for an egalitarian prayer space at the Western Wall, Dayan said he had a serious argument with a "very high official in Jerusalem" – a source close to the consul general told Haaretz it was Netanyahu himself, though Dayan would not confirm that.
The official called him out for misplacing his allegiance, but Dayan refused to back down. "For me, the American-Jewish community, or any Jewish community in general, is not a foreign power. It's part of us, and that's the way I acted even in moments of tension," he explained.
Dayan has also been known to castigate Israelis for not being interested enough in world Jewry. "For me, that's tragic," he said. The two communities have a "cross responsibility," adding that "Israelis and American Jews need to see themselves as responsible for both the existence of the State of Israel and the continuity of Jewish life in the Diaspora," he said. "We need to match our expectations."
He continued: "American Jews have the right to pray as they want; they don't have to get permission from Israel. As the Jewish state, I think we have to accept that and respect it.
"On the other hand, more and more American Jews have the expectation that we will behave according to their values and that their values are better than ours," Dayan said. "We have to accept it as a fact that we have developed different strategies of how to be Jewish."
Dayan's time in New York has left him with one major takeaway.
"I entered public life some 13 years ago as a one-issue person [settlements], and I return with the deep conviction that the issue of the wholeness of Am Israel [the people of Israel] is no less important than the wholeness of Eretz Israel [the land of Israel]," he said.
'Trust and respect'
Talk to American-Jewish organizations about Dayan, and most only have good words to say about him. "It's almost impossible to find examples of political leaders who can foster deep relationships with communities that are not always in agreement with his own views," Union for Reform Judaism President Rabbi Rick Jacobs told Haaretz. "Especially on matters of Jewish pluralism, Ambassador Dayan was a strong advocate for us to his Israeli colleagues back home," he said, adding that Dayan has "built bridges of trust and respect" with the Reform movement.
In the Orthodox community, too, Dayan has been well-liked. The Agudath Israel of America organization told Haaretz it was "grateful that during spikes of antisemitism, in particular following attacks in Pittsburgh, Jersey City and Monsey, NY, Ambassador Dayan stood shoulder to shoulder in solidarity with the entire Jewish world."
It said that it had also partnered with Dayan more recently for informative events about the coronavirus crisis, adding that it "will miss him and wishes him well as he returns to Israel."
But some in New York remain critical of Dayan and the embrace he received from many in the Jewish community. The anti-occupation group IfNotNow told Haaretz: "There's a clear parallel between the way the American-Jewish community welcomed him with open arms and the way they have normalized the Israeli occupation. It is disappointing, though not surprising, that years of civil discourse with a leader of the racist settler movement took precedence over any meaningful support for Palestinian humanity," the group added, referring to his six years as head of the Yesha Council of settlements in the West Bank.
'Dark night'
When he began his position at the Israeli Consulate in New York, antisemitism wasn't on Dayan's radar. "On the contrary, I, to a large extent, thought antisemitism as a phenomena was over," he admitted in his exit talk. "But that changed."
Shortly after Dayan began his term, a series of Jewish cemeteries in the New York area were desecrated. Graffitied swastikas became an increasingly common sight as well. But it wasn't until August 2017 that Dayan grasped the magnitude of the problem, following the "Unite the Right" extremist rally in Charlottesville, Virginia.
"I think the sight of Nazi flags in the center of an American town and the chants of 'Jews will not replace us' and [Nazi rallying call] 'Blood and soil' was, for me, shocking," he said. "And then obviously came the biggest shock of them all: Pittsburgh."
Dayan was at a conference in Arizona in October 2018 when news broke of the attack at the Tree of Life synagogue, when a white supremacist gunman murdered 11 worshippers – the deadliest antisemitic attack in the history of the United States. He was on the scene within hours.
"The bodies were still lying there," he recalled. "It reminded me of another dark night I had in my life, in [the West Bank settlement of] Itamar with the Fogel family: When I arrived there, too, the bodies were still lying in the house," he said, referring to the murder of five members of the Fogel family by a Palestinian terrorist in March 2011.
After Pittsburgh, it was clear that antisemitism was going to become a bigger focus for Dayan, as the trend continued with daily attacks on Jews in Brooklyn and more deadly incidents late last year in Jersey City and Monsey.
"There's always that debate on how much we should be involved, as Israeli representatives, in subjects like the wave of antisemitism," Dayan told Haaretz. "I always say that an antisemitic incident anywhere in the world is local news for Israel.
"We don't have authority, but we have responsibility," he added.
Michael Alexander, the former director of government and regional affairs at the consulate, said that when incidents of antisemitism occurred, "the close ties we developed with the government officials in our region made it simple to show our support." He noted that he was "personally struck" by Dayan's commitment at such moments. "He was driven by an emotional connection and the responsibility that comes with the bond of family, of one Jewish people," Alexander said.
New York Attorney General Letitia James, meanwhile, told Haaretz she had regarded Dayan as a "key player" in the fight against antisemitism. "Dani has been a friend and adviser and I love him dearly," she said. "We've worked together on a number of issues.
"At a time when we are seeing an increased number of hate crimes, it's really critically important that we maintain our relationship and that we reaffirm those bonds and let individuals know it's not just the Jewish community – it's all communities that stand with Israel and stand against hate," she said.
Dayan admitted he was leaving the United States "worried" by such events. "I don't think there is a change in tendency," he said.
The Latino ambassador
Two years after Hurricane Maria devastated the island of Puerto Rico in the fall of 2017, Dayan hosted New York State Assemblywoman Maritza Davila, who chairs its Puerto Rican/Hispanic task force, in his office.
"I just want to tell you that, from the bottom of our hearts, we're really, really appreciative of all that you've done," she told him. "I've been talking to some people and I understand the level of work that you guys did in Puerto Rico – which was very much needed, and still is."
Israel had been involved in Puerto Rico for a number of years, including the construction of a non-electric water purification plant on the island. When Maria hit, Israeli NGO IsraAID was soon on the ground. Dayan himself had gone to the island to observe the damage, even though Puerto Rico is not in his jurisdiction.
The relationship between Israel and America's Hispanic community has been Dayan's top non-Jewish priority since he arrived in August 2016. The outreach had already started under his predecessor, Ido Aharoni, but it was clear to Dayan that he would continue to engage with the community.
Having been born and raised in Argentina until age 15, Dayan has even dubbed himself Israel's "first Latino consul general in New York."
"It was the right decision to prioritize Latinos, because they're the fastest growing, most uncommitted community regarding Israeli issues," he explained. "I think we have so much in common with Latin America, so much to mutually contribute to each other."
In the reception of the consul general's office is a wall lined with the portraits of each of Dayan's predecessors since 1948. Only one is female: Colette Avital, who served in the position between 1992 and 1996.
"I think it's time already to nominate another female consul general," Dayan said. But the "single most important mission" his successor will have, he added, is communicating with the local Jewish community.
"If you think it's beneath you to deal with Jews instead of dealing with governors; if you think it's beneath you as the head of the largest Israeli mission in the world to be a Jewish diplomat – don't come to New York," he warned.
For Dayan, the consul job had been the mission of his life: "I thank my destiny that I managed to arrive at this position."
As he prepared to fly back to Israel at the beginning of August, Dayan admitted he had "no idea" what his future holds. "The only certain thing is that I go into 14 days of quarantine," he laughed.
Click the alert icon to follow topics:
ICYMI
Ken Burns' Brilliant 'The U.S. and the Holocaust' Has Only One Problem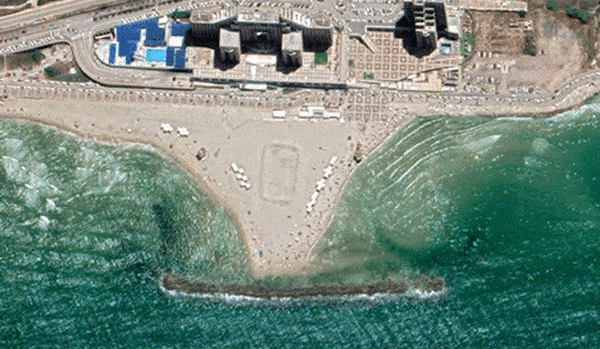 Facing Rapid Rise in Sea Levels, Israel Could Lose Large Parts of Its Coastline by 2050
Lapid to Haaretz: 'I Have Learned to Respect the Left'
The Mossad's Fateful 48 Hours Before the Yom Kippur War
As Israel Reins in Its Cyberarms Industry, an Ex-intel Officer Is Building a New Empire
How the Queen's Death Changes British Jewry's Most Distinctive Prayer