Opinion |
Jewish Publications Really Shouldn't Platform Jew-hating White Supremacists
It is not courage, it is self-abasement, for any Jewish publication to call up an antisemitic white supremacist and be grateful for their time
Screenshot of Kevin MacDonald giving a lecture on the 'Psychological Mechanism of White Dispossession' hosted by Logik Förlag, a far right publisher in Sweden. April 2015
Credit: YouTube
It sounds like a no-brainer. To the question: Should a Jewish media site offer a well-known antisemite, a muse to the alt-right and associate of Holocaust deniers, thousands of words, including barely disguised threats, to repeat the Jew-hating and racist calumnies he's already published widely, all couched in a strangely cosy interview that amplifies his reach with no editorial or journalistic rationale other than "to know what they [antisemites] sound like"?
That is exactly what the conservative-leaning U.S. publication Tablet did last week, in a rambling and ethically incontinent interview with Kevin MacDonald, cogently described as the neo-Nazi movement's favorite academic, whose work has been called "the broadest, ugliest, and most vicious antisemitism passing for scholarship." His theories, as Tablet itself notes, inspired the "Jews will not replace us" slogan chanted by neo-Nazis at Charlottesville in 2017.
Conveniently, the Tablet interviewer, David Samuels, ditches any possibility of causation between reading neo-Nazis and attraction to neo-Nazism, based on the authority of personal anecdote: "I have encountered no shortage of racists and anti-Semites in all of these places [where he's reported from]. Yet I have found little evidence that their hatreds were the product of reading or hearing the wrong words."
This is a ludicrous assertion for every historical period, and not least for the social media age, with so much research-based evidence on how online racism radicalizes. MacDonald himself is constantly cited as a key influencer for converts to white nationalism. But the Tablet interviewer's dismissal of causation at least makes his own position, and perhaps keeps his own conscience, clear.
Once the interviewer specifically noted his view that trying to "argue [antisemites] out of their symptoms" was a pointless exercise, it's clear he'll give MacDonald a full hearing, and MacDonald couldn't be happier, spewing out line after line of his "thinking" on Jews' dark and malicious "group evolutionary strategy." This is almost as far from James Baldwin vs William F. Buckley as you can get.
That "thinking" is best summarized by Judith Shulevitz in Slate a few years ago, in her forensic pushback against MacDonald and the craven silence of his academic peers. MacDonald posits that Jews have "highly developed genes for mental and verbal acuity" and "social aggression (also carefully bred-in)," which gave them over history "powerful tools that enable them to dominate neighboring ethnic groups…a nefarious agenda of systematic breeding and control of resources."
To protect their position, MacDonald's so-called thinking suggests, Jews are engaged in an endless war against white America; Jews are genetically programmed not to cease from their endless strife to push immigration and multiculturalism to dilute white demographics and maintain control.
And MacDonald, of course, has a solution to this Jewish problem: restoring "parity" between the Jews and other ethnic groups requires systematic anti-Jewish discrimination in college admission and the job market, and heavy taxation of Jews "to counter the Jewish advantage in the possession of wealth."
In Tablet, MacDonald reels much of this out again, complete with a nasty threatening edge: that American Jews must "rethink" their support for immigration and multiculturalism because "[it's] not fair to the white community, and that the world may not be very nice to them, either…We just saved you [Jews] in World War II…At that same time, the Jewish community ramped up their activism against white America. What the fuck?
"Jews are just gonna destroy white power completely, and destroy America as a white country. I don't think that's necessarily in our interests, or their interests, and I think it's shortsighted of them to think that."
Yes, it's shocking stuff, but readers have had plenty of opportunities to be bombarded by this "thinking," and MacDonald has had plenty of platforms from which to promulgate them.
He is professor emeritus at California State University, Long Beach, retiring in 2014 after teaching there for some 30 years. He has published numerous books that are available on the open market. He voluntarily testified as a character witness for Holocaust denier David Irving in his libel battle with Deborah Lipstadt, where he characterized Irving as a victim of a concerted but typical Jewish plot. (MacDonald has also asserted that violence against Jews such as the Inquisition and the Nazi genocide were "rational" responses to Jewish behavior.)
He became a well-reported guru to the 2016 onward rise of the alt-right and to then-GOP candidate Paul Nehlen in 2018. He has been on InfoWars, he's been on David Duke's podcast, he's had chummy public conversations with Richard Spencer.
What he says in Tablet is not new, and it's not newsworthy. It's not even "fresh" material. MacDonald himself noted on Twitter that the "interesting" interview with an "interesting guy" had taken place a year ago, and he thought Tablet had ditched it. So why push this out now?
First of all, Black Lives Matter. As protests against anti-black police brutality and institutional racism spread, perhaps Tablet saw a tempting news hook. The piece is entitled "American Racist," though the URL emphasizes his antisemitism, and there is plenty of grotesque fodder to link an old interview to current events. MacDonald calls "the black community" a "big problem" that is "biologically [IQ] related": Black Americans, in MacDonald's view "can't be educated" and are "crime-prone."
But again, what insight does this provide? What on earth is newsworthy about a white nationalist abusing black Americans for being "genetically inferior"? Isn't it one of the oldest threads of "American racism" from before slavery onward?
But there was another juicy news hook. The piece's introduction gives a knowing wink at the "present moment": voluntarily interviewing a bona fide antisemite like MacDonald is actually taking a principled stand against censorship. Yes, the link to "cancel culture," the baying liberal online mob and the Tom Cotton New York Times op-ed.
Tablet's interviewer rails against the "collapse" of "social tolerance for dissenting opinions," that "more and more people are identified as carriers of unacceptable thought," threatening what has made "the progressive expansion of freedoms in America possible."
The Tablet interviewer distinguishes himself from the wild "activists" seeking to silence "marginal" hate merchants. Activists' actions, he believes, boost those fringe voices: "The more powerfully such marginal views are repressed, the more power they seem to exert," turning them into "rebels and prophets."
According to this line of thinking, every mainstream publication should be publicizing unmediated Holocaust denial, anti-black racism and Jew-hatred daily, to defang their "repression" and weaken their power. Not surprisingly, rational editors and readers don't buy this argument. But Tablet is committed to doing its bit (and was lauded as "brave" by its Twitter fans for doing so.)
It's not groundbreaking or brave or principled to publish a neo-Nazi. It is not a stroke of intellectual genius to make a sly analogy between the rationale of publishing a white supremacist and a U.S. senator, or to frame hearing "dissenter" MacDonald's words as a strike for freedom.
It is not ethical for a Jewish publication to interview an influential, racist antisemite and praise their "kindness," and for the interviewer to make grossly inappropriate objectifying locker-room lines like, "My first little girlfriend was black. She was really cute."
It is not courage, it is self-abasement, for any Jewish publication to call up a Jew-hating white supremacist and be grateful for their time – including this publication's interview with a white supremacist who boosts antisemites.
Perhaps we can assume that Tablet would nix interviews with a subject who insisted on wearing KKK robes or full Nazi regalia. But surely the last half decade has taught us that for the far right, suits and smart casual are the new robes and swastikas.
Would Tablet reach out to David Duke, once of the robes, now of the suit? After all, in his 1998 autobiography, he wrote this: "In modern America, Jews lead the effort to de-Christianize America...Jewish power is ubiquitous...It is not a [Jewish] conspiracy. It is simply two nations – Jew and Gentile – in a state of ethnic war."
Very MacDonaldesque, you could say. So what is the clear blue sky between the insidious ex-academic and the insidious ex-KKK leader? And shouldn't Jewish publications have bright red lines about platforming incitement and hate?
When Kevin MacDonald himself appeared on the "David Duke Show" in January 2013, he declared: "Jews don't really have moral principles. What they have is a set of interests." Hard-line antisemites have perverted ideas about Jews that too often have led to discrimination and lethal violence. It's not censorship, it is basic self-respect, for Jewish publications to have the moral principle not to platform them.
Esther Solomon is the Opinion Editor of Haaretz English. Twitter: @EstherSolomon
Click the alert icon to follow topics:
ICYMI
Ken Burns' Brilliant 'The U.S. and the Holocaust' Has Only One Problem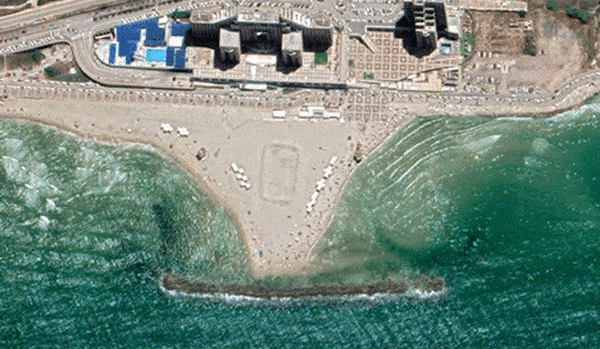 Facing Rapid Rise in Sea Levels, Israel Could Lose Large Parts of Its Coastline by 2050
As Israel Reins in Its Cyberarms Industry, an Ex-intel Officer Is Building a New Empire
How the Queen's Death Changes British Jewry's Most Distinctive Prayer
Chile Community Leaders 'Horrified' by Treatment of Israeli Envoy
Over 120 Countries, but Never Israel: Queen Elizabeth II's Unofficial Boycott