With anti-Semitic Attacks on the Rise, African Americans Rally Behind N.Y. Jewish Community
Recent tensions between blacks and Jews in Brooklyn bring up memories of the 1991 Crown Heights riots, but black leaders are working to unite the communities
People participate in the "No Hate. No Fear." march in Brooklyn, New York, January 5, 2020.
Credit: AFP
NEW YORK — Standing on the podium at the "No Hate. No Fear." rally in Brooklyn on Sunday, Pastor Gil Monrose had a clear message for the thousands of people who had gathered to protest anti-Semitism: "We are better together."
"There was no way I could stay home," the African American pastor tells Haaretz the day after the march. "When people are at their lowest moments, those who are there with them are those they remember the most."
But Sunday's march, Monrose stresses, was just a large public display of the local community work he has been undertaking since 2008, when he began addressing the issue of anti-Semitism. That year, he joined an organization then called We Are All Brooklyn, whose goal is to bring together diverse community leaders to solve quality-of-life issues such as crime, limited resources and gun violence that affect the borough's residents.
"We live among each other, we live together, so all of those issues – we have been working on them together from dinners, traveling to personal events, to surprise parties, birthday parties... we have been in each other's homes, sharing meals," he says. "We have done all of this so that we can learn and grow together as a community."
Some 25,000 people marched along the Brooklyn Bridge on Sunday to protest the recent wave of anti-Semitic incidents affecting mainly the Orthodox Jewish community in Brooklyn, but also in Jersey City, New Jersey, where three people were shot inside a kosher supermarket, and in Monsey, New York, where five Jews were stabbed at a Hanukkah celebration last month.
In 2019 alone, the NYPD recorded 234 anti-Semitic incidents in New York City. Among them were 14 assaults, five of which were felonies. Between 70 and 75 percent of the reported incidents fall under aggravated harassment. This includes drawn swastikas, incoming Police Commissioner Dermot Shea said at a press conference this week.
In a recent interview with Haaretz, New York State Attorney General Letitia James said a majority of the recent attacks against Jewish residents were committed by "young people of color," a fact she finds disturbing. "We can't shy away from obstacles and we can't shy away from the facts," she said. "We have to face this challenge."
Shared trauma
Over the years, Monrose has been working toward highlighting the history of persecution shared by the Jewish and African-American communities, a task he views as even more important today. "As an oppressed people, you never want to become what you despise," he says. "We have gone through all the oppression that you can think of: slavery, Jim Crow, segregation in America. We know that very well."
"[The Jewish and African American communities] are bound together by our past, we are bound together by our present and we are bound together by our future," he adds. "My Jewish counterparts are being traumatized, they are being bullied, hit, killed. I could feel that because I understand what it's like to be disenfranchised in America."
Anthony Beckford, a community advocate, activist and leader of the Brooklyn chapter of Black Lives Matter, who also attended Sunday's march, says that the Jewish and African American communities also have a common enemy: "The Holocaust deniers, the slavery deniers, the same enemy who says the Holocaust didn't really happen is the same enemy of the people who says slaves were migrant workers."
Beckford says he remembers learning about Jewish history from his Jewish teachers at school when he was growing up. This sparked his interest to learn more about the Holocaust and research Jewish culture. "It is the systemic bigotry that needs to be tackled," he says. "When that is tackled, then we are able to educate the people en masse, we're able to come together, we're able to march together."
But the shared trauma of the Jewish and African-American communities doesn't just go back to the Holocaust or slavery. For members of both communities in Brooklyn, some of it is as recent as 1991, when the Crown Heights riots broke out.
On August 19 of that year, a 7-year-old black boy named Gavin Cato was struck and killed by a car driven by an Orthodox Jew that was part of a motorcade of the Lubavitcher Rebbe, Menachem Mendel Schneerson.
Emergency responders, including the Jewish emergency service Hatzolah, quickly arrived on the scene, but within the African American community, rumors spread that the medics had only helped the Jewish driver. Jewish and black youths began to attack each other in the streets of Crown Heights; hours later, Yankel Rosenbaum, a Hasidic student from Australia, was stabbed to death by a black teenager in retaliation.
The riots lasted a few days and exacerbated underlying tensions between the two communities. Homes, businesses, and vehicles were vandalized throughout the neighborhood. The city deployed hundreds of police officers to put an end to the chaos.
Thirty years later, the Crown Heights riots are considered a dark chapter of black-Jewish history in Brooklyn.
African American civil rights activist Rev. Al Sharpton, who spoke at Cato's funeral and was much criticized for his remarks, tells Haaretz that as the number of anti-Semitic attacks began to rise in the neighborhood, he started thinking about the time of the riots. "It is extremely disturbing and it is something that is a challenge to all of us in the civil rights community," he says. "You cannot fight hate only in your silo or directed at your race group."
"Because many of the incidents, particularly in Jersey City and in Monsey, and in Brooklyn were [perpetrated] by blacks, I thought it was our responsibility to step forward," he says.
Politicizing hate
Less than 24 hours after the stabbing attack in Monsey, where the perpetrator was an African American man, shocked members of the local Jewish community said they would not to succumb to racism and blame other marginalized communities for the attack. "I utterly reject that kind of notion and sentiment [that African Americans are anti-Semitic]," said local Orthodox Jewish politician Aron Wieder. "There is absolutely no correlation."
Although most of the suspects in the recent anti-Semitic incidents in the New York area are African American, Monrose, who lives in Weeksville, a neighborhood adjacent to Crown Heights, believes the issue is with violence in general. "Individuals commit crime where they live," he says. "We have a problem with violence overall and what we are seeing unfortunately is that it is spilling over to other communities."
"These are young people who are not only terrorizing the Jewish community but unfortunately terrorizing our community as well," he adds. But to prevent such instances, he believes African American children should be taught about "the harmful nature of calling a Jewish person a name or drawing swastika."
"They know that it's bad, but I don't know if they understand the amount of hurt that it will bring up and it's causing for all of us, even myself," he says.
"At the end of the day, I want my son and my daughter to be able to walk through Crown Heights, Weeksville, and get home safely, just like I want someone from the Jewish community or from any community to walk home in Bed-Stuy [Bedford-Stuyvesant], in East Flatbush and get home safe at the end of the day," he says, naming two nearby neighborhoods that have predominantly black populations.
Meanwhile, Beckford warns that some people, whom he refers to as "the puppet masters," may want to capitalize on the racial divide. "A lot of the politicians now, they are utilizing this to gain points for their elections that are coming up," he says. "It is time for us to stop looking to them for answers, stop looking to them to lead us and start working amongst each other, to teach each other."
Beckford adds that he has made calling out divisive rhetoric a priority in his community work. "There is a messenger out here delivering a message that should not be out there," he says. "That messenger is telling the Jewish community that African Americans are criminals but it's also telling a lot of African Americans that Jewish people just want to rip you off and push you out of your home."
As anti-Semitic incidents have risen in New York in recent years, Sharpton has vocally condemned the phenomenon at various rallies and press conferences across the city. But criticism for his remarks at Cato's funeral in 1991 has resurfaced. At the time, many in the Jewish community blamed him for inciting violence against Jews during the Crown Heights riots by calling them "diamond merchants" and comparing the neighborhood to apartheid South Africa.
Sharpton has denied both claims; he says they are the result of his words being "distorted." "I think extremists on both sides exploited it and they poisoned the atmosphere," he says. "I can't tell you how many people have called me saying that some people in the Jewish community say I caused [the riots in] Crown Heights."
"Let's say that they felt it was a bad choice of words, which I have apologized if it were. There was no violence after [I spoke at] the funeral," he says. "What I'm saying is, if people want to say that some of us could have used a better choice of words, fine, but to say that we incited violence..."
Despite today's tensions, Sharpton believes the current situation is "far away from 1991": "I think that the community has done a lot of healing and coming together, which is why we should not let people distort 1991 and cause old [sentiments] to resurface."
Much work to be done
Beckford, who has been a community activist for 26 years, works on a variety of issues within his Brooklyn community. "From housing to education, homelessness, food disparities, violent police interactions, gun violence, gang violence," he says. "Everything that means something near and dear to the community."
For him, education is the main tool for fighting hate, and teaching African American children about Jewish history is key.
He says the problem is that "a lot of parents don't even know the history themselves, so they are unable to teach what they don't know. You hear some people say, 'Oh, well, because this person has a Jewish landlord, so he blames all Jewish people.' To me, that's ignorant, because not all Jewish people are your landlords."
"I call on faith leaders and other community advocates like myself, from the African American community, the Afro-Carribean community, from the Jewish community to come together and actually start conversing with each other and start bringing the kids into the mix," he says. "Even if it's just 10 of us sitting at a table or marching down the street."
Beyond education, Monrose believes that one way to make a more immediate difference is by reaching youngsters through those they look up to the most. "Hip hop and rap artists need to enter the discussion," he says. "We need to get the influencers of the day to come into the conversation, to add their voice to what is happening ... because they are going to get to those individuals before we do."
"If we can have a real campaign, a social media blast [saying] that we are better together, no hate, no fear, working with the Jewish community, I think this is going to make a real quick change," he says.
In addition, Monrose believes more work needs to be done by the authorities in tackling the issue, specifically with the use of restorative justice to treat cases of anti-Semitic hate crimes. "We need to hear from the young people themselves as to why they did what they did," he says. "They can come back and say, 'Here's why I did what I did, I can say I'm sorry,' and they can also be ambassadors of peace, of goodwill and love, to help us be that voice."
Sharpton adds that black leaders today have a responsibility to lead by example and "do more standing together publicly" and "acting in concert."
"If we, as blacks who have leadership positions, don't stand up, we risk the perception that this is [community-wide anti-Semitism] and that's why we need to stand up and make it clear this is not what our community is about, nor will we not confront it, like we did in Charlottesville and everywhere else, and like the Jewish community historically did in the civil rights movement," he says.
In New York state alone, the five-week period between December 1, 2019 and January 6, 2020, the Anti-Defamation League confirmed 43 anti-Semitic incidents, up from 30 incidents during the same period a year ago. These latest figures include 11 reported assaults against Jews, including the stabbing in Monsey; 22 incidents of anti-Jewish harassment; and 10 acts of anti-Semitic vandalism.
But despite the concerning trends, which the ADL described as "an epidemic," Monrose says he is optimistic about the future. "I think we have the right people, the right tools, we have the right history, we have the right love for one another, appreciation for each other's communities to walk this road together," he says. "I can say that I feel that we are in a good place, even in bad times."
Click the alert icon to follow topics:
ICYMI
Ken Burns' Brilliant 'The U.S. and the Holocaust' Has Only One Problem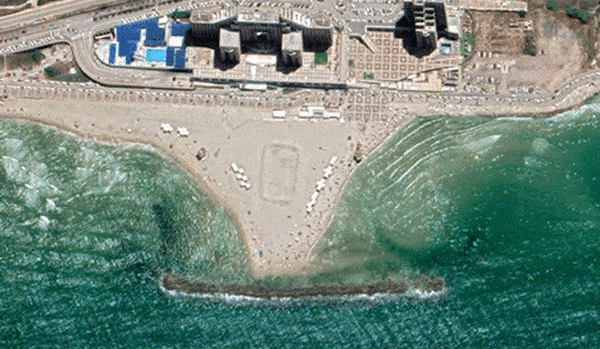 Facing Rapid Rise in Sea Levels, Israel Could Lose Large Parts of Its Coastline by 2050
As Israel Reins in Its Cyberarms Industry, an Ex-intel Officer Is Building a New Empire
How the Queen's Death Changes British Jewry's Most Distinctive Prayer
Chile Community Leaders 'Horrified' by Treatment of Israeli Envoy
Over 120 Countries, but Never Israel: Queen Elizabeth II's Unofficial Boycott