Why Netflix's 'Dracula' Sucks, and Not Just Literally
The makers of 'Sherlock' reinvent another beloved Victorian fictional character, and it's bloody awful
From Netflix's "Dracula."
Credit: Robert Viglasky / Netflix
Success is a bitch. No sooner have you enjoyed one hit than you're expected to produce another – but this time with the burden of expectations hanging over you. And when that original hit just happened to be one of the most successful and revered shows of the past decade, well … welcome to television's version of "second album syndrome."
You've got to feel some sympathy for Mark Gatiss and Steven Moffat trying to follow up the mega-success of "Sherlock," their contemporary adaptation of Arthur Conan Doyle's novels about the Great Detective. For their next trick, they have reinvented another beloved Victorian fictional character: Count Dracula. Sadly, this adaptation sucks for all the wrong reasons.
In the early days of cinema, the King of Vampires could always be relied upon to send a shiver down audiences' spines. Yet if you stick around long enough you eventually become a figure of ridicule (just ask Joe Biden), and in recent times Dracula has become a punch line, more likely to be played for laughs by Leslie Nielsen or Adam Sandler – the latter in cartoon form, the ultimate act of juvenilization – than to strike fear into hearts.
Of course, there have been some great vampire films this decade (most notably the brilliant 2008 Swedish film "Let the Right One In" and Jim Jarmusch's "Only Lovers Left Alive"). But none of them featured some Eastern European dude in a cape blabbering on about the children of the night or turning into a bat at the drop of a hat.
Gatiss and Moffat's solution to the problem of overfamiliarity is perhaps the first TV case of "cakeism" – that recently coined British term which means you think you can have all the benefits of something but none of its disadvantages. This "Dracula," now showing on Netflix, presents us with some of the hoary details of Bram Stoker's original novel (the Transylvanian castle; the 500-year-old warlord; the undead; the brides of Dracula), but serves it up with an oh-so-knowing central character who practically delivers all of his lines with a wink to the camera.
Danish actor Claes Bang (yes, Netflix really does hope you start the new year with a Bang) oozes charm, but at 52 he just seems a little, well, long in the tooth to deliver the sex appeal a character like Dracula needs – which is especially true as the show proceeds and the characters around him become younger and younger. Dracula should be sexy as hell, but Bang's vampire just struck me as a terminally unhip middle-aged guy (believe me, I identified).
"You can pour anything into 'Dracula' that you'd like," Gatiss has said of Stoker's novel. "It's been with us for 120 years and there are lots of different interpretations. But we haven't put a flag in anything." And that's exactly the show's problem: This is a "Dracula" with absolutely nothing to say.
Over its three 90-minute episodes, the show starts to feel increasingly like "Sherlock" for reasons I can't reveal here, becoming less and less interesting as a result. I did enjoy the opening episode, where the traditional Stoker tale gets a much-needed infusion thanks to the introduction of a character called Sister Agatha (played with relish by Dolly Wells, best known for the Emily Mortimer comedy "Doll & Em"). She is a nun armed with wooden stakes and a desire to find out more about the mysterious resident of Castle Dracula.
This is Hungary, 1897 – you can tell it's not Orbán-era Hungary because the locals aren't running around with pitchforks – and Sister Agatha is interviewing an undead Jonathan Harker (John Heffernan) about his experience staying chez Dracula, where he had to endure one-liners like "You do look rather … drained" and "As I've been trying to tell everyone for centuries, you are what you eat," and even worse experiences.
The show is always at its best when it involves the sleuthing nun – "I have a detective acquaintance in London," she says at one point, as if we needed a further reminder to "Sherlock" – but lacks menace and, fatally, real scares. This Dracula doesn't so much feel like the prince of darkness as the prince of snark-ness, a frustrated nightclub entertainer rather than the ultimate seducer. Bang starts off looking like Christopher Lambert if he were starring in "Highlander" today sans makeup, and ends up looking like that bloke who was unable to get the last Dracula costume at the fancy dress store so had to improvise, overdoing the black hair dye in the process.
The second episode is when things really start to drift, turning the novel's six-page account of the count's boat journey from Eastern Europe to northern England into a 90-minute mystery in which Dracula starts picking off the passengers one by one, à la Agatha Christie. It asks us to ponder who the unseen guest is in cabin number nine – a nod to the show created by Gatiss' former "League of Gentlemen" co-stars Steve Pemberton and Reece Shearsmith, "Inside No. 9," which has something this "Dracula" is sorely missing: a taste of the macabre.
The show then takes us further and further from the source material, as if the creators are admitting that Stoker's novel – which was recounted in the form of characters' journals, letters, telegrams and newspaper clippings – is all a bit, well, anaemic and impossible to stretch over 270 minutes.
What happens at the end of the second episode is, in fairness, pretty breathtaking. But it also seals the show's fate: You will either delight at what happens next or, like me, despair at what unfolds and find yourself pining for the Hammer Horror-ish aspects of that first episode, bad CGI bats et al.
There are a couple of painfully underwritten characters in episode three, with a key character telling Dracula at one point: "You don't half talk a lot of shit." I was inclined to agree, especially when lines like "Democracy is the tyranny of the uninformed. Only in blood do we find the truth" really do make him sound like a silly count.
I would mark "Dracula" down as a valiant failure, and maybe there are some viewers out there who haven't seen bigger and better Draculas who might enjoy it. (Am I the only person who has a soft spot for Francis Ford Coppola's hammy "Dracula" from 1992, with Gary Oldman subsisting on a diet of blood and chewed scenery, and Keanu Reeves proving wooden enough to serve as a makeshift stake?)
As "Dracula" devotees, Gatiss and Moffat – who also previously worked together on "Doctor Who" – will know better than most that the Dublin-born Stoker wrote a dozen novels but only enjoyed commercial success with his tale of the undead. For their next joint venture, they may be better served moving as far away from Victorian novelists as possible. To paraphrase, their "Dracula" is no hit, Sherlock.
ICYMI
Ken Burns' Brilliant 'The U.S. and the Holocaust' Has Only One Problem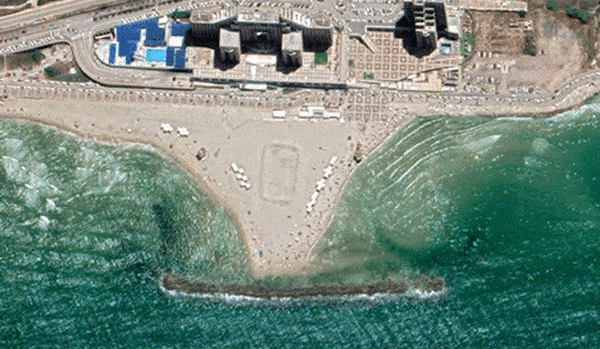 Facing Rapid Rise in Sea Levels, Israel Could Lose Large Parts of Its Coastline by 2050
Lapid to Haaretz: 'I Have Learned to Respect the Left'
The Mossad's Fateful 48 Hours Before the Yom Kippur War
As Israel Reins in Its Cyberarms Industry, an Ex-intel Officer Is Building a New Empire
How the Queen's Death Changes British Jewry's Most Distinctive Prayer