Forgive Us, American Jews, for We Have Sinned Against You
Netanyahu turned his back on U.S. Jewry in its greatest time of need – and most Israelis couldn't care less
Israel's Prime Minister Benjamin Netanyahu compliments U.S. President Donald Trump on having been the first sitting U.S. president to leave a prayer at the Western Wall, in Jerusalem May 23, 2017.
Credit: \ JONATHAN ERNST/ REUTERS
According to Leviticus, the need for atonement on Yom Kippur is directly linked to the precocious transgressions of Nadav and Avihu, the elder sons of Aaron the Priest, who provoked God by introducing a "foreign fire" into the Holy of Holies and were torched by divine flamethrower in retribution.
The unique character of the original sin prompted Jewish sages to interpret the ambiguous wording of Leviticus, 16:30 – "For on this day shall atonement be made for you, to cleanse you; from all your sins shall ye be clean before the Lord" – as proof that atonement on Yom Kippur can only absolve offenses against God. Sins committed against fellow men and women require a direct apology, without which, according to hard-liners, God won't forgive you anyway.
Israel's failure to support American Jews in their time of need certainly qualifies as a sin that mandates repentance and atonement. In this case, however, the transgression may also require separate forgiveness from the Almighty. He (or She) must certainly be outraged by the schism that's splitting his Chosen People apart, and full of godly wrath at its perpetrators and enablers.
>> Read more: Meet Donald Trump's least 'disloyal' Jews ■ Compare and contrast: Trump's Ukraine train wreck vs. Netanyahu's corruption quagmire | Analysis
Therefore, on behalf of (hopefully) many Israelis: Forgive us, American Jews, for Israel has sinned against you. We have sinned against you with hard-heartedness, with a haughty demeanor, by the prattle of our lips, with impudence, in passing judgment, by obduracy and with a confused heart. To mention but a few of the infringements listed in the Yom Kippur Vidui (Confession).
For decades, American Jews rallied to Israel's side. They lobbied the White House and Congress to lend a helping hand, set up emergency funds in wars and times of crises. They devoted time and effort to fulfilling Israel's national aspirations, most notably in leading the battle for mass immigration of former Soviet Jews, which turbo-charged the country's growth. Throughout this time, American Jewish leaders and communities took Israel's word as holy writ, abiding by the biblical injunction to "obey, then listen."
Small wonder, perhaps, that many Israelis followed the lead of their prime minister, Benjamin Netanyahu, who took American Jews for granted and then turned resentful when they stopped following blindly. Rather than seek conciliation, he chose exacerbation. Decades of total and mostly unilateral American Jewish devotion apparently counted for nothing: In its time of greatest need, Israel turned its back on American Jewry. It had other, more pressing priorities.
Netanyahu was disappointed by the lack of Jewish enthusiasm for his campaign against the Iran nuclear deal, in particular, and for his bitter eight-year confrontation with Barack Obama, in general. In his former guise of moderation, Netanyahu might have papered over the differences and moved on, if only to preserve a semblance of Jewish unity. His newer and possibly truer self-absorbed and vindictive persona, however, catalogued the dissent as disloyalty. The divergent views of American Jews turned them from close relatives to dangerous enemies overnight.
Things went downhill from there. Netanyahu reneged on the signed, sealed and delivered agreement with the Reform and Conservative movements over prayer rights at the Western Wall. His ministers and emissaries kept their distance from Jewish organizations that failed to toe the party line. The prime minister embraced U.S. President Donald Trump with fervor and ardor that went above and beyond realpolitik. And American Jews were effectively supplanted as Israel's main pillar of support in Washington by evangelical Christians, a group long viewed as the antithesis to their core values and beliefs.
When Donald Trump issued tweet after tweet and statement after statement that glorified white nationalists or insulted American Jews, the Israeli leadership stayed silent, at best. And agreed wholeheartedly – e.g. with the presidential edict that voting Democrat was "disloyal" – at worst. When right-wing fanatics committed atrocities in Jewish synagogues and community centers, Israel mumbled words of sympathy but took pains to shield Trump and his incitement from any blame. It's really radical Islam you should be worried about, Israeli representatives admonished American Jews.
In its time of distress, Israel seemed to be siding with American Jewry's worst enemies. Like them, the Jewish state did not hide its disdain for the liberal values that are shared by the vast majority of American Jews. Netanyahu's tirades against defeatist leftists, the free press and vast international conspiracies masterminded by George Soros echoed the staple bile of racist right-wing kooks, even if some of them have found temporary residence in the White House.
Netanyahu, of course, can't be personally blamed for the fundamental gap between Israel and the bulk of American Jews. The distance between the world's two large Jewish communities is far greater than mere geography. American Jews are a minority warding off what they perceive as the potentially sinister designs of the majority. Israeli Jews are a majority warding off what they believe are the sinister designs of its minorities. The two communities are at cross-purposes.
American Jews have naturally gravitated toward the liberal left, where protection of minorities is paramount. Israeli Jews, in the meantime, have lurched no less dramatically to the nationalist right. Any right-wing prime minister would thus be facing the formidable task of balancing his wish for close ties with a right-wing and populist president like Trump while maintaining at least a semblance of unity with a Jewish community that abhors him.
Netanyahu, however, didn't even try. He gave up on American Jews from the outset, keeping them out of sight and out of mind as he curried favor with a president who, at least for a while, seemed like a gift that would forever keep on giving. Increasingly, as Trump recedes into isolationism, is wary of confronting Iran and sends a chilling signal to Israel by abandoning the U.S.-allied Kurds, it seems as if it was all for naught.
Nonetheless, Netanyahu cannot serve as a collective kapparot rooster, the unfortunate chicken sacrificed on Yom Kippur eve to absolve sinners of their sins. What Netanyahu wrought despite his deep acquaintance with American Jews, his ministers and parliamentarians amplified, by virtue of their arrogance and ignorance. As then coalition leader David Bitan told me several years ago after viewing a moving and inspirational Reform service at New York's Central Synagogue – most of it in Hebrew – "These people aren't even Jews. They can't be."
As the Yom Kippur prayers indicate, a sin can be by commission or by omission. One can sin with malice aforethought or with willful blindness. Israelis were not so much opposed or supportive of Netanyahu's destructive approach as they were indifferent. The tensions between the Jewish state and the greatest Jewish Diaspora were debated in the Knesset only rarely. They featured only in passing remarks during the election campaign. Many more Israelis may be aware today of the convulsions in their ties with American Jews, but the majority, it seems, are not taking the troubles to their hearts.
The bitter irony is that in many ways Israelis and Americans are closer today, in the sense of being more similar, than they've ever been before. In Israel's first two decades, the two communities were as different as night and day. An unbridgeable chasm separated the frugal socialist Zionists who idealized toiling the land while fighting for their lives from the socially mobile American Jews who were making their way to the upper echelons of America's free market capitalism. Given the relative lack of communications, both were perceived by each other as brothers from another planet.
American Jews were first stereotyped as naive but well-meaning uncles and aunts whose main function in life was to donate funds to Jewish National Fund forests. The Six-Day War changed both communities in profound ways. Israel became the new rallying cry, which some dubbed a new religion, for Jewish communities throughout the United States. Within a few short years, AIPAC was formed and Israel became the beneficiary of one of the most powerful lobbies in U.S. history. Israelis, as is their wont, came to view the staunch American Jewish support as a God-given right.
Both communities took scant interest in each other beyond their well-established stereotypes. American Jews were so enamored with their fantasy, Exodus-style Israel, that they were dumbfounded when Israelis turned to the ethnocentric, nationalist right they despise. Israelis were so complacent about their bulwark of Jewish support that they were flabbergasted to learn that American Jews were veering sharply to the liberal left, at least in current Israeli terms.
By now, however, Israelis had enthusiastically embraced the American-style capitalism they had once derided. The era of the internet made geographic distances immaterial and allowed far closer familiarity over great distances. Nonetheless, just when the two communities were ostensibly poised to identify with each other more than ever before, a wedge was driven between them, one that could potentially break them apart.
Instead of embracing the pluralism cherished by American Jews, Israel entrenched its Orthodox monopoly along with its inherent discrimination against others. It adopted some of the characteristics American Jews ascribe to their worst haters. In lieu of sympathy and respect for their differing views, Netanyahu and other Israeli leaders opted for alienation and denigration. Instead of embracing American Jews in their time of fear and distress, Israel lectured them. When American Jews needed a sympathetic hearing and helping hand, Israel responded with deaf ears and a slap on the wrist.
American Jews aren't blameless, of course. Relations, even between communities, are a two-way street – but at least they care. The ties between Israel and the largest Jewish Diaspora are imploding, but most Israelis couldn't be bothered. The minority that is concerned may not have voted for Netanyahu, but he represents them nonetheless. Even these worriers, for the most part, tsk-tsk and then move on.
God may forgive, but Jewish history could be less lenient. The fissure has not only ruptured relations between Israel and American Jews, it has divided the American Jewish community itself. Israelis bemoan assimilation and mixed marriages, and often resent the energies that liberal American Jews devote to their pet causes, but they have done nothing to present an attractive alternative. On the contrary, Israel's behavior, as manifested by the attitude of its leaders, is pushing American Jews further away.
The risk for Israel is, first and foremost, a matter of urgent national security. When the tides change and the age of Trump is finally over, Israel is likely to confront a new and treacherous landscape. Just like Trump, his successors could also be hell-bent on complete repudiation of their predecessor's policies, including his so-called "undying support" for Israel. If and when Jerusalem faces such a threat, it will no longer be able to count on the unanimous and unqualified support of American Jewry, which it hitherto spurned and undermined.
Israel is at least partially responsible for sabotaging what is supposed to be one of its cherished ideals: The unity of the Jewish people and their mutual solidarity, as expressed in the rabbinical injunction that "all Israel are guarantors for each other." Worse, perhaps, is the alienation of most Israelis toward the values of freedom, tolerance, equality and mutual respect espoused and championed by their liberal relatives in the United States – which, frankly, could serve as a shot in the arm for the ailing Israeli democracy and its besieged principles.
There is, however, a potential light at the end of the tunnel, if only a flickering one. The September 17 election gained Israel a last-minute reprieve from the potential destruction of democracy and rule of law that would have made its breach with American Jews unbridgeable. If Netanyahu ever lets go of his absolute hold on power, his successor, whoever he or she is, will be in a position to arrest the deterioration and start a mending process.
It is an outcome worthy of one's prayers, for believers and nonbelievers alike, but will amount to naught unless accompanied by genuine acknowledgement of past sins. That is such an un-Israeli trait that it would merit heartfelt forgiveness, marking a new beginning and averting a tragic and potentially fatal family feud.
Click the alert icon to follow topics:
ICYMI
Ken Burns' Brilliant 'The U.S. and the Holocaust' Has Only One Problem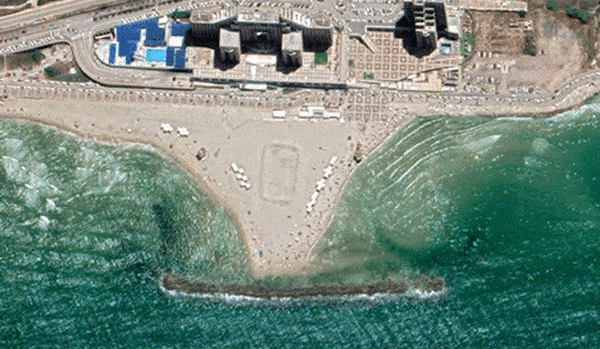 Facing Rapid Rise in Sea Levels, Israel Could Lose Large Parts of Its Coastline by 2050
Lapid to Haaretz: 'I Have Learned to Respect the Left'
The Mossad's Fateful 48 Hours Before the Yom Kippur War
As Israel Reins in Its Cyberarms Industry, an Ex-intel Officer Is Building a New Empire
How the Queen's Death Changes British Jewry's Most Distinctive Prayer