Can Trump Change Course on Iran and Still Keep Evangelicals Onboard?
Contradictory signs have started to emerge from the White House about its Iran policy, but evangelicals are confident the U.S. president will not do anything to jeopardize Israel's security
An aerial view shows a speedboat of Iran's Revolutionary Guard moving around the British-flagged oil tanker Stena Impero, which was seized in the Strait of Hormuz. July 21, 2019
Credit: Morteza Akhoondi,AP
WASHINGTON — Ever since he entered the White House in January 2017, President Donald Trump has adopted a tough and adversarial policy toward Iran. His administration withdrew from the nuclear deal signed by his predecessor, placed a wide range of economic sanctions on the country, and some of his most senior advisers have openly called for war with Iran and regime change in Tehran.
In recent weeks, though, contradictory signs have been emerging from the White House with regard to its Iran policy.
On the one hand, the administration is continuing to place sanctions on Iran and, on Wednesday, offered to pay as much as $15 million in return for information that would help disrupt the financial operations of Iran's Revolutionary Guards and Quds force. On the other hand, Trump has expressed openness to new negotiations with Iran and his French counterpart, Emmanuel Macron, is actively trying to coordinate a new channel of communication between the Americans and Iranians.
UPDATE: Iran 'inching' toward right conditions for talks, Pentagon chief says
All of this is happening 14 months before Trump will seek reelection. In 2016, one of the main reasons he managed to defy most political predictions and win the election was his massive level of support among Christian evangelicals. About a quarter of all U.S. voters are evangelicals, and nearly 80 percent of them voted for Trump. One of the main reasons for that support was Trump's promises on the Middle East — above all, to move the U.S. Embassy in Israel to Jerusalem, and to withdraw from the 2015 Iran nuclear deal.
So far, most of Trump's evangelical voters have been satisfied with his policies toward the Islamic Republic. Even after Trump decided to cancel, at the last minute, an airstrike in June that was planned in retaliation for Iran's shooting down of an American drone over the Persian Gulf, he didn't face any significant criticism from leading evangelical figures.
But how would evangelical voters respond to a bigger direction change in Trump's Iran policy? Such as, for example, the beginning of negotiations with the Islamic regime or the easing of some of the economic pressure? Israeli officials are interested in the answer to this question, as Israeli media outlets are reporting growing concern in Jerusalem that Trump will try, sooner or later, to get his own deal with the Iranians.
A top five issue
"Most evangelical voters are very concerned about Israel's security, and that's been a very important factor in their support for Trump," says Prof. Darrell Bock of the Dallas Theological Seminary. Bock, a New Testament scholar who has also conducted research on evangelical public opinion in recent years, tells Haaretz that "Trump would have to be very careful not to do anything that is perceived as moving away from his strong support for Israel — because if you look at the numbers, he can't allow himself to lose almost any support."
In 2016, Trump lost the popular vote by almost 3 million votes, and his Electoral College victory was built on edging out a plurality, not majority, of votes in three key Midwestern states: Pennsylvania, Michigan and Wisconsin. The margin of victory in those three states combined was fewer than 80,000 votes. "He really can't lose anything with his base in 2020," says Bock. "He doesn't have lots of room to maneuver."
But would diplomacy with Iran actually cost Trump with his political base? One veteran political pollster, speaking not for attribution, tells Haaretz: "Trump has managed to change the opinions of many Republicans about countries such as Russia and North Korea. They hated those countries when [Barack] Obama was president, but now they have no problem seeing Trump negotiate with them. It wouldn't be impossible for him to do the same with Iran."
Bock responded to this argument by explaining that Iran is a different case to those countries for many evangelicals. "It's harder, because they're part of the conversation about a radical Islamic threat," he says. "This is something that Trump's base is very concerned about. The religious component is stronger than with Russia and North Korea. Most evangelicals don't view our tensions with Russia through a religious dimension."
Rev. Johnnie Moore Jr., an evangelical leader and member of Trump's evangelical advisory board, says he finds the entire discussion "totally irrelevant," because he does not "see President Trump taking any steps that would cause harm to Israel's security in the region."
According to Moore, "Evangelicals are fairly confident that any direct engagement with Iran, initiated by Trump, would be from a position of unwavering strength. Evangelicals are also very cognizant of the need for peace in the region — but it should be peace through strength." Moore does not think Trump will make a deal similar or close to the 2015 nuclear agreement. "I just don't see it happening," he says.
Moore says the Iran deal was "one of the top fives issues" influencing the evangelical vote in 2016, and that Trump knows who his voters are and what their priorities are.
This argument, however, could also be made by supporters of engagement with Iran, who could tell Trump that evangelicals will stick with him because of other issues that are important to them — mostly, control of the Supreme Court and the nomination of conservative justices who will change the existing laws on abortion and marriage.
'Influential voices'
"There are definitely voices on the right, within the Republican Party, who are telling Trump he won't lose support if he tries to change course on Iran," says Brian Katulis, a senior fellow at the Center for American Progress (a liberal think tank based in Washington).
Last year, Katulis worked on a project examining public opinion trends on foreign policy in the United States. He notes that "there is a constituency on the right that supports retrenchment from the Middle East and doesn't want any form of military involvement in that area."
According to Center for American Progress research, a clear majority of Americans — 71 percent — view Iran as an enemy, and the attitude of most Republicans toward the Islamic Republic is especially hostile. But at the same time, 57 percent say the best way of preventing Iran from getting a nuclear weapon would be to negotiate a return to the 2015 deal. Fifty-five percent currently oppose preemptive military action against Iran.
"The views most Americans have about Iran have been influenced by decades of tension, going all the way back to the 1979 hostage crisis," says Katulis. "It's the product of seeing Iranians shouting 'Death to America,' and it is even more pronounced among right-wing voters. But that doesn't mean Trump won't also find support on the right if he chooses negotiations. You have influential voices like Sen. Rand Paul and [Fox News host] Tucker Carlson who will probably support him, and in fact both of them are advising him on Iran policy."
In June, news reports said Trump's decision to cancel the retaliatory airstrikes was influenced by Carlson's conversations with the president. And in July, it was reported that Paul — a libertarian who supports an isolationist foreign policy — offered Trump to act as a mediator between the president and the Iranian leadership.
"Look, people get that he's a dealmaker, and many of his supporters like that," says Moore. "And yes, there is support for disentangling from the Middle East and not sending more troops over there. But his supporters believe he will do this in a smart and responsible way, and that he will promote peace without giving up on Israel's security."
Moore adds that another priority for evangelicals when it comes to Iran is "ensuring that the regime stops persecuting religious minorities, including evangelical Christians, inside the country."
Bock says that while negotiations with Iran could cost Trump support among evangelicals, the president could also lose support more broadly among Republicans if the situation escalated into another war in the Middle East.
"I don't think most evangelicals are rooting for war, not at all," he says. "They like that Trump is putting pressure on Iran and using sanctions. But his base also likes his message of 'Let's bring the troops home' and no new wars in the region."
The long-term question, Bock adds, is how evangelical voters will view these issues in a decade's time. A 2018 poll that Bock helped conduct showed that among younger evangelicals, views on Israel and the Middle East are less hawkish than among previous generations. "This will obviously have an impact on policy in the future," he cautions. "These are new voters. It will take time to understand how they will change the discussion."
Click the alert icon to follow topics:
ICYMI
Ken Burns' Brilliant 'The U.S. and the Holocaust' Has Only One Problem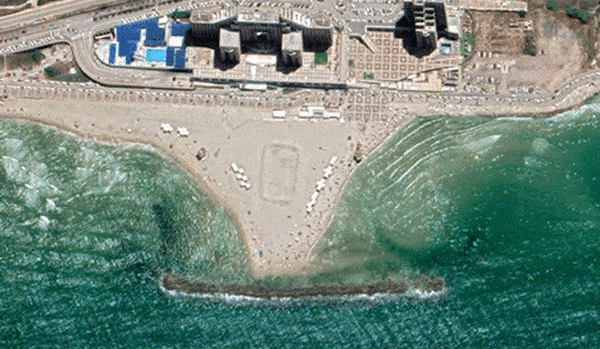 Facing Rapid Rise in Sea Levels, Israel Could Lose Large Parts of Its Coastline by 2050
As Israel Reins in Its Cyberarms Industry, an Ex-intel Officer Is Building a New Empire
How the Queen's Death Changes British Jewry's Most Distinctive Prayer
Chile Community Leaders 'Horrified' by Treatment of Israeli Envoy
Over 120 Countries, but Never Israel: Queen Elizabeth II's Unofficial Boycott