Analysis |
Trump's 'Rodent-infested' Rhetoric Shows How Germany and the World Stayed Silent
Escalating use of Nazi-like imagery in attacks aimed at Congressman Elijah Cummings is a litmus test for American Jews — one that Israel fails almost by definition
Elijah Cummings, Ron Dermer and participants of the Cummings Youth Program in Israel, February 2016.
Credit: Israel's Embassy in Washington/Twitter
In February 2016, Israel's ambassador to the United States, Ron Dermer, held a reception at the Israeli Embassy in Washington to honor Congressman Elijah Cummings. Speaking at the event, Dermer praised the Maryland representative's commitment to fostering ties between Israel and the African-American community. Dermer waxed lyrical about the Elijah Cummings Youth Program in Israel, which has sent over 200 African-American high school students from Baltimore for a month-long tour of Israel as part of their two-year leadership course.
Most if not all of them came, of course, from the "disgusting, rat and rodent infested mess," which is how U.S. President Donald Trump described Maryland's African-American-dominated 7th Congressional District, which Cummings has represented since 1996.
>> Read more: How Trump and Netanyahu became each other's most effective political weapon | Analysis ■ Trump doesn't really hate people of color. Just like he doesn't really love Israel | Opinion
But if you are expecting Dermer to rush to Cummings' defense in the wake of Trump's vile imagery, don't hold your breath. In February 2016, Trump was just a glimmer in Dermer's eye; now he's president of the United States, grand guardian of Israel and Dermer's ongoing pet project. As long as Benjamin Netanyahu is prime minister, and doubly so when Trump is serving as his main prop in an election campaign, the U.S. president can say whatever he likes about immigrants, minorities, African Americans — and, one suspects, even American Jews.
Dermer, at least, has an excuse: We don't intervene in the internal political affairs of anyone, especially not our great American ally, Israelis might contend. The same cannot be said for American Jewish organizations, whose reticence can only partially be explained by the fact that Trump tweeted his tirade just before the weekend.
Even if they make up for the hiatus on Monday, the American Jewish reaction won't come close to the outrage, vehemence and righteous indignation that erupted in the wake of Alexandria Ocasio-Cortez's use of the term "concentration camps" to depict conditions in immigrant detention centers on the U.S. southern border. Don't expect another Rabbi Shmuley Boteach full-page ad in the New York Times accusing Trump of "desecrating the Holocaust."
Trump's repeated use of the term "infested," in regard to immigrants as well as African Americans, should have sent alarm bells ringing long ago: When Palestinian Prof. Rashid Khalidi of Columbia University used the term "infestation" to depict the "Zionist lobby's" nefarious influence over U.S. foreign policy in 2011, he was widely and roundly condemned on the American right for using Nazi imagery. Trump, however, has now sunk far deeper into the imagery used by Nazis: The association of European Jews with rodents, rats and vermin was one of their central themes.
The analogy between Jews and vermin was a regular feature on the front pages of the notoriously anti-Semitic and pro-Nazi tabloid Der Stürmer. The association between Jews and disease-carrying rodents featured on countless banners and posters, issued by Nazi propaganda minister Dr. Joseph Goebbels, which sought to equate Jews with parasitic vermin. And it played a central role in Goebbels' infamous 1940 film "The Eternal Jew," which ends, presciently enough, with Adolf Hitler's January 1939 threat to "annihilate" the Jews of Europe.
The use of such repulsive language in connection with a 60-percent black congressional district should have sparked immediate and vehement Jewish protests in and of itself. If Ocasio-Cortez's "concentration camp" analogy disturbed Jewish sensitivities, Trump's "rat-infested" expressions should have shocked them to their core. Doubly so, as this is not an isolated outburst, but rather an escalation of the undeniably racist tinge that stains many of Trump's Twitter bursts against people of color. Sending dark-skinned, American-born congresswomen back to their "shithole" countries, for example, was also a staple Nazi ploy against supposedly "foreign" Jews whose families had lived in Germany for centuries.
In their rush to defend him, Trump's champions are using the defense known in legal parlance as "substantial truth" — Cummings' district is indeed rodent-infested, they claim. Even if that were true, the Nazis could have used the same excuse: Conditions in the Warsaw and Lodz ghettos, in which Nazi filmmakers captured the masses of poor, dirty and sickly Jews shown in "The Eternal Jew," were indeed squalid, decrepit and unhygienic in the extreme. The only detail missing is that it was the Nazis who herded Jews into their inhuman ghettos in the first place.
Even if one assumes that Trump's vile invectives are rooted in ignorance rather than cold calculation, he is unleashing hitherto suppressed sentiments that should terrify the American Jewish community. The people who are pouring racist fuel on the fire lit by Trump are, in many cases, just as anti-Semitic as they are anti-black, if not more so. Even without Trump's active contribution, the flames are sure to singe the outskirts of the Jewish community as well. Far more terrifying is the thought of the anti-Semitic conflagration that could occur should Trump ever vent his true feelings about the Jewish people.
To paraphrase Martin Niemöller's famous after-the-fact poem, "First he came for the Mexicans, but Jews did not speak out, because they were not Mexican. Then he came for African Americans, but Jews did not speak out because they were not. Finally he went after the Jews, but not only was there no one left to speak out for them, by this time the blaze of racial tensions stoked by Trump had turned into an inextinguishable inferno."
Trump's "rat-infested" jargon is both a red line and a litmus test, one that Dermer-ite Israel will surely fail, almost by definition. For U.S. Jews, it is a matter of self-preservation as well as moral imperative. Failure to speak out forcefully, in unison and across the political spectrum, including right-wing groups that cherish Trump's allegedly pro-Israel policies, would be a betrayal of the liberal values that the American Jewish community has almost universally embraced and of the historic Jewish support for the Civil Rights Movement, which Dermer himself extolled.
On the other hand, the quandary that has plagued Holocaust-conscience Jews for the past 70 years — How could the world stay silent? — is easier to decipher today. When a ruthless demagogue stirs up racial enmity in order to advance his political aims, when his base is swept away by fear and loathing, when political allies are enthralled by his rhetoric or fail to speak out for fear of retribution, when fair-minded groups are reluctant to draw attention or make waves, and when the calculations of foreign countries are based on ruthless Realpolitik with no regard or even pretense of moral judgment — that's how it is made possible. Even if one rejects any comparison of Trump to Hitler, America to Germany or Jews to African Americans, the stench of racist incitement and the reek of craven collaboration are one and the same.
Click the alert icon to follow topics:
ICYMI
Ken Burns' Brilliant 'The U.S. and the Holocaust' Has Only One Problem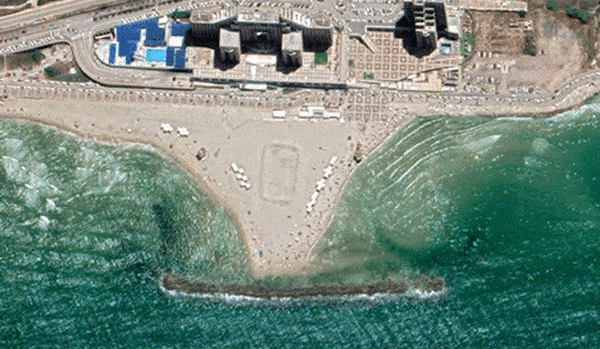 Facing Rapid Rise in Sea Levels, Israel Could Lose Large Parts of Its Coastline by 2050
As Israel Reins in Its Cyberarms Industry, an Ex-intel Officer Is Building a New Empire
How the Queen's Death Changes British Jewry's Most Distinctive Prayer
Chile Community Leaders 'Horrified' by Treatment of Israeli Envoy
Over 120 Countries, but Never Israel: Queen Elizabeth II's Unofficial Boycott