Luc Besson's 'Anna': A Killer Supermodel? How Fresh
With 'Anna,' Luc Besson tries to reprise the success of his early action films and bury the sexual assault complaints against him
Sasha Luss as "Anna" in Luc Besson's latest film. Will this be his last picture?
Credit: Shanna Besson / United King
Luc Besson's new film arrived in movie theaters with little fanfare. Even though the French director has a loyal fan base, thanks to movies such as "Nikita," "Leon," "The Fifth Element" and "Lucy," his new picture, "Anna" was released amid unusual PR silence. And it's all the more striking in the case of a high-budget espionage thriller that aims to be a summer blockbuster. Everyone involved in the production apparently prefers the action to speak for itself without drawing attention to the director, who's trying to recover from serious accusations hurled at him in the #MeToo wave.
Besson hoped that "Anna" would be his comeback following "Valerian and the City of a Thousand Planets" (2017), the most expensive French film ever made – and a commercial and creative failure. He completed "Anna" last year, but then five women accused him of sexual wrongdoing on the French investigative site Mediapart. They were joined by four more women, who spoke about harassment, assault, even rape. One of them filed a complaint with the police in which she claimed that Besson had repeatedly raped her. Lionsgate, the film's distributor, postponed the picture's release until the police investigation was competed. In February,French prosecutors announced that they have dropped this investigation, but the Paris prosecutor's office said a new preliminary investigation was launched after a different, unnamed woman reported an allegation of sexual assault.
Besson's comeback thus became a dramatic double test for a long career that's seen major successes and equally major failures. For more than three decades, his work displayed extreme inconsistency. "Anna" might provide Besson with a box office success – not because it's one of his better films, but because its appeal is to an audience that isn't necessarily interested in the director's personal life. Indeed, with the closing of the case by the police, though without the public stain having being removed, the decision to place the film in wide release attests to surprising confidence by Lionsgate in Besson. Or, alternatively, confidence by the company in the indifference and lack of interest on the part of the audience, which in the summer is only too happy to view every action movie irrespective of creed, race or suspicion of sexual violence.
In terms of the plot itself, Besson returns to his comfort zone. The thriller focuses on the character of Anna, played by the supermodel Sasha Luss. The beautiful young woman lives a wretched, gloomy life with an abusive partner in a decaying apartment in 1990 Moscow. Just before the eruption of capitalism, the KGB recruits her as an assassin and sends her to live a double life as a successful model in Paris. Anna agrees, but not because she wants to be a hitwoman: she's just looking for a ticket out of her miserable life. But she ends up moving from one violent man to another violent man. The promise she gets when she's recruited – that the mission will end within five years of service – turns out to be a joke, and she's compelled to recalculate her moves while playing Russian and American spy games.
In and out
On the surface, Anna's moves initially show her to be a kind of marionette. She's a utilitarian object in the hands of her tough handler, Olga (Helen Mirren), though sometimes a Russian spy (Luke Evans) and an American spy (Cillian Murphy) also try to use her for their purposes. The plot shifts backward and forward in time, from hit to hit and back to the previous hit.
The feeling is less that of motion along the time axis and more of in-and-out zooms by the camera. Besson goes back in order to reveal details that were hidden in a scene we've already seen, in an attempt to supply a broadening point of view for the big picture. Thus Anna's disillusionment and her liberation from her shackles isn't a process she undergoes, like previous Besson female protagonists. She already has no illusions, and it's the viewers who experience disillusionment.
Anna, who at the start of the film is selling matryoshkas in a tourist market in Moscow, is an enigmatic matryoshka herself. With a bit of subtext and even less refinement, Besson makes use of the doll-within-a-doll image to show that no one knows what's hidden behind the eyes of the killer model. From assassination to assassination, the narrative leaps backward and forward in time to depict the same events in a new light. Small details are revealed that might have slipped past us, thus blurring double and triple loyalties.
But Besson undermines this effective element with an erosive use of the same solitary trick. As such, it becomes transparent and even predictable as the film runs its course. Somehow, the frequent rapid leaps also succeed in generating confusion. "Wait a minute, when are we at?" is a question that's whispered more than once in the movie theater. Fortunately, even those who get lost on the time line will find their place in a hurry. The script, unsophisticated and superficial to the point of ludicrousness, consistently reveals where the plot is headed.
The viewer's impression after two hours is that, after a string of commercial failures Besson is trying to clone all the elements that earned him success and plaudits in the past. As in "Nikita," "Leon" and "Lucy," here again he's dealing with a woman who's been abused and humiliated by too many men and sets out to show them what she's worth. Anna is another variation of the same inherently noncomplex character whom Besson has already portrayed in the past. But she's also an opportunity for the veteran director to invoke, if only for a moment, his skills in staging creative, exciting action. "For a moment," because in this film there's only one scene that's worth mentioning, during a fight in a restaurant, one scene against twenty, which takes place at the beginning of the movie. The ensuing fights are forgettable.
While Besson recycles heroines he's already created, and casts another supermodel in the lead – following Mila Jovovich in "The Fifth Element" and Cara Delevingne in "Valerian" – the excellent cast that surrounds her is compelled to make do with forgettable parts. Worse, the plot rings too familiar. A year ago, it was "Red Sparrow" that turned Jennifer Lawrence into a Russian spy who overcomes exploitation, and the year before that Charlize Theron displayed fine action and Cold War spy games in "Atomic Blonde." "Anna" is not as good as either of those pictures, and the protagonist at its center is even less interesting than the two spies played by Lawrence and Theron.
"Anna" will not be remembered as one of the successes of a talented but inconsistent director whose films are radically different in quality. Still, longtime Besson fans, who are willing to make do with rhythmic action that is less glittering and innovative, will be pleased with "Anna." For anyone who is disinclined to watch a movie made by a filmmaker suspected of committing sex offenses, "Anna" will only heighten the uneasiness. From this point of view, the woman who's pushed into a corner and murders her way to freedom looks less like the subject of an empowering movie for the heroine and more like the heroine of a story about a model who's armed with a pistol and garters. If this turns out to be Besson's last picture, both interpretations will turn out to be symbolic and understandable .
A previous version of this article contained incorrect information regarding the rape allegations against Luc Besson.
ICYMI
Ken Burns' Brilliant 'The U.S. and the Holocaust' Has Only One Problem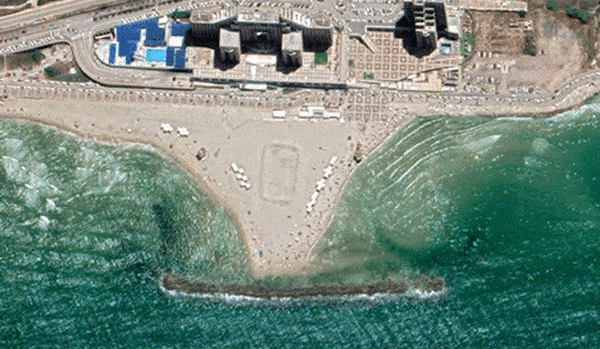 Facing Rapid Rise in Sea Levels, Israel Could Lose Large Parts of Its Coastline by 2050
As Israel Reins in Its Cyberarms Industry, an Ex-intel Officer Is Building a New Empire
How the Queen's Death Changes British Jewry's Most Distinctive Prayer
Chile Community Leaders 'Horrified' by Treatment of Israeli Envoy
Over 120 Countries, but Never Israel: Queen Elizabeth II's Unofficial Boycott